Renovating an Airstream
I have never been much for possessions.
As far back as I can remember caring about such things, I've fantasized about living small. When it was just my son and I living alone in a house, I imagined a single tall room with hammocks serving as beds strung up above a common living space that could accommodate everything that was important to us at that time: namely, eating, Legos and playing Mario Kart.
I've been downsizing my life ever since, and always all the more as I accumulate more and more rug rats. Sometimes I think that their grandparents are single handedly supporting the Chinese plastic toy industry. With each new visit from one of four sets of their immediate ancestors comes box after box of Matchbox cars, GI Joes, Legos, train sets, and various other less memorable items. It's not that it isn't appreciated, or that I can't see the good natured intent behind it all; they are simply being generous people who want to spoil the children they see all too rarely given our mobile lifestyle.
But the entire process, along with constant travel and a deep, abiding dislike for moving day, has given me the ability to personally own nothing more than I could live out of a suitcase with. Possessions in general have become something I choose to want to own as few of as possible, the ones I do then holding immense value to me. The older they get, the more I bond with them. A belt I've owned for several years with a belt buckle once worn by my late grandfather in the Pennsylvania coal mines. A flask someone had given to my own dad when he was a younger man still bears his initials every time I sip whiskey from it 'round a campsite fire atop some lonely mountain after a long day hiking. Every pair of shoes worn until holes grow in the soles, a single pair of blue jeans at any given time to live out a similar fate.
Thus, when we decided we would transition our home on the road from an old Volkswagen Bus to an Airstream, the idea of going new never crossed my mind. We knew from day one that we wanted to go vintage, even if it meant more work initially and likely all down the line. Old, well used, simply feels right to us.
Today we'll tackle three aspects of renovating an Airstream travel trailer: how to find the right one for you, a checklist you can use as a buddy to bring along with you when you go looking at them, and then the good stuff: photos from our own renovation.
How to Find the Perfect Vintage Airstream for You
Ebay, Craigslist, the Air Forums, your local newspaper; there's no shortage of places to look for Airstreams. However, not a single one of these make it all that easy to find something specifically in your price range, the size you want, etc. You have to wade through a plethora of wrongs to even find a right, let alone the right one for you. Here's how we went about simplifying the entire process.
First, it should be said that there's no magic formula for what size of Airstream will be best for you. We're a family of six and we chose a 31′ Airstream simply because the living room area had enough space to accommodate all of us in the early morning when we're getting all of the kids up and at 'em and to sit around the dinette in the event that it might be raining too heavily to enjoy a dinner around our latest picnic table.
That said, there are smaller families with 22′ rigs and young solo guys with 34'ers. Looking at a few in real life, whether they be vintage or otherwise, will give you a better idea of how much room you want inside. You may also feel a bit daunted about lugging around 27′ or more of trailer behind you. The good news is, it gets much easier to getting used to driving with a large trailer. More so than the amount of effort required to purchase another, larger Airstream, that's for sure. Not that we're knocking on small, again, I'd prefer it to be as small as possible…within the realities of the rest of the people living with me of course.
When I was looking at the various resources, here's what my impression quickly become of each of the major players.
Ebay had way more expensive rigs as higher prices seem to be a mainstay of what that auction website has become, likely due to its popularity: the more people who know about a particular resource, the more competition you have as a buyer. The Air Forums are an amazing resource for knowledge, both pre-sale and while you're an owner/operator…but again, a lot of people are browsing their classifieds which tends to drive up the price. With both of those websites, it's also not very easy to limit your search to just your area. While in theory it would be great to look at every Airstream available, driving from New England to Arizona just to look is pretty unrealistic for most of us. If you're like me, and the idea of buying something sight unseen and going on the word of the seller just won't cut it, you'll want to search just in your particular corner of the country.
Therefore, we relied almost exclusively on Craigslist when actually looking for Airstreams we would consider buying. Craigslist can be a bit of a pain to search multiple cities though. We decided that anything within a four hour drive might be worth checking, but you can only search Craigslist one city at a time. Annoying but true. So we quit going to Craiglist and brought it to us.
First, go to your nearest city on Craigslist and head over to the RVs section. That will always be at something like http://asheville.craigslist.org/rva/ or http://pittsburgh.craigslist.org/rva/
Once you're there, do a search for Airstream and feel free to limit the search to your price range. It's tempting to just look at all of them, but when you see that $130,000 one that you just fall in love with, the experience might ruin your appetite for all of the other $7000 trailers out there.
Okay, you've done your search. Head up to the address bar of your browser, it should read something really long and generally nonsensical to humans. At the end of that website address, type in &format=rss. Copy the entire address now. That will give you an RSS feed of the search results, which will automatically update when new results match your search. So tomorrow, if someone creates a Craigslist post in your area for an Airstream under $10,000, it will appear in this RSS feed.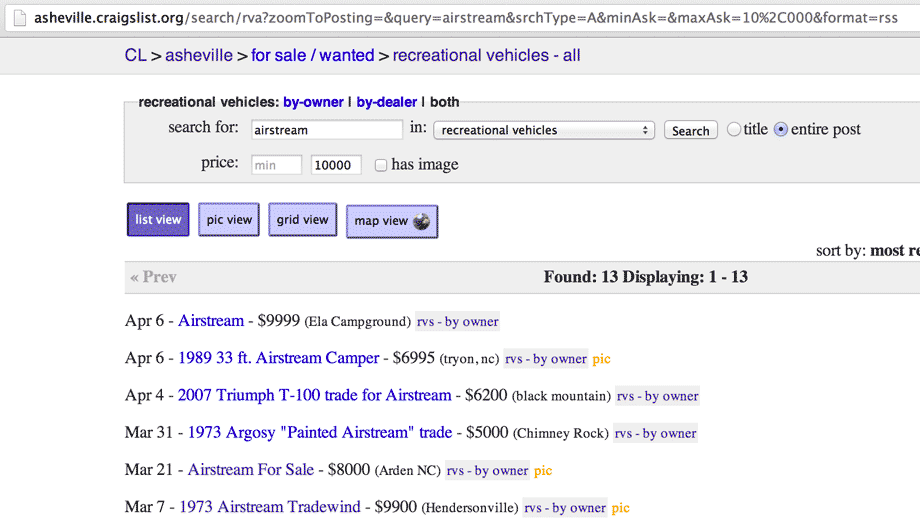 Paste that RSS feed address you copied into a text file. Now head back to the main Craigslist homepage (click on CL near the top right of the search results page.) You can use the map on that page to find other local Craigslists near you. You generally only need to know the subdomain (ie, for Asheville, NC, the subdomain is asheville.craigslist.org) and then you can take your original RSS feed address and replace the subdomain part. So I might also want to search in the Boone, North Carolina Craigslist. I take my Asheville RSS feed address–http://asheville.craigslist.org/search/rva?zoomToPosting=&query=airstream&srchType=A&minAsk=&maxAsk=10%2C000&format=rss–and replace the word asheville with boone. I'm left with: http://asheville.craigslist.org/search/rva?zoomToPosting=&query=airstream&srchType=A&minAsk=&maxAsk=10%2C000&format=rss
You'll end up with maybe five to ten of these addresses depending on where you live and how far you're willing to travel.
Next, we want to combine all of these into one RSS feed. I use RSSmix.com for just such a task. With all of your RSS feed addresses on their own line in your text file, just copy the whole bunch and paste it into that website. They'll give you one RSS Feed that combines them all.
Finally, let's go to IFTTT.com and sign up for an account. Once you've done so, click Create in the top navigation, then click the big blue THIS link. Find the orange RSS icon that reads Feed and click it. Click the New Feed Item box. Paste your RSS Feed from RSSmix.com into the field and click Create Trigger.
Next, click THAT and then choose the Email icon. Click the Send me an Email box. You can fool around with the contents of the email, but the defaults will work just fine. Click Create Action, give the recipe a description, and finally Create Recipe. You're all set! Anytime any new post that matches your search goes up on Craigslist in any of the cities you've indicated, you'll get an email. That means you get a little jumpstart ahead of everyone else who's just randomly going back to Craigslist and searching over and over again when they get the chance.
Create Your Checklist
Now that you've got emails coming in telling you about the Airstreams that are available, you'll no doubt start to find some that you absolutely love. All you need to do is give them each a thorough inspection. The Air Forums offers a fabulous checklist for just such purposes.
Bringing it Home!
This is something that many people overlook, but couldn't be more important! You can't just show up, pay for the Airstream of your dreams and take it home. Aside from a vehicle with a towing package and hitch rated for whatever the weight of your Airstream will be, you need a few additional items.
First and foremost, you'll want to make sure your tow vehicle is up to snuff. We began with a 1995 Chevy G20 5.7L V8 van with a 3.42 rear end…which, even with an external transmission cooler and beefed up radiator, just wasn't enough power. A few months into traveling, we were going from Asheville, NC to Pennsylvania via the Appalachian Mountains and began overheating up every single mountain.
So we quickly upgraded to a 2006 Ford E-350 with a 4.10 rear end gear ratio and have never had a problem since then, some 50,000 miles of back and forthing the country, over the Rockies, the Sierras, the Appalachians and even into Canada's Mighty Rockies.
The following are the specs I gathered from multiple resources, including a couple of longtime Airstreamers who towed with vans (which we knew we wanted).
Chevy or GMC seems to be the preferred make. Obviously, lots of people use Fords, Toyotas or whatever else. As mentioned above, we've gone with Ford and aside from their official service stations being full of crooks, I'm very happy with our van.
3/4 ton minimum
External Tranny Cooler
Tow capacity of at least 7000lbs, the more the merrier and this also depends on the weight of your Airstream and the contents you plan to put into it. The older the Airstream, the lighter they are. 3,000 – 8,000 seems to be about the range for vintage Airstreams depending on size and year.
3.73 or 4.10 rear axle ratio. This is basically how large the gears in your rear axle are and translates to how much power your vehicle has as a result. The bigger the number the better.
5.4L engine
Class IV hitch
Again, this is from my own research and is what we went with when purchasing our used van. If you can get something newer, they have smaller engines that have more power these days…your mileage (pun, pun, pun, pun!) will vary.
Once you have your tow vehicle, you will also want to get a weight distributing hitch and sway controller. Essentially, this turns your connection from the normal single hitch ball and tongue connection into a four points system. You'll still have your standard connection where the trailer tongue connects to your hitch ball, as well as two additional weight distributing bars that alleviate pressure on the hitch itself, and then another connection which helps control trailer sway. Trailer sway is exactly what it sounds like. You're cruising down the highway, and suddenly your Airstream becomes the wagging tail of a dog, potentially wagging you right off the road with it. This will only work if your Airstream already has the brackets necessary for installing all of this equipment already installed. Ours did, though I don't know if this is standard or not on vintage Airstreams. Check with the seller to be prepared.
Finally, our 1976 Airstream Sovereign of the Road had a very old trailer connector which no one uses and no one has parts to match anymore. The trailer connector is the cord that comes out of your trailer and plugs into the bumper of your tow vehicle. This is what sends information back to the trailer such as "Right turn signal", "left turn signal" and "brake lights!" It also sends power back to your brakes, as long as your model of Airstream has electric brakes. Some older models used hydraulic brakes, of which I have no experience.
Oh and one last thing, your Airstream, as with all trailers, does not follow you around turns. It may cut in as much as four or five feet, so swing wide to avoid your new home from hopping the curb or worse, smashing into a telephone pole or something.
Our Airstream Renovation
Now for the fun part, let's take a look at our Airstream renovation project! Again, this is a 1976 Airstream International Sovereign of the Road Land Yacht. At least, that's what it says in the manual. We just call her the Airstream but she does feel like a queen, and certainly like captaining a boat on the highway.