Wilson's RV Park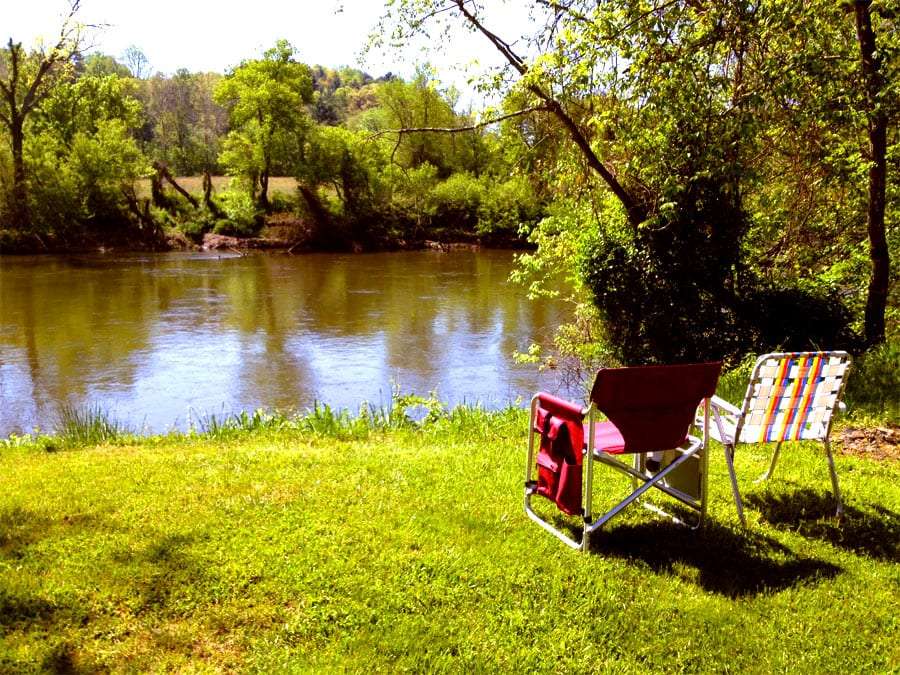 The rush of the French Broad River as it makes it's way through south western Asheville is mimicked by the drive by whoosh of the freeway.
Or more accurately: freeways. That's where Wilson's primary issue comes in, hovering above is the intersections of I-40, I-240 and I-26, and to say the traffic is barely noticeable would be a bit bold faced in the lie department. Still, what it does offer makes up for this.
Not the most scenic place to park your rig, it also isn't lacking in looks. The French Broad River, and a fat river it is indeed, curls around just below the bank behind where most of the homes-on-wheels have chosen to rest their laurels for the time being. A milk chocolate waterway, kicking back over a cold one and a picnic basket along it's shores does do wonders for drowning out the ever present oncoming traffic.
These are all back in spots, most of them have trees and shade and a nice patch of grass to keep you from feeling like you're smack dab in the middle of the DC Beltway. Slow moving families and sweat dripping joggers and elderly couples stroll through the park, a paved city walkway cuts right through the middle of Wilson's driveway, leading out of the gates and past all manor of things to do without even heading into Asheville proper. Rent a canoe next door and paddle your way up and down the river to your heart's content. Tent camping and the park's store live next door to that, and only a few steps down the walkway Carrier Park—an impressive city park with playgrounds galore, a street hockey rink and volleyball courts, and a former stock car speedway turned velodrome (ie, bicycle racing)—plays it's siren song to the residents of Asheville. If you've got a bike, or are an ambitious pedestrian, follow the walkway on to the French Broad River Park and from there you can keep on trucking right into Asheville proper. West Asheville is an even shorter walk, directly north of Wilson's.
While no one likes the sound of American transportation rolling in through their windows while they're RVing, Wilson's proximity to town and everything living and breathing right around it make this the easy call for best park in Asheville.