Getting Around Asheville via Bus, Car, Bike, Trolley or Foot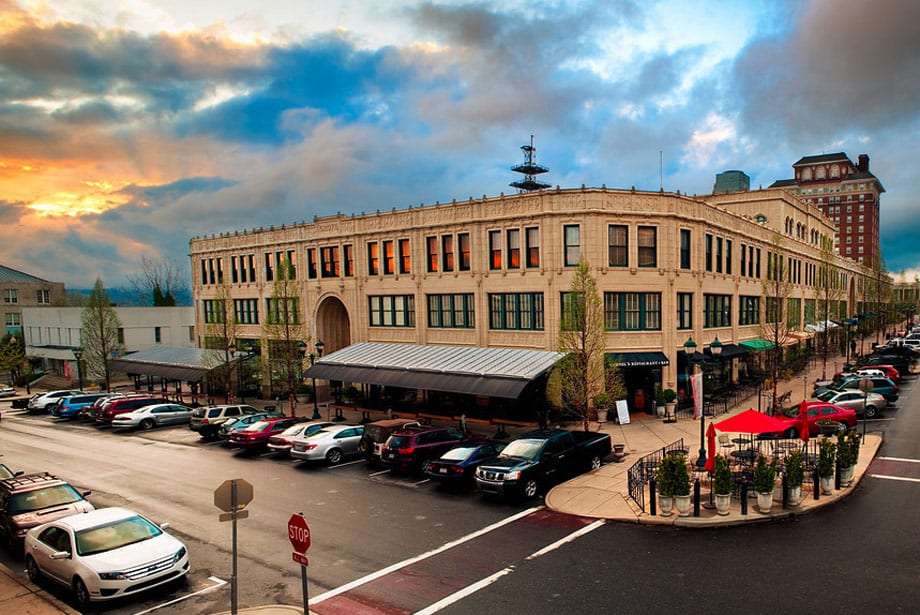 The Greater Asheville Metropolitan Area, like most "Greater Metropolises", is most easily navigated by motor. Judging from the local's preferences, the favored choice is of 100ccs or so, tucked underneath your butt in the form of a scooter.
This is undoubtedly due to the fact that parking is a commodity, rare indeed, in the city itself, and legally or otherwise, scooters seem to have permission to find themselves parked on sidewalks, between spaces and in front of fire hydrants as they deem necessary.
Asheville proper, however, has but one way to get around, and that is by foot. The downtown area is less than a mile square, albeit a hilly one, and once you're in the city, there's really no reason to ever open your car door until you want to leave. Generally based around a grid system, however wonderfully disparate when it comes to random angled, curved or otherwise nonconforming city streets, as any place built up in and around the mountains tends to be, once you get the basics down, it's easy to find your way around.
Lexington Avenue is the heart of it all. It runs the length of downtown and hosts the majority of the eateries and various other establishments we discuss in this issue, equally full of punk rock kids, suit, tie and brief case combinations and middle class hippies desperate for the change they are attempting to be. Broadway parallels Lexington to the east, also spanning downtown proper from I-40 until it becomes Biltmore Avenue and continues on past the Orange Peel to the hospital and Biltmore Village to the south. Patton Avenue serves as the main cross road that divides the North-named streets from the South, and College branches out from Patton near a small city park by Tupelo Honey Cafe and the Thirsty Monk, to mostly parallel Patton past Pack Square Park and on to become Tunnel Road, which leads eastbound to the mall and East Asheville, eventually becoming US 70 on to Black Mountain.
Interstate 240 divides downtown from Montford, the city's more upscale northern neighborhood where tree lined streets weave between Victorian era mansions, and Asheville grows more and more bourgeois as you head north. South of downtown the city grows more industrial before becoming overwhelmed by Mission Hospital and the assortment of medical offices that surround it, before crossing the tracks into the Biltmore Village area.
From downtown, head west on Patton and make a right onto Clingman Avenue which, after crossing through the artsy River District, becomes Haywood Road. Keep on trucking and you'll have brought yourself into the trendy, bar laden neighborhood of West Asheville.
Taxis are abundant, and though this isn't the type of place you can stand around and hail a cab, you won't be left waiting for hours wondering if something checkered and yellow comes your way. For you leather and lace types, there are a plethora of upscale limo type services if you want to be hauled around in the type of style that will leave your children wondering where their inheritance went. The public transportation system is another reliable and easy way to get around the city without the burden of searching for parking, and at $1 / pop, it's cheaper than any other motorized method. That dollar you spend on your ticket also gets you a transfer good for unlimited rides within 90 minutes of issue, and if you're under the age of 20 or over 65, that price drops to a mere 50¢ Not bad considering an hour on the meter costs more than a dollar, and most parking garages are $5 for the day.
If you really want to ride in style though, and burn a few hundred calories up and down the hills, you could always ride your bike or rent one from Bio Wheels, located on Coxe Ave near the Asheville Brewing Company. Still, our preferred way to see the city itself is on foot, with the occasional help of public transportation for the longer hauls.
One last method of transportation to mention though is the old fashioned trolley. While not particularly good for getting all around the city in any particular hurry, you can grab a trolley tour for around $20 / person and learn a little about the city's history. There are several companies offering tours of the city. Of note though, is Asheville's Historic White Trolley tour, which costs $17 a piece and is good for two days, and circles the city's Montford neighborhood up to the Grove Park Inn, back through downtown and further south to the Biltmore area, then through the River District before finishing it's circuit at the Chamber of Commerce. They run every hour or two depending on the season, and you can hop on and off to explore the city as you arrive at different areas. LaZoom is another notable tour which provides daytime comedy tours and adults only "haunted" evening tours, the latter of which you're permitted to bring an alcoholic beverage to enjoy during the trip. Drink beer, see the city, get scared. Sounds like the good times.