Small Room Collective A Traveling Boutique Shop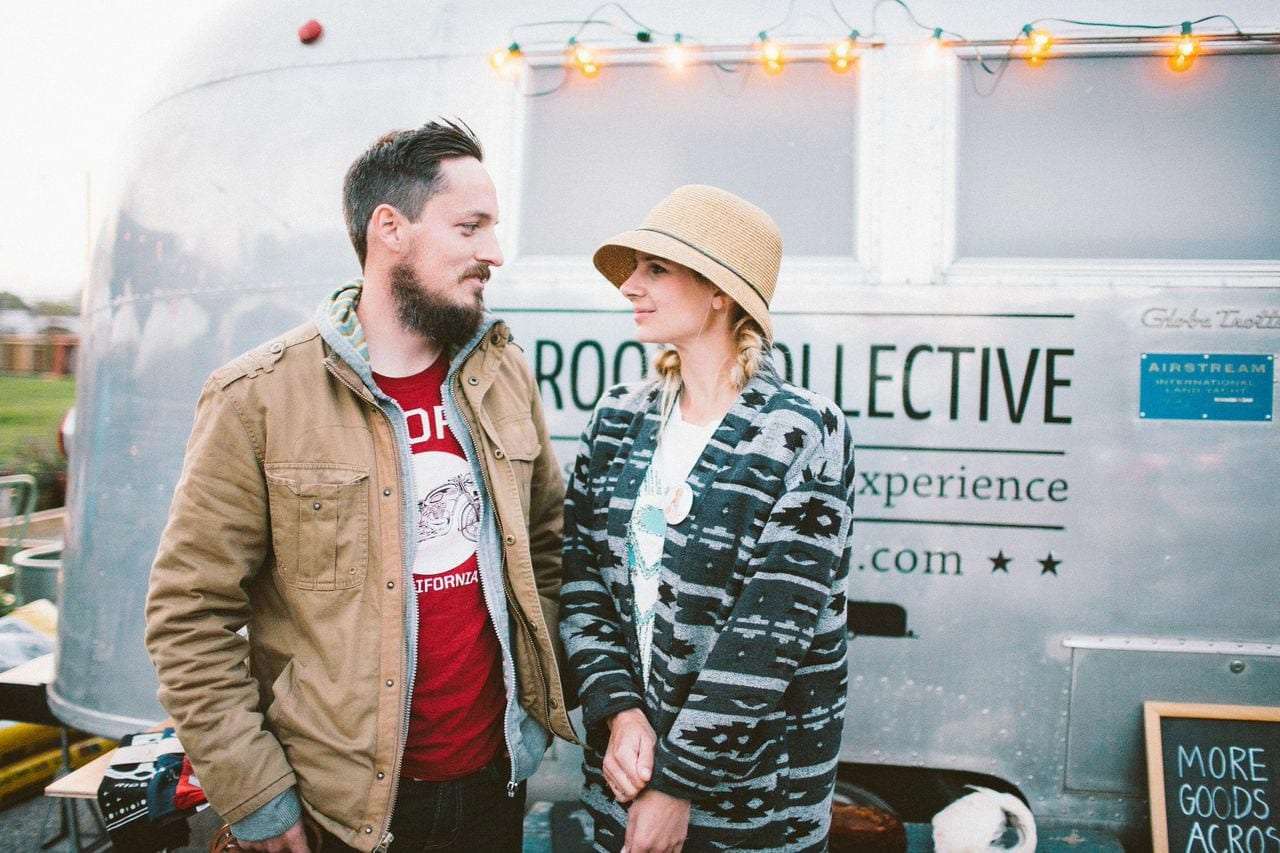 The idea of "local" has changed significantly, or at least has been significantly blurred, as the Internet has risen to such powerful stature in our modern society.
A cupcake that was baked this morning at the cafe down the street from you is local. A newspaper about your city, printed in your city, that's local. Just about everything Farmer Joe is dealing in at the local farmer's market is local.
But there have always been blurred lines. Is a cup of coffee brewed in Austin really local, given that the beans to make it were grown in Guatemala?
For those of us who travel full-time, local is additionally difficult to pinpoint. We can buy locally, but we aren't really locals, except that we are, just for a much shorter time than usual. We typically make our living in a non-local way: some type of Internet gig.
Enter thirty-somethings Lauren and Travis Hardy, two traveling mercantile proprietors who take everything above, stuff it into a 19′ 1963 Airstream Globetrotter, and more or less redefine the term "local" once again.
Though their meandering boutique on the road is one of the smallest you might ever visit, it also serves part time as their home. And a music venue. And a dog house.
"George," Travis begins, "[is a] ten and a half year old labhound mix adopted at Austin's Town Lake Animal Shelter in 2007 after being found wandering the streets of Pflugerville."
A lot done, with quite a little. It was this seemingly impossible combination of stage, gallery, boutique and three living things existing within one of America's most iconic (and compact) vintage trailers that has had us scratching our heads with delight ever since we stumbled across their Instagram account.
Travis transitioned into his adult life as an Industrial Design student at Georgia Tech. He now boasts the phantasmagorical title of Creative Conductor, no doubt lending both to the navigating of the vessel which lugs their Airstream around as well as his duties with the store. Lauren wears many hats, not the least of which originally providing them the ability to travel around full-time. Together–Airstream, pooch and all–they are Small Room Collective.
"We left Austin in September of 2011," recalls Travis, "to pursue a traveling life with Lauren's other vocation–a short-term contract traveling pediatric oncology nurse." Traveling nurses are some of the original "non-Internet" people who discovered that they needn't keep the same ZIP code in order to keep the same job.
"In Austin," he continues, "we had a rental for a few years. Lauren was working at a local children's hospital and I was doing design and video production work." Travis lists clients coming from Atlanta, Brazil, LA and Austin, "and now on the road."
"During the first part of our road life, Lauren was working as a contract nurse and we started setting up at markets around the US selling her vintage, Grand Abandon."
"In each place we moved we met so many cool people in each spot, and when we got to the next spot we'd find others. So when Lauren wanted to take a break from oncology we decided to just focus on being the connecting piece of all the places and people we've met. We thought we'd buy a trailer and travel around the USA, carrying her vintage, meeting new makers, and connecting them with our next stops. So within less than a year of having the road emporium idea we searched for a trailer, bought it, built it out and set out for full time road life." That was in 2012.
"We've now connected over 60 makers and shakers across the US."
Is it possible to run a little shop like this and keep yourself afloat? Certainly a typical bricks-and-mortar store faces hardships trying to keep any particular business going all year long, one could easily assume that perhaps the complications of constantly shifting your address would make such an endeavor even more difficult. One of the most beautiful things about Small Room Collective is how they've found a way to combine selling physical goods and traveling full-time, eschewing the typical "all day Internet, every day" income so typical of this lifestyle.
"Well, somewhat true," Lauren admits that the Internet is not completely irrelevant to their pocketbook. "Travis still does independent design work, so when we're moving he's typically working." What loose ends Travis' work and the shop leave needing tied, Lauren fills in with her nursing skills.
"I also work a contract at a hospital once a year so we can keep the Airstream wheels rolling," she tells.
They're not alone in finding interesting ways to keep the odometer climbing.
"We've met many photographers, artists, writers. We've also run across in the past two years several folks wanting to start mobile boutiques. But I would say, there's not one particular profession we've seen that seems to be outside of the digital world. Seems like most folks are independent contractors of sorts."
It's not as carefree, perhaps, as most aspects of the traveling life. You can't just setup in a campground or open shop in some random city park. Most places have regulations, permits, red tape. Plus, unlike turning a key and throwing on the neon "Open" sign, Small Room Collective has to setup shop–literally–over and over again.
"There's no big magic trick here unfortunately," Lauren is speaking to the actual task of converting their house, regularly, from mobile home to a small shop to their actual living space. "We break down and set-up for each event. We have a shop-ready version, and a road-ready version. We use a system of bins plus crates for storage, and some of the crates are also used as displays. It's taken some practice balancing set-up/break-down time with making things secure for the 7.8 magnitude earthquake the trailer goes through every time it goes down the road." The secret to all of this?
"We don't really carry breakable, fragile product and we have a Spiderman-esque web of bungees in place when we are on the move." The whole shebang takes them about an hour, "sometimes two or three including parking the trailer."
So how might a mobile mercantile find where they'll be able to setup shop next?
"Lots of research."
"We–mostly Lauren" Travis concedes," do a lot of cold calling, emailing places looking for spaces interested in hosting us. We also get invited places the more we do it, and new and old friends help connect us to new places. We hear one hundred 'no's before that one yes, but then we know we've found a like-minded spot and its gonna be great regardless."
"The business sustains itself," they relate, "but by no means are we swimming in gold coins Scrooge McDuck style. To us, it's more about making connections for the artists and brands we meet and really connect with, and how we can find creative ways to sustain that journey. We let go of a lot of conveniences we now see as luxury to sustain the movement, and we're ready for more roads ahead. We love meeting new people, seeing new places and all the cool movements happening around the US. We've realized whether its Louisville, Chicago, Portland, Marfa or York, Maine, there are great people doing great things and if ever our fuel ran out we'd feel right at home."