Tales from the Scenic Route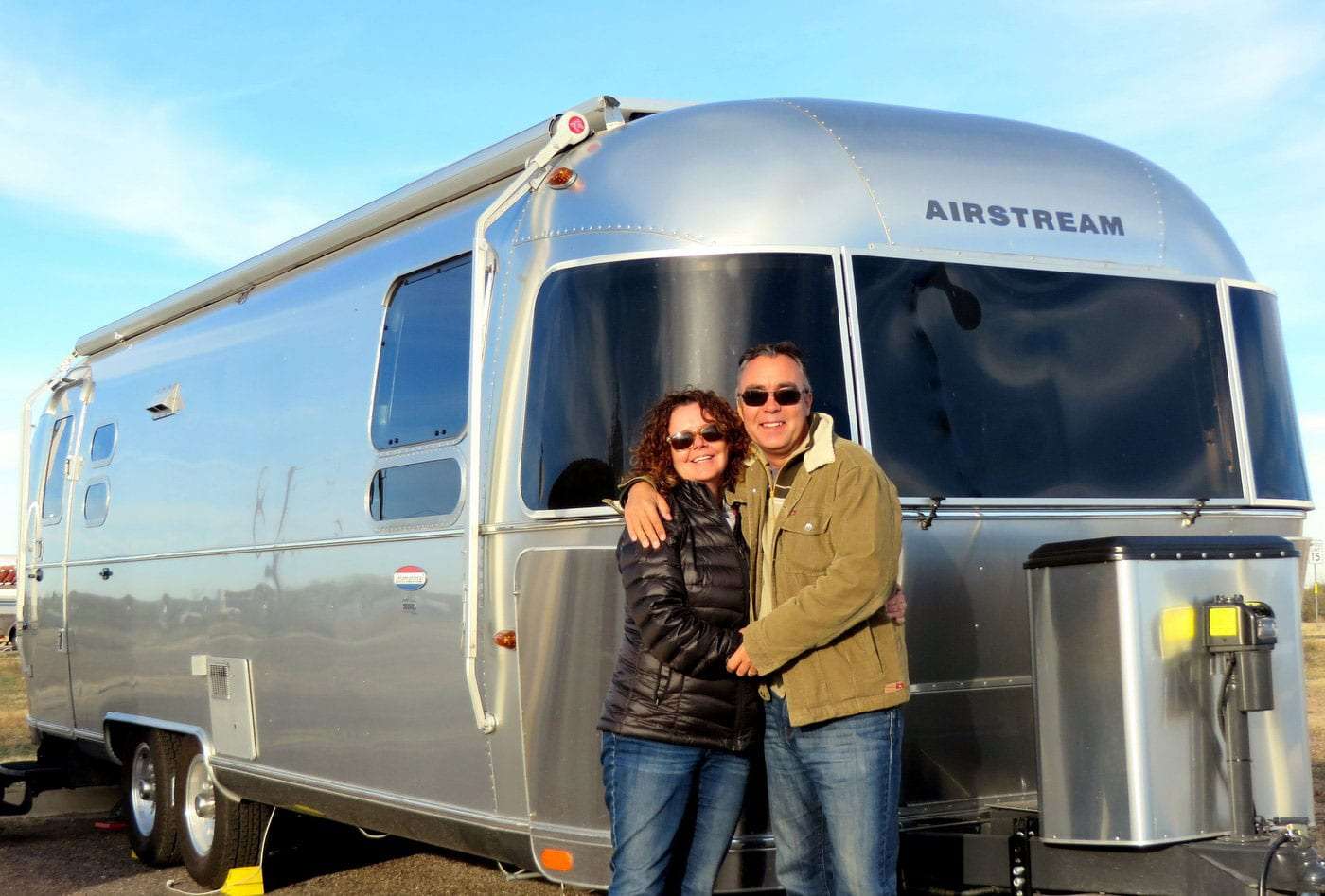 Meet Kate and Iain.
They are not your typical traveling hippies. In fact, some might point out that they had it all.
"My career was in biotech and healthcare marketing," Kate writes from their beautiful new 27′ Airstream travel trailer. "I worked for companies in the US and Europe for 20 plus years climbing the career ladder and traveling a lot for work all over the world. I decided to make a change in 2012 and became a partner in an advertising agency." The ad agency was also in the pharmaceutical and medical device industry. What most of us would think of as "big money".
Iain reveals his own history. "I worked for 26 years in the microelectronics industry. I worked for both multinational corporations and a couple of start-ups. Just like Kate, I also traveled around the world for work."
For both of them though, jobs traveling the world weren't doing it. Career changes weren't doing it. They were looking for something that screamed a little more "yes!" and a little less, "well…"
Kate's move to an ad agency did little to quell her disdain for the corporate world. So, she says, "I quit when we hit the road."
For Iain, the changes in the market during his career disillusioned him. He talks of how what was once all about the tech, the advancement, becoming just another stack of dollar signs for people to try and pile higher and higher.
He also notes that though he and his wife both traveled for work, "We rarely got to be in the same places at the same time."
"I still do part time consulting," Kate continues, "but no more that 5 or 10 hours a week."
As for Iain?
"I decided I'd had enough and I no longer work at all."
So while he doesn't particularly love the implications of the designation "retiree", he's calling it retirement. For now.
"I definitely do not intend to work full time again, so I guess I am retired."
Kate doesn't necessarily feel retired, but she has no plans to work for another company again.
"I like freelancing because it is on my schedule and I work with people I want to work with.  No one to manage and no politics. I can also give it up at any time."
Neither strangers to travel nor RVing, the couple previously careened about in a 24′ Winnebago View. When it came to full-timing though, they switched to an Airstream.
"The Winnebago View was great for weekends away," she recalls, "but was too small for full-time travel. I loved that rig; it was compact, functional and perfect for that style of travel. The truck however is so much more comfortable, the Winnebago was essentially an industrial truck chassis, so the cabin was like riding in a U-Haul. That gets tiring on a long trip."
They both talk a bit about the ups and downs of both, that the Winnebago's advantages were that it was easier to just pull into any parking lot, to find a spot to rest for a few minutes during travel, and how the Airstream and tow combo require more forethought. When it comes down to it though, Airstream seems to have been more of a desire than any need.
"We don't really have an aversion to motorhomes as a mode of travel, but we always wanted an Airstream Trailer. The iconic styling and modern interior is something that we couldn't find in any other RV on the market."
Or as many Airstream owners know, they're just cool.
Some may take this information and try and place Kate and Iain into some type of category. Retiree RVers or the lucky rich who got to set off on some big vacation. But far from it, they're embracing this traveling life with the full vigor that sometimes takes the roving lot years to figure out. A couple who has put their time in, long hours spending evenings working overtime and sitting on airplanes to achieve that piece of the American puzzling dream that's called the perfect retirement. Except they didn't choose to wait. They worked hard, saw an opportunity, and took it.
For so many Americans, we spend far too much time achieving the dream and find ourselves at the end of a long road with a rocking chair ready for us to call home. Instead of rocking in a chair two decades from now, Kate and Iain decided to roll on down the road while their legs were still itchy to climb mountains, their souls still adventurous and the road still open to them.
"Generally," Iain now speaks to the pace of their journey, "we prefer not to drive for more than 3 hours between stops and we like to hang out for at least a couple of days, maybe even a week or more if we like the place, or meet with friends. So that dictates the pace of our travel."
That's not to say that they don't get around, just that the realities of their lives and personal preferences indicate how fast they pick up and go.
"We slowed down this winter to spend the time in good weather in the Southwest," relates Kate, "But to be honest we got a little bored with it. Too much time in the desert for us.
"We're eager to move a little more now that summer is arriving."
In the past couple of weeks they've managed to visit breathtaking mountains and lakes from Tahoe to the Tetons.
"We have to remind ourselves and others that we are not on vacation, this is our lifestyle. Moving every day or two and packing in every tourist attraction is not the way we want to live.  Our life is about enjoying the moment, and focusing on happiness.  If we are happy in a spot we'll stay there a while."
Even perhaps before work lead them around the world, the two were bound by kismet in travel.
"Neither of us were into the big wedding thing," they both testify, thinking back to their wedding night in Malaysia.
"We always say the most important detail of any wedding is not the color of the bridesmaids dresses, or the table decorations, it is marrying the right person. Twenty years ago in the UK," the couples' homeland, "the law was pretty restrictive about where you could get married." Either a church or a government office.
"When we talked about our perfect ceremony we envisioned the two of us on the beach in a tropical place. Malaysia was an up and coming destination at the time, and so we decided why not. Our families and friends may have been a little put out at the time, but we threw a big party when we got home."
Kate doesn't seem put off by the idea of not everyone making it to the wedding, of having to do it all two times.
"I got to wear my wedding dress twice."
Now that they've had a lifetime of world travel experience, and have set out on their own full-time RV adventure, they're trying to give back a little, too.
"We have learned so much from other travelers on the road, and continue to gain a lot from their experiences. The summit," referring to the RV Summit Event, a free online gathering where experienced travelers impart knowledge on those who are interested in the life, "was a way for us to give our perspective on this lifestyle, and share what we have learned with others.  We are strong advocates for living your life now and not compromising on happiness, and talk about it at every available opportunity!"
If tomorrow never shows up, Kate and Iain seem to feel pretty good about what they've done today.
They also try and add value to those who follow along with their story by blogging about the lifestyle, their favorite campgrounds, and how passionate they've become about the freedom provided by this living on the road.
So where to next?
They're keeping the plans loose enough for now.
"We plan to head to Idaho, Wyoming and Montana for the summer months to explore Glacier National Park, Yellowstone, The Grand Tetons and Coeur d'Alene."
"We generally talk about a particular area of the country we want to explore," be it wilderness beauty or big city breweries, "or we have a particular event that we want to attend. Last year we went to the Albuquerque Balloon Fiesta and the Formula 1 Grand Prix in Austin, TX. Those two events were like markers that determined our general route.  This summer we don't have particular events so we are a little more free to just go to areas of the country we want to explore."
"Too many to count," they reply to the idea of a favorite place.
"We feel like we have only just scratched the surface. We love Southern Utah. Zion National Park is definitely one of the most scenic places we have visited in the world.  And there's a great campground in walking distance to town. It might be the trifecta. Also high on our list is Crater Lake and the Columbia River Gorge.  After a few days in Durango, Colorado we know that's a state we want to spend more time in."
They name numerous places along California's coast.
"Crystal Cove in Orange County provides multi-million dollar views for 35 bucks," stands out in particular.
They've set themselves up for living as wildly or conveniently as possible. But, as they extol on their blog, they love to watch a good slice of television.
"We do have a weBoost cell signal booster for use in marginal coverage areas," says Iain, "and that helps a lot. And you would [be] surprised how little bandwidth is needed to stream video content. For areas where there is no coverage we fall back on Red Box DVD rentals. We also have an Amazon Kindle Fire device, paired with a Prime subscription we can download content in places we have signal or access to WiFi to play back at a later time."
A solar setup helps them keep it all juiced.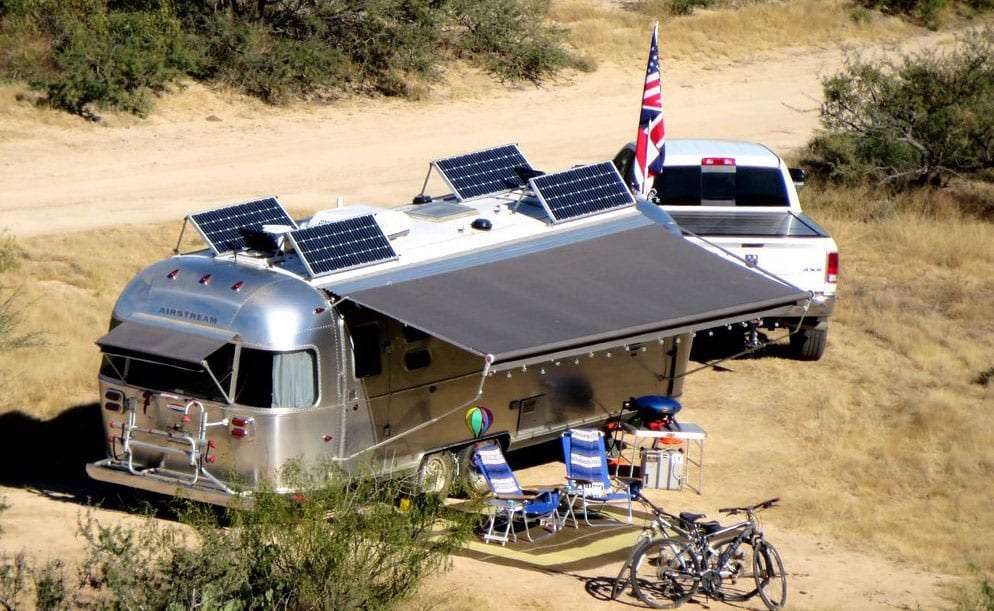 "We always knew," Kate explains, "we wanted to have the freedom to dry camp or boondock when we embarked on this lifestyle. Having solar power means we have so many more choices where to stay.  As well as being able to stay in remote and secluded places, the other main difference is that we now travel mostly without reservations.  Hook-up sites tend to be much more in demand, so if you no longer need to plug-in it is so much easier to be spontaneous."
The revelation that changes your full-time traveling life.
Iain didn't necessarily feel like setting it all up himself, though, but found a way to offset some of the costs.
"Electrical work is my least favorite thing," he admits, manning up in honesty like most of us do by just flubbing up a job in the name of saving a penny. "I was worried about screwing it up. We decided to have it professionally installed, but we were able to offset some of the investment with the Federal Tax Credit that gave us 30% of the costs back. The benefit from having solar is huge, it's so cool to be generating your power from the sun. I wouldn't hesitate to recommend installing solar to anyone to increase the variety of camping options open to you."
Still, they enjoy finding places to stay which are convenient to…well, conveniences.
"I do most of the planning," she tells. "I research places in the general area we are moving to and look for somewhere that is either beautiful, near hiking and nature, or near a town we want to visit. It is the trifecta if you find all three, but that's rare. I tend to triangulate my searches: checking reviews on multiple sites," naming Campendium as her first choice, "[but] I also check the sites of some of our friends who blog about where they have been. Finding places near towns is hard, because you often give up so much."
Private RV parks in urban settings tend to relinquish you of your camper-given right to a little space and nature.
But it's a tradeoff, she says, "to be walking distance to the cool stuff. We tend to treat that trade-off on a case by case basis. In Salt Lake City, we wanted to be walking distance to downtown, so we stayed in an RV Park that would never be my ideal choice of camping spot. Smaller towns can be easier," she talks again about California's smaller coastal towns which offer both camping and nightlife, "But the demand is high and the cost is relatively high too.  One thing we check if we are expecting to be close to town is the walking distance on Google Maps. What's often described on the park website as 'minutes from town' can vary."
One thing they love to seek out is a good brewery.
"Well we do like beer and travel so I guess we are beer travelers," jokes Iain, perhaps uncertain as to whether the term applies to them or perhaps not fully aware there is even an actual category known as "beer traveler".
"After spending 4 years living in San Diego, a Craft Brew mecca, we got a taste for many beer styles. It's fun seeking out microbreweries that are popping up all over the place and tasting a wide variety of brews."
Kate explains there love of craft breweries further. "We have long been advocates of supporting local entrepreneurs.  As we travel around we are really encouraged by the number of small microbreweries that are using their blood sweat and tears to make a business work. What better way could there be of supporting small business than drinking beer. We also like wine, but are not at all connoisseurs and this year I have been learning a lot more about Tequila. We picked up some great bottles on our few trips across the border to Mexico this winter."
As for particularly good breweries, hailing from San Diego themselves before embarking on this quest, Iain speaks to but one of the city's famous breweries. "Ballast Point produce a wide variety of drinkable brews. My particular favorite is the spicy twist on their famous Sculpin IPA, the Habanero Sculpin. Bend, Oregon was another stand-out area. We particularly liked Cruz Fermentation Project there.  I definitely like IPAs, but also like red and amber ales."
"I also have to give a shout out to San Diego," Kate interjects. "Partly because there is a massive choice of beer, but also you can sit outside at almost any time of year to enjoy it. We also loved Ska Brewing in Durango, Colorado. I also like IPAs, but actually I like to mix up styles and as the weather is warming up I have been on a bit of sour-beer kick.  A great bottled beer that a fellow traveler turned us onto is the Milk Stout Nitro from Left Hand Brewing in Colorado.  I don't think of myself as a stout drinker, but this changed my mind."
The couple plans to mix up their Airstream travels with hopping around the globe when it makes sense.