Tapas for Dinner at Zambra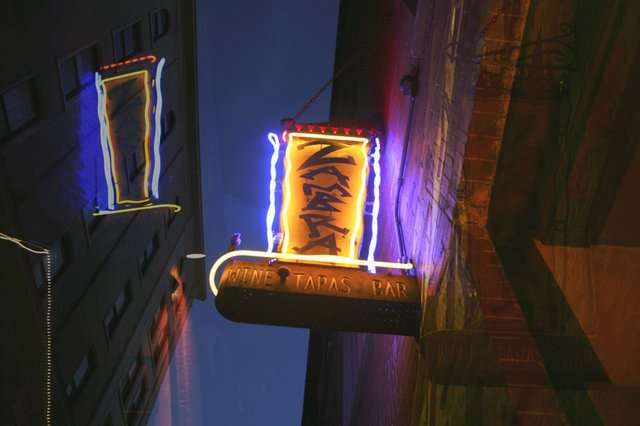 A handlebar mustache curls up and around our server's cheeks like two blonde pig tails stapled to a nose.
"Would you like to hear our specials?" goes mostly unheard as both my lady and I look at him in only slight disbelief at what we're seeing. Mustaches aren't uncommon in Asheville, the local hipster population insisting on their too young to grow proper facial hair selves attempting to grow mustaches that come off more like a child molester—skinny jeans cutoff too short and shirts showing excess abdominal fat as their morning routine apparently involves choosing the smallest shirt they can find, and then shrinking it once or twice in the dryer before deeming themselves appropriately dressed enough for walking the city's streets—than Burt Reynolds. There's just something about mustaches in the 21st century that don't work, and I laugh a little to myself as our server finishes reciting Zambra's specials of the night, which change with every new opening day. He's as polite as can be though, and I'm not laughing at him, he pulls the look off like a vaudeville cowboy nutcracker.
Zambra is a tapas bar, tucked off on the slope that is West Walnut Street, a block west of Lexington Avenue. It's not the only tapas bar in town, and it's not particularly cheap, but the portions are not typical, in that a single dish's proportions equal almost three of what a usual tapas place would serve (more typical portions can be found at Curate, who's neuroscience-doctorate-turned-chef won Best Chef in Western North Carolina last year, and where we somehow were persuaded into buying four ounces of pork steak for $20).
"Is this your first time here?" he asks, which is actually a question we've heard at almost every restaurant in Asheville, and we quickly learned that if you want your drinks within the first twenty minutes of arriving, just to tell people yes.
Regardless of such knowledge, we answer "Yes," in unison. He proceeds to inform us that they are, indeed, a tapas bar, and that about five to six dishes are good for two people. We take him at his word, he wanders off to gather our beverages, and we order a variety of randomness from a menu that, though always changing, is loaded with interesting noun/adjective combinations like char-grilled octopus with arugula, navarro white asparagus, pan seared local trout and painted hills hanger steak. The lady orders a plate of chic peas, though bearing a significantly fancier name of course, and they turn out to be the best of the bunch, which is saying a lot considering our five dishes end up being equal to about three heaping entrees from a more standardized restaurant, yet we finish every bite and order some bread to soak up the various sauces left lingering on our plates.
The restaurant doesn't claim to be tapas, as much as inspired by the Spanish food style. It's a take on traditional Western North Carolinian federated with tapas actually, and everything on your plate is either grown or raised locally, or imported directly from Spain.
A large family sits down next to us, we're in the main room which is dimly lit of a generally purple persuasion, they're North Carolinian through and through, from accent to attire, and seated a booth over another couple, two women, are the polar opposite accentuation with tattoos and public displays of lesbianism. Such is wonderfully typical of Asheville, all around an incredibly accepting city where gun toting rednecks and bleeding heart liberals live side by side, presumably harmoniously soaked in the local beer selection. The main room is large, and the seats are spread out—which is unlike many of the other eateries in town where they give you just enough room to only barely jam your elbow into the people sitting at the table next to you (and for whatever reason, in an empty restaurant always seat you by the one other table in the place). The bar is long and curved, leading the way from the main room to the restrooms, where you pass the completely open kitchen available for inspection on your way. On the other end of the restaurant are two smaller alcoves, perhaps reserved for large groups looking for a little private party time or just guests luckier than us who might find themselves tucked away into the romantic nooks and pillowed seats.
We finish up our dinners completely satisfied, stuffed even, which is perhaps unusual for tapas, and after a second round of Highland Kashmir IPAs for us both, we're waved goodbye by our country and western facial haired server and the bartenders alike. Walking out the doors, we're smack dab in the middle of the city and any further perusing of the downtown's bars, shops or nightclubs is, if desired, immediately available.
The choice for the best spot to have dinner is not an easy one, as Asheville is, for a city of 83,000 people, on par with San Francisco and New York city for great restaurants per capita. I actually can't think of a single place we've eaten during our entire time here that I was disappointed with, and the range is as glorious as the meals themselves.
After trying our hand at classic southern fare like grit cakes and fried okra (neither can I personally recommend, from any establishment) at the Tupelo Cafe, the staff more than graciously allowed us to finish our beers and smoke on the sidewalk seating area as they closed up. That was as good as it got as far as traditional Confederate state foodstuffs goes, but that's surprisingly not the bulk of most area restaurant menus in the area. Bouchon and Boca, located only doors away from one another on Lexington Ave, just around the corner from Zambra, offer exquisite French and Spanish food, respectively, the former touting it's version of en Francais with a bit of southern comfort thrown in as well. One morning while having breakfast at Boca after a long night at the Orange Peel, the waitress accidentally served me a mimosa before noon on a Sunday, only to minutes later come back and apologize for the illegal indiscretion, telling me that if I were willing to chug the beverage as quickly as possible, it'd be on her. I did so, tastily, though I don't imagine downing a glass of champagne keg party style was what the state had in mind when it created the ridiculously Christian law of no drinking while church is in session.
Other local favorites are Kubo's, on Biltmore Ave, for sushi, despite what the reviews around town touting another establishment's raw fish might say, and West Asheville's The Admiral, a combination dive bar / upscale restaurant where the PBRs are cheap and the steak is not so much.
In the end though, just about any door you walk through in the city where you can sit down and have a meal won't disappoint.