Las Ruinas Hostel
et Terlingua Ghost Town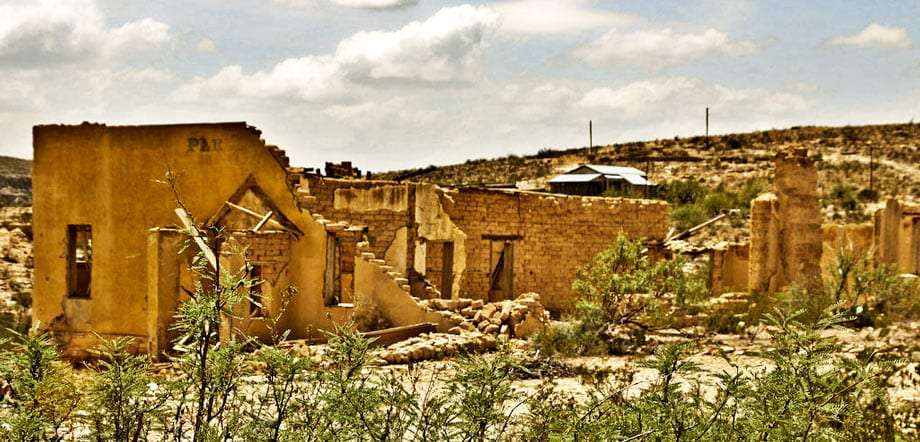 There lives a dozen or so army-style, white tents baking daily under the sun.
[Editor's Note: Las Ruinas is now defunct as far as camping goes.]
Leaving Farm to Market 170 and headed north in the ghost town of Terlingua, Texas, this most striking sight appears just off the road. To call the tents white would be a bit off, they are dusty and only slightly tattered from days of dirt and desert winds. Inside most are bare, a few have small wooden bunks, a cubby or two in others. They are fit for sleeping, for men and women with sleeping bags and a hardy keen toward roughing it.
They say the sun sets twice daily over Terlingua, once in the West as to be expected, and then again as it reflects twilight off the Chisos Mountains. A group of bicycling New Zealanders emerge from their various tents and begin making a small fire. One stumbles sleepily up a short path to a large, only somewhat rusting yellow school bus, long ago parked for good. The bus now serves as a lounge for the tent hostel, a kitchen piecemealed together over time leaned against it. He produced a beverage from the refrigerator, the crack of escaping carbonation into the late evenings heat resonating down over the campground. The head of a daysleeper leaned up from inside of the bus at the noise, and it was followed by the rest of its young girl body as she slinked out of the front bus door like a homeless punky brewster, the randomness of what outfits could be mustered together mix and matched with the general grime of a long haul bicycle trip across the United States. The guy reached back into the fridge and produced two more beverages. She leaned in against him and looked into the bottom of his chin as he repeated his bottoms up gesticulation.
Some of their fellows joined them in cutting up vegetables on the large wooden table in the middle of it all, smoking hand rolled cigarettes and every ten minutes or so one of them would yell, "Bungee the door," as an obsessive reminder that if the refrigerator isn't kept tied shut, the beers will not remain cold.
Later, their fire is hot and burning well but as the night crept millions-of-stars dark, so the wind began to pick up. The flames licked across the desert sand horizontally. They sang and laughed and the girl sat on her boyfriend's lap and fell asleep even as they all got rowdier, swinging their hands in the air leaving tracer silhouettes on all of space above. No one could have heard them, not in the bus nearby, not in the bar just across a stretch of sand which had been fashioned into a volleyball court, and certainly not in the belly of the ghost town a quarter mile further on. They had biked through 90 degree or hotter days, climbed from sea level weeks ago in St. Augustine to these 3000-some foot heights and would keep on for another month or so to San Diego, but for tonight it was all revelry and army tents.