The Mama Bus Trip
by Jennifer Miller
What do you get when you combine a solidly stationary farm wife, a professional gypsy mama, two toddlers, four teens & five in between with one big dream?
The adventure of a lifetime! Instead of going back to school last fall, we set off across the country in search of education and adventure with a goal of learning by doing and in the process learned some of the most important life lessons of all.
It all started with a dream…
Lois' dream, to be exact. She'd long dreamt of making a grand cross country tour with her kids but couldn't see how to make it happen between garden planting and harvest, laying hens, multiple cycles of meat birds, canning, freezing, tapping maple trees & the daily juggling that raising seven children between two and fifteen requires. Still, she nursed the dream and shared it with me over Skype calls between continents over a period of years while our family pursued our Edventure Project. The seminal call was made between Guatemala and New Hampshire from the shadow of a smoking volcano to the wood fired warmth of a snowed in February. It went something like this…
Jenn: "Do you really want to do this?"
Lois: "Yeah, but it's going to be at least two years before we can make it happen and Jeremiah is already almost sixteen…and Randy could never take that much time off."
Jenn: "We can do this. We can do this this fall if you want. If we wait any longer we'll be in Asia and it will be five years before we get another window… and the big kids will be gone. Let's do this, just you and me and the kids. We can fund it ourselves; the planning is the easy part for me. I'll do this with you if you want to, but to make it happen will take 100% commitment. How bad do you want it?"
Lois: "Are you sure? We can do this? … Okay. Let's do it!"
Making It Happen
With the starting gun fired as the phone clicked off we hit the ground running. There were a myriad of considerations from the logistics of laundry and food for a mini-army to van safety, route planning, lodging, schooling, and funding. Oh yes, there was that detail, the funding.
Every conversation we'd had about this dream had come back to the same brick wall and the unalterable fact that there was no money. None. As a family of nine there is no extra in their budget. As a family of six who travel for a living there's always the next plane ticket to be saved for or passport renewal to be funded. Both families live on a single income. Neither of us has held a paying job since our ultimate promotion to motherhood. She's done some fancy beadwork and sells things she's sewn. I occasionally manage to sell an article to a magazine. These are both hobbies at best. However, since quitting a nice stable job and becoming full time nomads we've learned a few valuable lessons and made a few valuable connections and I assured Lois
that the money was there, and that we'd find it.
We've learned that people want to be part of something and if you create a way for folks to buy into an experience and participate in some small way, they will do the most surprising thing: They'll participate. We've also learned that the very best advertising is word of mouth and companies will give people with an interesting story or an interesting adventure, or an interesting following just about anything they ask for. We've learned that travel doesn't have to cost a ton and often the kind done on a shoestring is the most "authentic" in terms of a boots on the ground experience with the locals. We've learned that money isn't the commodity we need to be worried about not having enough of, time is. Our kids are evaporating before our very eyes and no amount of dollars and cents will buy back a missed opportunity. The clock is ticking, and it's loud.
With these lessons in mind and every ounce of our creativity at the ready we dove into the sea of details.
We estimated our total trip costs at $7600, roughly $1.00 per mile we expected to travel, for absolutely everything, food, lodging, activities and incidentals. Those seemed like overwhelming numbers for two unemployed Mamas and a double handful of kids. But if you consider the fact that the average hotel room is $100 a night and we'd need three per night, that number starts
to look small, perhaps unrealistically small. That seemed like so much money with the ledger balance at zero, but what if it wasn't nearly enough?
The first team meeting was held in NH in May, when the Millers returned from Guatemala. Excitement was running high. Long lists of "must sees" were rattled off. Little kids jumped around pointing at the big map over the dinner table yelling, "We're goin' to OREGON!" The bigger kids voiced worries, "What if the van breaks down? What if we don't make the money? HOW are we going to do this?!" We shushed them all, reiterated that we were GOING and set our date: September 1. "100% commitment," I reminded Lois, "100% commitment," she reminded me.
Everyone did what he could.
We built a website and I started writing letters asking for sponsorships, both corporate and private. We invited friends, families and curious on lookers to "get on the bus" with us in some capacity and take a virtual trip with us. We promised them postcards and special privileges.
We joked that Lois paved the road west in cookie dough, making and selling frozen dough balls as fast as she could, for months. Kids stacked wood, sold cotton candy, babysat, dog-sat, raked leaves, rolled coins, entered contests and gave up all forms of personal spending for five months. The big kids took jobs writing articles for websites, did farm work, and contributed every dime to the fund.
The money started coming in, a dime found in a parking lot here, fifty cents for stacking a box of wood there. Fifty dollars for an online article, a hundred from a generous egg customer, two hundred from a corporate sponsor and our little fund began to grow. The skeptics in our group began to believe, momentum was building and the point of no return was reached.
3-2-1 Blast Off!
Our preparations were fast and furious the entire summer and not without difficulty: The day we pulled the trailer out to check it we found the wiring chewed beyond repair and that it didn't fit the hitch on the van. Two weeks before blast off we learned that we needed a whole new set of tires for our vehicle, $600 of our hard earned money out the window. The weekend before we
left, a hurricane blew through New England and nearly drowned our launch plans.
Nonetheless, August 30th, bright and early, we loaded 11 kids in matching blue t-shirts into the van, hugged our precious husbands goodbye, and set out on the highway with kids cheering in the back seat, our theme song playing and a few tears in our eyes. Lois' hands were shaking on the wheel as the reality that we'd done it set in.
Eight weeks is a long time, and yet is passed at lightning speed. A blur of new friends, old friends, family and strangers, cyclists and hitchhikers, national monuments, museums, factories, mines, mountains, prairies, buffalo, elk, oil wells, zoos, enormous trees, and tiny beach shells, and even a camel, ran together into memories that will last a lifetime.
There's no geography lesson that compares with shivering on the rim of the Grand Canyon and no history lesson like standing with your feet on the Oregon Trail hearing Grandma tell the true story of her Grandparents trip west on it.
There's no geology lesson that competes with exploring the bowels of Carlsbad Caverns and no literature class that holds a candle to crossing Mark Twain's Mississippi yourself.
There's no Spanish class that measures up to sharing Yellowstone with a cyclist from Spain.
No phys. ed. lesson that can compete with kayaking the Ocosollo Channel and wrestling a fishing pole to catch TWO enormous ling cod on one hook, one cast.
No career-shadowing day holds a candle to working a day as a logger in Oregon and getting paid for it at 13.

Those were important lessons, as were all of the ones recorded in their journals and studied, or read about over the long days of driving. But in the end, those weren't the vital ones because, after all, those lessons are available in books.
The real, life changing lessons were these:
That dreaming a big dream and making it happen out of nothing is possible, even for the unemployed and the children of the world.
That each of the children was strong enough and brave enough to carry his weight and make the journey, even when it was hard and that with teamwork, we can do great things.
That if you want something badly enough to rearrange your priorities, you can have it.
It might mean that you do without something else for a long time to save for it.
It might mean that you sleep in a tent instead of a bed for two months.
It might mean that you cook over camp stoves and swear off fast food.
Or, it might mean that you take nothing more than you can carry in your tiny backpack.
So much of what we do, or don't do, dream of or make a reality comes down to priorities in the end. What a great lesson for kids to learn before they're big enough to drive!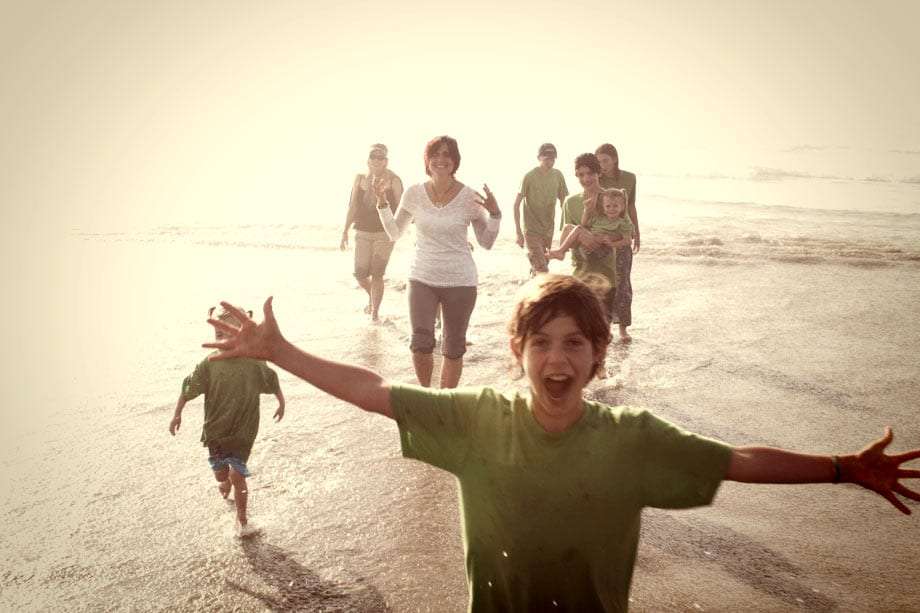 Life Is In The Moments
For me, the best moment of the whole trip was seeing my dear friend, with tears in her eyes, laughing and playing in the Pacific Ocean on the coast of Oregon, realizing in that moment that her dream had come true. We'd driven that last two hours to the beach for our "feet in the ocean party" feeling a little down. It had been a hard morning. Kids were grumpy. We felt a very long way from home. And then, something magical happened, as so often does on big adventures: the van doors opened, the salt air hit us in the face and for just a moment we had the presence of mind to live in the moment we were in. En masse, two mamas and eleven kids, we took off running for the ocean. Our personal paparazzi captured the moment forever while we wrote it on our hearts and the hearts of our children. Who gets to do that? Who gets to take two months out of "real life" and adventure clear across the country and back with their best friends? We did. Our children did. Tell us again how our kids are missing out on socialization and primary relationships by not attending school?
I walked off into the mist, away from the shouting and laughter to breathe in the quiet and the joy that always accompanies mountain top experiences for me. I thought of all of the other beaches I've walked, on other continents. I thought of the people I carry with me in my heart, constant companions regardless of where my body may be on any given day. I sifted through the memories of the preceding month: Mount Rushmore and Yellowstone, river valleys, mountain tops, freezing nights in tents and kids vomiting on top of it all, a trip to the ER, the morning picture of Lois' Mom cooking hash browns and eggs, with a scarf tied around her neck, for 11 kids and two tired mamas, the boys playing baseball with the gluten free cornbread grandma had baked; it was a little too hard to eat. The sand squished up between my toes and the water around my ankles felt like liquid ice. I picked up a dead jellyfish to take back to the children and noticed that the only sound was the crash of the waves.
There is a profound satisfaction in living my dreams; there is an even deeper satisfaction in helping others live theirs. I was blessed to be born into a family of dreamers and doers, of wild-eyed adventurers and trail blazers. Most people aren't so lucky. With my friends laughter echoing off of the sand dunes I found tears in my own eyes. There really are a few things even bigger and better than getting what you really want in life: watching others get theirs is epic.