Traveler's Holiday
Gift Guide 2020
Ah, Christmas.
The time of year we feel obligated to spend a boatload of money on things that the people we're sending them to will likely neither need, nor want. At best, it's a holiday that serves as a prelude to fuller garbage cans or a steadier stream of traffic at your local Goodwill.
The very concept of living out of a van or RV is the antithesis of what the consumeristic side of Christmas represents. Still, the obligation many of us feel to participate is a strong one to deny.
Really want to get the traveling camper type in your life something they can use?
We'll keep it short, for once. Here are the best things we've discovered over the last twelve months that we actually use on the road.
Affiliate links to follow…
Gifts for Travelers Under $25
Odell Brewing's Mountain Standard: $12
Our first recommendation, for that gift that keeps on giving all through the long nights, is a six pack of Mountain Standard. This is, simply put, the best IPA that is currently being made in the United States of America. It's sold by Odell Brewing, and so is largely only available in the types of beer stores that have 1 million varieties of beer, or in the Rocky Mountain states.
Can't find Mountain Standard? Sierra Nevada's Hazy Little Thing is also quite the winner this year, at least as far as "beers you'll find in nearly every gas station in the country," goes.
The former is the type of gift that says you care, while the latter still means you've done your best.
Aerobie Pro & Sprint: $19
These frisbees are essentially rings that fly impressively accurately and don't break out your front teeth, whether you're a kid just learning to catch or an adult who loves to get wasted and throw shit at people. Along with a football, they're our go to toys for family fun. The Pro is the larger model, while the Sprint is about the size of your classic frisbee. Nobody has, in the history of Father Time and Christmas, ever been disappointed by receiving a couple of Aerobies.
Yeti Koozie: $24.99
You know how the average foam koozie is kind of like a piece of foam you could lose as easily as, say, a lighter, or a dog you don't really love that much? And you know how all things "Yeti" are kind of overhyped and not nearly as good as they say? Yeah, so do we.
But not their little can koozie. It kills it. A friend of mine recommended it, claiming that he left a beer in one, went on a day hike, and the thing had a cold beer waiting for him upon his return that evening. Personally, I don't wait that long between beers. :) But I can say it keeps an open beer just as frigid as it was when you placed it inside for at least an hour. Once, my lovely lady put an unopened can of Sierra Nevada's Hazy Little Thing in one, then our baby started acting up, and she left it there in the sun for hours. At 10pm I was hoping for one more beer when I came across the thing. Cold as a crack in the Colorado sky come February 14th, I fell in love with the thing all over again.
Gifts for Travelers Around $100: Always Pan
Living on the road often means living small, and so anything that can serve more than one purpose, or pack away neatly, is welcomed. The Always Pan is both.
It's a pan that's also deep enough to boil water and make things like pasta. It comes with a lid that can either hold in the steam or let it slip out slowly. The wooden spatula that comes with it sticks right onto the thing. It doesn't stick like your average non-stick. There's a strainer that fits inside. It's great, trust us, they'll love it.
Gifts for Travelers Around $250: REI Co-op Screen House Shelter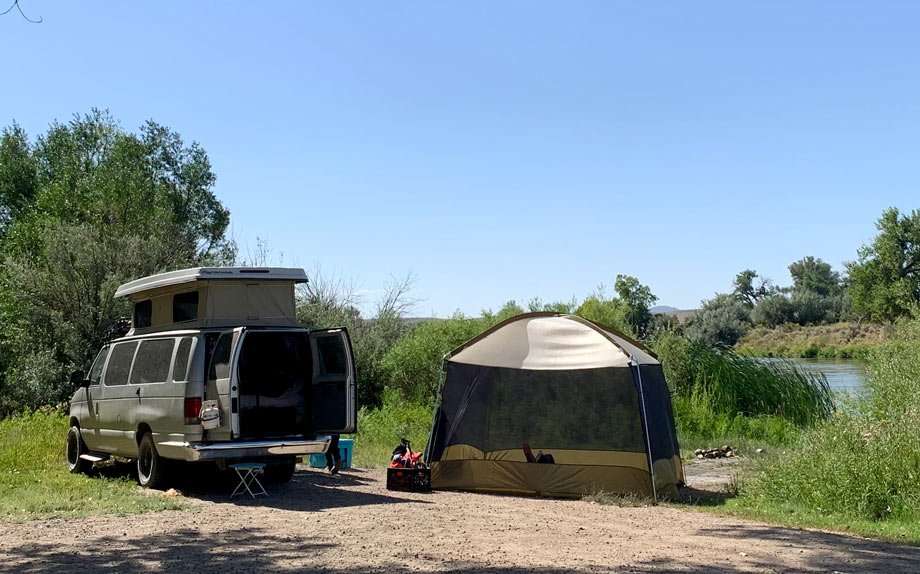 We use this almost every day. With six poles to setup, it takes about 7 minutes to get it out of the bag and into position, and not much longer than that to put back away. With two doors, it's versatile as far as where you can place it at your campsite, and it can easily fit overtop most large picnic tables. Bugs don't get in, not flies, not no-see-ums, not mosquitos. I mean, they can get in if you leave the door open, but when the tent is all closed up, it protects from both nasty nature fliers and also provides a modicum of protection from the rain. Add the rainfly to make it the full on outdoor Monty.
Gifts for Travelers Around $500: Jackery
We've covered this little portable power station in some detail in this issue. It comes in a variety of models, which range from $350 to $1000. In practicality, you'll want to add the solar panel combo as well, which will run you from $180 to $300 more. We personally use the middle-of-the-range setup, which is $680 total, but even the smaller Jackery and the 60w solar panel would be a welcome addition to any traveler's solar setup, especially those who also work from the road.
Another option in this price range is a cell phone booster, which we've also covered in more detail this issue.
Gifts for Travelers Around $1000: 100Ah Battle Born LiFePO4 Battery
We've written about our Battle Born battery before. It's an essential part of our own solar setup, and performs significantly better than our old deep cycle setup. Long story short, we can survive almost eternally on this battery, assuming we dodge days and days worth of rain and live within our power budget. And that Jackery, mentioned above, works wonders for stretching through even a solid week of rainfall (though, honestly, nobody wants that – umbrellas for sale, anyone?)