Vanlife in the Outer Banks
We've traveled these United States, thoroughly.
Not just bumping from town to town, blowing by exits on the Insterstate and skipping states one after another as the days turn into weeks of seeing nothing. Doing our best since 2008, almost exclusively on backroads and rarely more than 2 hours in any given day, we've tried to take it slow, soak up as much of each corner of the nation as we can, and let what cream rise to the top as may.
Few places on the Atlantic coast, let alone east of the Rockies, tickle our muffler quite the way the Outer Banks do.
Most Americans will have heard of the location. It may conjure images of beach houses and swanky living. I assure you, nothing could be more accurate and far from the truth. Yes, should you want the weeklong stay in a fancy beach house, that is available. But if you just want to experience a small town life, a coastal sort of float away your days, with ample nature to meander through and all of the modern conveniences most folks will need while making their way around this country in a van or RV, the Outer Banks has it all.
Small towns. Bigger towns. Strip mall flip flop and t-shirt stores. Cute cafes. Miles and miles of undeveloped shoreline, with camping options from RV resorts to national park, simple electric hookups to full on beach camping.
It's easily our favorite coastal tour in the Southeast, and compares to what you'll find in Maine as far as rugged, lonely, black sky nights and the type of peace, quiet and solitude we personally find all too rare Back East.
Camping in the Outer Banks
We'll do a sort of top 5 here, but note that we're skewing our preferences heavily toward camping in the national seashores that make up the majority of the experience in the Outer Banks that we're interested in. Should you be more interested in RV camping with hookups, we'll touch on that as well, or you can always do some independent research on Campendium.
With the exception of Cape Lookout's listing below, these campgrounds are all on the Cape Hatteras portion of the Outer Banks.
#1. Frisco Campground
This isn't one of those worst-to-last lists. This is the best campground on the island, assuming you can produce your own electric (or live without) and deal without hookups. Especially the "P" loop, which offers the triumvirate of shade, but also solar, and proximity to the beach. The place does cost $28 / night, but you do get access to bathrooms, picnic tables & fire rings, and also dumpsters. The stroll to the beach comes with a boardwalk, from multiple different spots in the P loop. As national parks / seashores go, this is about as 5-star as they come. Cell service will suffice for any digital nomad here as well, if such a pursuit finds itself a part of your traveling resume.
#2. Cape Lookout National Seashore
Not for the feint of heart, here's the lowdown on Cape Lookout. You can take a vehicle there, yes, but it truly needs to be a 4×4. There are no actual roads on the island, you traverse the sand. We take our 2-wheel drive van on many a backroad, forest patch, etc. This is not the place for that. It's pristine coastal shoal little stretch of something special and you don't want to get stuck out there, cause a ruckus, and ruin it for the people who came with the right equipment.
#3. Oregon Inlet
If you're a small vehicle, and have no need for electric / water hookups (which are available at some sites in this national seashore campground), snag a tent site and never look back. The tent sites don't literally require a tent, and are not much different from the other, more southern loops in this campground. All of the sites come with the same paved parking area, fire pit and picnic tables. However, those in the tent area are a bit more nestled into the dunes, providing significantly more privacy than the big open grassy spots in the other loops.
I know that providing this advice may frustrate some tent campers, but the parking areas are shorter than in the RV loops, so if you have a vehicle that fits into those areas, you're already probably closer to a tent + a car than even some tents will manage to be, and you've made the sacrifice of downsizing from an RV, so afford yourself this uncommon luxury of the best of both worlds.
Otherwise, and regardless of loop, it's a pretty short walk to the actual beach, the bathrooms are clean, and there's great cell service here from which to post up a temporary nomadic office.
#4. Ocracoke Island Campground
Of all the towns on the Outer Banks, it's hard to argue that Hatteras and Ocracoke Island aren't the two best. That said, and with the national seashore campgrounds that remain being largely equal, we toss the fourth spot on this list to Ocracoke simply because there are better options closer to the Hatteras side of the ferry.
Ocracoke's campground is okay, with a few spots that offer a bit of privacy thanks to some scrubby plantlife, but all things equal the little island loaded up with golf carts and seafood, food carts and mud puddles overflowing galore when the rains come is definitely worth more than just a quick stop before you catch the ferry to the mainland again.
#5. Cape Point Campground
Even last is not necessarily least, and for some the experiences at either Ocracoke Island and Cape Point will easily top the RV loops at Oregon Inlet. It's unlikely that you'll struggle to find a spot at our number one pick for this part of the Outer Banks, though, and given the opportunity, we'd go with Frisco Campground any old day of the year.
Free Camping in the Outer Banks
Long story short, it's absolutely possible. You can do so in a completely legit manner, should you have a 4×4 vehicle, on Cape Lookout National Seashore.
On the other hand, you can't stay in any campgrounds for free in Cape Hatteras National Seashore. If you want to get stealthy, free camping can be had in many of the strip malls of Nags Head. Setting up camp chairs and trying to roast weenies in the lot isn't going to be on the agenda, of course. If you're a cool person who knows how to be friendly, you'll no doubt get an invitation or two from locals to make a night's worth out of their driveway, or if you're the really suave type you may be able to convince a particularly deep well to let you crash the booze off after utilizing their watering hole politely and with an adequate tip. How free you consider that is up to you. Personally, we prefer to pay the relatively modest fees at Frisco Campground, in exchange for knowing we're saving a fortune over coming here on some once-a-year vacation type rendezvous with the sea.
In any case, please be considerate to the locals, who are pretty damn wonderful, and the natural setting you're in. Just because you paid $80 at an RV resort, that doesn't warrant leaving your trash on the beach, and even if you do manage to score a free spot, perhaps that's all the more reason to spend an hour picking up Budweiser Lime cans off the beach the next morning.
I say this simply because, well, every time we explore the Eastern side of these United States, it seems more and more trashed, more strewn with litter and like we're sticking our toes in hypodermic needle sand. Anything that you might do to help reduce such a situation would–even if it were just a handful of you–make it feel all the cozier in my heart to have written this equally free bit of information you're currently consuming.
The Towns of the Outer Banks
We won't claim to be all knowing in this department, as the year has been rough and doesn't exactly invite one into civilization with open arms, even in tourist towns.
What we can tell you is this.
Coming into the Outer Banks from US 158, there will be no shortage of places to stock up on just about whatever you need. That said, you can do so just as easily in Nags Head. Food Lion, Harris Teeter, Publix, they have it all. Nags Head is also the most "Atlantic Coast" of what you'll find in the Outer Banks. It's more Myrtle Beach and Ocean City, if the vibe of those types of places rings a bell. You will have no issue finding sandals, beach chairs, crabs legs or vaping products in this area. Craft beer will be more abundant than anywhere else on the islands, though it's not hard to find in any of the following towns either.
Nags Head is basically the epicenter for all things Kitty Hawk (where the Orville Brothers became the first humans to fly), along with other national attractions.
Heading south, the villages of Rodanthe, Waves and Salvo are of a smaller, more low key breed. If you have any mechanical needs with your vehicle's engine while in the Outer Banks, Dale's Auto Service in Salvo is the real deal, pay-it-forward good karma kind of place you can rely on. Not to say he won't charge you, but at least you'll know you've gotten your money's worth and you'll be back on your way.
Next you'll roll through Buxton, and on into Frisco. This is our preferred basecamp, not because it's the best town, but because it has the best place to camp that doesn't require taking a ferry to a four-wheel drive only zone.
Across from that camping spot–which goes by the appropriate name of Frisco Campground–there is a gas station, post office, rod and gun store, sandwich shop and even the Frisco Native American Museum & Natural History Center. But mostly, it's an excellent campground on the beach.
Less than fifteen minutes south is the exquisite piece of American small town of Hatteras. A coffee shop by the name of the Dancing Turtle meant everything to us as we got up early to take the ferry to Ocracoke.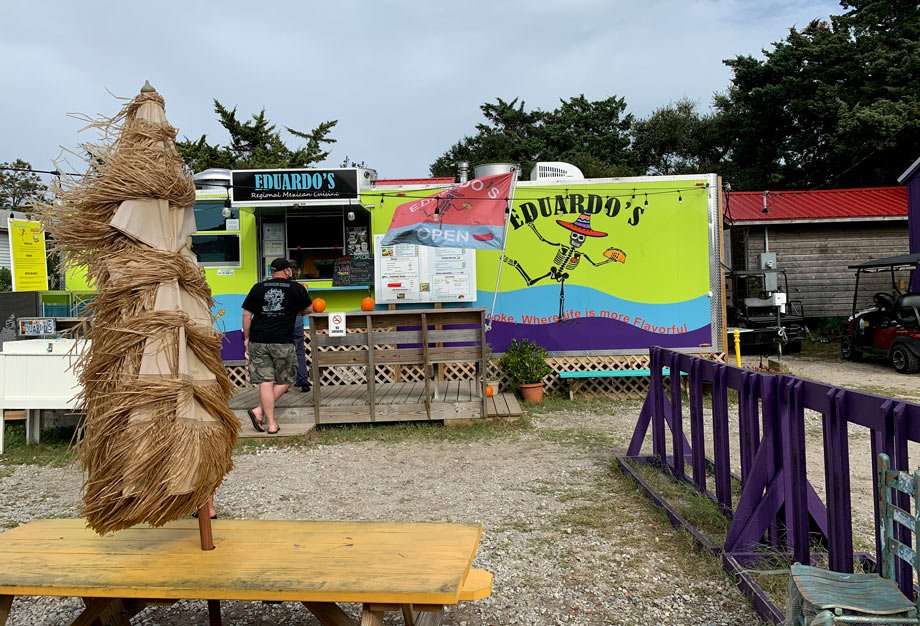 From Frisco south, and all through Hatteras, the wind blew heavy over the highway and while we were only experiencing the leftovers from a tropical storm that had largely fizzled out in the Gulf, it's easy to see how being on these small slices of sand could get intrepid–to say the least–in heavier coastals. All the more a testament to the people who live here year-round and why you might consider tipping more than your hat to them if you decide to visit.
Working Remotely from the Outer Banks
Numerous places, from the aforementioned Dancing Turtle in Hatteras to a Starbucks in Nags Head, offer WiFi. In general, though, cell service is rampant throughout the Outer Banks and you won't have much of an issue connecting to the Internet via your cell phone. We were soaking up the bars in Nags Head, at both the Oregon Inlet and Frisco Campgrounds, and all the way into Ocracoke Island as well.
If you're looking to camp and work with a steady stream of both Internet and electricity, then we'd lean you toward Oregon Inlet Campground (or, of course, any of the half a dozen or so RV parks in the area if you want to be really squeezed in).
The Ferries
Discovering how to island hop was one of the more convoluted aspects of our time on the Outer Banks. You can basically get all of the information on the ferries at the North Carolina government site which operates the majority of them, but to more or less break it down.
Hatteras <-> Ocracoke: 60min Ride / Leaves Every 30mins
If you're coming from the north (Nags Head / Kitty Hawk), you'll have to take the Hatteras ferry. This is a free, 60 minute ride to Ocracoke Island. We were in a van, but you can take an RV as well. In November of 2020, this ferry took off every half hour between 5am and midnight. It was absolutely ho big deal to get onto, the ride was beautiful, and that was it.
You can get out of your vehicle on the ferry, but aside from watching dolphins go by, there isn't much to do on the boat itself.
That'll drop you at Ocracoke, which is full of stuff to while away your day, but–and again, this was during our time in November 2020–the ferry to the mainland, specifically Cedar Island, runs much less frequently and they want you to get a reservation. There are basically three times you can catch the ferry, 7:30am, 1pm and 4:30pm.
Ocracoke <-> Cedar Island: 2hr Ride / Leaves 7:30, 10:30/1pm, 4:30pm
If you're doing it the other way, starting on Cedar Island and heading into this part of the Outer Bnaks (Hatteras, Frisco and north to Nags Head) then the times are 7:30am, 10:30am and 4:30pm. I'm glad we approached from the north and went to Cedar Island, because there's a lot more to do on Ocracoke than on Cedar Island.
While the more regular ferry to and from Hatteras / Ocracoke is free, the ride between Ocracoke / Cedar Island is not. It depends on the length of your vehicle. For those of you under 20′, it's $15. With our bikes hooked onto the front of our Ford E-350, it cost us $30 for a "double spot." For 40′ – 65′, you're looking at $45. We were able to make a reservation–one of the last 5 available on two days notice–but only for either the 7:30am or 4:30pm trips, and I had looked previously and the same held true; essentially, the 1:30pm / 10:30am trips (again, depending on which way you're going) are the most popular. Book early, but don't worry — other than the limited times, it's a hassle free, drive on, drive off situation.
Where the stuff does get rough, so to speak, is on Cape Lookout. You can't ferry from Ocracoke to Cape Lookout in a vehicle. You have to go to Cedar Island, drive about an hour down the North Carolina coast, and from there a multitude of private ferries can hoist your vehicle to the southern national seashore. Did I mention you need four wheel drive? You may think you don't, but Geico isn't sending that lizard out to save your ass on the island.
There are some cute cabins you can rent, by the name of the Great Island Cabins, and you can get your 2-wheel drive ride (not sure about RVs though) shuffled over to those, but make sure to plan and book well in advance as they fill up very quickly.
Groceries & Beer
Not to be overlooked, sustenance in the form of bread and beers are always at the top of our particular lists when it comes to exploring somewhere new. Nothing puts a damper on a jaunt through America's most beautiful southern seashore like starvation. That said, you won't have any issue finding grocery stores throughout the northern sections of the Outer Banks. Nags Head has the bigger, more modern grocery stores, and smaller places to stock up on sundries in–with considerably less selection, especially when it comes to meats (save seafood) and produce–all the way down to Ocracoke.
If you enjoy the finer side of beers, craft beers can be found in every gas station and supermarket that we stopped in all the way up and down these sandy coasts, as well, with a decent selection ranging from standards like whatever Sierra Nevada is currently pushing to more local, North Carolina breweries as well.
We'll no doubt return to the Outer Banks time and again, should traveling the Southeastern Atlantic show up on the schedule, and have no qualms in declaring it the best part of the Southern Atlantic Coast in these United States. By far.