As High as it Gets this side of the Mississippi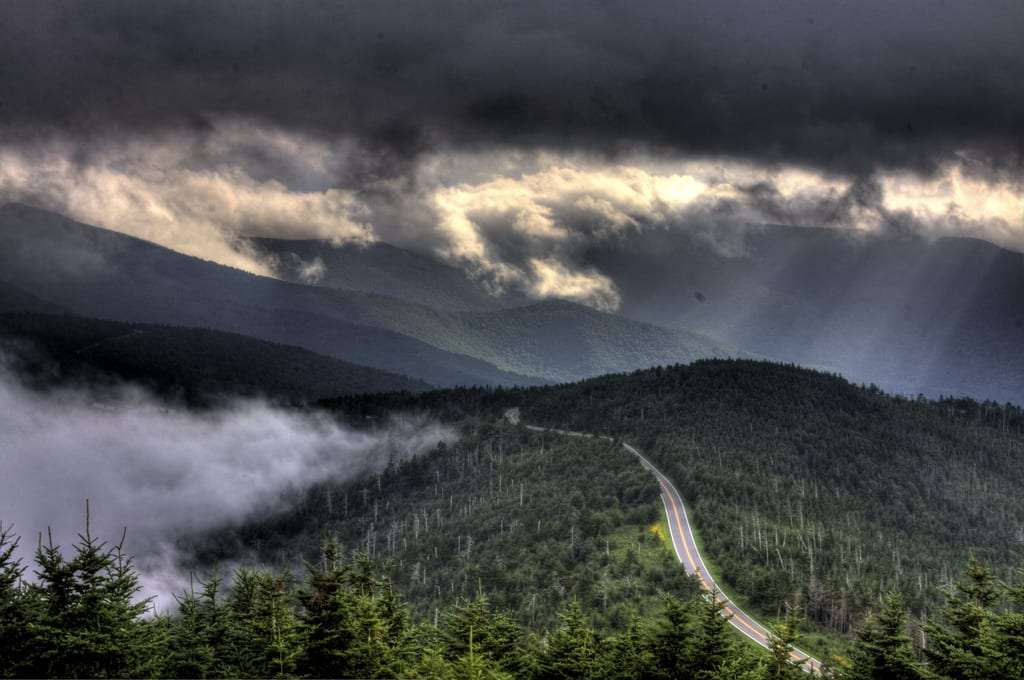 We finally made the long haul up through the Black Mountains, all along the Blue Ridge Parkway, and into North Carolina's Mt. Mitchell State Park.
It's a long drive to Mt. Mitchell from just about anywhere. From Asheville, you can take the Blue Ridge Parkway north just over thirty-three miles, which takes over an hour due to the winding, scenic nature of the Parkway…and that's without stopping off at every scenic overlook to get a breathe deep moment. Worth the drive though? I'd say so, particularly considering the drive is every bit as spectacular as the mountain itself. Bicyclists keep a slow, steady and often smiles on their face pace as they keep on keeping on higher and higher, passed every now and then by guys on motorcycles hugging turns that seem to be specifically made for crotch rockets and the new generation of retiree biker gangs. Vintage cars pass us in the Bus and wave, tourists and bird watchers and families coming for a hike from the city all parked along the various pull outs that offer grand views of the Swannanoa River Valley and Seven Sisters Mountains, which lead back down to Montreat and Black Mountain.
We've come a little unprepared though, having forgotten to bring some charcoal for the intended cookout, poised to include homemade burgers, corn on the cob and, of course, a can of Grillin' Beans. We also forgot to bring any adult beverages, having attempted to purchase them along with our other foodstuffs earlier this bluebird sky of a Sunday morning, but alas, the heavy Christian stain left on the laws of North Carolina have left us unable to purchase a six pack and a bottle of wine before noon, and we were well into the parkway by that time. Never a problem, though, when you're just playing it all by ear. The park doesn't allow alcohol anyway, so while we won't get to imbibe, we also won't have to feel like criminals on a picnic, and we find some fellow wanderers willing to let us use a little of their charcoal.
You can hike up to the summit, a whopping 6,683′ high at the peak, which lays Mt. Mitchell's claim to the highest point in the Eastern United States. On a good day, one can see as far as the Smokey Mountains' Clingman's Dome, some 70 miles west. But we're here for some fun in the sun. It's brisk at this elevation, even when it was 80 degrees back down in Asheville, so try and remember to bring a hoodie along with that charcoal!
Here are a few pics of what you can expect when you reach the top. Enjoy!