Bananas, Ruins and a Campervan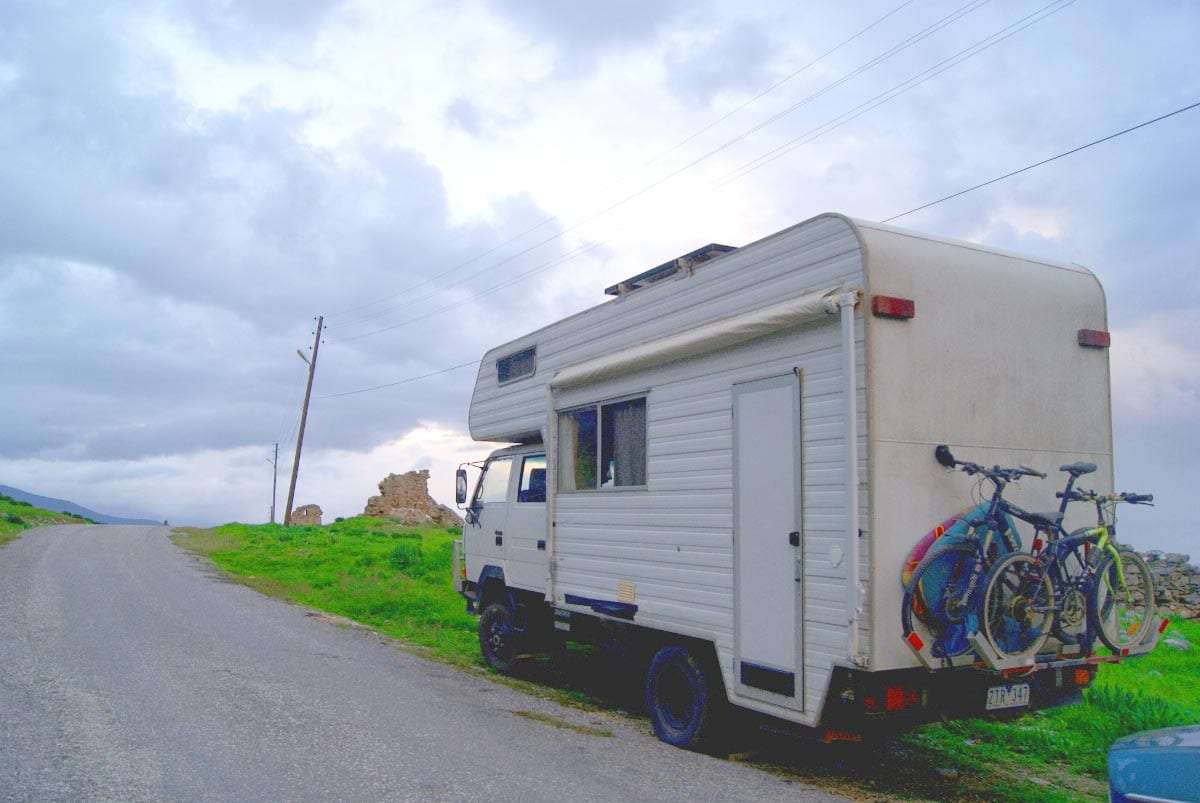 We wind around mountain roads, truck by truck, car by car.
One driver is particularly speedy, knocking us against the side of the car as he swerves round bend after bend.
We overtake a camper van with bikes strapped to its rear, and gape as it slides from view in the back window. It's been a long time since we saw any tourists.
We stop at Anamur, Turkey's banana capital. Turkish bananas are a little shorter and stubbier than the African varieties, but they're delicious. It's a treat to buy 'local bananas'. Anamur's local economy basically depends on them, along with strawberries, papaya and avocados—though bananas are the only fruit sold in enormous quantities at every roadside.
We buy a bunch of bananas and stop for a break in a cafe. We slurp thick black Turkish coffee at an outside table, and there across the road is the parked camper van.
When the coffee and bananas have recharged us a little, we make our way out to the nearby highway and put up our thumbs. It's then that I realise I need the toilet. I need it very badly. I run back to the cafe, and when I come out a second time, the campervan is nowhere to be seen.
I run and run back to the place where I left Hrach standing, and find him shouting my name, the camper stopped just next to him. A man and woman are loading our bags into the van.
The campervan is home to a family from Germany: a man named Klaus, a woman named Eva, and their two children, Felix and Christina. This family has been all the way to China, and are now driving home the long way, back to Germany.
It's such a treat to be with other travellers. I find myself babbling away about our adventures, plying them with questions about where they've been, what they've seen, and where they're going next.
Klaus, who's driving, tells us they're also heading to Antalya, but slowly. They only cover around 100km a day and may not make it there this evening. If we like, we can park with them for the night, sleep in our tent, and continue on our way with them tomorrow. We decide to ride along a while and decide later.
Eva tells us they want to see some ruins nearby and invites us to join them.
The Turkish south coast is literally covered in ruins. Pick any small road at random and you will likely come across a piece of ancient history, lying unguarded among woods, meadows or rocky cliffs.
We visit Anemurium an hour before dark, as storm clouds tumble overhead, threatening rain. Cracks in the clouds filter streams of sunlight onto the ruins.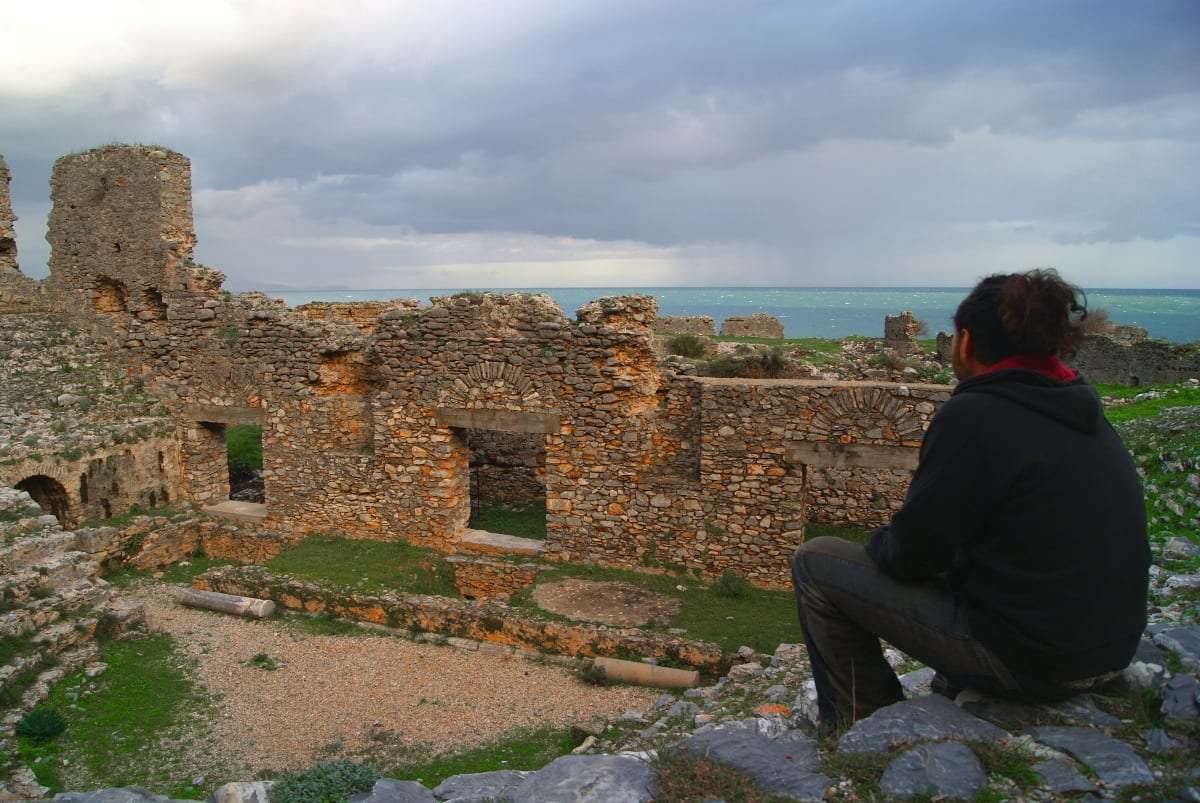 Anamurium predates Anamur by centuries. Founded by the Phonecians, it has been Assyrian, Hittite, Persian, Seleucid, Roman, Byzantine and Ottoman. It was also part of the Armenian Kingdom of Cilicia.
There are city walls, aqueducts, baths, churches, graves with two floors and ruins of ancient houses. Many of the tombs date from the very beginning of the Common Era.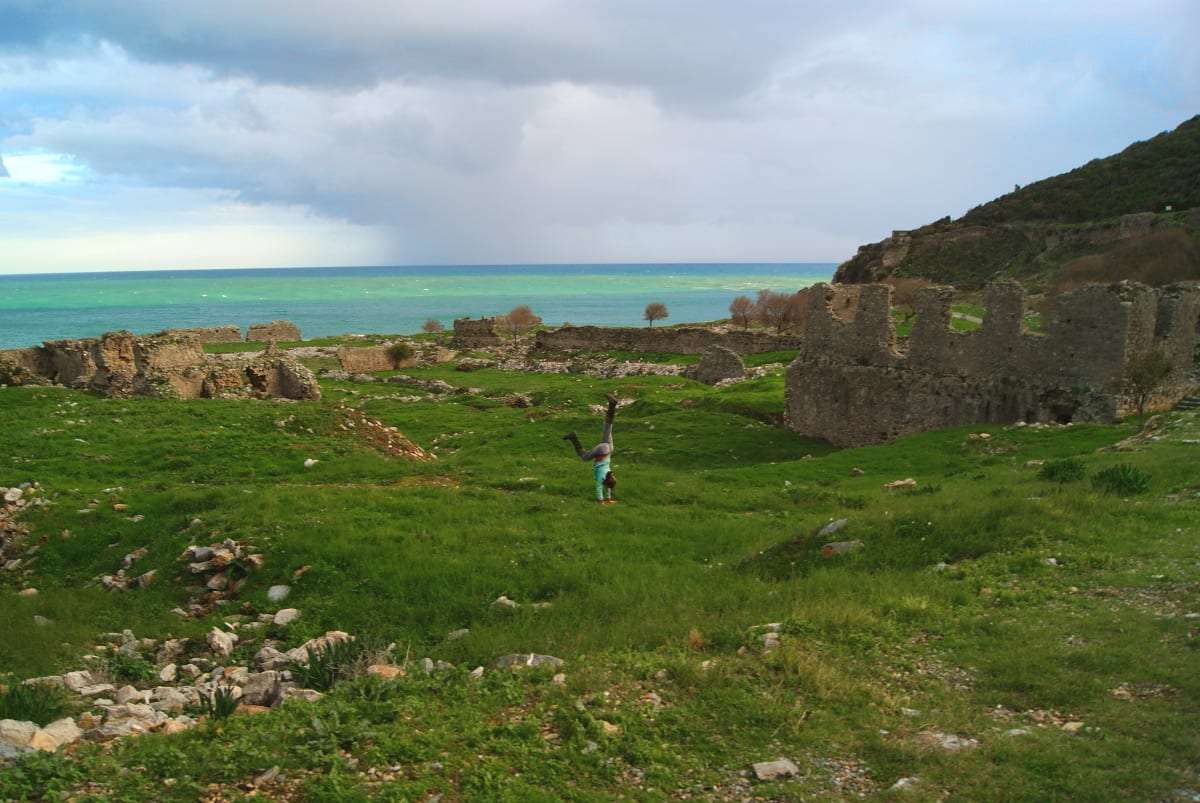 It's time to find a place to park by the time we're through taking pictures and exploring, and have gathered back at the camper.
We drive further along the windy cliff, then turn up a succession of steep mountain roads, looking for a secluded camping spot with a radiant view.
The spot Klaus chooses, though fabulous for a campervan, is a little lacking in terms of tent space and soft ground for pegs. We decide suddenly to continue on our way. It's only 6pm after all, and we're feeling confident, buoyed by a lovely evening with fellow travellers.
We wave goodbye to Eva, Klaus and the kids, hoping to see them later, somewhere along our way.
It's a long walk back downhill in the dark and onto the road, where we flag down a truck on his way to Antalya. The truck is full and the road spirals slowly. We nod asleep and awake and asleep in time with the rocking of the truck, all the long four hours to Antalya, where a flat full of travellers is waiting to greet us.