Free Kayaking in Placencia, Belize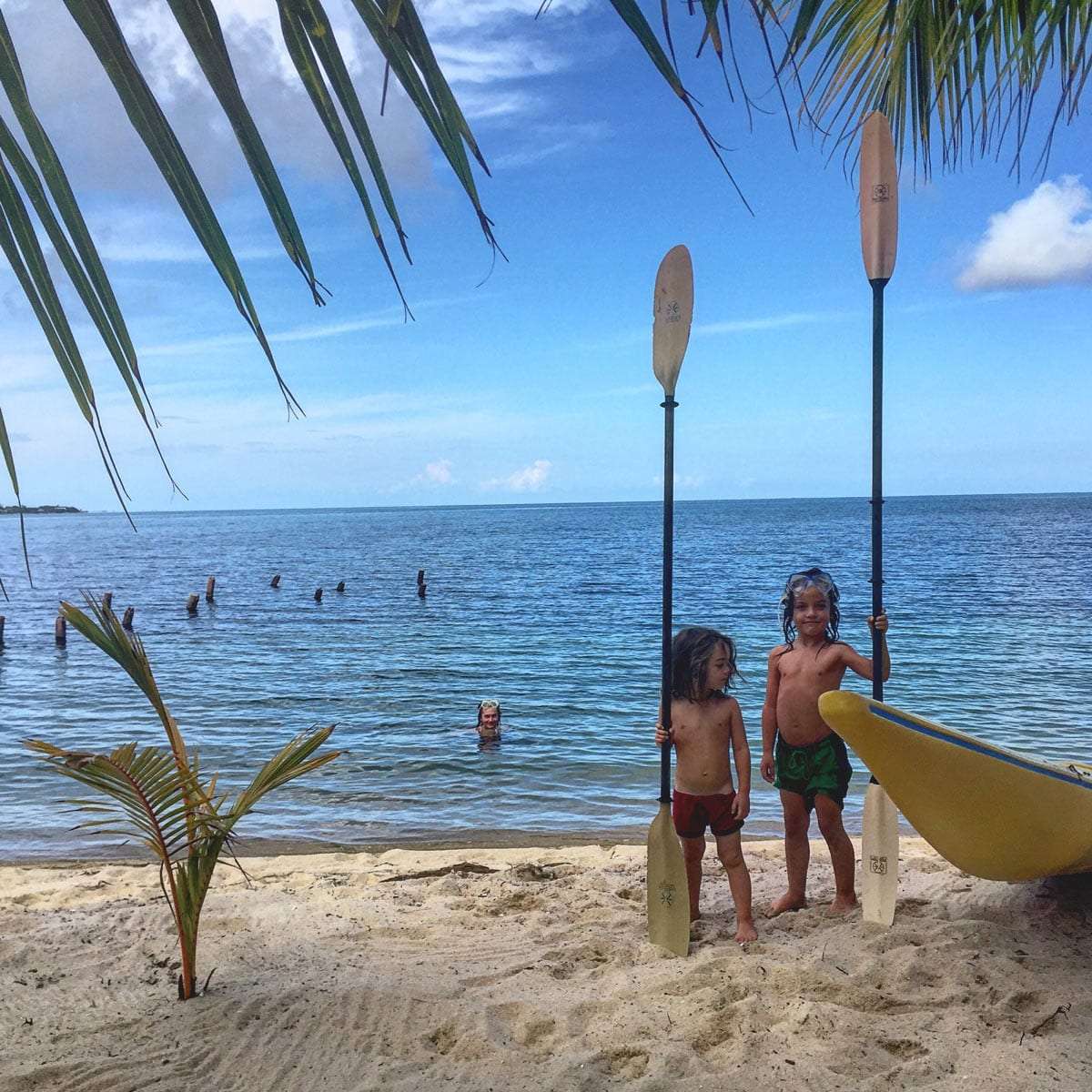 "Oh, and the kayaks are free, just come to the office to pick up some paddles."
She was the loveliest host of a small set of cabanas, snuggly cuddling up with a few feet of sand, some coconut palms that couldn't help but wave hello all the day long, and the Caribbean Sea.
Escorting us to one of the seaside cabins all painted up like a technicolor dreamcoat, a few extra rolls of toilet paper in hand–"I know you've got boys so I figured this might come in handy"–she bids us adieu and in the morning, we find the paddles on our front porch.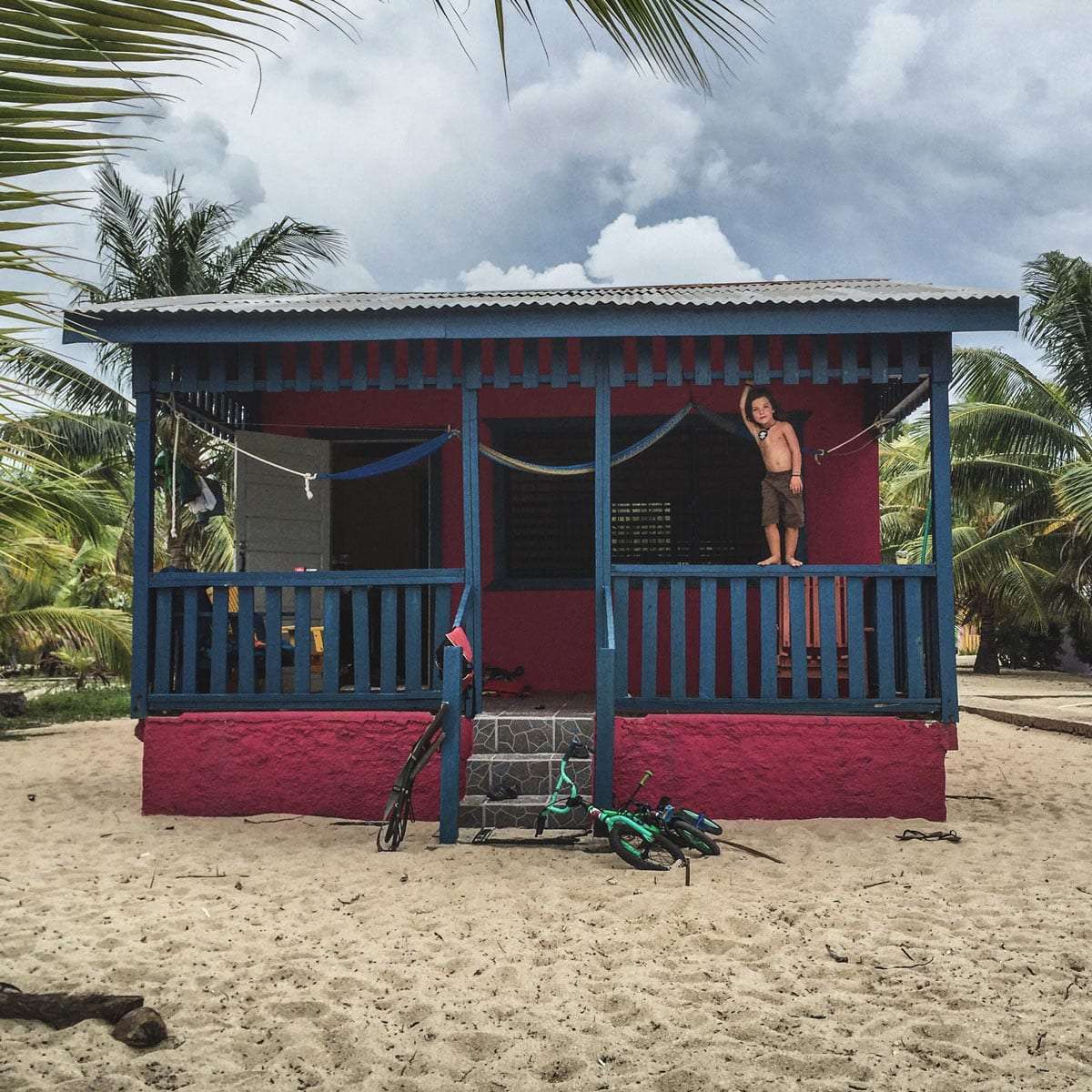 Since then we've put the plastic to the placid waters more days than we've been landlocked. The first day, we spotted a tricolored heron, one of the last of the long-necked waterfowl we've had on our list to see in Central America.
The next morning, everyone still a little groggy-eyed, while Renée and I are taking our first sips of coffee and the boys are chowing cream cheese laden bagels in their boxer briefs, we're watching the water from our cabana's little front porch. The boys are jumping from the stoop to the sand. Renée is reading the daily news on Yahoo! My eyes are fixed on a head bobbing up and down about twenty yards from the beach.
I assume it's a diver at first, but then it's clearly not. I gulp my coffee down all too quickly before the boys and I push our big blue sea kayak into the water and paddle out. A round, piglike snout pokes up from the water, again and again. We approach slowly, not wanting to spook it or get to close to this otherworldly creation…the manatee.
He shows off his snout over and over as we circle. The water is rather shallow and we don't want to get too close to such a rare sight, but everyone on board is astounded.
Another morning, nearly an identical situation as before, but playing out beachside with our toes in the water, we hear a splash just to our left. A dolphin shows it's fin, disappears, and then jumps twice halfway out of the water and off into the horizon.
Just tonight, almost two weeks into our second stay here in Placencia, Winter and I take the kayak out solo at dusk. We can see a great white egret in the distance, and so pointing out vessel in his direction seems to make the most sense. He flaps his wings and moved a few dozen yards away as we approach, interrupting his evening meal, though we never purposely get two close.
"This is the perfect time to see dolphins," I tell Winter.
As the egret takes to the sky, joining three or four others to wherever great white egrets hang out on a Saturday night in Belize, a tricolor lands in the mangroves just beyond. We watch his head strike an S pose against the purple clouds contrasting the orange setting sun (you can practically watch sunrise and set over the water from this peninsula, depending on which side you're on). As that heron takes flight, I look back to the sea and notice a bobbing head in the distance. I'm sure it's a manatee, but not positive. Just then, Winter says, "look at that Daddo, it's got a fin."
I turn my head, losing the bobbing head forever, only to see two fins, two dolphins jumping out of the water in sync, and heading right for us.
So where was this at? Look up Tradewinds, right in the heart of the village itself.