From Mount Rainier, with Greetings!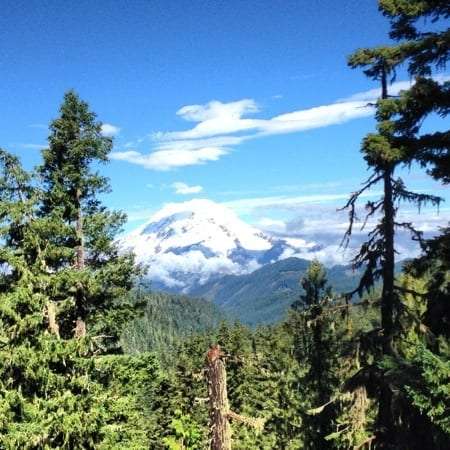 There he stands, Rainier, snow capped year round and standing tall at 14,410 even as his belly grumbles with molten lava and everyone wondering if and when he'll blow his top. Nearby sister St. Helens did so only 33 years ago. When she popped, 1500 feet of her elevation was displaced by a massive crater. People died, a small part of civilization was destroyed. A 3000 foot plume of steam persisted two years later. A 300′ thick glacier was formed in the years after.
Still, they both grumble. Scientists assure us they'll know in time to react, but with no cell service and miles deep into the forest at times, not all of us will be able to react in time.
South of the park in Packwood, Washington, elk roam the backstreets of town between children's playgrounds and backyard trash dumps alike. Being September, the young males and their growing antlers are looking for woman to call their own. The ladies, often with adolescents at their side, are a friendly flavor of cautious. The men, I hear, are a bit furious this time of year.
We walk the dog just after sunset through wooded streets. A man in a jeep tells us, "watch for that spike doesn't eat your dog." He points to where he'd seen a rutting male but the giant is gone for now. Looping the neighborhood, we're on the lookout but relaxed in the chill of nearly Autumn in Washington State. As we return, he's there. Standing as tall and stalwart as Rainier himself, the bull looks at us and our dog. He seems content with our distance. I admire him with my own chest puffed, a clear sign of peace as long as peace can be had from both sides.
In the morning the cloud cover clears and Rainier boasts in full display his majesty. Like a Medal of Honor, the King of Washington dominates the every which way scenic views over and over again. Hidden by trees and cloud cover, he reemerges to remind you that raw natural power is omnipresent. Mount Rainier, rainforest, glaciers and lava, is a god and we've come to worship him for the next while.