Greetings from Delaware State Beach!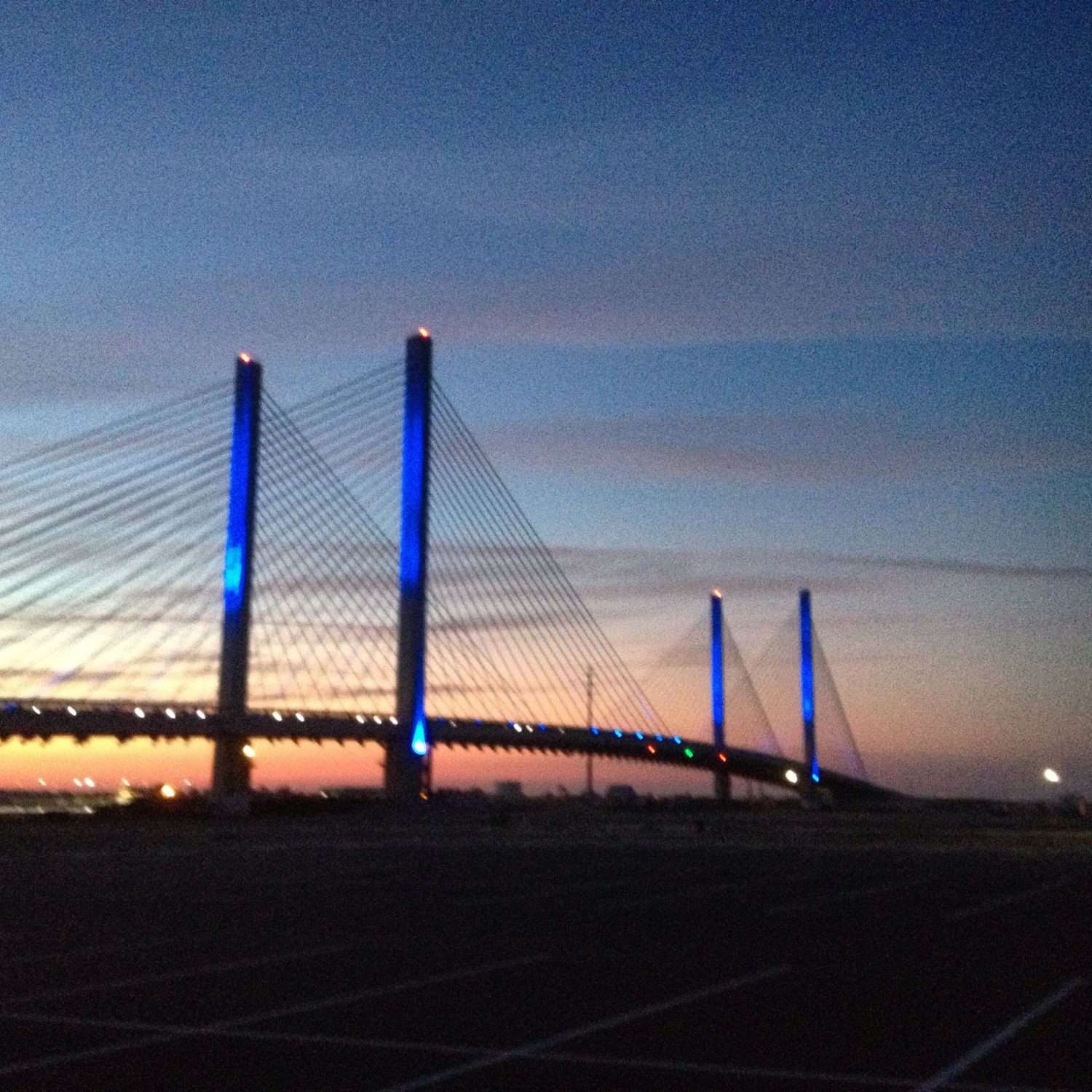 Most folk don't think big glowing blue bridges and back to back RVs when the idea of a state park comes to mind. Lush woodlands, leaf laden landscapes and hiking trails are more common, but here on the Atlantic Coast campers find themselves more attune to the rolling waves of not small stature, the possibility of fishing, of living the coastal vacation at considerably discounted rates over staying in a hotel at Rehoboth.
No campfires are allowed, save a community pit far from our site (where sleeping babes can't simply be let lie), but again, the glow of a massive bridge provides the visual aspect and an ocean breeze is not too harsh to bear even in late September. The hum of traffic not ideal, but between lulls the ocean roars back through its muffled hello power.
Tonight as Wylder, our youngest at just-turned-two, is being out to sleep in his playpen, in our van, his just older brother Winter and I will chat away the waning twilight.
Discussions on how much he loves the forest, though not necessarily hiking, will ensue. How a collection of pinecones, twigs and rocks could be assembled into an imaginary fort. How his imagination allows him to think about things like climbing a tree or jumping to the moon, even if he can't real do it. Or so he tells me.
I listen, chime in when asked but mostly just absorb his young brain. I'm like an imagination vampire, and young blood has the best reward.
We talk about deserts, mountains, him riding up top on my shoulders at times. We discuss the workings of the moon and sun, how the earth is a skinning ball in space. Questions like, "Why does China get the moon and the sun tonight?" arise.
The sun is a giant fire in the sky. Bridges are just complicated roads in the air. Tomorrow we can just play at the beach if we want. We can do whatever we want.
These are the topics of discussion.
I see my little man, he's aging, becoming something gorgeous beyond his changing baby face and toddler accent. We are friends, though not necessarily equals. I tell him things, lessons, scientific realities, occasional warnings of danger, and most importantly the magical aspects of everything from flashlights to ocean tides, and in turn–like his older brother before him–he keeps me young enough to keep it all going.
This traveling life. This sandy bed sheets, dirty jeans butt, often cold and when it rains wet simple traveling life.
Hands covered in campfire ashes or children with enough earth caked on them to start a new planet, we thrive in this simplicity.
I love my family. My Lady for going along with all of this crazy random broken compassing, and my boys for keeping the curiosity of youth a-flowing in these old busted pipes I call my veins.