Greetings from George L. Smith State Park in Southern Georgia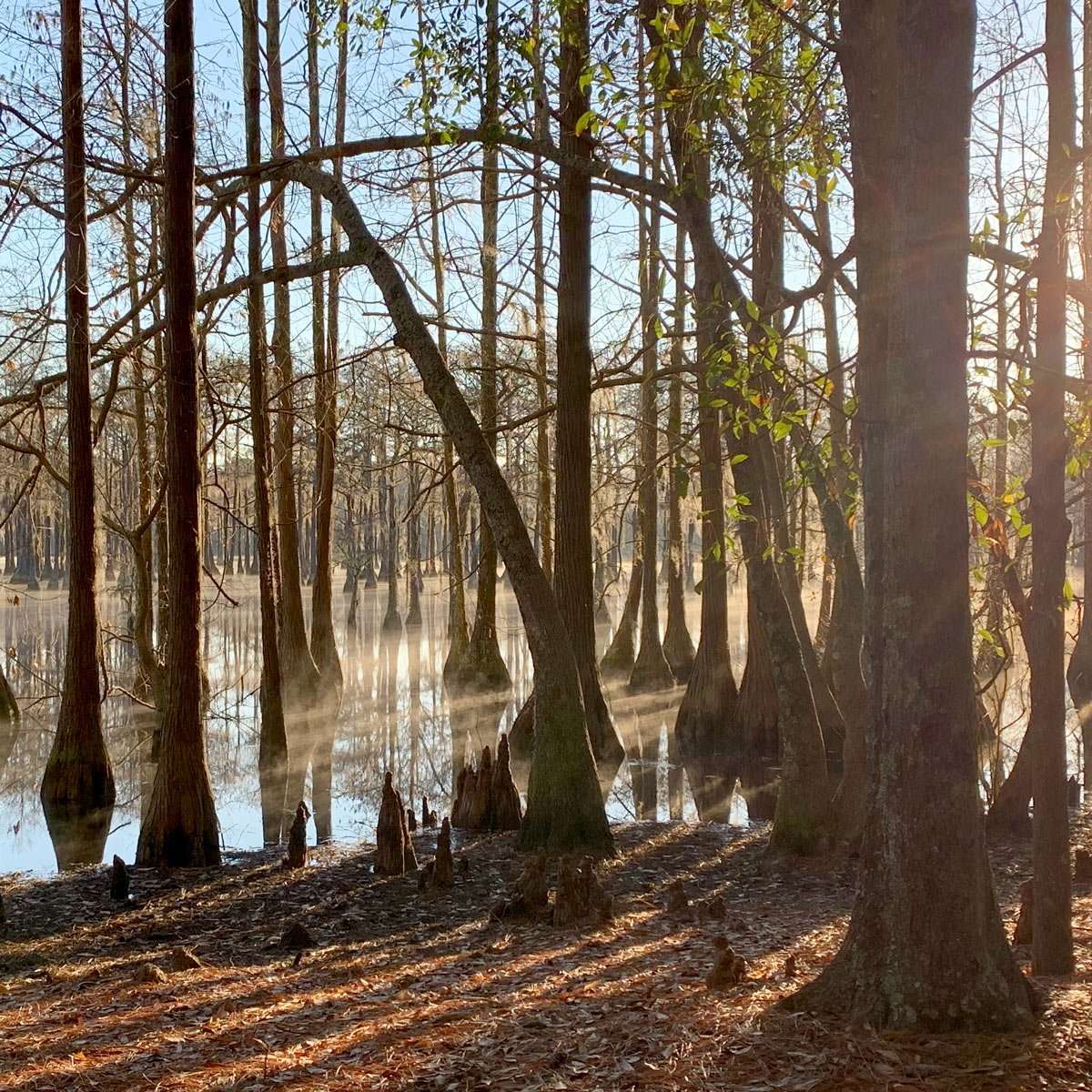 A pileated woodpecker darts from pine to pine, drumming out his search for food even as misty waters welcome the rising sun over cypress-laden waters. The pond here, perhaps not large enough to be called a lake on Georgian maps, is full of the trees, tall and slender with threadbare needled limbs, and wider knees jutting out just above the waterline, their roots hidden beneath a glassy surface.
Another camper, a man with a Southern accent so thick it takes my full concentration to hold a conversation with him, offers my boys fireballs, the jaw breaking spicy red candy that seems a generation away from today. I'm hesitant to take them, the virus and all, but he seems innocent enough and I don't want to decline his southern hospitality. Later, he'll bring over two plastic cornhole boards for them to use. Otherwise, he fishes his days away and listens to the Oldies with a can of beer before retiring to his trailer by 9pm.
Water goes crushing force through a wooden dam, now also a museum showcasing now centuries old life at the mill that operated here from the 1800s into the 1970s. One one side, a flat mirror forest in the water, on the other the crushing tide of water spilling out into a raging river. No one else in the park bothers to gather here either of the times we make the half-mile walk along the shore from the campground to the site.
My 10 year old son and I decide that a 9 mile bike ride into town and bike would be a worthwhile effort one afternoon. The state park road north from camp is rough pavement even as it is beautiful. US 80 shows up halfway through and suddenly we're forced to ride through sandy soil closer to the forest than the racetrack of a highway. A Piggly Wiggly grocery store–the old kind of grocer, with the smells and lack of selection and dirty tile floor–provides little to check off our current grocery list. A gallon of spring water is the best it can do. But then again, nowhere in town has those little green camping propane canisters, our main objective, to beat back the chill of nightfall in early March.
"Is there a hardware store in town?" I ask the girl checking us out at the register, thinking maybe an Ace or True Value would have them.
"Hmm," she puts her finger to her chin, deep in thought. "I can't think of one." You can drive through the entire town's maybe ten business-long main corridor in two minutes, but somehow she can't recall if there's a hardware store or not. Across the street, at least, I find surprisingly delicious IPAs from across Georgia.
I struggle harder on the return trip, now with a gallon of water, a 12 pack and a bottle of ketchup in my backpack. But sure as sunrise, the next morning chickadees and squirrels find themselves foraging beneath every picnic table, looking for careless Cheetos and hotdog scraps. The campground host fires up his leaf blower and the silence of morning–in a place where nature rules the first few hours of the day–disappears into troves of men readying their own fishing boats, hitching up trailers for a new day's journey to wherever; a new campground, back to their homes, whatever places their lives hold that we'll never know.
The air is crisp and nights are colder than we'd prefer, but soaking up all of our life as best we can is my only goal these days.