Greetings from Lake Kabetogama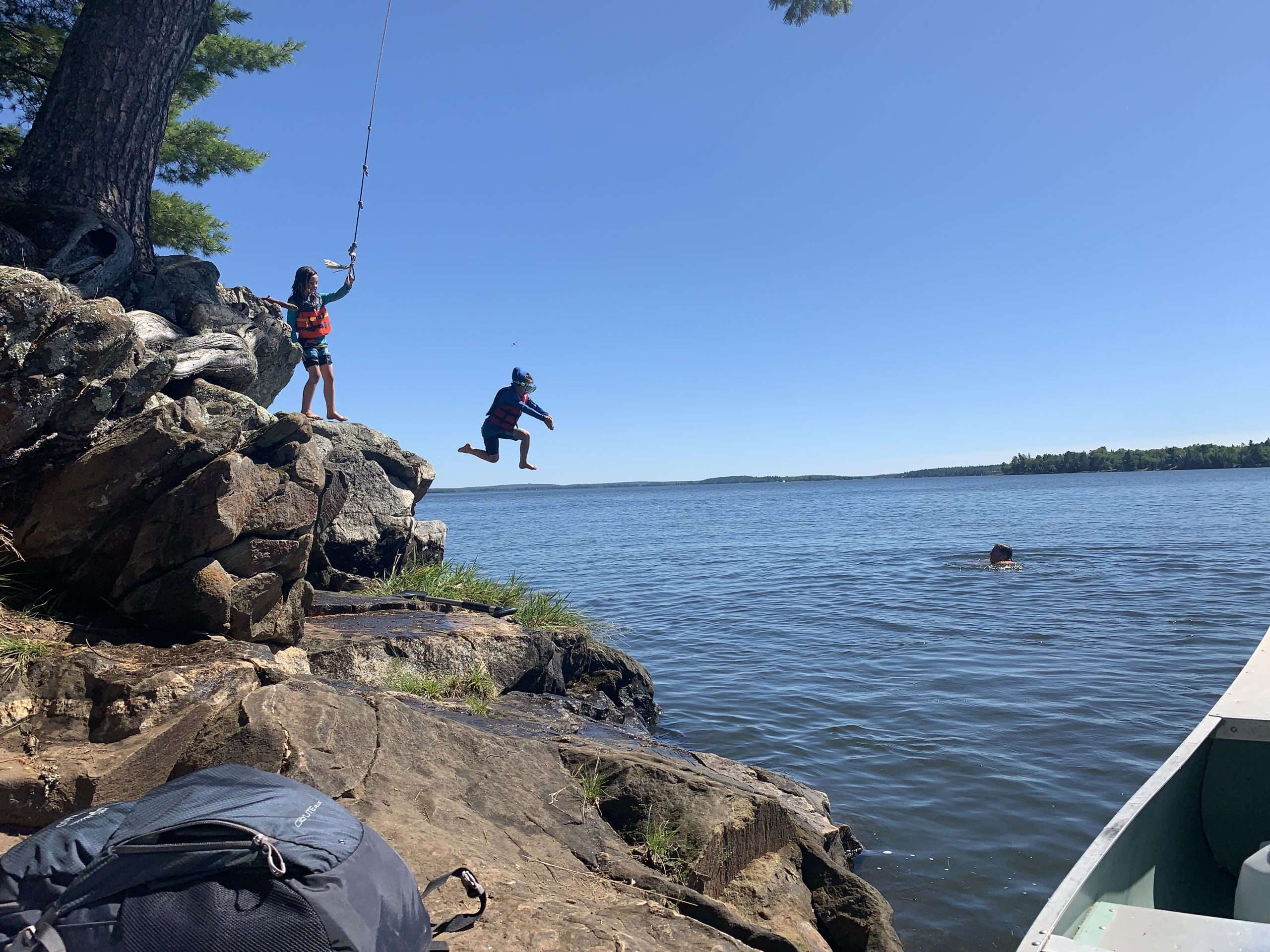 The trappings of a morning full of Kodiak cakes and Bloody Marys is strewn across our handmade van kitchen, milk pouring into the dry pancake mix and swirling together perfectly creamy.
"When are the pancakes gonna be ready?" our 7 year old, Wylder Reisen, asks.
"Soon," his mama says, though I'm cooking this morning, "the first batch is always a bust."
I take that as a challenge, and from the start we've got the smiles of happy, fed boys now sticky with Vermont maple syrup sent as a baby welcoming gift by a friend on Instagram. An hour or so later, everyone full and the Bloody Mary mix half emptied, I pack a bag and the older boys and I head for a nearby lodge where we've rented a canoe for the day.
"Oh hey!" the woman who rented the boat to us yells from the dock as we've just begun to paddle out, "there's a rope swing on the island in Echo Bay!"
It proves our first destination, and we attempt the rope in order from youngest to older to old man me. "Kersplush!" the water erupts time and again until we've rope swung the morning away.
A bald eagle's nest hangs from one island. Tiny, toy-like frogs bask in the sun on another. Despite unusually calm waters on Lake Kabetogama, there's no way we could paddle to all of them, explore this entire lake in one day.
We set our sites on renting a pontoon boat one of the next few days we'll be staying in the area, but evidently that's a task which needs completed long before one arrives.
As we drag our feet back to the campground, sore and exhausted and absolutely content with the day, a red fox peaks at us from the hardwood forests that surround the lake. He agrees to a staring match. We hold his gaze for a few minutes before he leaps off into the woods, a mixed twist of dozens of different types of trees, their mottled bark and variously shaped leaves like some Bob Ross painting reunion.
Night falls dark, a deep, thick type of darkness, all over the sky and the forest becomes impenetrable to the human eye. With no campfire, no flashlights turned on, we crawl into our beds in this van—a Ford Econoline we have recently built out–and fall asleep to the sounds of critters exploring the night forest surrounding us. At one point, something sticks its paws and, I assume, snout in through the open doors. Startled, I fall back out of my half asleep state and finally shine a light, but it proves too quick.
Maybe the fox just wanted to make sure all found ourselves tucked in, cozy in his homeland.