Greetings from the Boardwalk in Ocean City, MD!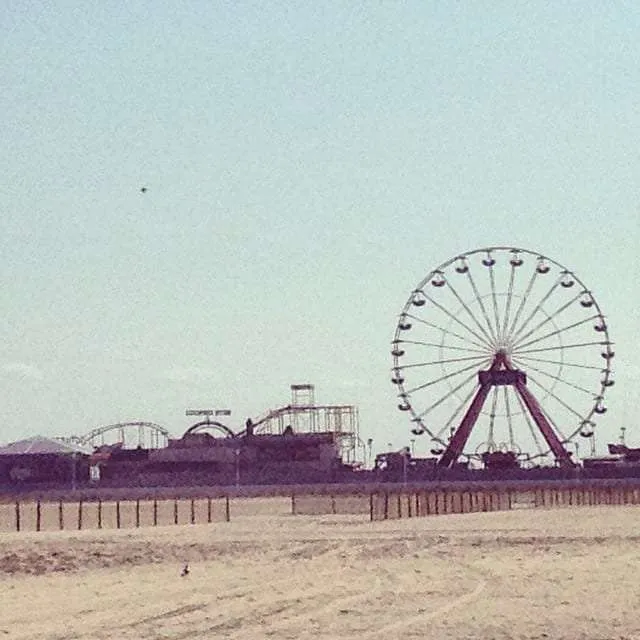 Memories of an 8 year old version of myself, wearing black and neon yellow, green and orange swimming trunks, my sister, my cousins, my mom and her sisters, lingers around the creases in my brain to tinge everything about this giant resort town nostalgic.
A Corvette show is in town and, out of season, the streets are relatively empty save for every last make and model of the sport car Chevy ever produced. Old men forego shirts as they perch from benches overlooking the Atlantic Ocean, presumably for days at a time. Ice cream stand attendants shout from their booths carny-like, a giant shark smashes through the upper floor walls at a Ripley's Believe-It-or-Not. Vacationing families traverse the planks of wood that lead along some dozens, maybe a hundred or more blocks of crab shacks, townhouses and oceanfront resorts. A ferris wheel looms at the southern end of it all. This is a fair, a carnival and a bustling city beach simultaneously. It is busy streets and busy sidewalks, red light after red light, none of them timed–or perhaps purposely timed to avoid–that crossing the city end to end could be anything less than a 20 minute ordeal.
Still, I am happy here. We are happy here. The boys play with buckets of sand, the younger one impossible to keep from swallowing it by the shovel load. We throw around a football, I lift them and pretend to body slam them into the sand, "Sandmajord!" we all cry out. The lady watches, as do older women, smiling, our children the unknowing stars of their own 24/7 reality show.
Dogfish Head's 60 Minute IPA arrives at our every beachside table where baskets of french fries, crab cakes and Maryland crab soup appear and are made short work of before more perusing stores full of t-shirts where one might purchase the accessories needed to impersonate a lifeguard or inform others that they are, indeed, with stupid. Hermit crabs are free with the purchase of a hermit crab house. The sand has a dirty black tinge to it, though the beach is relatively clean, and everything smells of dead fish and saltwater.
And that's nice. Very different from our usual settings, hidden away in state forests or national parks, far from the small towns we typically explore, Ocean City, Maryland is a piece of my childhood I wished to share with my family, and we've done so fairly beautifully.