Greetings from Rifrafters Campground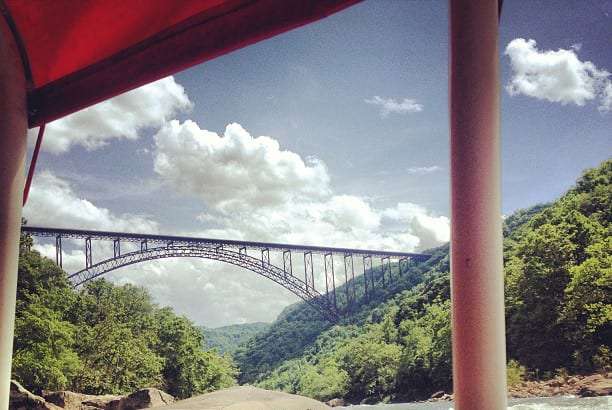 Nanny holds Wylder, our youngest at 8 months, as he sleeps on her shoulder at a picnic table an unoccupied campsite over. My beautiful lady, Renée, has likely fallen asleep with our two year old, Winter, after recanting Goldilock's story to him for the third time this week in his little twin bed near the back of our Airstream.
Our oldest, Tristan, circles the park on his bike, scouring for any children he may have missed on this odd weekend out. It's not quite summer but a week past Memorial Day, and everyone in the real world is taking an easy weekend at home preparing for the hotter months rather than loading up their tents and charcoal grills. Next door a six pack of young men begin their evening to the tune of cracking beer cans and camping chairs like King Arthur's Nights of the 'Round the Campfire. Bugs seem intent on flying directly into my eyeball as I sip on an IPA and scramble through our big tub of random outside looking for the citronella oil to light our tiki torch.
Fayetteville is just across US 19 to the east, its local Pizza & Pints Saturday night hotspot no doubt filling up with families looking for a slice and 20-somethings interested in the local Bridge Brew Works latest offerings. The cafe housed in an old church has been closed for hours. For the most part, town at this time of night is sleepy.
Just north of us, the New River Gorge cuts over 800' deep into the surface of the earth, and as big rigs on a mission barrel across it via "the Bridge" and rafting hooligans float down its whitewater, the moon calls out with its half-belly out of the still-blue sky evening. Tristan lights the fire, the first time he's been completely responsible for building the night's flame on his own, and looks satisfyingly upon his little teepee of now burning sticks as though his entire plan was all coming together.
The neighbor guys leave in search of a bar in town. The babies are asleep. The birds call out one last reminder to me that everything is nice, and quiet.