Greetings from the Mountains of Western North Carolina!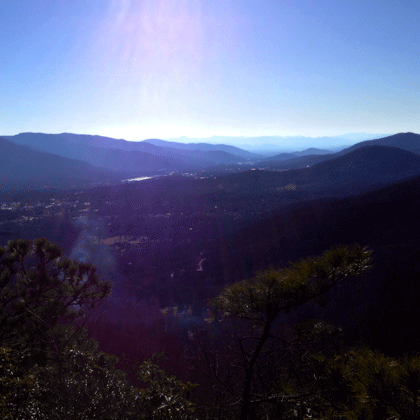 The Blacks, the Craggiest; Blue Ridge and the Smokies. Western North Carolina is a braggart of peaks and valleys, endless miles of hiking trails carpeted in fallen leaves and canopied just above the brow with rhododendron tunnels.
Our shoes rustle through the leaves of these trails, a brilliant red maple or lingering yellow oak sitting here and there among the occasional evergreen of some pines and the mostly bare winter leaves of the rest of the forest. Signs touting the dangers of black bear, snakes and biting insects do little to deter our slow plot through these hills.
We've hiked them all before, Winter and I when he was just learning to walk and more than happy to rest atop my shoulders when the trail got rocky steep. Annabelle, our chocolate lab, and I would do a few miles first thing in the morning, my eyes heavy from slipping coffee and leafy green and a morning's smoke in my lungs. Sometimes I'd make two hikes in a day, another after work and then a third walk around the stonework and Presbyterian history of the little mountain town of Montreat, NC. A town with a college, a church or two, a small cafe, a book store and a Ten Thousand Villages. Not exactly a sustainable community with regards to grocery stores and gas, but quiet and natural and less a town than an extension of the Black Mountains it lives within.
Our youngest son, Wylder, was born in Asheville. We call Uber Cars to float us from our campground to restaurants so many in number and so many of those of such epic environment and delicioso that choosing one is often the most difficult endeavor of the day. The Chris Robinson Brotherhood (you know Robinson as the frontman of the Black Crowes) is playing at the famed Orange Peel tonight and we'll likely consume that show after a solid bout of Indian food from Mela, where our mouths will be overwhelmed with vindaloo and juxtaposing curry varieties.
Snow has already dusted the mountaintops, and in doing so like a chalkboard eraser stripped most of autumn's leaves clear, only to melt away again in preparation for an Indian summer. Every dusk, travelers headed west on I-40 are treated to a just disappeared sun casting s purple sky over seven or eight layers of mountains, each one a bit more violet than its foreground predecessor.
Our time is short here, but we know the land well and our enthusiasm for extolling its virtues has once again been renewed. And so it will be that every barfly and jogging mother we meet will hear us shout unanimous "Asheville!" when we're asked where the most beautiful places in the east are.