Hitchhiking Memory Lane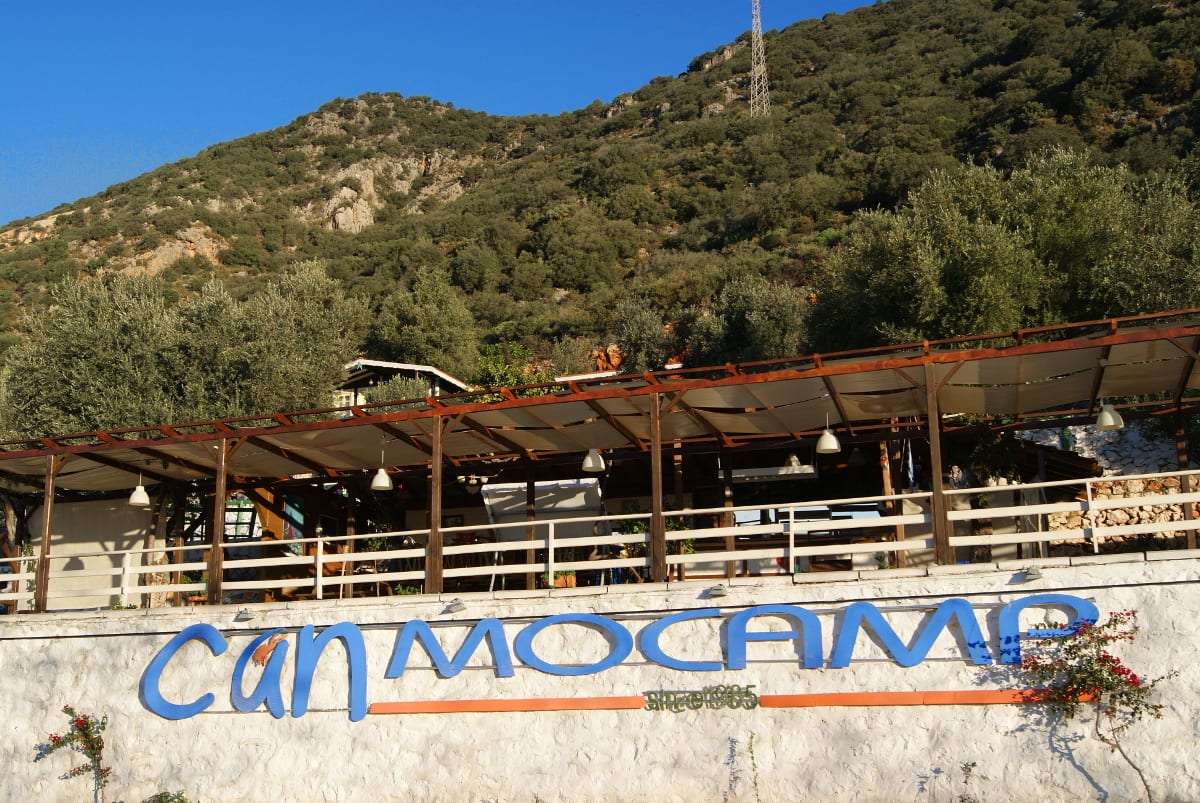 My friend Lisa and I lived in a small chalet in Kaş ("Kash"), the tiny holiday town at the southernmost tip of South-West Turkey, for a few weeks in the spring of 2011. Now Hrach and I are hitchhiking in that area, it feels a bit like coming home.
Four years earlier, Lisa and I stayed with our friend Can at his campsite. Can, pronounced "Jan", is a lovely Turkish name, roughly translated as heart, soul or life. Can was resurrecting his camp after the construction of a posh new marina across the road had forced him to close for three years and deprived him of both his beach and his customers. We spent weeks painting, helping out, relaxing, partying and exploring the area with Can and his friends.
I had been nervous about asking Can for a bed for the night. It had been a few years since we were last in touch and I didn't want to put him in the uncomfortable position of having to refuse. I needn't have worried. I put a general request on the Couchsurfing messageboard for the area and Can himself replies offering us a night in one of the little chalets that Lisa and I used to stay in.
We arrive in Kaş early, despite having taken some time escaping the clutches of the sprawling city of Antalya. We took a dolmuş (minibus) to Kemer, and had an easy hitch after that, meandering slowly around the wiggly South-West coast of Turkey, car by car in blazing sunshine.
This is one of my favourite parts of the world, and one I'm quite familiar with, having walked and hitchhiked almost every nook and cranny. I'm excited about showing some of my favourite stops to Hrach.
It's still winter and Kaş is almost deserted when we arrive. My favourite coffee shop has a sign on the door saying he'll be open in March. We've been exploring the possibility of taking a boat from here to the closest Greek island of Meis (Greek name Kastellorizo), but this too is impossible. Contrary to certain internet reports, the boat is only running one day per week, and Hrach's Turkish visa will have expired by the time we wait for the next one. Somehow our time in Turkey has evaporated, and now we need to hurry up.
We head out of town after a slap-up meal in a tiny lokanta (cheap Turkish restaurant) in the centre, and head up the hill and along the oh-so-familiar road that I used to hitchhike back and forth each day.
Can Mocamp looks spectacular set against the cliff and I can see immediately how much work Can and his crew have been putting into the place since I was last here. I try to explain to Hrach how the camp was little more than a building site when Lisa and I first arrived four years earlier, but I don't think he believes me.
We're greeted by Can himself and a table full of his friends, who are just sitting down to dinner. We've already eaten, but we nibble on delicious cheeses laid out on the table and pour ourselves some rakı, the Turkish anise flavoured tipple. Oh how many times have I drunk rakı at this table? It's just like old times.
Can heads off into town as the evening grows late, leaving us in the hands of a gruff but incredibly friendly Turkish man, who offers us tea and rakı at regular intervals and says very polite things about my flailing Turkish language skills.
We pull ourselves from bed early and head out onto the road, which fortunately is right next to the camp. I declare I'm taking Hrach to England to buy him a fried breakfast. He looks at me quizzically.
It's a good twenty minutes before we get a ride. I remember how I used to think that was super fast, until I hitchhiked in the East of Anatolia.
It's already quite late for breakfast by the time we arrive in Kalkan. My friend Maggie isn't in her boutique when we arrive, hoping to surprise her, so we leave our bags with the cats who sprawl over her displays and ask the pretty Turkish girl who works for her if she would tell Maggie we'll drop back in later.
Like Kaş, most of Kalkan is closed for the winter. It's a holiday destination with a largely English population. Everything is written in English and in the summer there are huge screen TVs showing Eastenders and British football matches inside all the bars. Now though, it's a ghost town, and it's some time before we find a café that's open and prepared to make us a fry up. A damn good fry-up it is though. The woman we meet is English, but married to a Turkish man. It's his mother who cooks, and the English woman needlessly reassures us that she has trained her Turkish mother-in-law to make the perfect egg and chips.
Maggie still isn't back, so I chat to her on the phone instead, dropping the news that I'm now married and hitchhiking to Spain with my husband. We retrieve our packs from her changing rooms and hit the road again. I want to stop at Patara Beach and Pirate Bay and all kinds of other places I adore in this ancient Lycian area of Turkey, to show Hrach all of the beautiful things on the South West coast. Unfortunately, his remaining visa time for Turkey is short, and if we don't catch a very specific boat from Marmara in three days time, we're going to be in trouble. There's a 450 Turkish Lira fine (around $170) for overstaying by even one day.