Just a Weird Camping Holiday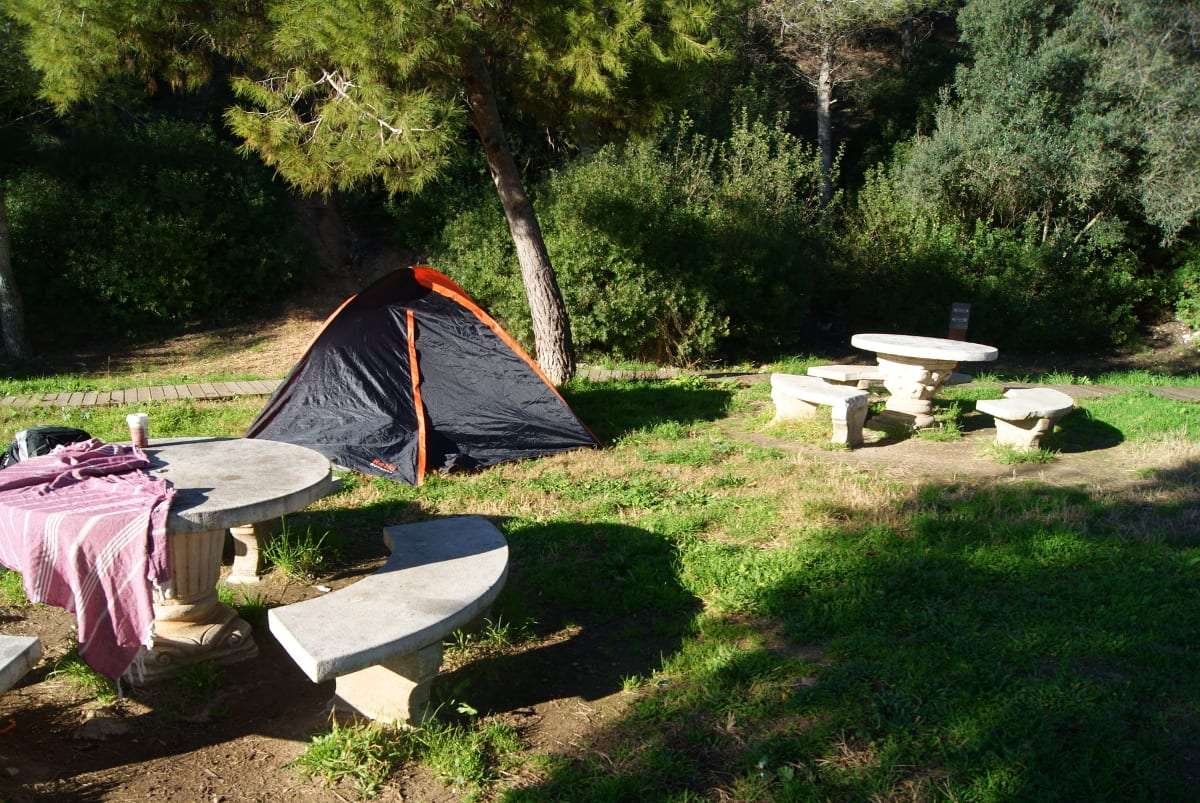 Spain has a reputation for being one of the hardest countries in the world to hitchhike. Now we know why.
I used to hitchhike in Spain a lot when I was younger. When you're a young girl hitchhiking alone, people tend to want to take care of you. You have to handle sexual harrassment and frequent lectures about safety, but at least you never have to wait long for a ride. Now I'm older and hitchhiking with my husband and a ton of luggage, things aren't quite the same.
We may just die here at this service station.
The day had started well enough. Hitchwiki has several suggestions on how to hitchhike out of Barcelona, and we decided on the Castellbisbal option, since I had aspirations about hitchhiking the coast of Spain all the way to the South.
From the train station, we found the dirt road described and crossed under the railway tracks through a small tunnel, then ambled along the maze of dirt tracks, hoping we were going the right way. Twenty minutes later we were walking parallel to a carpark full of trucks, with a large wire fence between them and us. Eventually we arrived at a gate. I tried the catch and it swung open. We sauntered into the back of the service station, grinning at each other.
We decided we deserved a coffee break. It had already been a few hours since we left Elvira's house that morning and my stomach was churning. I grabbed some limp fries and a bread roll, the only vegetarian offering, and sat down at a plastic table opposite Hrach.
Half an hour later, we hoisted our packs and headed to the exit ramp.
I learned how to hitchhike nine years ago in the UK and Spain, where standing by the roadside just doesn't cut it. It's important to speak to people directly so they can see you're not a murderer. I know that well enough, but for some reason, I just couldn't bring myself to do it. It was like a mental block. I kept thinking that I would go and speak to people soon, but the longer we waited, the wearier I felt, and the more I just wanted to curl up and sleep for a few hours, or days, or years.
After approximately two hours, a car pulled up beside us. He was only going as far as Tarragona, but was happy to drop us at a service station on the way.
The driver was Moroccan, so Hrach spoke with him in "written" Arabic, the standard kind that all Arabic speakers can understand, but that nobody usually speaks. Moroccan and Syrian dialects are mutually unintelligible. I spoke with him in Spanish, and with Hrach in English, so we had a nice language mishmash all the way to the next city, where he dropped us in another service station.
Buoyed slightly by this warm encounter, we headed back to the same position that we had occupied in the first service station.
The sun sunk a little lower. The wind gathered momentum. Some drops fell on my head.
A young guy with long hair, a scruffy backpack, and a guitar case sauntered through the carpark to join us. "How long you been here?" He asked.
I glanced at my watch. "Nearly two hours". He sighed and heaved his pack to the floor. The three of us sat together, discussing the difficulty of hitchhiking in Spain and wondering what the problem is.
We had just hitchhiked 2,000km from Yerevan to Istanbul, without waiting more than an hour, and rarely more than 10 minutes. The sudden change in pace was almost soul destroying.
"Let's take a break," I said.
Hrach and I have now been inside the cafe for two more hours, munching yet more chips, drinking yet more coffee, and watching the other hitchhiker outside the window. He has taken out his guitar and is singing at the passing cars.
"If a ride comes, he deserves it." I tell Hrach.
It's over an hour more before I notice that the hitchhiker has gone. I take a walk around the now dark carpark and reach the conclusion that our friend either found a ride, or self-destructed from boredom.
An hour later, we find a nice grassy spot outside by some picnic tables and make our campsite. If I look at the whole experience differently, more as just a weird camping holiday, and less of a failed hitchhiking adventure, things really don't seem too bad. We have hot and cold running water, a shower, cheap coffee and good weather. I crawl into my sleeping bag, huddle up to Hrach and fall asleep instantly.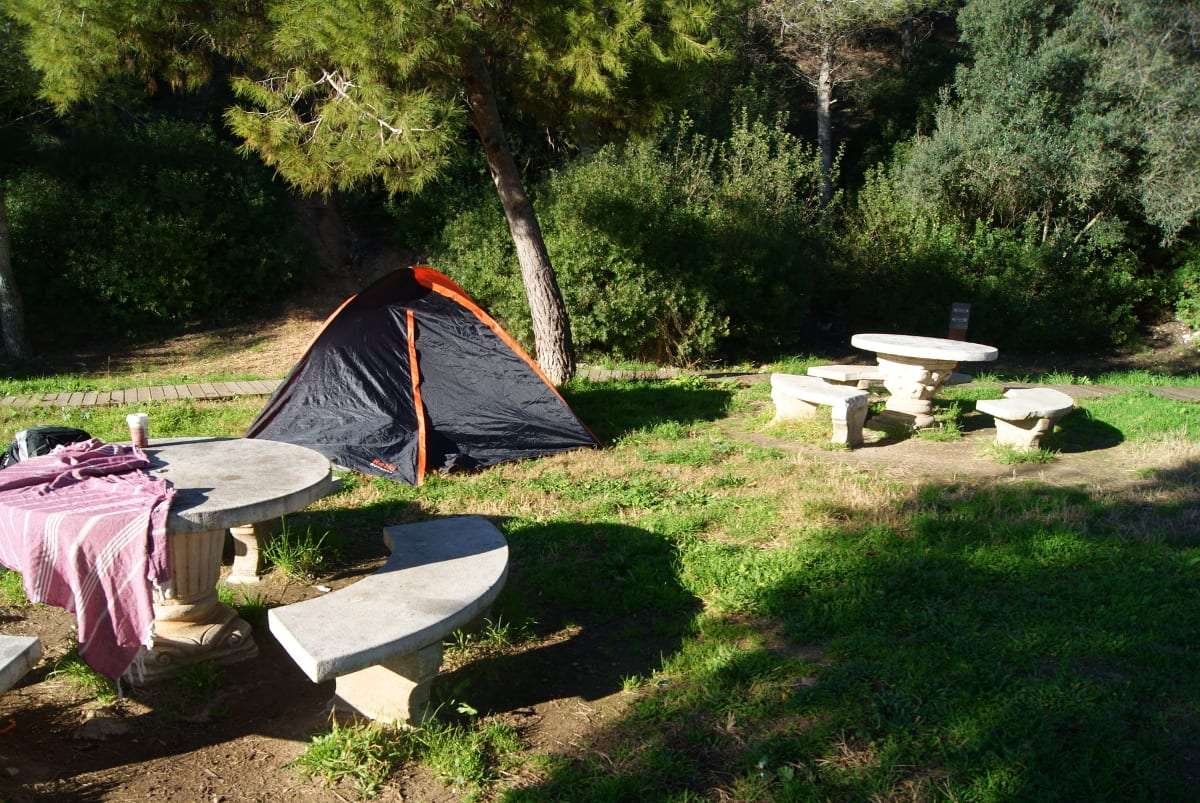 The next day is full of new possibilities. I let Hrach doze while I explore the vacinity, which is actually a lot more interesting than your average motorway service station. A sign outside the tent that we hadn't noticed the previous night advertises something called El Médol. I find a track and head off for a little jog alongside what turns out to be a Roman quarry. There's also a small museum inside the service station that had been shut the night before, and a few tourists dotted around.
Looking at our location online, I realise we're right by the coast. In fact, there's a beach a couple of kilometres away.
We've decided to use Spain's most popular ride-sharing website to get a ride to our friend's place in Elche, 450km to the South. I book two spaces in a car and then email the driver, looking up a lot of words in Spanish, telling him we're at a service station and giving the coordinates. He replies that he should pass by in about four hours.
Half an hour later, I'm sprawled on a sandy beach, reading my book, and nibbling some of the delicious local fruit and homemade biscuits that I got from a nice old Spanish lady at a little street market, the only thing open in the entire town.
I meet a group of Polish truck drivers on my way back who also spent the night at the service station. One of the men speaks a bit of English, and he asks about hitchhiking in Spain. He would have taken us of course, but he's going to be here yet another night, then he's heading North.