Saludos from Palenque National Park!
They'd told us we just had to go.
From Baja to Quintana Roo, everyone proclaimed Palenque to be the most impressive of Mexico's national parks. I suppose that's exactly why we didn't bother. People talk up Yosemite and Yellowstone, people told us how great Chichen Itza was. While those places have merit, for sure, they just don't impress us the way they do other people.
I think it's the crowds. I'm not interested in standing shoulder to shoulder, Disneylanding our way through some place that's not quite what it is supposed to be, and because of a well deserved popularity, never will be.
Then, it was time to cross back from the Yucatan Peninsula to "Mainland" Mexico. Having already done the Gulf Coast of this region, and not having been all that excited, we decided to go a different route.
We rolled into Palenque on a whim.
I had suggested a very thoroughly thought out route for our escape from Mexico, which it had now become, but as always happens on any good adventure, the route was thrown to the wind halfway through the first day.
Still, I admit that my pick of a hotel parking lot promising hot showers and fast wifi was no match for the splendor of Renée's random chance. Two nights in a row now she's lead us to infinite victory, so I'm currently game for kissing the dice that keeps that winning streak going.
We arrive at the outskirts of Palenque. For whatever reason, we assume that nothing will be here, we've been told it's Mexico's biggest national park, the Mexican Yosemite if you will, and frankly we're not much for planning.
So, arriving at said outskirts, after many hundreds of miles of more or less empty countryside, we see an OXXO (think 7/11). We decide to stock up.
"This is probably the only place to get anything," I told Renée. She agreed. Our Bus was playing a game where it didn't want to start after the engine got warm. So, we parked on a hill, she and the kids ran into OXXO, scored what "groceries" they could manage, and a push start down said hill and we were off again.
Imagine our surprise then when Palenque's entry is lined with everything from Chedraui (a large, chain grocery store in Mexico) to AutoZone. An even more pleasant surprise came with our arrival at Maya Bell campground.
So, we decided to stay for three weeks. Renée could've easily stayed longer, she wanted to live there forever. But as travelers, we simply can't have that…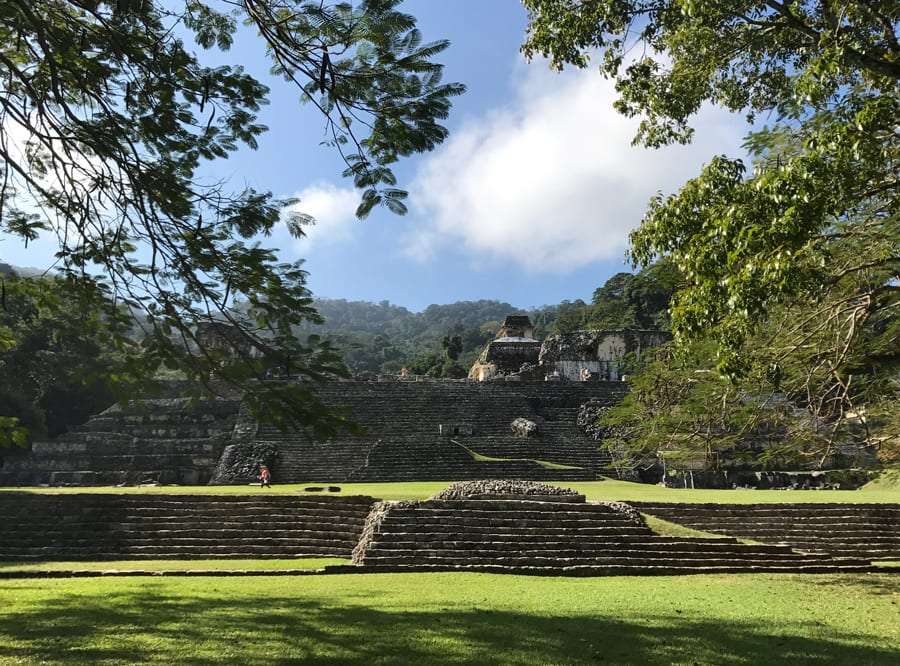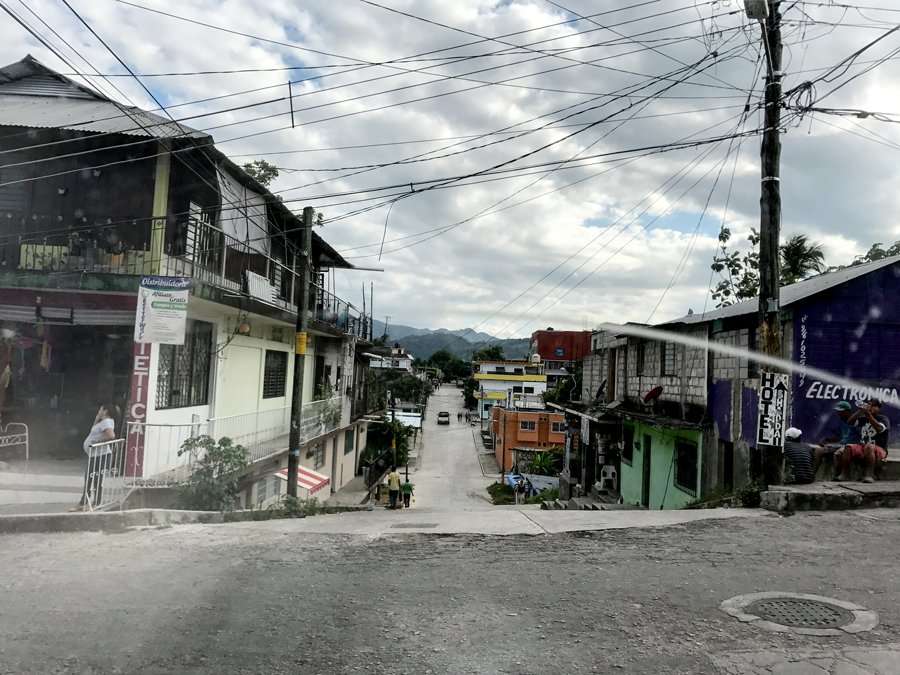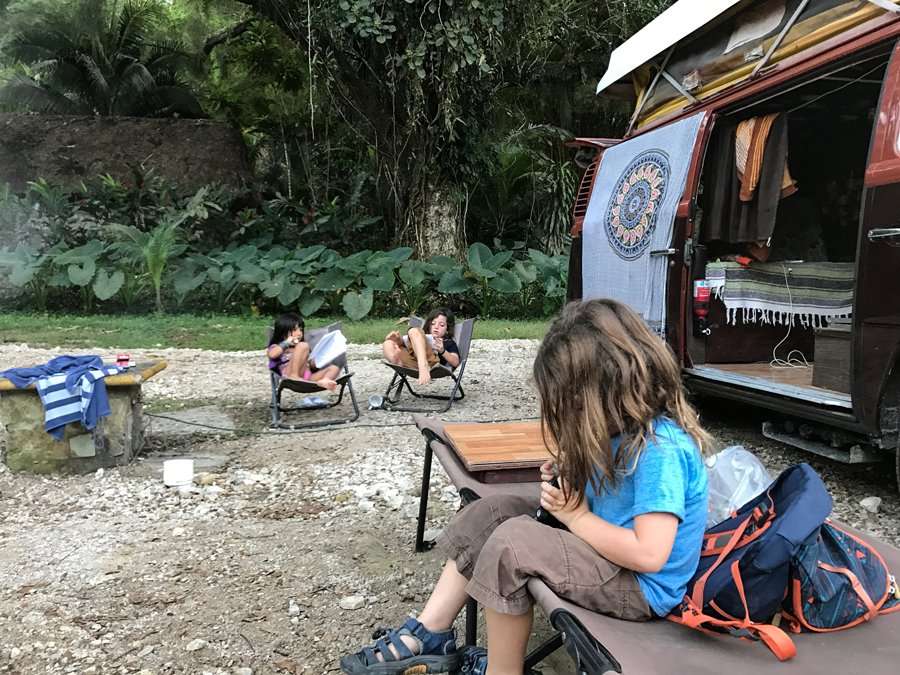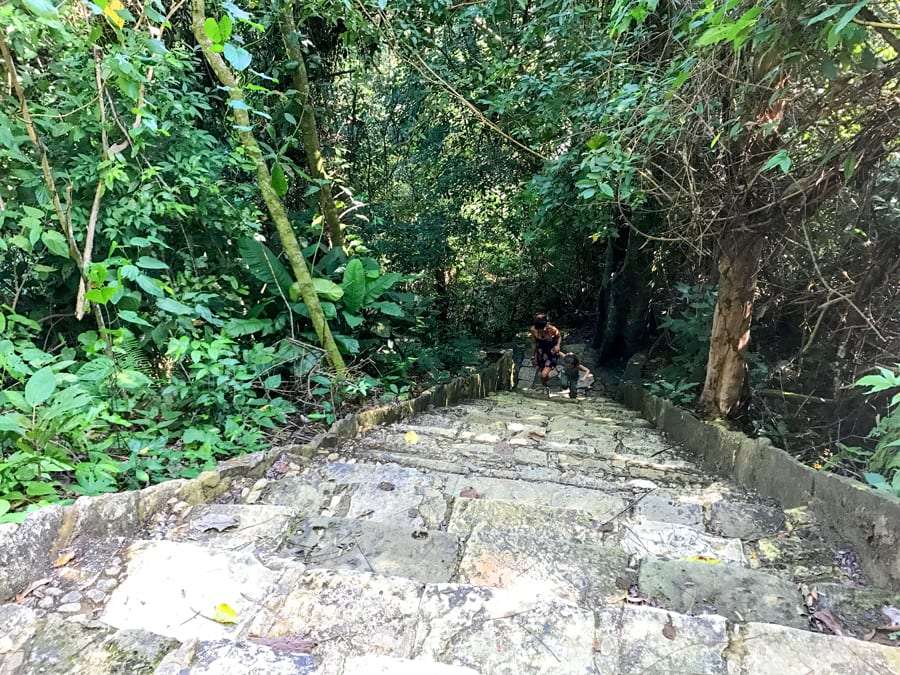 Things to Do for Vandwellers in Palenque, Mexico
Aside from the ruins, a few of our favorite spots near Palenque included pizza at Don Mucho's, just outside of the first entrance to the national park. Aside from the pizza spot itself, vendors selling their handmade wares, a hostel and a tattoo shop flank the place.
Snagging hot dogs from the vendors who, particularly on the weekends, line the main street of Palenque Centro from the hospital to where the road Ys at the bottom of the hill, can't be beat.
For camping, there is no shortage of options. While it's a bit more expensive than the rest of Mainland Mexico,
Most of all, though, were the waterfalls. While Agua Azul gets all of the credit, it was Misol-ha's giant drop of a waterfall, and plenty of opportunity for swimming or just kicking a few beers back in the cool water while the hot sun burns away your forehead, that we found most enjoyable. That is, if you don't count the amazing turquoise cascades of those falls found near Roberto Barrio. Aside from the grand peace of this place, we found the people in this town to be the perfect example of Mexican hospitality, as they took us in for an uncle's birthday celebration where our own son–who just happened to be having a birthday that same day–ended up stealing the show.