Saludos from Xico, Veracruz!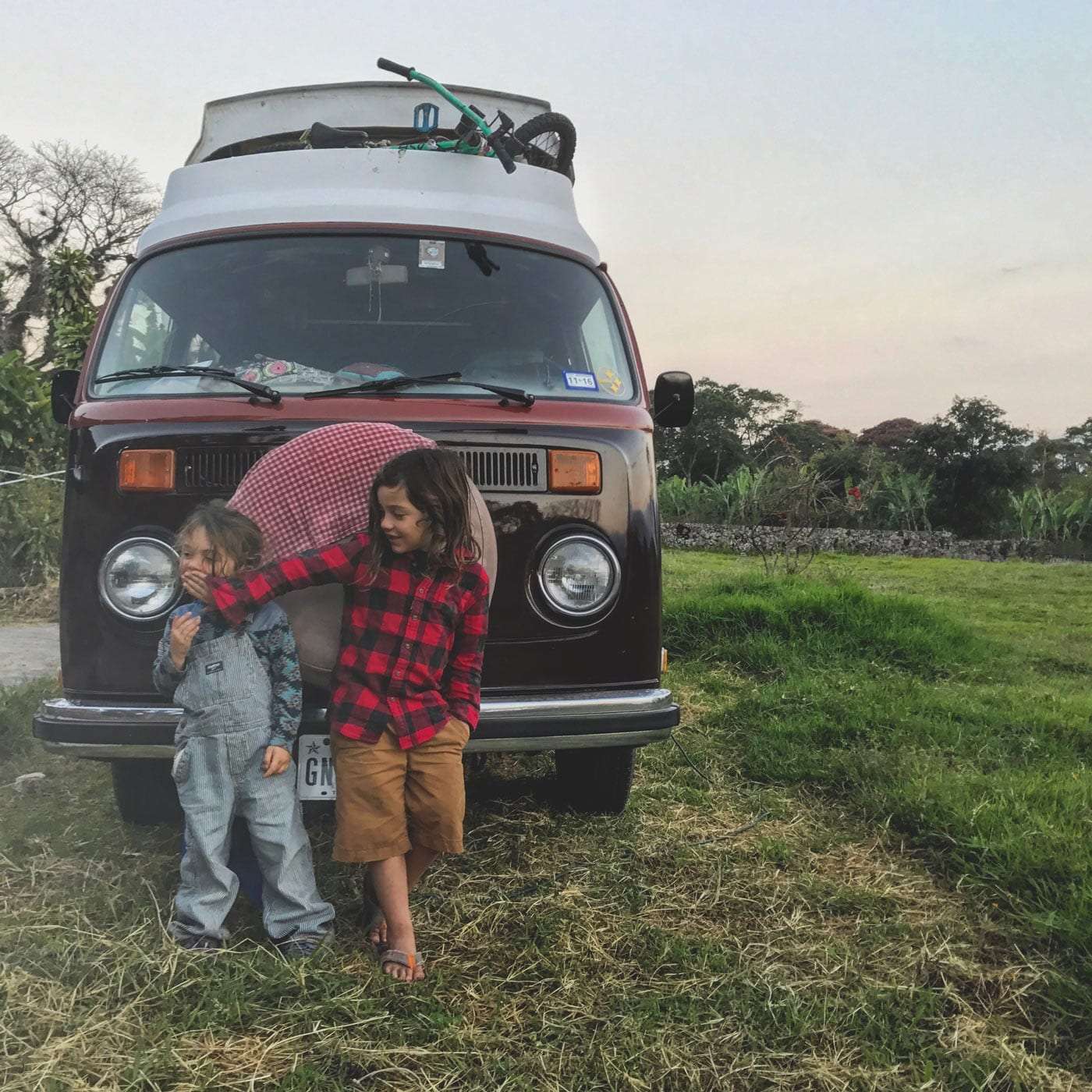 We arrive in this small mountain town with hopeful expectations to camp in a pasture full of horses, overlooking a chain of mountains crowned by a snow covered volcano.
The road to San Bartolo, the hotel that we've been told houses such a place, is steep and cobblestone. Our VW Bus is well into its daily limit of two or three hours of driving time, and the final climb is hard on the old girl. She likes to stall out at this point in time, and then refuse to start again until she's good and cool.
Thus, when we arrive at the hotel's closed gate, only to find it closed, well, let's just say I uncharacteristically remove the unlocked chain and wander inside, engine still running.
"Hola?" I call through the beautifully kept grounds. Eventually, a farmer looking fellow finds me.
"No, sorry, we're closed on Mondays," he says, in Spanish. I point to my Bus, the kids faces popping out the window.
"Please?"
"Okay," he makes an exception.
"Tengo muchas problemas con mi Combi," I tell him we've got several issues with our Bus. "Maybe we can stay a couple of weeks while I wait for parts to arrive from the US?"
He sort of scowls, more in a manner of uncertainty than dislike for us in particular. "Necesito preguntar La Jefa," he says he'll tell us in the morning after he's checked with his boss.
The mountains are gorgeous. The pasture is indeed full of horses. The promised volcano rises in the morning when the fog clears. The place is perfect.
The farmer sits and chats with me. He says tomorrow is his day off, but someone will get back to me in the morning. He takes me to the reception computer and we look to see if the parts are available on Mexico's Autozone website. They aren't.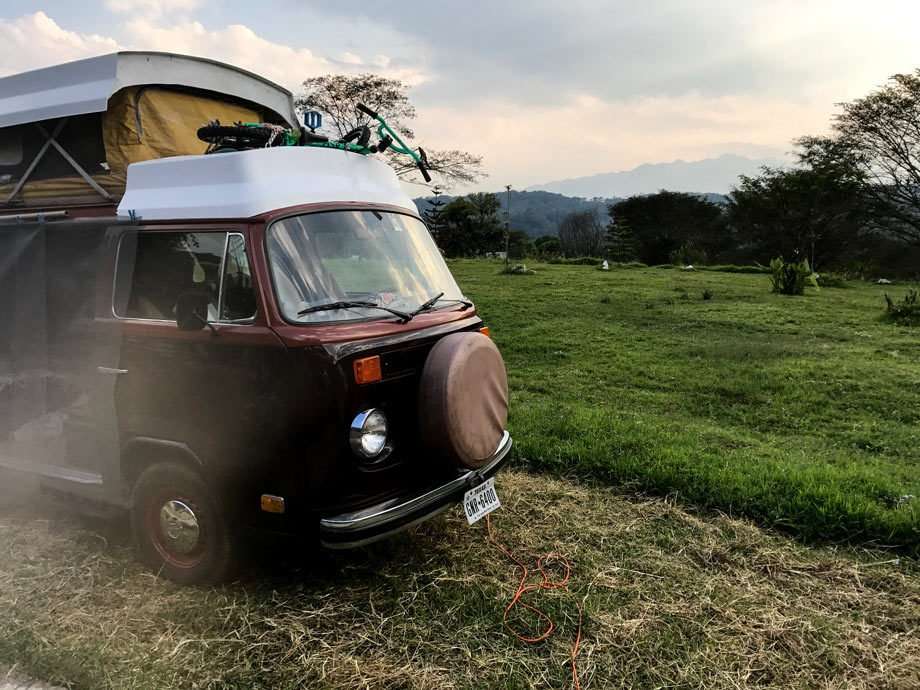 We're allowed to stay, but something about the whole situation feels off. Like they're doing us a favor rather than treating us like paying customers. So, we find a hotel just north of town.
"Podemos acampar?" I ask if we can camp.
"Si, por $350," the equivalent of around $17US, and we'll get access to a shower and a bathroom in one of the rooms, and a plug for our Bus.
"Cuanta cuesta quedar en la habitación?" I ask how much it would be to just stay in the room.
"$350," the manager continues in Spanish, "you are renting the room, if you want to sleep in your van that's up to you."
We do want to though.
It will take nearly a month for our parts to arrive. We make friends with a couple of the workers, who show us around town, helping us find a guy who fixes TVs and can solder a part for us, another guy who might be able to fix our muffler. I give them stuff we don't want anymore, some kids toys, an old cell phone, some vodka.
The first day we walk Xico's Centro, we are like iron in a bucket full of magnetic eyeballs. Everyone stares, not rudely, but everyone does stare.
Old women in the doorways of their empty restaurants greet us back when we initiate with a "Buenas tardes," good afternoon, and their looks of bemusement turn to welcoming smiles. Workers fixing a road make jokes we can't understand as we walk by. A man who speaks a little English and has lived in North Carolina, running our favorite pizza place in town, befriends us. We'll eat there regularly.
Cab drivers try and snag a few extra pesos from us, even after we become well aware of what the average cost of a ride to town from our hotel costs. Sometimes I let it slide. Other times I joke with them that it seems my change is a bit light. They usually laugh back and finish piling on coins.
The final week of our stay it will rain nonstop, but before that we're met with fantastic views of colorful homes clinging to rolling endless mountains. It's a beautiful place to be stuck, waiting for parts.
When the FedEx guys finally arrive, several days after they should have, I ask why they had trouble finding the place when I'd called several times with directions to a hotel that is nearly impossible to miss as you enter town.
"Todas las instrucciones son escrito en Inglés," he shows me. All of the directions are in English, so they never bothered to translate.
Still, there are much worse places to be stuck for a month.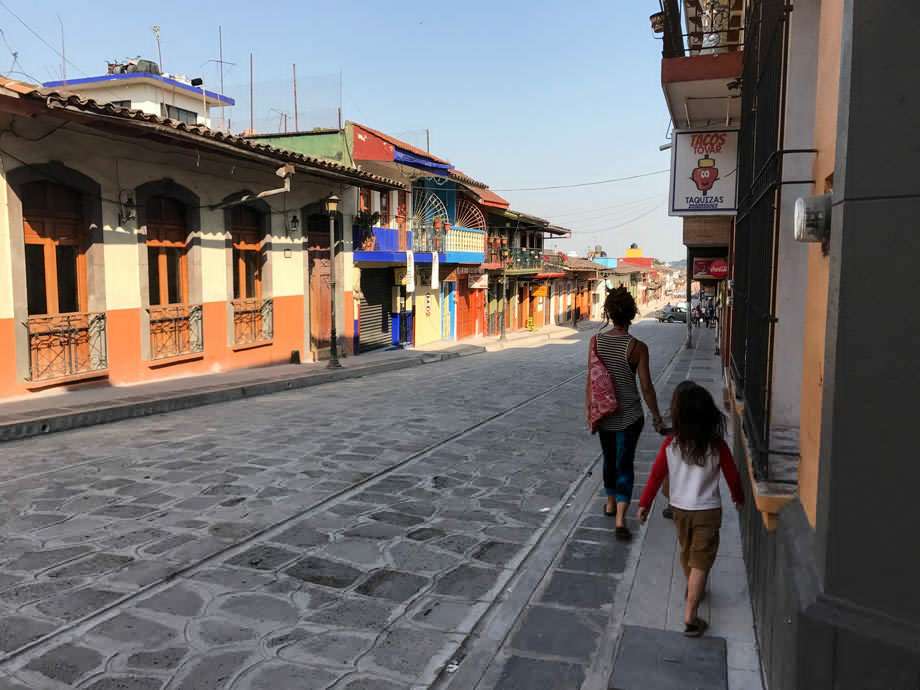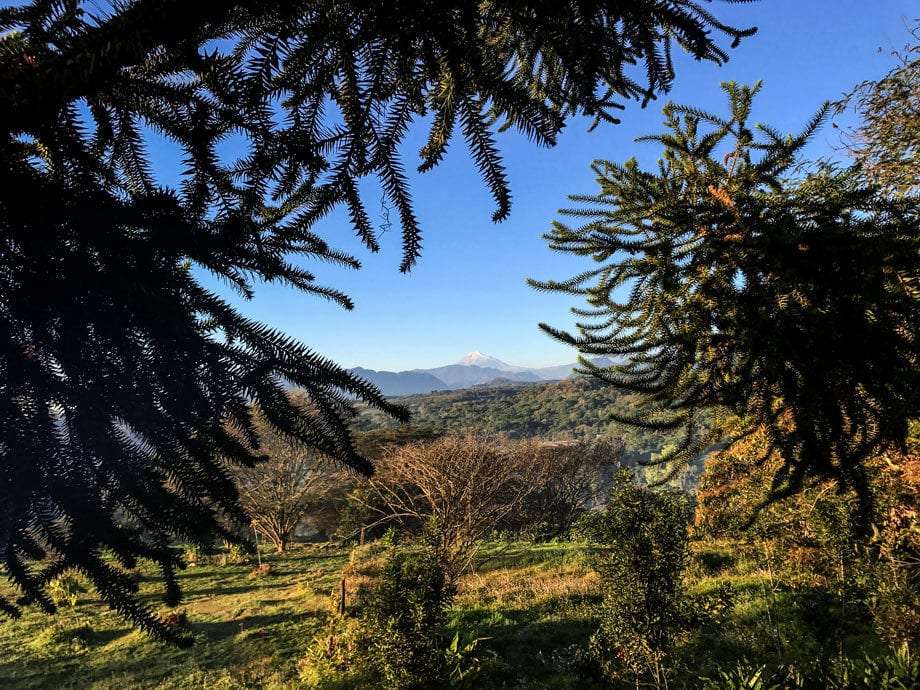 Things to Do in Xico, Veracruz, Mexico for Vandwellers & Overlanders
Hacienda San Bartolo is the official name of the place we mentioned staying at first, and Hotel Xico Inn is the place we ended up spending most of our time. Both are on iOverlander.
Excellent restaurants include La Casona de Don Gonzalo just next to the Plaza de Toros (which houses the big church in the middle of town) was easily our favorite, though El Campanario and Panzanella were right up there, the latter being the pizza place we mentioned above.
Walk Vincente Guerrero north from the plaza to find some great produce stands. Miguel Hidalgo was closed to cars the entire time we were there, due to construction, which made it a perfect little pedestrian only street. The panaderia across from Bancomer was the best one we found, and the coffee shop in the first block north of the plaza (on the left if you're walking north) had astounding coffee, grown here and roasted at the moment we ordered it.
Texolo is the big waterfall, and is certainly worth an afternoon. If you feel like a beautiful drive, take a road by the name of Efren Nava as far south as you dare to go. It's a helluva climb into the mountains with dramatic views and hairpin turns, men on donkeys and families walking from who knows where and to destinations inconceivable.