The City with Many Names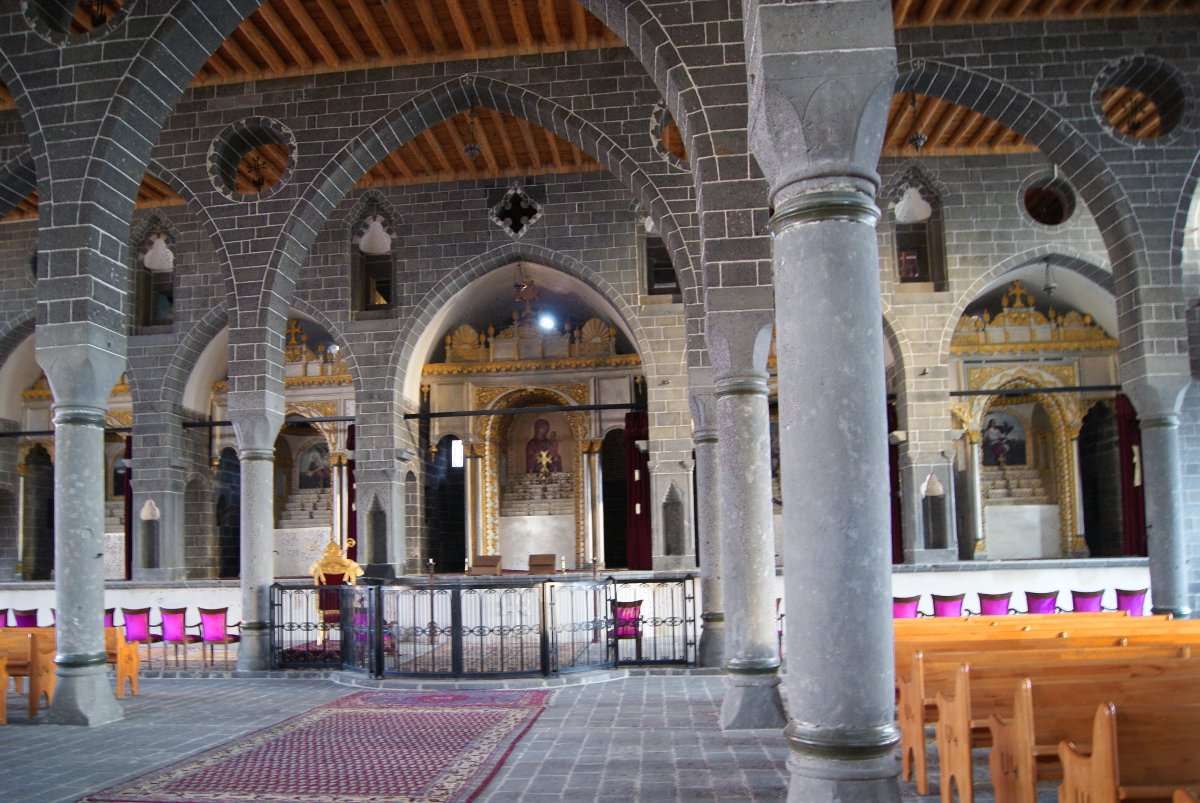 "Can I tell him you're Armenian?" I whisper to Hrach.
To find our way to the St. Giragos Armenian Church, Hrach and I had ambled through the labyrinthine maze of streets that make up the old city. There are four gates into Diyarbakir's old city, which huddles within huge, dramatic dark walls, enclosing it from Ofis, the modern part of the city, with its bars and high street shops.
There are no maps of this area, and we found ourselves walking past the same ancient wooden door again and again, past the men with wheelbarrows selling bread, tobacco or vegetables, past the women pounding bread outside their houses, the children who stopped to stare, and men driving small chuggery motorbikes with panniers made from carpet.
It's Christmas Eve and we're in church. I try not to celebrate Christmas. Two years ago, I went to Iran to hide from it. This year, I'm in the capital of Kurdistan… in a church. But it's ok, because it's an Armenian church, and Armenian Christmas isn't until January 6th.
Diyarbakir has been the capital of many empires, including those of the Sumerian, Hittite and Assyrian peoples. Armenians know the city as Tigranakert, meaning "made by Tigran" – king of the former Armenian Kingdom, which was, for a very short time in history, the strongest state East of the Holy Roman Empire.
The city has witnessed a number of massacres during her tumultuous history, not least of which was the Armenian Genocide.
The Surp Grigoros Armenian church was destroyed along with most other Armenian churches in Anatolia between 1915 and 1923, and restoration has only recently been completed.
Inside the church, a sign declares:
THIS RESTORATION HAS BEEN MADE WITH YOUR
DONATIONS
IN MEMORY OF OUR ROOTS LIVING IN THIS LAND SINCE THOUSANDS OF YEARS
DO NOT FORGET IT
Nowadays, Diyarbakır is considered capital of the unofficial region of Turkish Kurdistan – at least by most Kurdish people, who call the city Amed.
We're staying with the family of close friend, who is Kurdish and from this city, but now lives in the UK. How strange it must be for him to see Hrach and I standing next to his mother and father on the other end of a skype conversation, in a very familiar house.
Kurdish hospitality is pretty much always the best I have encountered in my travels, but now we're with a friend's mother, she is unstoppable. It's impossible to sit for more than five minutes without the offer of tea, something to nibble, use of the computer, or a little gift. By the time we leave Diyarbakır a few days later, my backpack will be considerably heavier.
Even as a Kurdish city, Diyarbakır is unique. Kurdish separatist movements have always been strong here and the Turkish police recently instated a curfew on the city in order to suppress a potential uprising – in response to closing the border to Kurdish-Syrian refugees.
We hitchhiked to the city after a long cold wait on the south bank of Lake Van, with Recep, an enthusiastic Kurdish historian, who grew up in Istanbul but is originally from Kars.
The concept of being from somewhere originally is very strong in this part of the world. Hrach's father's father, for example, was born in Diyarbakır, which apparently means Hrach is also originally from here, despite neither he nor his parents ever having been here before. It doesn't seem to matter that his other three grandparents were born in different places. To people from Diyarbakır, Hrach is their "hemşehri" – basically meaning person from the same city as me.
Recep lectured us non-stop in rapid Turkish for the duration of the journey, about how the Kurdish language was forbidden, how the Kurdish people have long been oppressed, and telling us all about the people fighting in the mountains, trying to free Kurdistan. I was only able to follow this stream of consciousness with my very limited Turkish, because most of the information is so well known to me. It didn't seem to matter how many times I told him, "Yes, that is true. I know that. I agree with you." Recep continued his history lesson relentlessly.
When Recep heard that Hrach is Armenian, he became very excited indeed. He declared, as many other Kurdish people have on this journey, that the Kurds and Armenians are like brothers, and that they always lived together in the past. Then he lectured us, still at lightning speed, about the Armenian Genocide. This was faintly ridiculous for several reasons: Firstly, Hrach is Armenian. He clearly already knows about the genocide. Secondly, he spoke too fast for us to get the details, but thirdly and perhaps most importantly: it was the Kurdish people who carried out the orders of the genocide.
We stopped in a small garage in Bitlis on the way. Recep ushered us into the back office to meet his friends. "She doesn't speak much Turkish," he told them, referring to me, "but if you speak slowly, she will understand you."
"Mer-ha-ba – he-llo" a friend told me, emphatically.
"And he is Armenian – from Diyarbakır!" Recep continued, pointing at Hrach.
"Oh, the Kurdish people and Armenian people are like brothers!" Exclaimed the friend. You know, in old times we used to live together. But then, the Turkish people made problems for all of us."

We flick through the postcards on display outside the church. Most have old pictures of Armenian life in Anatolian cities prior to the genocide. I buy one of the Armenian Holy Cross Cathedral on Akhtamar island, in memory of our failed attempt to see it the previous day.
There are also displays featuring photographs and information, illustrating how Armenian merchants and craftsmen had an important place in the economic life of the city prior to the genocide.
"My husband is Armenian", I tell the man after handing him the coins for my postcard. He smiles at Hrach and I see that he had probably already sussed that out. He asks Hrach where he was born and he tells him it was Aleppo.
I now recognise the man as the same person I had met two years earlier, when I first visited the church. At that time the renovations weren't quite finished. Now, the church looks spectacular. I'm not a religious person myself, and am not in the habit of admiring churches, but there's something incredibly beautiful about how the diaspora have come together to resurrect this piece of history from its ruins.
The man tells me that there are over 2,000 Armenians in Diyarbakir, but only 40 of them are Christian, the rest having been Islamicised. None of them speak Armenian.
I tell him that Hrach's father's father was born in Diyarbakir. "Hemşehri," he says.