The Last Hitchhiker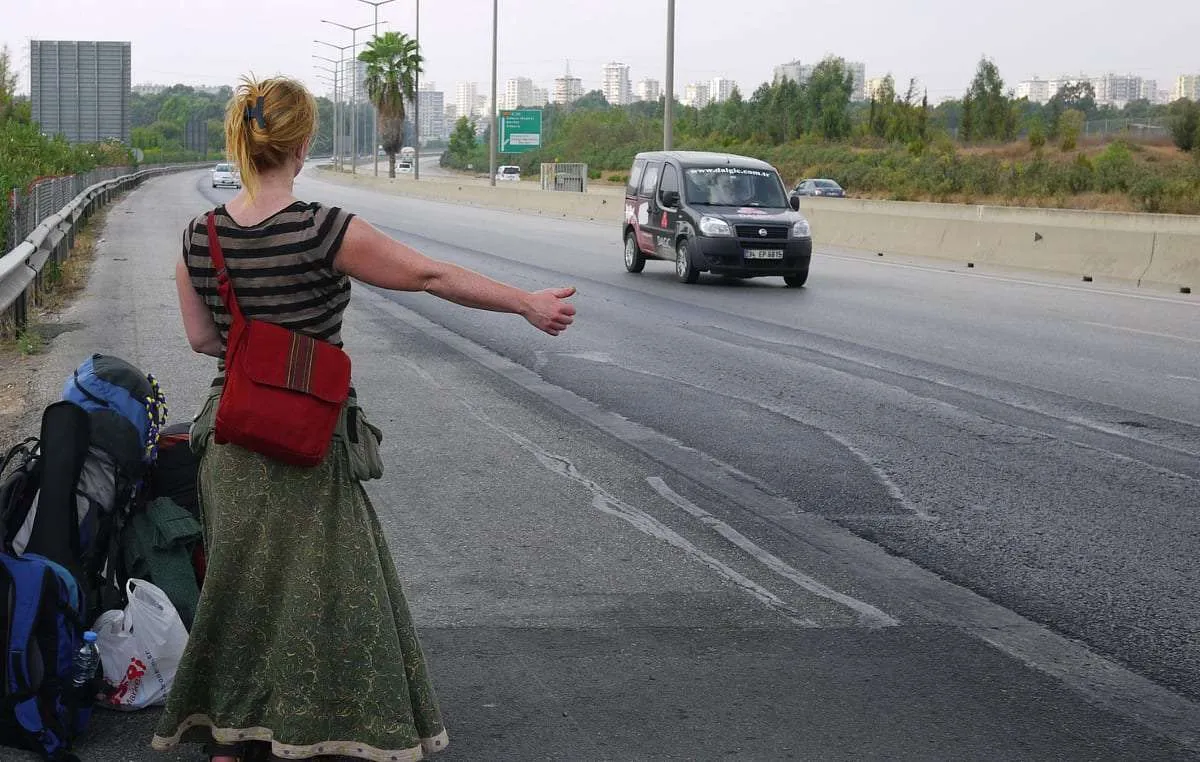 I navigate my way clumsily around the train station, bumbling my way onto the wrong side of a security fence and getting ticked off by a very uptight woman in uniform.
Barcelona's morning rush hour chaos engulfs me.
Following the directions on Hitchwiki, I buy a one way ticket to a station just outside the city's clutches, and after more than a little confusion, I manage to board the train.
I'm feeling smug. El Tren Hotel has afforded me plenty of time to get to the Hitchgathering, while also allowing me to stay in Granada until after Hrach's birthday.
Stepping off the train I notice two guys getting off at the same time, shouldering large backpacks like mine.
"Hitchhiking?" I ask in Spanish.
"Sí, sí," they nod.
I have printed directions on a piece of paper. I read it out loud and we all walk off in unison, along with a couple of others who are also heading to the allegedly fantastic hitchhiking spot. This is the first time this has happened to me in a long time, so many hitchhikers heading the same way. Two of them have British accents. Turns out they also live in Granada and also arrived in Barcelona via night-train, with the same idea of avoiding the long slow hitch through Spain. It has been known to take up to four days. These guys arrived a night earlier though, and wild camped in a park in Barcelona in the rain.
"Are you also going to the Hitchgathering?" I ask. But none of the others have ever heard of such a thing.
We make our way through the small town we find ourselves in, crossing the bridge as directed, chattering away. The two British guys are on their way to France to find seasonal work for the summer. They're surprised to hear there is such a thing as a Hitchgathering, saying hitching is just something they do to get around. "What do you actually do at a Hitchgathering?" one of them asks me, bewildered.
Me and this one guy are talking so much that we lose sight of the others. Fortunately, I'm the one with the directions. We find the "no entry" sign described and stroll on past it. Before long, we're entering the back of a service station, where the other three guys from the train have already started hailing rides, and another couple of hitchhikers who were there before us are just getting into a car.
I grab a coffee and find a plug socket indoors while waiting my turn in the queue. After mere minutes, myself and the two British guys are the only hitchhikers left at the service station. For now let's call these guys "Sam" and "Mike", due to my absence of memory. We make a sign and stand alongside the pumps together, working as a team. Well, something like a team.
"Oh my god, he's barely speaking to anyone!" Mike moans about Sam's technique, as the two of us hold the sign and sip our coffee. "Look at his body language—hands in pockets, looking behind the guy he's speaking to. We'll never get anywhere at this rate!" Mike's excuse for not speaking to drivers himself is that he doesn't speak Spanish. I don't need an excuse, as these guys don't know me enough to push me into doing anything. In fact, I'm quite enjoying the show.
After half an hour or so, I teach some Spanish sentences to Mike so that he can speak to drivers. He assures me that this is, in fact, his forte. We go over the sentences again. And again. Then a couple more times. I open up the tortilla and home-made crisps Hrach bought me from the baker near our flat in Granada, and share them with the lads.
When Sam goes back to the petrol pumps, the woman working there decides we're not allowed near the pumps without a yellow jacket. We all get told off in turn, not for trying to speak with drivers, but for walking around in exactly the same area as them.
"But the drivers are walking here without a yellow jacket," I tell her, when it's my turn to be ticked off.
"Yes, but the drivers just walk to their cars." She tells me, as though this were obvious.
"Well I'm just walking to their cars too." I inform her, politely, surprised that she seems to have missed this point.
"Well, you need a yellow jacket to do that." She says.
The guys and I decide to move back a bit and just use the sign.
After some time, our enthusiasm is weathering and desperation begins to set in. A sports-car with British number-plates is probably the least likely vehicle to pick anyone up, but desperation can sometimes work miracles.
"Alright mate, going to France?" Mike yells after the car as it drives past us. Of course it doesn't stop, but he runs after it and accosts the drivers at the car wash where they have parked. A couple of minutes later, he runs back to us. "They're going to take us up the road to the next petrol station!" He tells us. "But… they only have space for two."
The guys look at me with a trace of guilt as we bid one another open roads and good fortune for the day ahead. I'm on my own now, the last hitchhiker.
As the woman in the yellow jacket is still patrolling the pumps, I make my way to the exit ramp and stand there with a sign: 'Girona / France'.
Ten minutes later, a car pulls up. My driver is Catalan and is probably called Jose (I need to learn to take better notes while travelling). "Jose" is a very affable man indeed, and we chatter away easily in Spanish during the 20 minute ride to the next service station, where I spot two familiar bodies by the exit ramp.
"Hey guys!"
Mike and Sam only got here ten minutes before me, despite being in that speedy sports car. We agree to work as a team again, but after I come out of the bathroom, I discover that I am once again alone: the last hitchhiker. I curse my bladder and hold my 'France' sign aloft.