Beach Camping on our National Seashores & Lakeshores by RV, Tent or Boat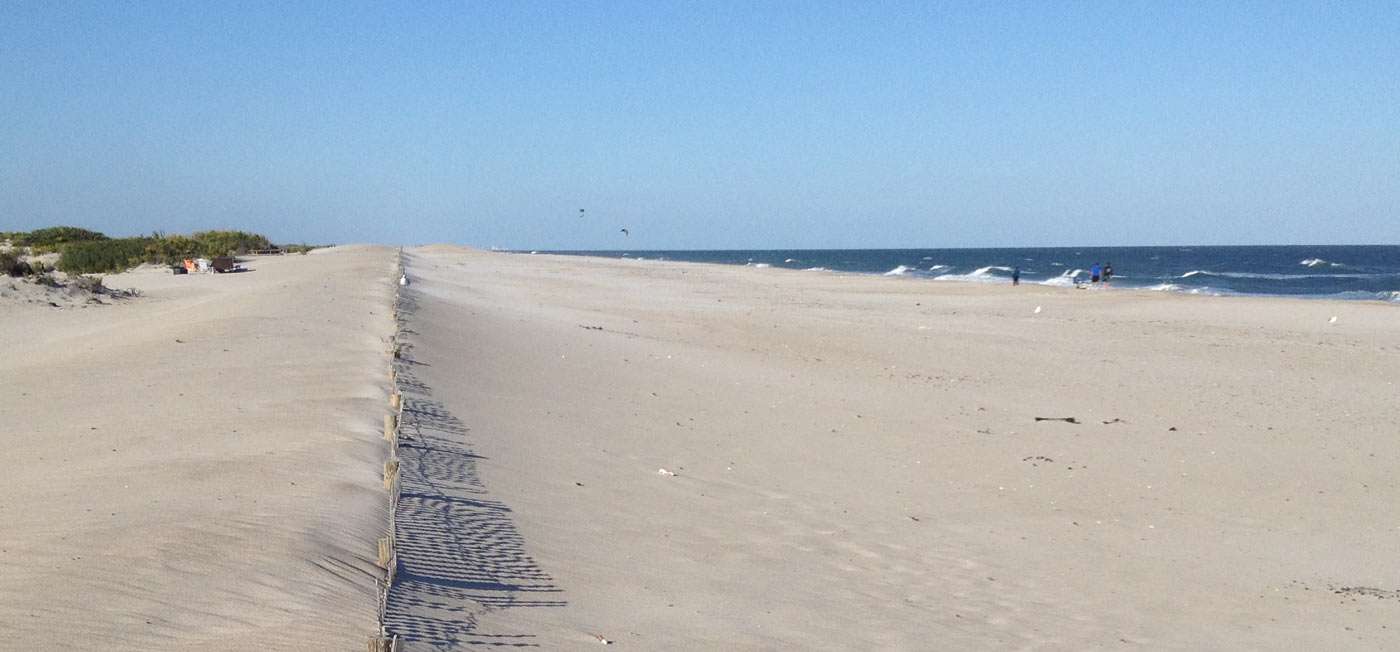 With this winter shaping up to be the warmest in recorded history, and the end of March marking the beginning of Spring, we're looking forward to a summertime full of sunshine, campfires, dinner on the grill and–especially if this summer intends to follow suit meteorologically–lots of splashing around in the water.
If you're the traveling type who enjoys all things "national", i.e. the parks, monuments, and the like–or just lucky enough to live near one of the following bodies of water–spitting in your goggles and heading for one of the United States' national lakes or seashores is the perfect combination of liquid and government sanctioned nature.
Paddleboarding, kayaking, camping, fishing, kicking it in some sand while you debate whether or not the sunsets really are better in Michigan, these are but a few of the ways you can get out and dip your toes in all of the summertime goodness waiting just around the bend.
What's a National Seashore? What's a lake?
Well, a lake is like a big pond, which is like a large mud puddle, but often clearer. If you enjoy metaphors related to dining out, a lake is an appetizer where you ask them to hold the salt, an ocean is the main course. In the world of national lakeshores and seashores, a national seashore is the coastline along the main course, er, ocean. A national lakeshore is similar, but the water lapping up at your feet will be of the freshwater variety.
We know you know what lakes and seashores are, that was just for fun. We'll try and keep it that way from here on out. :)
The National Seashores
We'll dive into the saltwater variety first, as there are ten of these parks across the United States, as opposed to the smaller (and dwindling, since Indiana Dunes National Lakeshore was recently promoted to full on national park status) national lakeshores.
All but two of the national seashores exist on the East Coast, the exceptions being Texas' Padre Island and California's Point Reyes, though depending on definitions, Texas' offering may be "the East Coast" in your book, too. We call it the Gulf Coast, on formal occasions, and "the Third South Coast" when hanging out with our rowdy Lone Star statesmen after too many Karbachs.
If the western side of the country has the best national parks, the east managed to hold onto the lion's share of national seashores. Let's explore them all for what they're worth…
Our Favorite: Assateague Island National Seashore Maryland, Virginia
Fast Facts: 2.1 million people visit the 41,320 acres spread across 37 miles of barrier island that make up Assateague. It was established on January 1st, 1965.
Feral horses roam this island off of Maryland. Rumors have it, the horses ended up here after a shipwreck left them stranded, their owners eaten by killer mermaids and the horses left as a sacrament to the land gods the mermaids worshipped. We may have made all of that up, or some portion of it may be an actual rumor in the greater Maryland/Virginia area, but however they got here, they're feral horses that roam all over and even into your campsite. It is, frankly, rad.
Feral simply means "wild animals that descend from domesticated animals." They're not truly wild, because at one point humans were breeding them and making them chase around foxes while we held big sticks and played games or asked them to carry all of our heavy stuff for us. For all intents and purposes, though, many of these horses are wild animals once again.
The horses are divided up into two herds, one that exists on the Virginia side, and which are owned by a local fire department. Every year, some amount of these horses are rounded up, sent to swim to the mainland, and then sold off. They're treated well before all of this, the firemen feeding them and providing medical care.
The other herd lives on the Maryland portion of the national seashore. These ones are treated more like wildlife, though they are still monitored by the park service and various steps are taken to keep the herd at a specific size, around 90 horses at a time. So, in either event, feral or otherwise, they're not really, truly wild animals.
Still, they are absolutely beautiful, powerful and largely considerate–save their lack of digging catholes when it comes time to poop–hosts when visiting this, our personal favorite, national seashore.
Camping on Assateague
…will no doubt be an unforgettable experience, with horses abundant and the Atlantic at your fingertips.
Backcountry
Tent
Van/Truck Camper
RV
Canoe-in
Cell Service
$30
Camping on Maryland's side of the island is rather abundant, and ranges from RV spots to backcountry, though there are no hookups anywhere in the park itself. Car camping spots, many long enough for RVs and all plenty tolerant of vans and truck campers, can be found in two groups, Oceanside and Bayside Campgrounds, named for exactly where you'd expect to be positioned on Assateague. Spots vary greatly as to their privacy and general awesomeness, but if you've come for the horses, you're likely to see a passerby or two.
Backcountry offerings can be hiked to, but if you happen to have brought your kayak or canoe, there's nothing like floating yourself into tonight's lodgings. We've visited in the fall and the buggos were practically non-existent, but plenty of warnings about mosquitos hang around on both signs and in the general air of the community, so summertime caution may be advisable.
What Else to Visit
This stretch of the Atlantic is coated with interesting towns. Want the seedy underbelly of amusement park attractions? Check out Ocean City, Maryland. Bethany Beach is the low key beachside villa offering (and our favorite), with a brewery and a quiet boardwalk, while Rehoboth gives you something in-between. Berlin, Maryland–while not on the water–promises black and white nostalgia for those looking for such a thing.
Like sands through the hourglass, so is the likelihood you'll find something, somewhere to smile on this stretch
Coolest Beach in Florida Canaveral National Seashore Florida's Space Coast
Fast Facts: 1 million people visit the 57,662 acres spread across 25 miles of ocean beach and lagoon that make up Canaveral. It was established on January 3rd, 1975.
A volunteer, not quite a ranger, but as full of knowledge as any park ranger we've ever encountered, extolled the virtues and lifestyle habits of the many types of sea turtles that come to Canaveral National Seashore to lay their eggs every year. He discussed how one might discern any given turtle sighting's breed based on color, size and shape. He went into how the native people saw the animals, and what more modern folk did to them. The man spoke with us, and not just our children, but all our entire family, for hours, pulling out shell after rock, bone after fin, describing what each did, what animal it came from, where it was found within the national seashore.
We went off to explore the park and do our Junior Ranger thing, only to return and he had finished his shift. The official park ranger on duty at that time said we needed to watch a movie or participate in a ranger talk, and then proceeded to give a talk herself before putting the movie on.
"What did you learn?" she asked my boys.
"Nothing really that the man who was here this morning didn't tell us," my youngest responded. Despite my inability to appreciate his glib approach to the matter, I was proud, because he was right. The ranger knew who were were speaking of immediately, and agreed that he is the best ranger talk/movie one might ever see.
That this stretch of the Atlantic is among the best surfing in all of Florida also pushes the waves, at times, well onto the beach and up into the boardwalks that lead through the fragile dunes which hold the thin sliver that comprises the middle of the park together. Armadillos, though not native to Florida, are allowed to roam the coastline as well, leprosy-bearing paws and all. The intracoastal side of things is completely different from the big wave and beach eastern end, with timid lagoons where dolphins and alligators alike inhabit an otherwise mosquito-laden domain. Nothing like what it used to be, when a place literally named Mosquito Lagoon was so thick with the biting suckers that the Army Core of Engineers felt it necessary to come in, dam / levy the place up, and eradicate the little vampires nearly altogether.
Stragglers remain, but it's a bearable experience at this point. And as much as I love nature, and hate to see man interfering with its much wiser course, sometimes you just have to be thankful that mosquitos can go to he-double-hockey sticks no doubt.
Camping on Canaveral
Backcountry
Tent
Canoe-in
Cell Service
$20
What Else to Visit
Just outside of the road into Canaveral, New Smyrna (you didn't read that correctly, no human tongue can pronounce "Smyrna" as the locals do) is a stretch of oceanside community worth exploring, even if it's just for the treehouse restaurant (Norwood's Eatery).
Though travel by car is an hour plus affair, the Kennedy Space Center (for a healthy fee) and Cocoa Beach are just south. Cocoa Beach, home of Ron Jon's Surf Shop, and a plethora of other ways to have fun, is one of our favorites.
Most Likely to Vote for Bernie Cape Cod National Seashore Massachusetts
Fast Facts: 4.4 million people visit the 43,607 acres spread across just under 40 miles of Atlantic Coast that make up Cape Cod National Seashore. It was established on August 7th, 1961.
Driving out to Cape Cod on a busy weekend, or any day come the warmer months for that matter, is so popular that the State of Massachusetts allows people to drive on the shoulder. Upon first seeing this, I was certain we were in the latest Ben Affleck film, one which was nowhere good enough for Matt Damon to participate in, but which he did give enough money to be the executive producer on. I asked around, and apparently it's not just mad men from Boston seeking the retreat of small town and nature that the cape provides, but a real deal thing.
I laughed at the ridiculousness of it all when my wife finally stopped me to say, "If there's that much traffic, it should just be three lanes. It shouldn't even be a 'shoulder.'" She is brilliant in her ability to see the common sense in something that baffles me, the car user, and required an act of congress to make legal.
The first two-way message was sent across the Atlantic from Cape Cod. You can take whale-watching tours from the area to see these magnificent creatures, including the nearly obliterated North Atlantic right whale, who's population is only some 400 or so.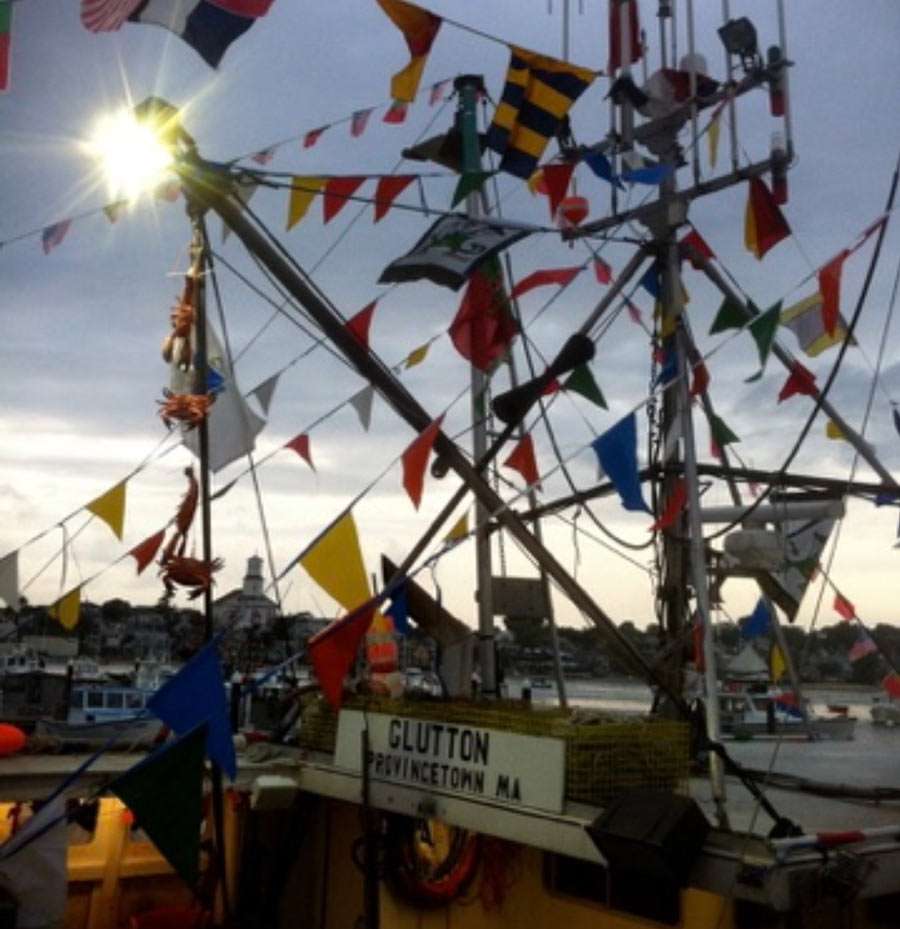 Camping on Cape Cod
Camping on Cape Cod National Seashore is limited to self-contained rigs only. No other camping is available within the park itself.
Tent
Van/Truck Camper
RV
Canoe-in
Sailing
Cell Service
$75 / week.
What Else to Visit
While Cape Cod comes up nowhere short of things to do, including your classic New England crab catcher hellos and whale watching alike, we think Provincetown takes the cake. Once a man walked down the street absolutely buck naked, but with his clothes painted on. And no one thought this strange…
Surfers Choice Cape Hatteras National Seashore Outer Banks, North Carolina
Fast Facts: 1.9 million people visit the 30,351 acres spread over 70 miles that make up Cape Hatteras National Seashore. It was established on January 12th, 1953.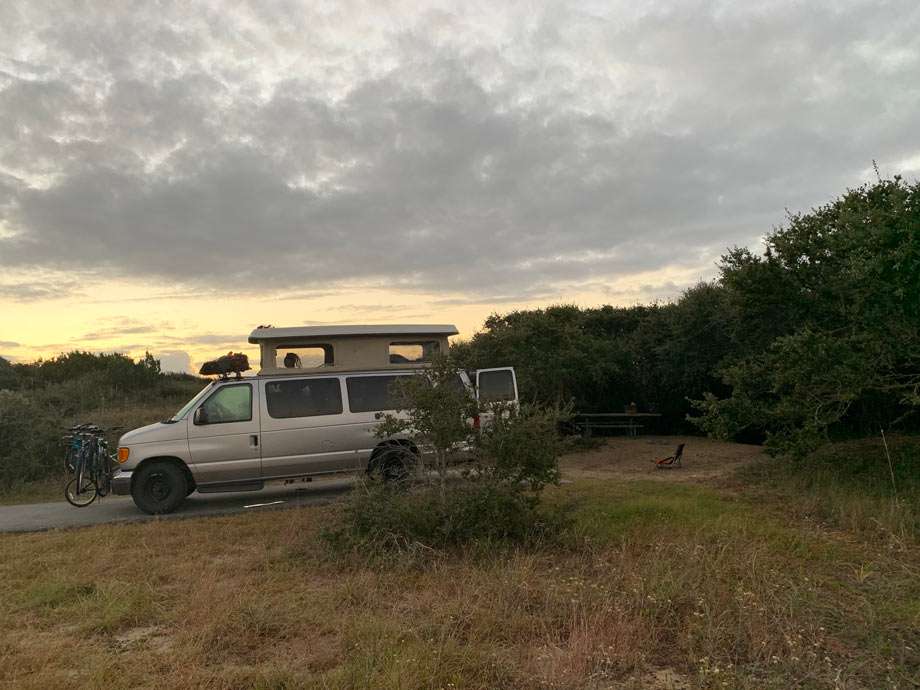 The Outer Banks are legend among vacation-planners living east of the Mississippi, and Cape Hatteras National Seashore preserves, to a degree, the natural portions of this otherwise highly commercialized area.
Shipwreck lore is abundant in the area, and lighthouses find more Instagram time than the Kardashians' combined booties (obviously false, the sheer number of belfies those ladies post is insurmountable). You'll find three distinct breeds of visitors to this slice of ocean, all who tend to absolutely respect its lapping waves for absolutely different reasons. The rarest of these breeds is the birder, seeking out the wintering habitats of many a long-legged shorebird. The less-elusive fisherman can be seen, a curious site as he tries to real in fish as big as he'd be should he lay off the Coors Lights, while the most abundant natural inhabitant of the area is the fabled surfer, as Hatteras is considered to be among the best, if not the blue ribbon, of East Coast surfing meccas.
This is one of the most beautiful natural areas left in the Eastern United States, and easily on the southeastern coast.
Camping on Cape Hatteras
Backcountry
Tent
Van/Truck Camper
RV
Cell Service
Electricity
$20 – $35
A Little of Everything Cape Lookout National Seashore Outer Banks, North Carolina
Fast Facts: 500,000 people visit the 28,243 acres spread over 56 island miles that make up Cape Lookout National Seashore. It was established on March 10th, 1966.
While only 45 miles by water south of Cape Hatteras, and still preserving oceanfront property along the Outer Banks, the two national seashores are actually separated by a four to five hour drive. Such is the downfall of humanity, and its inability, even in the year 2020, to make a moderately priced sedan which can convert into a boat at the push of a button.
Like Assateague, feral horses also roam Cape Lookout, though the Banker horse breed found here has yet to develop as short and stout the demeanor which existing on salt-water sustained flora has left their Assateague brethren. Similar rumors abound as to how they became residents, though.
In addition to the usual fishing and birding, driving up and down the coast in search of what's left of the Atlantic's natural seaboard, two historic villages offer visitors a glimpse into what the early days of European immigration to the Carolina's may have looked like.
Camping on Cape Lookout
Four wheel drive vehicles are highly recommended, if not downright necessary. The park has no official campgrounds, everything is beach camping, and largely on sand. Getting stuck out here would not be fun, since it's only accessible by ferry and I can't imagine the tow truck fees involved in such an excursion.
Backcountry
Tent
Van/Truck Camper
RV
Canoe-in
Sailing
Cell Service
Free
Boaters Only Cumberland Island National Seashore Georgia's Golden Isles
Fast Facts: 40,000 people visit the 36,415 acres spread over a 17.5 mile island that make up Cumberland Island National Seashore. It was established on October 23rd, 1972.
Accessible only by boat, including a ferry out of St. Marys, Georgia. The island is both a wilderness area and an historic district, and one where a multitude of ecologies exist, a bounty of biodiversity making it a truly fascinating, and relatively easy, place to see a variety of flora and fauna that might take one miles of exploration to see otherwise. Sea Camp, the main camping area, allows those who arrive via watercraft to use a cart to transport their goods to their campsite, otherwise, you have to pack it all in. Aside from Sea Camp, this seashore is intended for those ready to get rugged.
Camping on Cumberland Island
Backcountry
Tent
Canoe-in
Sailing
Cell Service
$25
A Place with No Roads Fire Island National Seashore Long Island, New York
Fast Facts: 384,000 people visit the 19,579 acres spread over 26 miles of barrier island that make up Fire Island National Seashore. It was established on September 11th, 1964.
While bridges connect either end of Fire Island to the rest of New York, that is where the traffic ends. You park in a paved parking lot, and aside from emergency vehicles and a few other exceptions, that is where the automobile access ends. Several small communities exist on the island, but the natural attractions are a true wilderness area, the only one in the Empire State, and a rare holly forest with trees as old as 300 years, another true rarity in a state so long ago and quickly exploited.
Camping on Fire Island
Backcountry
Canoe-in
Sailing
Cell Service
$25
Conscientious Spring Breakers Award Gulf Islands National Seashore Florida, Mississippi
Fast Facts: 3.9million people visit the 135,457 acres spread over both Mississippi and Florida Gulf coastline that make up Gulf Island National Seashore. It was established on January 8th, 1971.
Spread across several islands and mainland seashore alike, the Gulf Islands aims to protect the history and natural state of a portion of the northern coast of the Gulf of Mexico. Where the seashore exists in Florida, it can easily be explored by car. On the Mississippi side, things become more naval, with only the Davis Bayou accessible via the wheeled inventions of man.
While preserving the natural state is a goal of the national seashore, it can be difficult–to impossible–considering the frequency of oil spills, both large, small and otherwise never revealed to the public at large, which occur in the Gulf of Mexico.
Camping on Gulf Islands
Reservations are highly recommended and must be done online.
Tent
Van/Truck Camper
RV
Canoe-in
Sailing
Cell Service
Electricity
$20 – $26
What Else to Visit
While they're two hours away each, we particularly love Apalachicola, Florida and Mobile, Alabama, for completely different reasons. Other than that, this stretch of the Gulf is all about toes in the sand, casino-having fun. Enjoy!
Bring a Trash Bag Padre Island National Seashore Gulf Coast of Texas
Fast Facts: 666,500 people visit the 130,434 acres spread over 65+ miles of Texas coastline that make up Padre Island National Seashore. It was established on September 28th, 1962.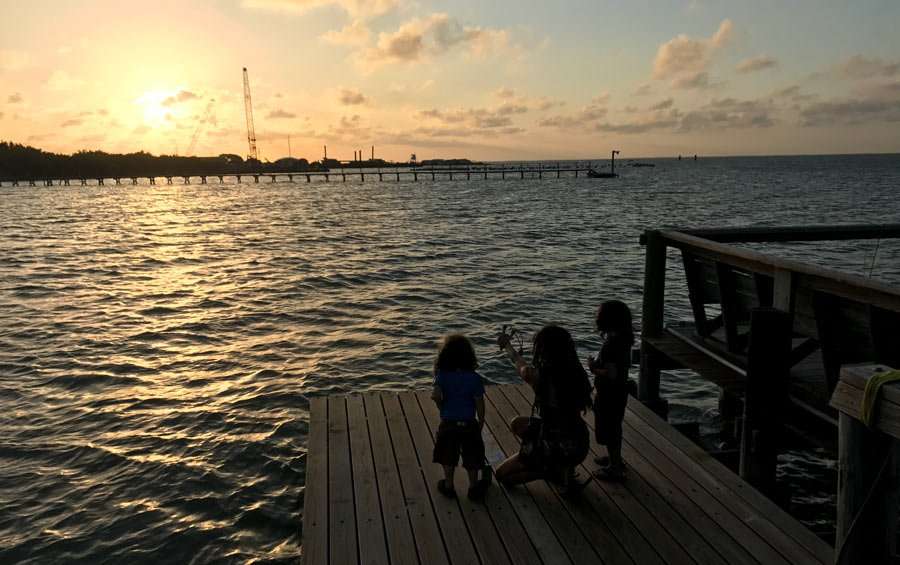 Texas does not always bring to mind pristine beaches when one imagines traveling the state. Gunslinging Alamo reenactments, perhaps. Still thriving small towns, massive and ever-growing cities, or the endless deserts of the western side of the state are more the reality. The people, despite what your preconceived notions based around their voting history may or may not be, are typically warm and welcoming people, tolerant of differences if appropriately cautious. But flip flops and sand castles?
Unfortunately, Padre Island, like much of Texas' Gulf Coast, is riddled with litter, and even where park officials do their best, it seems that whatever type of people are most attracted to the natural beauty of the shores which line a state which could–had it not needed the United States' help during its attempt to relieve itself from Mexico–be its own country today, are also the type who think an empty Mountain Dew or Copenhagen can are best discarded into the sand and sea that make up this otherwise beautiful stretch of our nation's southern coast. Some say it's not the visitors to Padre Island leaving the trash, as much as the area's natural propensity to accumulate the mass dumping that occurs in the Gulf in general. Whether it's oil rigs and shrimp boaters tossing garbage overboard all the way from Cancun and Alabama, or rowdy spring breakers from nearby Houston, the issue remains. If the national seashore wants a reputation for not being the dumpster of the Gulf, perhaps it should lobby the government to stand by our protected areas–Trump or Obama, liberal or democrat–and start showing that we care about the big picture when it comes to preserving the beauty of our lands, not just what can easily be fit on a map handed out as you drive through the gate.
It's unfair to put this all on one park, though, as it's all of our responsibility to stand up and make these types of points to every elected representative. Or at least retweet something, for nature's sake. ;)
Camping on Padre Island
Camping is all first-come, first-served at Padre Island.
Tent
Van/Truck Camper
RV
Cell Service
Free – $8
What Else to Visit
There are several small communities in the area, but nothing particularly notable for Texas. In fact, we'd easily vie for something in the Austin or Bastrop area, and even better yet West Texas.
Best in the West, by Forfeit Point Reyes National Seashore California
Fast Facts: 2.4million people visit the 71,028 acres of rugged California coastline that make up Point Reyes National Seashore. It was established on September 13th, 1962.
Arguably (easily) the most stunning of our national seashores, Point Reyes foregoes the typical even, sandy beaches, where sea level is always a bucket scoop away at most, for rugged ridged cliffs overlooking the mighty Pacific. It's the only national seashore on the west coast, and as much as we may wish it wasn't true, like the rest of California, it's the best of the best.
Aside from the drama queens every crashing wave against those sheer walls becomes over and over again, day after day, high after low tide, the area is home to a variety of elk found only in the Golden State, gray whale sightings galore, elephant seals, and a myriad of tide pool dwellers alike. While this is no small feat, when compared to the California coastline, and that of the west coast in general, while it is beautiful that we preserve it, it is but a sampling of the spectacular nature our western seaboard has to offer, and leaves one wondering why exactly there is but one national seashore on all the West's coast.
Camping on Point Reyes
Backcountry
Tent
Canoe-in
Sailing
$20
What Else to Visit
If you're on a quest to California specifically for Point Reyes, you're in luck. The state is full of the most amazing…places, trees, small mountain towns, the Golden State has it all. But we especially like California's abundance of world record-setting trees.
The National Lakeshores
Where the seashores equate with saltwater, the national lakeshores are those found on freshwater, and specifically exist along the Great Lakes.
Two of these are in the state of Michigan, perhaps the most interesting state for those seeking outdoor recreation in all of the Midwest. These include Pictured Rocks, the first national lakeshore, located in the "UP", i.e. Upper Peninsula, and Sleeping Bear Dunes, on the state's "mitten," or lower peninsula. The final remaining lakeshore is in Wisconsin, the beautiful Apostle Islands.
Indiana Dunes National Lakeshore was re-designated as a national park, and like President Donald Trump's other national park designation, the arches in St. Louis, makes absolutely no sense when compared to what a true national park is supposed to be. If you set Yosemite, the Grand Canyon, or even the Smoky Mountains, against Indiana's Great Lake's shore or a big man-made arch in St. Louis, you can either agree, or we can agree to disagree on your ability to conceive the grandeur that a true "national park" should encompass.
Still, we're log-fearing, down home American hot dog lovers, so Indiana Dunes will not make our list today, despite really deserving to remain here. And of course, we will not include any arches, golden or otherwise, no matter how good their fries may or may not be, in this magazine.
Where the Sailboats make Rainbows Jealous Apostle Islands National Lakeshore Lake Superior, Wisconsin
Fast Facts: 176,000 people visit the 69,372 acres of Wisconsin islands which make up Apostle Islands National Lakeshore. It was established on September 26th, 1970.
A chain of camel humps reach above Lake Superior, flanked on every side by sailor's galore in their delight. The Apostle Islands, even if you can merely visit them through binoculars via Wisconsin's Bayfield, are a pleasure.
Camping on Apostle Islands
Backcountry
Tent
Van/Truck Camper
Canoe-in
Sailing
Cell Service
$15 – $50
What Else to Visit
You won't be able to visit Apostle Islands without driving through Bayfield, Wisconsin, and if you enjoy simple, beautiful coastal towns exuding character, you'll love this little lakeside village. It's everything you want from a quaint New England settlement in the early 1900s, but on the Great Lakes.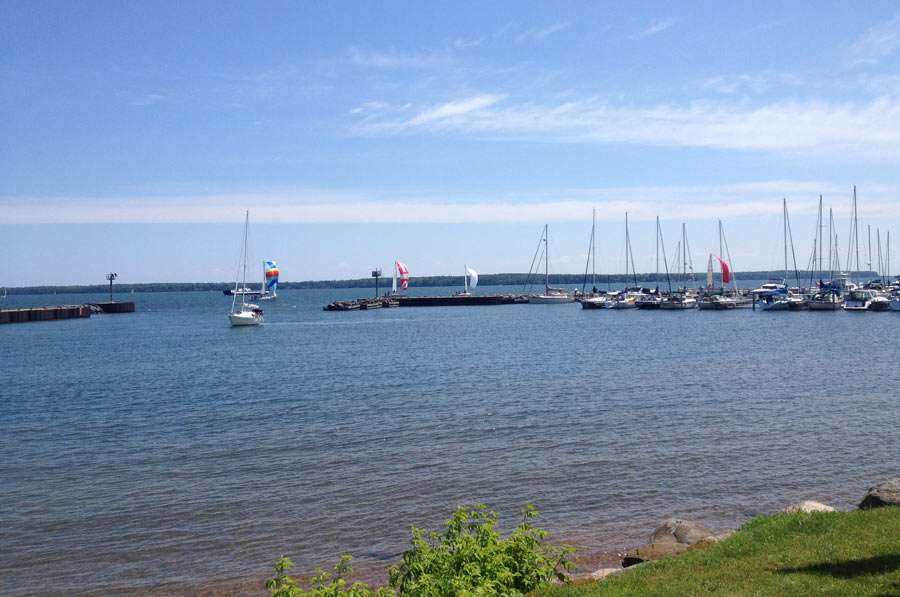 Our Favorite in the Freshwater Pictured Rocks National Lakeshore Lake Superior, Michigan's UP
Fast Facts: 476,000 people visit the 73,236 acres of Lake Superior's shores that make up Pictured Rocks National Lakeshore. It was established on October 15th, 1966.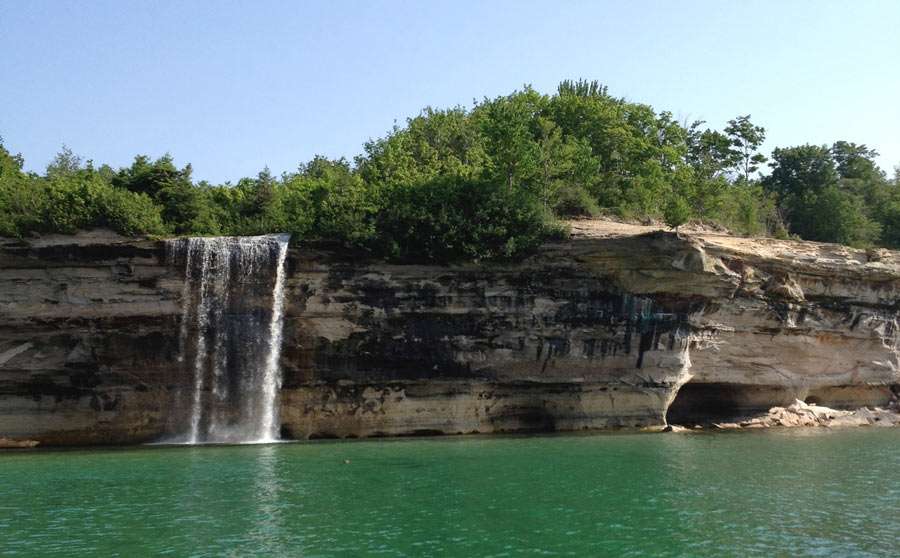 Tunnels burrow through the colorful rocks for which this national lakeshore derives its name. Tourists from the Midwest and around the world gather to its cliffside shores, renting pontoon boats and gathering up their courage to climb the dunes–though nothing compared to Sleeping Bear–alike. The region carries the reminiscence of hunters, bikers and snowmobiles, and it carries it well.
If not the shining beacon of the Upper Peninsula of Michigan, it's easily the most "doable" area, with everything from hiking to kayaking, happy hour to lazy afternoons on the beach ready to set your go.
Camping on Pictured Rocks
Note that you must make a reservation to camp at Pictured Rocks. They no longer accept "drop ins."
Of note is that Pictured Rocks' campgrounds allow winter camping, which is "typically done by snowmobile." Fun.
Tent
Van/Truck Camper
RV
$15 – $20
What Else to Visit
Munising, Michigan is not an immediate gem. You won't see it as a diamond on first glance, but if you lend enough of your elbow's bumping to the locals and Detroiters hanging out there, you're sure to run into an interesting story or two. From pasties to party stores, discovering what makes Michigan tick is part and parcel to the experience. Soak it up.
Though they're distant, from Copper Harbor to the Mackinac Bridge, the UP has plenty to offer.
Toughest Climb Sleeping Bear Dunes National Lakeshore Lake Michigan, Michigan's Mitten
Fast Facts: 1.2million people visit the 71,187 acres of Lake Michigan dunes that make up Sleeping Bear Dunes National Lakeshore. It was established on October 21st, 1970.
Short of hiking Everest, you'll never do a climb like you will returning from Lake Michigan on Sleeping Bear Dunes. We'll leave the national seashore aspect of it at that, but the experience is just as much about what's nearby. Endless farmland coats this western side of Michigan, easily the Midwest's jewel, even if the locals do think their sunset is the best in the world. We'll give it to them, this time.
Camping on Sleeping Bear
Note that reservations are required in the summertime.
Backcountry
Tent
Van/Truck Camper
RV
Canoe-in
Sailing
Cell Service
Electricity
$20 – $26
What Else to Visit
When you've had your share of ten steps forward, fifteen steps back on the dunes, the M-22 (a Michigan state highway) will lead you from the small town streets of Crystal Lake to the piers loading the Leelanau Peninsula with charm. Sip a beverage and buy a t-shirt in little Leland or find a different experience entirely in Traverse City.
And thusforth, in summation…
We hoped you liked our anthology of the collective works of what we think about these national waterfronts. Swimmingly good night to you, after all, and Poseidon bless ye.
Credits:
Hiker by Nicole Hammonds, Tent by AmruID, Van by Andrew Cameron, caravan by Yo! Baba from the Noun Project. Also Canoe by Viktor Fedyuk (Tim P), sailboat by Mello and Cell Phone by Markus, all from the Noun Project. Introducing electric by Nicolas LEULIET. Also from the Noun Project