Central America in an Old Toyota Pickup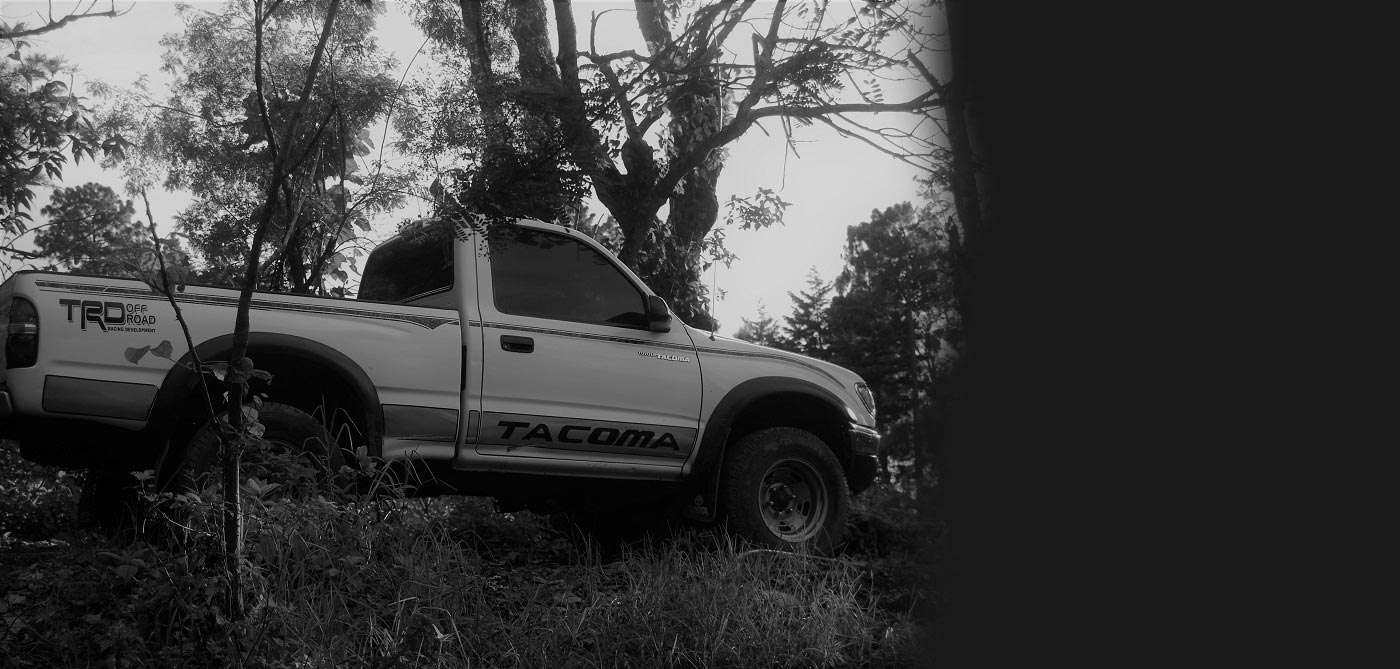 My two-year-old daughter was born in Guatemala, lives currently in El Salvador, and is also a US citizen.
On a practical level, she´s able to travel pretty easily around the region of the world where we have chosen to live, as long as we can figure out which passport to use at each border crossing. While Central America might be painted by the international media as a place reeling with drug traffickers, gangs, and corrupt border patrolmen, it is also a place of unprecedented beauty, diversity, and adventure.
During the past two years, my family and I have taken our old, beat up 1994 Toyota pickup up and down the tiny peninsula that connects the two giant continents that make up the western hemisphere. This is our story.
How We Began Traveling
After having worked for over a decade in the community development non-profit organizations throughout most of Central America, my family and I decided that it was time to settle down on a farm that we had bought in the mountains of El Salvador. We were living in the Mayan Highlands of Guatemala at the time, and had packed up everything we owned into the back of "Juanito", our faithful pickup companion.
Instead of driving straight to our new home, which at the time was nothing more than an unfinished 10 foot by 15 foot wood cabin with a dirt floor, we decided to take a family vacation south to Nicaragua, and then back north through Honduras and into El Salvador. Our 7 month old daughter fit nicely into the middle part of the bench seat of single cab pickup, and with all our belongings stored snuggly in the bed, off we went.
While we did have our fair share of uncertainties related to the feasibility of traveling thousands of miles through unknown territories (to us) with an infant daughter, we quickly realized that no matter where you go, hospitality is a universal response, especially when an adorable little girl is in the mix. Since our budget was rather limited, we had packed a small tent to camp out wherever the night found us.
During the first night in northern Nicaragua, we sat in our car during a torrential rainstorm pretty much abandoning the idea of trying to set up camp and resigning ourselves to an uncomfortable night trying to sleep in Juanito. We were pulled to the side of the road at the entrance to León, a beautiful Colonial coffee town where we had planned to spend a few days. After about a half hour, we were startled by someone knocking on our window. A burly looking man with a cowboy hat and a full mustache invited us into his home where him and his wife had been watching us parked miserably on the street.
Once inside, a hot bowl of chicken soup (recently killed we imagined from the bloodied feathers in the front yard) was served to us. An older son of the family took up residence for the night on the couch on the living room and offered us his room. A night full of laughter, stories, and unforgettable conversation began a friendship that endures to this day.
The rest of that first three week adventure through Central America was filled with similar experiences of selfless and generous hospitality that we encountered at every turn. Even the border agents, usually renowned for their strict adherence to bureaucracy, were surprisingly forgiving and compassionate. We quickly learned that a crying 7 month old is a great antidote to bureaucracy and helped us get across all borders quickly and smoothly.
That original trip led us into the discovery that traveling with a young daughter was not hard, but rather rewarding. When we eventually did make it back to our farm in northern El Salvador, we decided that it would be a priority to take at least two to three family trips each year and get as much use as possible out of that snug single cab before child number two came along. Since that first trip, we have gone from southern Mexico to southern Panama; from the Caribbean to the Pacific, from the sulfur-laden sand of barren volcano tops to the salted sand of magical beaches.
Some Lessons Learned on the Central American Road
As any traveler should know, the best surprises when traveling are usually not found in the guidebooks. While we did purchase a couple guides to Central America, we have always found that the most memorable part of our trips occurred when "off the beaten path." The towns that are left unmentioned in the guidebooks often offer hidden gems to be explored.
But how do you know which town to visit and where to find these uncharted places of enchantment? From our experiences, the best advice almost always comes from those who so humbly offer us their hospitality. The family in Nicaragua that took us in that first night took us the next day to a beautiful little river and waterfall whose name no one remembers. Veiled in the green hills and coffee plantations, this river was something out of a fairy tale. Coupled with a delicious meal of grilled chicken (also recently sacrificed) it was an adventure that no guidebook could do justice to.
But what about safety, you might ask? Should we trust just anyone? What about those infamous drug lords that run drugs through the peninsula? We don't have any fool proof advice to offer here, except the pretty lame instruction of "use common sense." As with most places around the world, much of the violence in Central America is confined to the urban areas. We probably wouldn´t just walk into anyone´s home in a neighborhood with gang graffiti on every wall. However, while a certain dose of caution is certainly necessary and prudent, outright fear and anxiety can cause you to lose out on magical experiences that come from accepting the gifts of hospitality that appear along the road. On our farm here in El Salvador, we receive several travelers that come to us through websites such as Workaway and WWOOFing, and we always find it providential to enjoy the company of people from around the world who have enough trust to come into the home of a stranger and share in our common bonds of humanity. So, in conclusion, common sense is good and essential, but an openness to the warmth of cordiality is also elemental for any good traveler.
The Next Trip
After several trips up and down Central America, we´re sad to admit that Juanito is getting close to retirement. The three month bulge in my wife´s stomach has led us into accepting that a little extra space might be a necessity. However, we´re not letting go of Juanito without a bang. This summer we´re planning a monster trip from El Salvador, north through Guatemala and Mexico, and up to Washington State.
While we´re excited about finding what gifts of hospitality await us on the road, Live Once Live Wild has been an excellent outlet for helping us to chart out some great places to visit in the western part of the United States.
Travelling without relying on the comforts of hotels and restaurants has allowed to experience more directly the realities and the contexts of the places we´ve visited. It has also allowed us to find some absolute gems of places that we never would have found if we simply stuck to the charted out tourist routes. And most importantly, it has led to enduring friendships that we´ll carry with us for years to come.