Chase and Mariajose: Tio Aventura Life in a Converted School Bus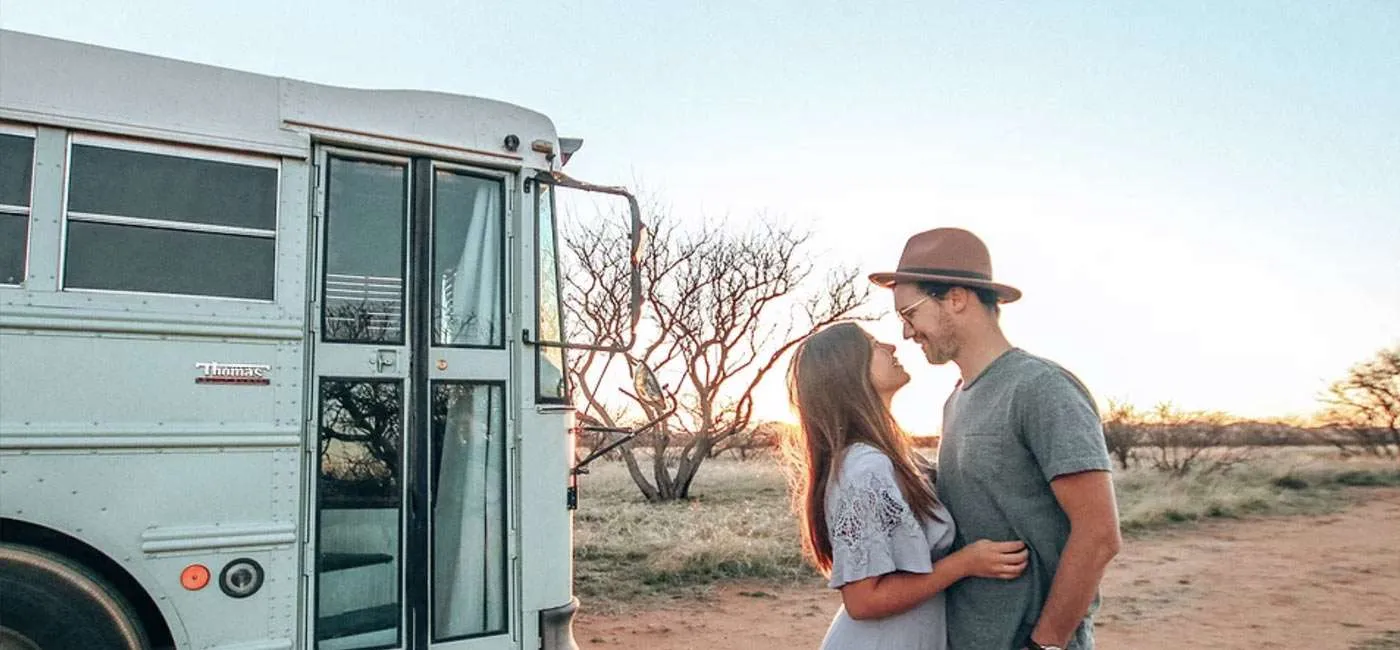 "Tio Aventura is Spanish for Uncle Adventure," Chase Green tells us from somewhere on the road.
Along with Mariajose Trejo and their two dogs, they live in a converted school bus, traveling around in hopes of exploration, minimizing their impact on this Mother Nature we all spin around on, and pursuing this new American–perhaps worldwide–dream blossoming that is the wandering life.
Mariajose, a Venezuelan, met Chase in Madison, Wisconsin five years ago. "She came in to the place I managed," Chase recalls, "and needed assistance. It's a funny and long story, but ultimately it was an immediate connection that we followed up on with a date that night. I met her father, had a beer with him." Chase, born in Knoxville, ended up helping them move across the city that same day.
Things went well, and the couple spent a few years in Nashville before deciding to hit the road in search of a new kind of community.
"We tend to just meet people along the journey," he says, "It's often a safe bet that we will be able to have a conversation with other skoolie or vandwellers, or RVers in general, but Mariajose and I are both very social people and love to talk and meet with just about everyone." They find new people not only in real life, but via their growing social media presence.
"We do have access to a large global community through Instagram and Youtube, so we almost always have a friend nearby."
There is a potion being crafted these days, one where something like the notion of a good economy, the Internet providing freedom for nomadic workers to pull in a paycheck from any corner of the desert, and a plethora of do-it-yourself attitude all come swirling together to create a smorgasbord of possibility for those interested in roaming the globe, an admirable way to spend one's time, no doubt.
"For Mariajose," Chase relates, "it was very easy to turn her career into a work remote or anywhere position." She's a freelancer with a background in makeup art as well as catering and organizing weddings. Chase is a graphic and web designer with photography and video editing under his belt.
"I work completely remote for a company in New York and Nashville," he says.
They spent four months and under $16,000 transforming their van into something they could live in. They passed the one year mark in August 2019 and while they have no plans to stop, they have experienced the ups and downs of life on the road.
"Honestly," he admits, "things are better than we could have ever imagined. It's not 'perfect' but it's real and it's the way I always hope I could live."
They struggle at times with finding a place to stay for the night, finding themselves up against local laws which tend to push back against people living in skoolies on the street. "We understand in many cases why this is," Chase acknowledges.
But they have few regrets. "We would have purchased a smaller bus," he says, "Ours is a bit too big after being on the road this long." Downsizing tends to be the trend, despite the concept of moving out of a traditional house and into a school bus already being severe downsizing, sometimes it's not until you start to shrink that you can truly appreciate how small you can become.
Since leaving, they've added a tow vehicle and a rule to just stay in a Walmart should night fall before they've landed at their destined port.
Aside from simply being able to work from the road, a prerequisite to affording the cheaper-than-you-think lifestyle that folks like Mariajose and Chase have achieved, they were quite conscious about how all of this traveling would affect the planet they live on.
"It's hard to put it into specific figures," he ponders, "but we can try to make sense of it in a few different ways." Chase looks at the average American home, two or three thousand square feet of space, and compares that to their own home on the road.
"We built our our home in 250 square feet," Chase calculates, "utilizing far fewer resources, sourcing second hand items where we could and already having the primary foundation of the vehicle constructed, while ensuring the vehicle we purchased wouldn't end up in a scrap yard to some degree. We produce our electricity by way of solar, occasionally having to utilize our generator in inclement weather, but not often. Living in the bus and primarily off grid we are able to truly monitor and see our water usage rather than knowing we have an 'infinite' supply and wasting water as a result, we deliberately curb our usage and conserve as much as possible. Right now that breaks down to ~100 gallons every 10-14 days. We have found ourselves being very aware of avoiding single use plastics, using environmentally friendly cleaning products, and limiting as much waste as possible." They're not "net zero" yet, but working towards that.
They have no delusions that the life they're crafting will change the world, one school bus conversion at a time, but do hope they might make some impact. "I hope if nothing more we inspire at least one person to buy less, conserve more, eat a little better, and maybe get outside and enjoy life a little more than most do."
As to downsizing even further? "A van is on our radar," Chase says, "an rv… probably never? Maybe though who knows. We chose a bus for many reasons, they're manufactured to be safe enough to load full of kids and be expected to get them to and from locations safely. The weight capacity of the vehicle is unmatched and they are solid foundations for building a tiny home. We've seen too many RVs in accidents that don't fare well at all. Also, at the time we thought a van would be too small. We were wrong," he laughs.
They chose their name for that fun uncle everyone seems to have, the one who lets things slide which your parent wouldn't, the one who goes so crazy your parents wonder if they should even let you hang out with him at all.
"For us, our bus or really this entire journey is our Uncle Adventure. It's the push to get out and live differently, deliberately, and a little more fun than the average. I also really loved the idea of incorporating Mariajose's Spanish roots into the name." He pauses a moment before revealing. "She hated it at first, but I prevailed and now she appreciates the concept."
After a year on the road, that fabled year so many people decide they can afford but come to realize is simply too short, the couple continues to set their sights down the highway, with no particular plans to stop.
"We have plans to buy land," he dreams future possibilities, "build a small home to raise a family, but always stay mobile. We will always be mobile in some capacity, but our desires to travel the world by vehicle hit a limit quickly with the bus so we are considering converting something smaller, more efficient, and much easier to navigate with."
A young couple, in love, not just with one another but with one another's desire to see what all this world can hold, is a thing beyond romance. It's the thing that has sent every love letter in a bottle and lonely vagabond alike to put their thumb in the air. It's the thing that makes dreamers dream and possibility possible.
"We'll always be out here," Chase says as the night winds down and they're both ready to just be in their home, away from it all. "Travel often," he finishes.