Coastal Redwoods Towering over the Pacific
The mist is more than thick, it is downright cuttable.
On the advice of a ranger, my party and I skipped the standard entrance to Jedediah Smith State Park–one of several California State Parks that work with the National Park Service to form Redwoods National & State Parks–and ducked in through the back way.
Howland Hill Road runs through the outskirts of town like any other road, until it dips away from the pavement and into the forest. A few winding turns and they start to appear. First, only stumps, thick buffets of wood fit for King Arthur and his knights to round table.
Then the giants appear. The Coastal Redwoods, and in numbers I haven't seen anywhere else.
Jedediah Smith, whom this part of the remaining coastal redwood forest is named for, was an explorer, a mountain man of truly epic proportions. Before he first stepped foot in the redwoods, he'd already floated the Colorado River, crossed both the Rockies and the Sierras, survived multiple massacres of his fellows at the hands of native peoples, and even walked away from a grizzly bear fight with his ear sewn on backward. Suffice to say, he was a bad ass.
But it's evident even now, though these forests have been thinned of some of their mightiest brethren, that upon arriving in the redwoods Jedediah would have been truly amazed. Even a man who has seen everything must stand below these trees in sheer awe.
It's not just the redwoods that are massive; everything is oversized. Skunk cabbage and sword ferns rise to tickle men at the beard. Craggy cliffs and ocean stacks break up the endless expanse of Pacific Ocean and wild blue yonder. Coastal fog pours over and through it all, so the forest canopy is partly muffled in the possibility of bigfoot hiding high above, or that pterosaurs might suddenly swoop down from some eons long slumber.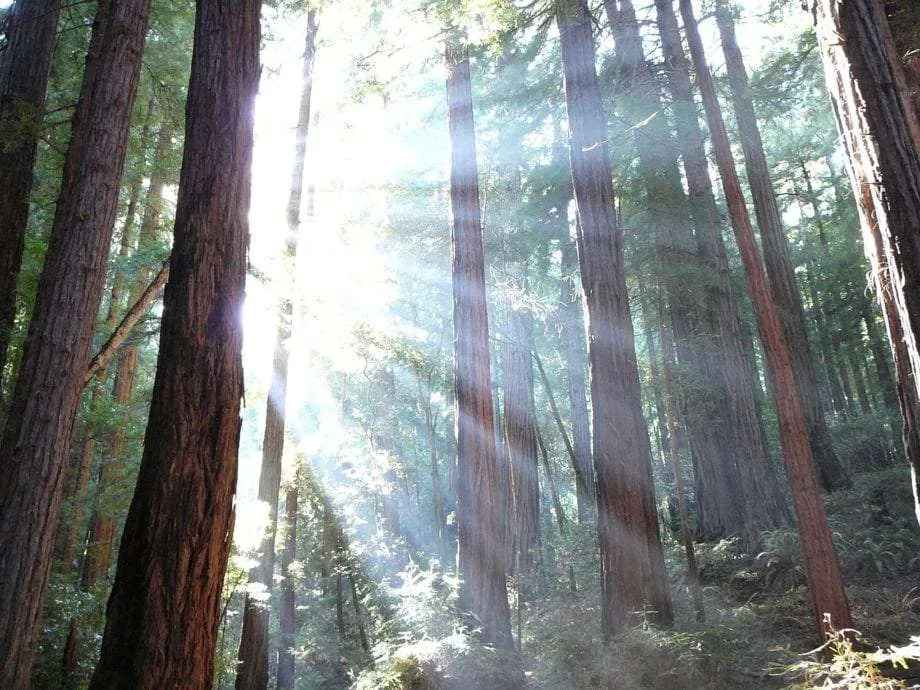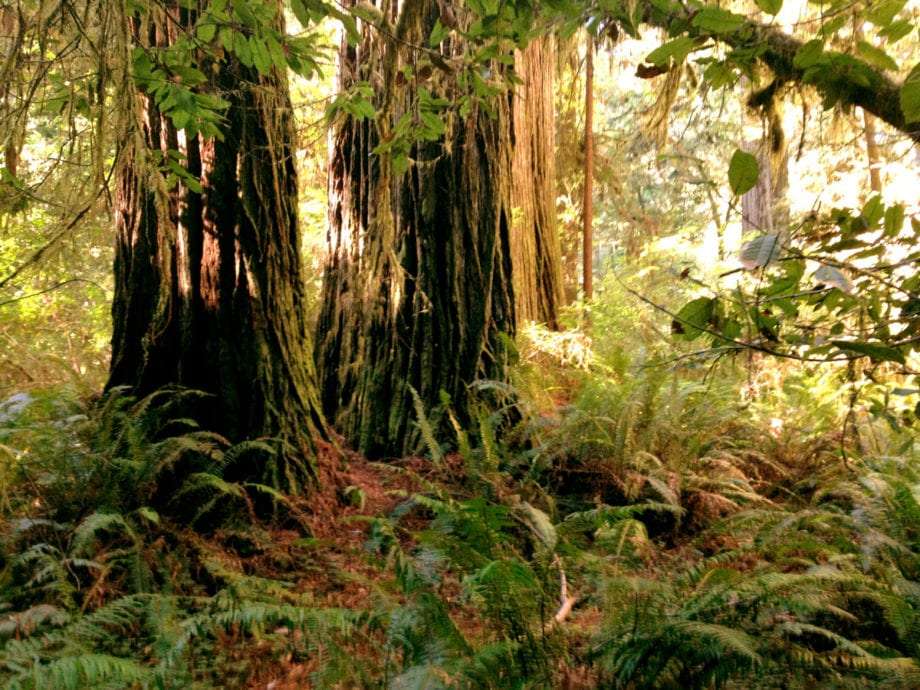 There was a time when the entire coastline from Southern Oregon to south of San Francisco was dominated by coastal redwoods. In the modern times we live in though, with the population down to around 5%, the thickest batch I've ever found is here, in Jedediah Smith's Stout Grove.
It's not just one or two every now and then. There are dozens after dozens of the monsters hanging around every corner, one behind another and some have now grown two or three connected together, to form entire walls in the woods.
To get wrapped up in the tragedy of how many of these fellows have been cut down is easy, but to be inspired by those that are left, by what that means for humanity and America in general, is the moss-green lining. That individual citizens, activist groups and the federal government realized how special they are and put an end to the felling of them shows that we are moving forward as a species.
As you meander through the Stout Grove, you start to see it. Some of the trees, quite a few, have blue "x" marks painted on them. While your first thought no doubt would be that there is something wrong with the tree, that it's meant to be toppled by the hands of man, the story is quite sweeter.
As the tale goes, after the Redwoods National Park–which intertwines between the various state parks–was established in 1968, the government had various contracts with logging companies who were entitled to a certain number of trees. The government decided otherwise, though, and simply told them they had a specific number of days to finish up business and get out of the forest.
So, the logging companies came through and found the best trees to fell, the ones that would produce the most timber of the highest quality, and branded them with these blue "x" marks.
Greedy as any company who makes a profit on killing the tallest trees in the world would be, they were a bit overzealous and marked more trees than they could fell.
Therefore, when you see a redwood with blue paint in the form of an "x", you're looking at a ghost, a tree who cheated death and will live on longer than those who did the painting, telling the tale.
Redwoods are known as the tallest trees in the world. While there are technically three types of redwoods–the other two being the Giant Sequoias, also found in California, and Dawn Redwoods, a species long thought extinct until recently rediscovered in China–it's the Coastal Redwoods that carry the name by default.
While all Coastal Redwoods live along the coasts of Northern California and a small corner of Southern Oregon (at least in their native habitat), five of the six tallest live somewhere in Redwood National and State Parks, a joint effort by the National Park Service and California's State Parks. Their locations largely remain a secret, for fear of what humans seem to do best–destroy all things magnificent by carving their initials into them or cutting off their burls to make coffee tables.
Of the ten tallest trees in the world, four others live in the pot haze of Humboldt Redwoods State Park, and one resides just outside of San Francisco in the Muir Woods State Reserve.
They bear names like Hyperion, Icarus and Orion. Every few years a new chart topper seems to show up, as though it's simply been hiding away from humanity all of these years, despite our progress, despite Californication, despite overpopulation, there is still wilderness enough for a few redwoods to have escaped the saws and measurements of man.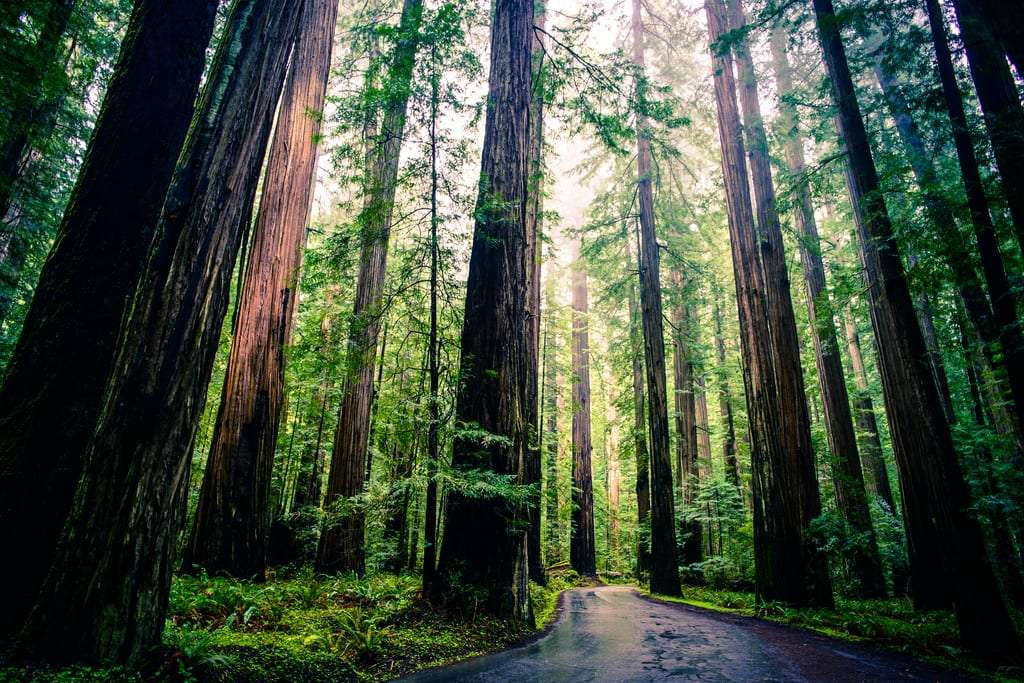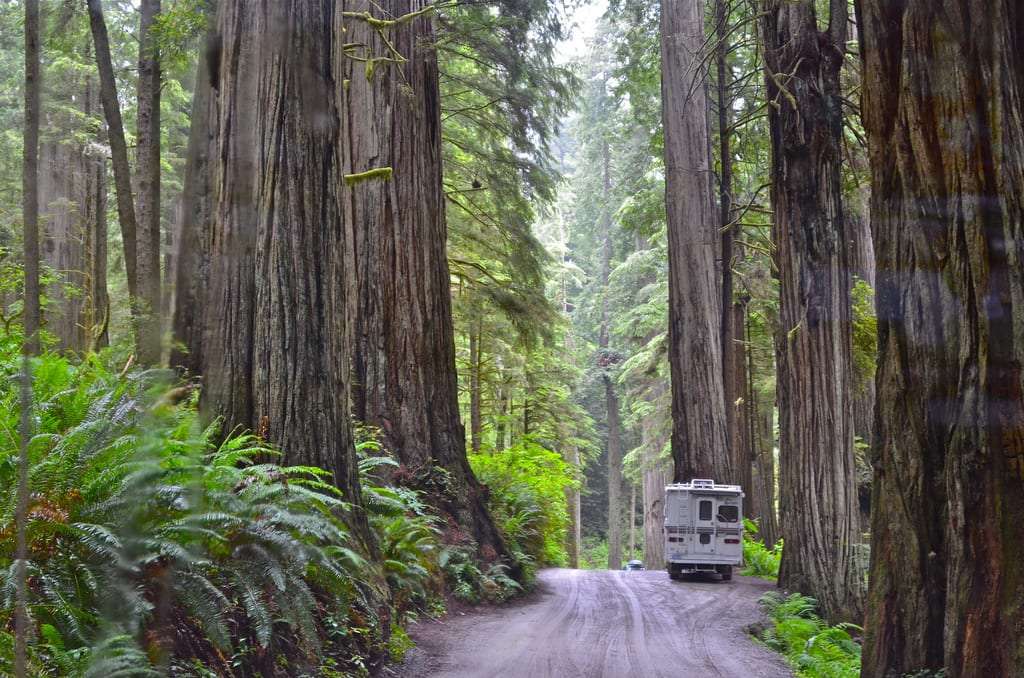 There are few places in this nation that are as truly magical as redwood forests. Since the mighty trees are prone to grown close to the coast, the combination of rugged California coastline, coastal mountain ranges and dense temperate rainforest provide the perfect combination of lush, rocky and wet. Fungi grow in secret like Smurf villages beneath the dense undergrowth. Between the redwoods and the ocean, hemlocks and Sitka spruce stand stalwart, fighting off winds that the giants, with all of their towering impressiveness, are not prone to resist.
US 101, the successor to Route 66 as America's best known road, winds through it all. The Avenue of the Giants, previously a part of 101, curves through the redwoods to lead people from the Redwood National and State Parks and into Humboldt County. California's Route 1 will take you the rest of the way to the Bay Area, where more redwoods can be found in Muir Woods, Oakland and Santa Cruz.
Groves of redwoods grow in circles, like families huddled around one another, protecting each other from the harshness of climate and humanity. A few of the trees, dead now and most of them without their tops, have had holes cut through them so that cars could drive through. But tragedy of loss or majesty of what remains, either way these trees are the centerpiece of California, the Kings of the World.