Forrest and Fiona From VW Bus
to Converted Skoolie
Doug and Sarah grew up on Beetles.
"My parents had two VW Beetles when I was young and my first car was a 1974 Beetle. So I was accustomed to air-cooled cars. Fiona has been good to us so far," Sarah says, speaking of their own 1970 Volkswagen Bus, which the couple, in their 50s, bought together in 2016.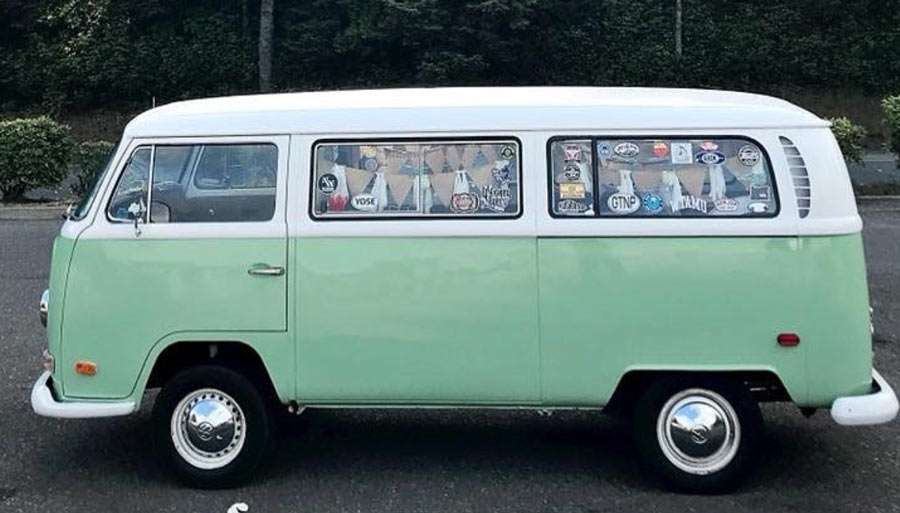 "In September of 2018 we drove down Highway 101 here in Oregon," she recalls. "It was a lot of fun seeing our beautiful coast line in our cool bus and of course everyone who saw her loved her."
But today is not the story of their Volkswagen, it's that of their school bus renovation, now known as Forrest. A story that would wind itself more like fate than decision, perhaps. Or maybe a little of both.
Sarah rode a bicycle across the United States. "My Trans Am bicycle ride actually made me realize I wanted to travel more," she says, speaking to an over three month long, 4200 mile stroll she pedaled from Virginia Beach to Astoria, Oregon. Her husband decided that wasn't all that bad of an idea, and they began formulating ways to make it happen. "We wanted to get some kind of RV that would be smaller and easy to maneuver." The couple took an RV trip to Canada and realized they were made for traveling together, while learning a thing or two about what they'd want for their own home on the road. "I knew the bus was just the right size and we could make it the way we wanted."
It was their son who originally bought the bus, and at a crazy good price.
"Our middle son bought the bus from his high school when he was a junior. They didn't use it anymore. The principal told him he could buy it for $100." Sarah was perhaps more enthusiastic than many a teenager's mom would be about the concept. "He asked me and I said sure!"
Their son removed the seats, tossed a bed in it and went camping a few times. But Sarah saw potential. "He always wanted to convert it the right way," she recalls.
The bus is a 1990 24′ Diesel International School Bus. When kiddo got tired of it, mom and dad took the project on.
"We slept like babies our first night in Forrest," she recalls, "Our mattress is more comfy than our home mattress. It was so rewarding that we were finally there, staying the night in something we created. Surreal for sure!"
But, it was a long ride to that first night.
"I had an idea on what I wanted," Sarah says from their blueberry and hazelnut farm in Oregon, "and Doug trusts me enough that he was good with the layout."
"Doug has some basic knowledge of carpentry, electrical and plumbing from working on the farm," she speaks to what they did, and didn't, know when they got into the project. What they didn't know, they relied on knowledge from friends and family who were happy to contribute to such a project.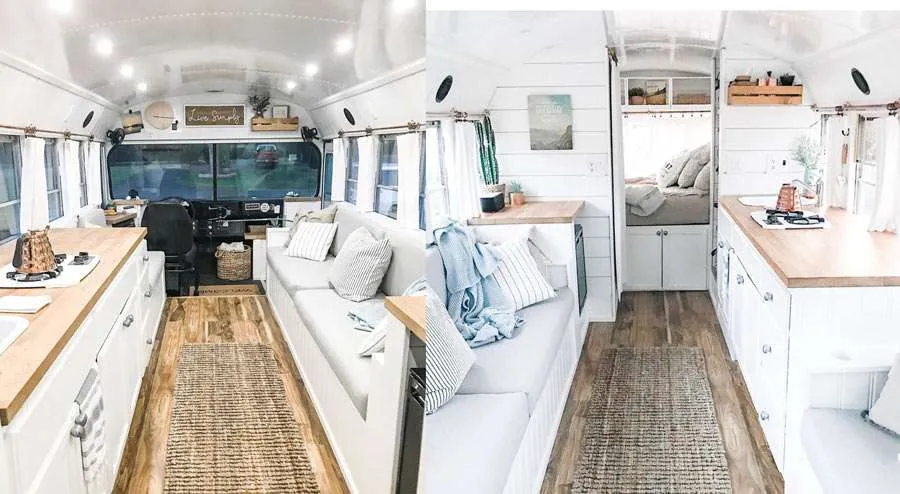 "I have a pretty good eye for finish carpentry. I like the details. Doug would have been very happy with just plywood couches, but not me. We are a good balance that way."
Three months later, what they ended up with was something between a ride to school and a masterpiece.
Though they got the bus from child number two, not all of their three kids were thrilled with the concept. "Our oldest thought we were crazy to convert a school bus but he soon came around. The other two think it's super cool. When they were younger we did some traveling, but because we own a farm, summer is our super busy time, so exploring and traveling while they were out of school for break wasn't possible."
The couple has run their farm since they took it over from Doug's uncle in 1999. They toil away at the land summerlong, and explore what they will while winter and spring coat the Beaver State. The family affair has continued.
"Now that my two oldest are out of college, they are working full time on the farm, and we can start to get away more and more."
As to the logistics of legalizing a school bus into an RV, Sarah says, "Every state is different, but in Oregon you have to have a cooking unit and a sleeping area to be considered an RV. So our registration was super easy. They came out and confirmed that we met the criteria and gave us our plates. Because of the size and weight we are only required to possess a normal drivers license to operate Forrest."
The hardest part of the conversion, Sarah recalls, was "Trying to get stuff square!" She laughes, remembering, "The curves of the roof were trying and at some point we had to accept the fact that some things weren't going to be perfect. And we're ok with that."
They had a little help along the way though.
"If it weren't for our radio blaring, most days I wouldn't have gotten any work done. Music is motivation for me! It was cold and rainy many days and music kept me going day after day. When I would start to feel like we weren't making any progress I would look back at the pictures and I realized how much we had actually gotten done in such a short amount of time."
Still farmers, sons and all, they plan to take advantage of the seasons off from here on out.
"We want to spend some time in Utah again, and Canada. And of course our big trip will be traveling to Florida for me to start my second bike ride." Just because Doug can follow along in the RV, just because they've spent the summer pushing through the hardwork of creating a home-on-wheels, that doesn't mean Sarah won't still be crossing the country on the seat of a bicycle.