Live.Work.Wander. Jessica and Jorge Living in a Vanagon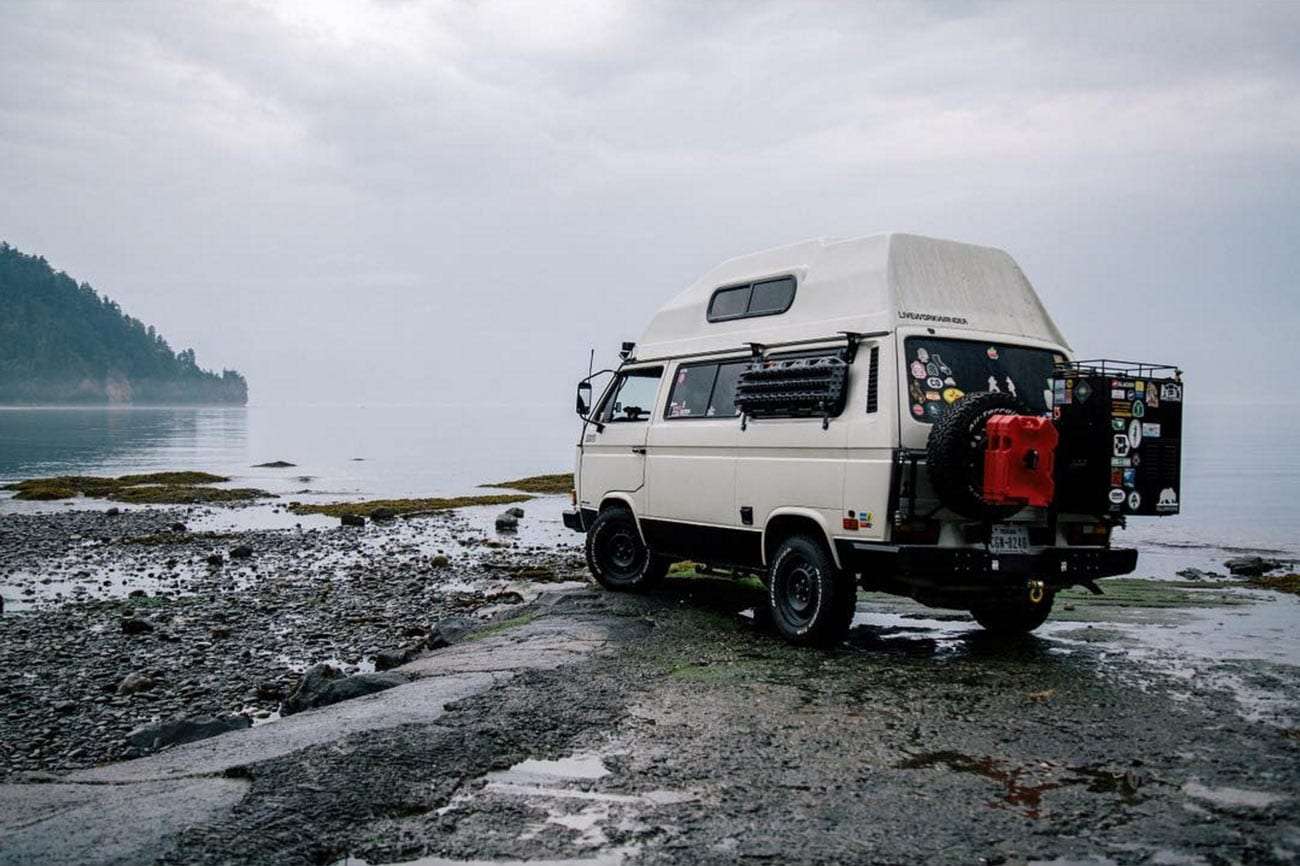 "For years I had been taking short trips with friends, usually to the mountains to go rafting or kayaking or to the beach."
Jessica, a 33 year old digital nomad, is speaking from her 1991 Volkswagen Vanagon, somewhere in Eastern Tennessee.
"We would," she recalls what may now seem like a previous life, "take road trips occasionally to visit family, attend a wedding, or go to a football game. But getting him," referring to her husband, Jorge, with whom she lives in the Vanagon full-time, "out of the house to travel was nearly impossible most times…so I would just throw my hands up and invite my girlfriends instead."
Were one to simply overhear this part of the conversation in passing, they would likely never imagine the breadth and depth of the whole story, of how this young couples life would evolve from a failed business to a life of daily adventure. Were one to keep a keen ear out though, they would no doubt be impressed at what is a more epic tale than most of us who find ourselves on the road.
"About four years ago," she continues, "after going through a really rough patch in our marriage, we took a trip out to California to visit some friends in LA." They rented a car for a two week roadtrip around the Golden State.
"It was our first time out West together, and my first time west of Arkansas. We'd had a couple rough years where we lost our business, filed for bankruptcy, were moving from one tiny apartment to another, putting ourselves through design school, living on peanuts, and all while having long standing unresolved issues between us."
Whether they knew it at the time or not, that roadtrip would serve as marriage counselor and life coach, all behind the wheel.
"We'd been married for almost 10 years at the this point and it was just all coming to a head. We were broken, and that trip was our first step towards redemption. I had one more year of school left, but that trip really awoke something in us. Three months later on my break in between quarters we embarked on a 5,000 mile road trip from Atlanta, up to Wyoming, down and around through Utah, Austin, New Orleans and back to Atlanta.
"If the California trip was the spark, this trip was the gasoline that turned our need for exploration into a raging fire. It was during this trip that we decided we were going to move to Austin when I finished school later that year."
A life for the couple in Austin would not be terribly long lived though.
"We did in fact hit the road full time from Austin," Jess recalls. A self-proclaimed "military brat", she spent her youth moving around from base to base as the government stationed her family as needed. Eventually, they'd find themselves settled on the south side of Atlanta, where Jess had the relatively normal experience of going to high school.
Meanwhile, Jorge (about a year older than Jessica and a Puerto Rico native) was spending his infant years in Miami when his family decided to move to that very same south side of Georgia's ATL. The two would meet as young teenagers thanks to mutual friends.
"A few years after that," she recounts, "we were married at the ages of 19 and just-turned-21. We had both started college the year prior, but it didn't really stick for either of us. So, Jorge joined the Army and I worked in various jobs until Jorge was medically discharged from the Army three years later. At that point we started an auto detailing business that would consume our lives for the following 6 years.
"The business failing turned out to be one of the best things that could have happened. It stopped us settling for what was just making us money and pushed us to pursue careers that we were passionate about. The rest is history."
It was near the end of 2012 and by this point the couple was living in Texas.
"We moved to Austin," now Jorge is recalling how this life on the road all came to be, "to pursue some agency jobs I had been interested in working." That was one reason anyway. Jorge had also been trying to convince his wife for years to move to the Lone Star State's capital because, "I loved it there. Plain and simple."
Jessica wasn't so sure. "She didn't want to move to Texas," he admits, "but after visiting Austin on our long 5000 mile road trip she finally came to see the light. We packed our bags and pointed our wagons West."
The two would continue to work for their existing clients even after moving from Georgia, only now they'd do it remotely. The agency jobs Jorge had used as one excuse to make the move weren't exactly coming together as planned, and he recalls one day in particular when–while immersed in his work and slightly on edge–Jess tapped him on the shoulder.
"What do you think about moving in to a van?" she asked, eyes twinkling.
Jorge instantly forgot about work.
"Go on."
From there, Jorge professes that Jessica, "proceeded to talk some good damn sense."
Now living in Austin for eight months, wielding successful careers, making cash, living it up in a vibrant city, in a house they loved, a revelation began to unfold.
"We were still working for clients in Atlanta and New York City," he says. "We'd spent about three months of that eight in Austin on the road and on those road trips we continued to work. To maintain our income all we required were some computers and an internet connection."
"Why not just work on the road and not have rent and see all the places we want to see?" Jess concluded.
Jorge hadn't landed that agency job, and they'd already discovered a passion for going places.
"I was restless, she was restless and the mountains were calling. I stared down a dark black road. I could feel her wild, free, uninhibited spirit yanking me towards the unknown."
And so he was onboard.
"When do we start?"
Two weeks later they had a van. A 1991 2WD Volkswagen Vanagon to be exact.
But, they didn't live in the van yet, and wouldn't right away either.
"Oh man. This was a doozy," Jess confesses.
"At the 11th hour we decided to change from our VW Vanagon to a larger 1974 Airstream Argosy Motorhome. Why we made this decision is worthy of another story all to itself…so I'll try to keep this brief."
It turns out that they took a flight to California and bought the Airstream with an engine. The plan was to drive it back to Austin and pack up their gear so they could be out of their place by the end of their lease.
"The weeks leading up to our departure had been so hectic and crazy that getting on the road was a relief," she says. "Unfortunately, that relief didn't last very long."
They had a plan. They'd head to Miami to spend Christmas with Jorge's family en route to a contract position he'd lined up in New York. The road unfolded before them, and they were off.
And then the rain came.
"It was essentially monsoon-ing the entire way from east Texas, through Louisiana, to the panhandle of Florida. Being from the west coast, our Airstream motorhome had never experienced this sort of thing. We were aware of a 'small leak' up near the front. Well, in this weather it appears we may as well have had a thatched roof. There were leaks springing up everywhere. The Airstream was crying from every seam, from the windows, everywhere."
Wet and second-guessing their life choice, they skipped out on Florida and headed north.
Problem solved, right?
Not so much. "Our engine blew before we even made it to New York a few weeks later, leaving us stranded in Mechanicsburg, PA." They got a tow, a $20,000 repair bill, and spent nine weeks couchsurfing.
"We left New York feeling utterly defeated."
For many, this would have silenced the entire escapade.
"But," she smiles, "we rallied and made our way back through Austin where we made the best decision ever…to get back in Falkor and eventually do away with the dreaded RV debacle."
Falkor is the name of their Vanagon.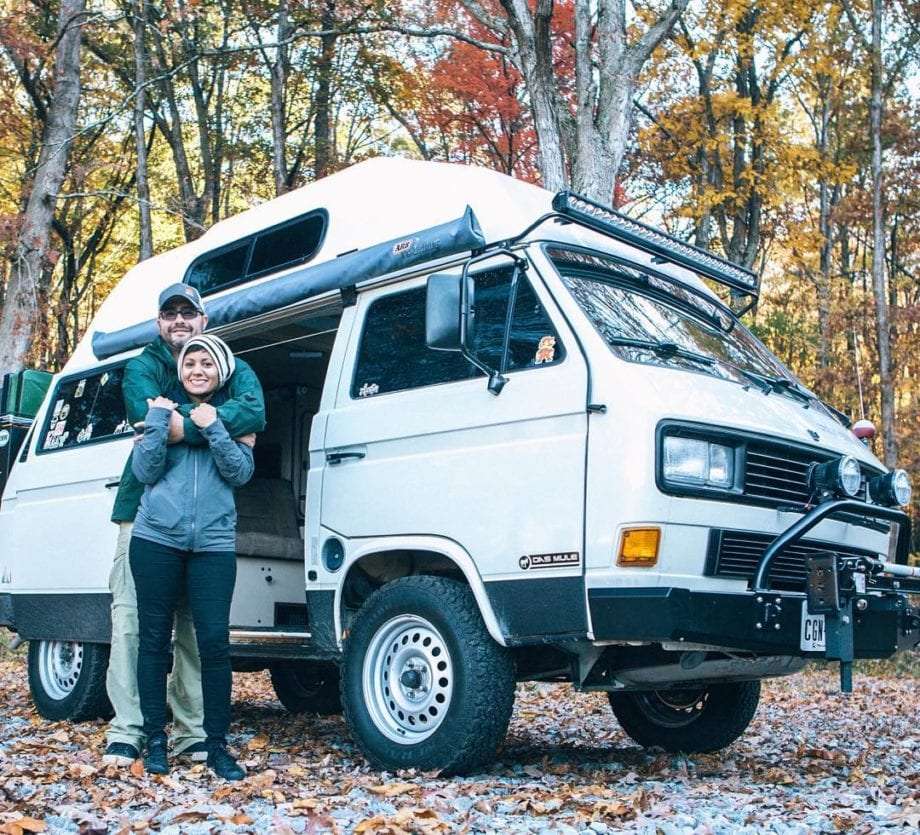 And while Falkor began life as more or less just a Vanagon–tin top, 2 wheel drive, nothing particularly fancy about him–Jorge had no intentions of leaving it at that.
"It has been converted from a meek little seven passenger daily driver to a full on growling, snarling turbo transmissioned, positraction differential dealing, Subaru motor sporting, heavy duty bumper wielding, LED light shining, custom cabinetry having, heart of a luck dragon beating Camper. We love him."
With all of the suping-up they've done, Falkor is now a true adventuremobile.
"I rarely get nervous on dirt roads," he boasts, "Falkor is remarkably capable. The transmission was upgraded with a positraction differential that allows the rear wheels to alternate power depending on which wheel needs the juice. We've also lifted the van to allow for more clearance and installed heavy duty CV joints to allow for more articulation in deep ruts. He chews up most dirt roads. Sand is where he struggles although we have added an onboard air compressor from ARB which allows us to air our tires down and that in turn allows us to have much better traction in sand. Also, airing down on dirt roads has made a huge difference to how well the van navigates obstacles. I am regularly amazed at what the van can get us in to and out of."
He goes on to tell the tale of a Park Ranger who questioned these upgrades on a trip to Big Sur.
"Are there any good dirt roads we can explore?" Jorge inquired.
"There's one," the ranger mumbled back, staring at Jorge dismissively, "but after this recent big rain we had you need a four wheel drive truck and brand new mud tires to do it."
"Sounds like a blast," Jorge thought.
The ranger continued, "It ends just a mile north of here. It's called the Old Coast Road."
The couple went about their day, Falkor having no trouble with the Old Coast Road, mud tires or otherwise.
"Before walking out of the station," Jorge relays, "I made sure to inform the Ranger that we had just completed that road in a two wheel drive VW Camper."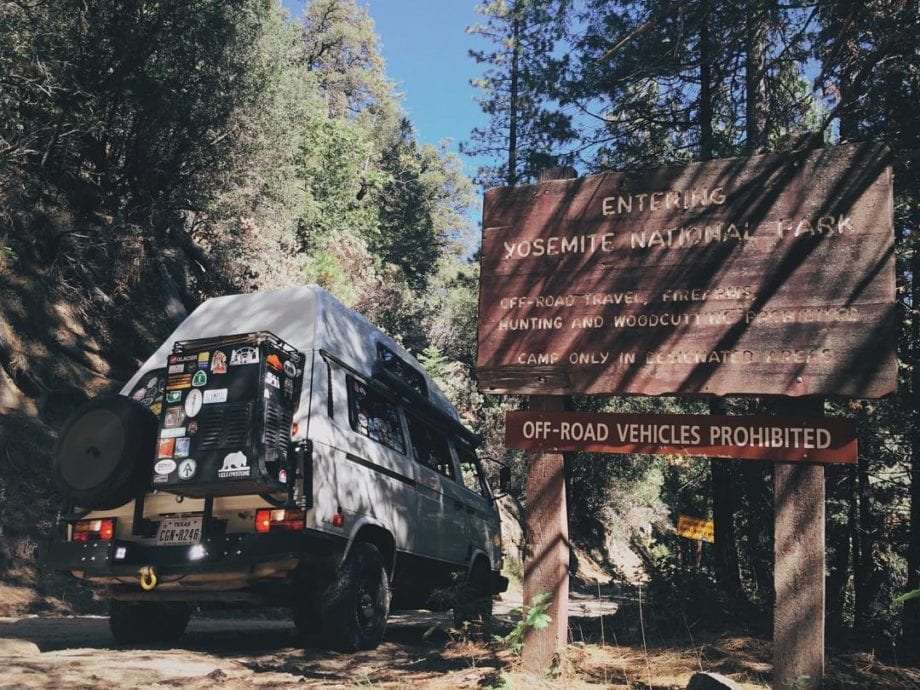 Aside from kitting out the mechanics of their Vanagon, they've also customized the inside to be a more livable space, including installing a high top.
"Converting to a high top was pretty much our intention from the beginning when we bought Falkor," Jess recalls her plans for Falkor even when they first bought him as "a wee puppy." Still, it took nearly a year of traveling around in the van to dive in and have the conversion done.
"We spend just as much time in cities for work," she says, "as we do exploring back country trails, so having the ability to comfortably stealth camp wherever we are is super important to us."
Most folks look at a Westfalia's poptop and think that's the way to go. Sleeker, more aerodynamic, kind of just cool, but there are practicalities to a high top, too.
Among those, Jess lists "Secure, accessible, and permanent storage for things like camera equipment, camping gear, and dirty laundry. We love the sleek profile of the pop-tops, cause let's be honest: the hightop is goofy as fuck. But it works for us. Maybe we'll try a pop-top one day, but for now the high top is perfect."
Jorge hints around a little at the possibility of changing up their home on the road in the future. When pressed, though, all Jess has to say is, "Something old and really goofy – or really sexy depending on your perspective. The more it looks like a Star Trek shuttle or some 'space age' bubble from the 50s the better. Look up a Toyota Master Ace 4WD diesel. Or maybe a 4×4 Mitsubishi Delica. A sweet old 4WD FJ or Land Cruiser with a roof top tent would also be in the running."
For a couple who've lost a business, earned their livelihoods back, only to give it all up to travel full-time; who traded a Subaru outright for a Vanagon most people wouldn't even consider a weekender, and who suffered through monsoons and breakdowns almost immediately upon hitting the road, only to engineer for themselves the careers and drivable house that they have, it's hard to imagine them wanting to start all over again.
Still, they hint at the possibility. That nothing in the future isn't up for debate.
"This has become our normal," Jorge tells a tale so many of us living on the road have come to know. What seems like an impossible dream becomes not only very real, but regular.
"When we go to people's houses, it's a little weird. All the space, the TV, the long hot shower, the bed, the missing steering wheel. We've gotten used to vanlife in a way that feels like this is how we are meant to live." He clarifies that he means he and Jess, not necessarily everyone.
"That doesn't mean we don't like the space in a house or watching TV or long hot showers," he admits. "Quite the opposite. But when we stay stationary for more than a week or so, we get restless. I get depressed. Jess gets antsy. It's like something is missing. The hum of the road beneath the all terrains is gone and now the hum of the AC or the heater or TV or the microwave takes its place. Scenery doesn't pass by in a house, sunsets and sunrises are easily missed, we begin to live like domesticated dogs when we like to live like wolves.
"We love that people invite us into their homes, that they offer a respite from the constant roaming and hunting. But that's what's interesting about this life. Being in a house is like a vacation. And like a vacation, at a certain point you're kind of ready to get back to the normal. For us, that's getting back to smell of fuel and oil, the sound of the motor and the tires, the squeaks and creaks of our German steel.
"Yeah, we've gotten used it."
Still, the idea of something different persists, if only at the the edges of conversation under some full moon lit forest campground.
"We talk about this probably more than anything else," he says, "How long do we want to do this? Where to next? Do we want to rent a place somewhere and make it home base? There are aspects about living outside of the van that are appealing, but when we try to do it for a long period of time it just never feels right. So, the answer I guess is that we are open to the possibility. We want to keep an open mind about where this whole thing takes us. The minute we begin to see this as something temporary is the minute it becomes that. No one asks 'does a life outside of your home seem likely or appealing' because that's the norm. Sure, people talk about some day when they retire getting in an RV and seeing the country. But that is different than saying 'the road is our home, this is our normal.' But who knows, currently this is our normal and we are open to making a stationary home our normal. Maybe a house on the beach in Chile or a little house on the plain in Patagonia or a flat in Switzerland or an Airstream parked in the Chihuahuan Desert in West Texas."
"We're open."
So what exactly does "normal" look like when living in a Vanagon?
"Everyday is so different," he continues. "There is no typical. There are varying degrees of routines we undertake but depending on where we are, whether we are in travel mode or hunker down and work mode, will determine what a day looks like."
If they're exploring, life begins at sunrise, whether beneath a blanket or behind a camera. Breakfast. Checking oil and tire pressure. Regular life stuff. Just in a Volkswagen. And while they do profess their love of nature, they have a motto, too.
"Balance, Daniel San."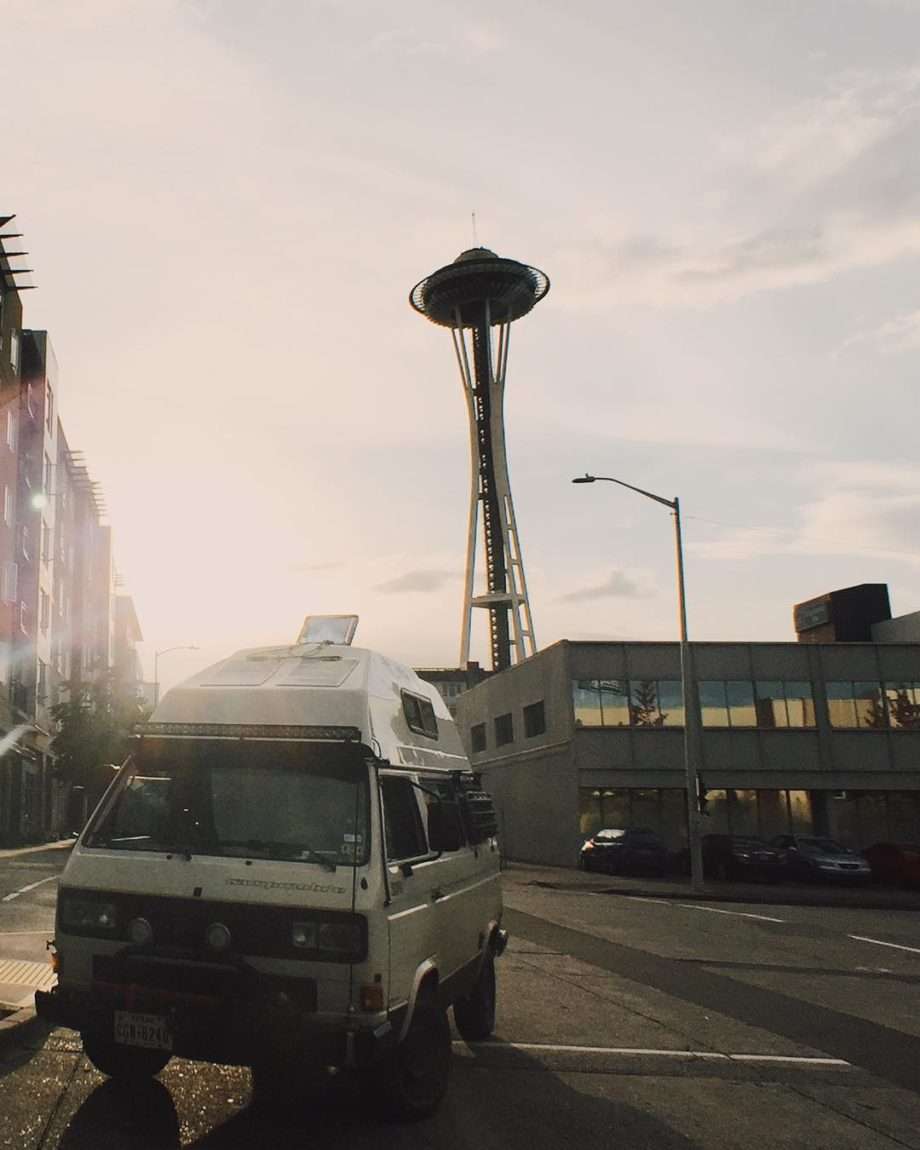 "Admittedly, we've yet to perfect exploring cities though we'd really like to get better at it and engage in some urban-exploration." Though Jorge says one of his favorite things to do is just tear it up back some BLM dirt road, they see the beauty in citylife, too. "We want to get a better feel for the cities we visit, know their character, their vibe, their hidden gems. Opening ourselves to these kinds of experiences can only serve to enhance and inform and mold our perspectives on things.
"It isn't always about being out in the woods."
When the meeting up with new friends is done, though, when the deadlines are met, the couple does seem to gravitate back toward nature, though.
"There are spots around the country that we've discovered that are some serious treasures." Jorge hints at a secret spot on the Olympic Peninsula, stating "Most places on the Olympic Peninsula we've camped have been so magical that it felt like we were on another plane." He pauses. "Or maybe that was just the herb."
"Our desert heaven is on Muley Point in southern Utah. And our mountain heaven is on Shadow Mountain across from the Tetons. Straight gangsta. The ideal spot though is somewhere in the woods where it's quiet, cool and mountains around to reveal the sunrise. Or maybe the ocean…or maybe the ocean with some mountains around. Can we have more than one ideal?"
For a couple who went from a rocky relationship and a failed auto-detailing business to forging successful design careers for themselves and living on the road, it would seem that they have little issue with finding more than one ideal. That their story is more or less one of continually changing who they are, taking chances, failing if necessary but never without the ability to begin it all anew and see what the next round-the-bend might hold.
With that, let's wrap this recollection of their lives to date up with one of Jorge's own tales, he being quite the storyteller:
"Ah yes, the Four Corners.
"So, we're driving through southern Utah and seeing all the red rocks, mesas and red desert for the first time. We had no idea that these Wile E. Coyote landscapes were in Utah. For whatever reason, we'd always thought they were in Arizona. It's around 6pm, the sun is setting, the land around us is on fire with the red and pink and orange glow of the setting sun and we see the sign to Four Corners. We'd heard of Four Corners before but weren't entirely sure what it was. I had just figured it was a patch of dirt with one of those plaques you see marking a historical place or battle or pioneer route.
"The site is 18 miles away and we're not in a hurry to get anywhere so we turn down the road to go to it. Twenty minutes or so later we arrive at the Four Corners. It's not a plaque or some patch of dirt you can just saunter to apparently. It's fenced off, has an entrance gate, a road going to it, it's on Navajo land and so on. You can't even see the monument from the entrance or at least you can't see it when it's dark out, and much to our dismay, it's closed.
"This being our first experience in the West and with these sorts of National Monument areas we had no idea that they close at 5pm. Anyhow, we're standing out there, it's dark, some other RVs pull up and the occupants are equally disappointed that the place is closed. Jess walks around a bit, I take some photos and chit chat with some other folks that arrive. Then Jess calls me over and she's on the other side of the fence. Navajo territory! She points at a large hole in the barbed wire and says we can squeeze through and ride our bikes to the monument.
No. I'm like….no way. It's dark, it's the desert, there are coyotes, wolves, Navajo natives, the gubment…no. (Of course I know now that there aren't wolves and the the desert at night is quite beautiful and peaceful…and the Navajo aren't riding around looking for people to arrest for trespassing on their land).
"Jess has a twinkle in her eye. She begins to exude a quite devious vibe, and then she comes to the other side of the fence and starts unhooking the bikes from the car.
"I'm still firmly against this scheme of hers but my complaints and concerns fall on deaf ears. Over the fence go the bikes. We squeeze through the hole she discovered and set off down a pitch black road towards the monument. I think maybe the ride was a quarter mile. The whole time I'm pretty scared and Jess is having a blast and constantly admonishing me to keep the iPhone flashlight pointed at the road. We hear the flags that surround the monument clinging and clanging against the flagpoles and we arrive. We jump off our bikes and run to the center where the four states meet and Jess is whooping and hollering and making all kinds of ruckus. I'm quiet, still certain we're gonna get caught or mauled or killed. She grabs me and hugs and kisses me, she takes a spectacularly shitty photo of the meeting corners and then yanks me by the hand. We run back to our bikes and pedal off into the dark back towards our Subaru. That night I got to see a side of Jess I had never experienced before, her wild, free, uninhibited spirit yanking me towards the unknown, towards adventure, towards discovery and freedom, pointing me down a dark black road. It wouldn't be the last time she would get that look in her eye and pull me into one of her grand schemes.
"That two week long road trip got me to thinking quite a lot about nature, man's role in nature, our place on earth and other associated questions.
"Driving around the American West introduced me to so many new vistas, but what caught my attention while looking at all of this was how much of it had man's fingerprint on it. And then I began to think that maybe this isn't a bad thing. Maybe our fingerprint on everything isn't a negative. Maybe it isn't a positive either. Maybe, the distinctions we make between man-made and nature are illusory. Man is natural and by extension everything we do is natural. What sense does it make to separate the two? That trip was when I first began exploring the idea that man-made versus natural is a distinction we make to romanticize a particular view of nature many people have.
"I've had a lot more time to think about it, read some John Muir and become familiar with the work and worldviews of environmentalists who talk about how man should go live simpler, reject the narratives of progress because they lead to progress traps, and get back to nature.
"My view, informed by my experience in untended environments and living as we have for the last two years in addition to continuing to talk with people and read about the subject, is that we never left nature. Nature isn't a still life. It is an ever changing, ever evolving thing, often times gradually and sometimes catastrophically and violently. And we are a part of that. There's a lot more to this idea but I think what I've mentioned thus far is enough to get across what we mean by the blurred lines between man-made and nature."
Similar to the blurred lines of what is generally considered normal, and what Jessica and Jorge consider it to be, so is man's influence on himself and the world around him as normal as any sunrise that's ever been or ever will be.