Northern Florida for Snowbirds
Gloomy clouds promising a dismal night in the van were soon heightened to curiosities over whether we'd make it through the night with a home to roll out of here with.
Anastasia State Park was the night's campsite, and as we'd finished setting up our big ol' screen tent over the picnic table, poptop on the van assembled in record time like some type of camping Avengers had shown up to spot #6, and chairs freshly dropped into the sand, awaiting a warm butt to soak up happy hour before dinner needed cooking, our phones went screaming.
"Tornado Watch!" they shouted, "Find shelter immediately!"
I looked at the campground's public bathroom, imagining fifty or so campers squeezing into the brick, windowless building. It would likely make a good storm shelter, but also a perfect breeding ground for this wonderful worldwide virus we're all supposed to be trying to avoid. I looked at our van, canvas and fiberglass top pushed into the air, and figured that wasn't exactly safe either.
"Did you hear?" a man wearing a handlebar mustache and Pacific Northwest biker patches on his leather vest asked, walking by our site toward the bathroom himself. "Tornado warning."
We pulled down the top, loaded up the kids, and drove to the bathroom parking lot – two spaces, one designated disabled persons parking only. If we had to run for cover, at least we'd be close. If the need didn't arise, I wasn't taking my boys and their mother into that toilet trap.
"Do not wait," the warning on the county webpage said, "you will not see this coming. Seek shelter immediately."
We waited, though, our ten year old trembling in the backseat, his younger brother laughing the danger away.
So was our welcome to Northern Florida, and it only got better from there. I share this all not just for the sake of story, but because – and though you may never find yourself in a tornado while visiting this less charted half of the Sunshine State — there is something foreboding about the idea of spending the winter in Northern Florida.
It still gets cold. Florida, despite the sunny nickname, doesn't see rain often but it dumps like God tossing out the bath water. 45° and wet is worse, and I assure you this is true, than freezing cold and snow.
The crowds are thinner, though. The prices lower. The natural areas exist more frequently and with less restrictions. Yes, the Everglades and Big Cypress are magical national parks full of spectacular sites and ten million mosquitoes. But in Northern Florida, national forests offer free camping and state parks a myriad trove of beautiful places to camp. And it doesn't actually get that cold, depending on where you're coming from.
Let's explore…
Defining "Northern Florida"
We should first define "Northern Florida."
Floridians basically divide the state up into three regions: South Florida (basically Miami, the Everglades and the Florida Keys), Central Florida (everything from South Florida to Daytona) and North Florida, which includes the Panhandle.
We're not discussing "North Florida" as a local region here, but Northern Florida as half of the state, not including the Panhandle. Draw a line from St. Augustine west to the Gulf Coast, and color in everything down to a similar line of latitude that goes from Cocoa Beach to just north of Tampa.
Reason to Snowbird in Northern Florida #1: It's Cheaper.
You won't spend December to March in this region wearing flip flops, board shorts and little else. It gets chilly, no doubt. Due to that, though, you'll pay significantly less. Half the price on AirBNBs that you'll find in Miami and still less than the Keys. RV parks in "off-season" rates. Even restaurants and other shops will be cheaper, there's simply less demand.
Average Pricing of Accommodations in Florida in the Winter
| | South Florida | Northern Florida |
| --- | --- | --- |
| RV Park* | $100 | $60 |
| State Park | $40 | $28 |
| National Forest/Park | $25 | $10 |
| AirBNB** | $3500 | $2200 |
* Nightly rate for a full hookups, private RV park.
** Average of reasonably priced entire homes, per month, in a 2 bedroom AirBNB that can accommodate two adults, two children, for the month of January.
It won't be parka and snowshoe weather either. Just a mild winter where you'll never see freezing temperatures and have plenty of days in the high 70s. After a few cold snaps, you may even join in the "Damn, it is hot!" chorus the locals love to laugh at listening to tourists tout when the mercury goes 78° in the middle of January.
Reason to Snowbird in Northern Florida #2: Less Bugs
There are annoying insects everywhere. In Maine and Alaska, even at the top of the Rockies, the mosquitoes are terrible, and those places are downright cold all the time compared to Northern Florida.
The Everglades in Winter? We've seen so many mosquitoes, slipping into our various homes on wheels over the years through any open crack enough to make our children look like they had a most severe case of chicken pox by morning.
Thanks to cooler temperatures, and maybe less swampy areas – though those exist here as well – the problem is significantly lesser in Northern Florida.
We had very few issues with mosquitoes in the two national forests that dominate the most northern regions of Florida in November and December. Cocoa Beach was essentially insect free during our time there. Saint Augustine had not an annoying no-see-um or mosquito in site all February. It was heaven, quite frankly.
Weather
Don't bring your snowboard, but a warm hoodie, an extra layer or two and a raincoat will be key.
At the same time, flip flops and shorts will be warranted most days, and sunscreen is still an essential piece of gear in your bag.
You'll be able to swim in the ocean, though it'll get your heart racing until you're used to it. Inland waters, if you don't mind alligators (and many locals surprisingly don't), are warmer still. Heated pools are also common, at RV parks and rental units alike.
Bottom line is, no, it's not blazing sun tropical Miami. It's just way warmer than anywhere else you're likely to have come from, save perhaps Arizona, and for the price and elbow room, we can deal with that.
Reason #3: The Forests
See the Camping in Northern Florida section for our favorite campgrounds.
Florida has the United States' closest rendition of a tropical climate, with some scientists saying Miami and south is actually "tropical" while others claiming it's all "subtropical."
While the concept of a hammock swinging from the palm trees is appealing to me, personally, I like tall pine trees, sprawling oaks and a little more shade. Northern Florida has all of it, though. Beaches dotted with coconut and silver palms, and forests full of long leaf pines, live oak and saw palmettos alike. Strangler figs compete with full blown palm trees while lichen and Spanish moss drip from the hardwoods. It's paradise for birds and birders alike, still full of wood storks, cardinals and even whooping cranes, eagles, osprey and herons, but no crocodiles or pesky panthers to swallow up your midnight snipe hunt.
Raccoons and squirrels invading your campsite, yes. Skin cancer-clad old men wearing nothing but a beer gut and a speedo watching you as they ride back and forth 'round your campsite? A little bit less.
The other advantage is that the national forests hold Florida's best, and some of its only, free camping that doesn't happen in the parking lot of a crappy chain store.
Reason #4: The Beaches
Where the ocean meets the sand will forever hold a special place in many people's concept of the good life. Florida is almost literally surrounded by them (if only pesky Georgia and Alabama would just sink already!)
But not all beaches are the same. Just as the Panhandle is full of resorts catering to those Southerners looking for a quick retreat, the South of Florida is jam packed in its attempt to cater to an entire content seeking absolute warmth, complete with overpriced RV parks and hotels, impossible-to-get-a-reservation state parks and skylines crushing that coconut drink and toes in the sand dream that Jimmy Buffet has been promising us all of these years.
Yet, you'll find nothing but space to lay out a blanket at places like Anastasia State Park, Cape Canaveral National Seashore and Cocoa Beach. There are busier areas than others, but the smallest amount of effort to dodge the crowds will pay off big time. You won't be pinning down squares and watching your kids run between and around other beach goers, you'll be tossing frisbees 50 yards willy-nilly with no chance or destroying someone else's hard earned sandcastle dreams.
It's paradise after they went and paved the rest of paradise to put up that parking lot they used to call the Everglades.
Reason #5: the Towns & the People
A surfer-vibe dominated population in Cocoa Beach, Florida, falls all over Ocean Boulevard like palm fronds tickling a wooden deck railing. Men have relieved their shirts of their sleeves and piled onto the decks and parking lot of the Sandbar Sports Grill. Parking across the street leaves rush hour foot traffic come noon or so, and teased hair that never left the 1980s behind mingles with beer bellied locals and tourists alike. Busy servers try and find a minute to breathe, by smoking cigarettes on the beach, at the Pier, a restaurant meets fishing meets gift shop affair overlooking this small sliver of Atlantic Ocean's ability to be a beacon for volleyball nets and beach chair rentals galore.
Epic Beach Bar–though the busy A1A, an entire block, and then Ocean Boulevard and its beachfront condos stand between it and the beach–offers up burritos like they should be, fresh, kinda Tex Mex or Cal Mex in that they're not smothered in a sauce, the perfect burrito to hold in your hand and truly enjoy. You'll get to the end of it and feel completely satisfied even before the last bite, but still want to finish it just for the goodness involved. A small side of chips and salsa where the former are this baked toasty perfection usually puts the whole affair over the top.
Flavour Kitchen, downtown Cocoa Beach, offers incredibly well made food in a classy, industrial atmosphere where the server gets nice and social, explaining the meals like they were works of art that needed no explanation. It's an affair, no doubt, and perfect for a couple of young lovers.
Meanwhile, Long Doggers feels like a skateboard married a decent taco truck and they're just a big enough chain to have the concept perfected without being so big it feels played out. Squid Lips has the big outdoor deck on the water, where a band will cover all the Bob Marley and Jimmy Buffet you can handle while craft beers and mounds of seafood are delivered to your table.
Skateparks in Cocoa Beach itself and 20 minutes south in Satellite Beach fill up with fearless 8 year old girls and surfers not happy with the day's water alike. Dads bring their kids and every now and then a coffee shop will park its food truck outside. The town is the birthplace of Kelly Slater and home of the infamous Ron Jon Surf Shop, and stereotype or not, the chill vibes of surfer life just seem to settle over the asphalt and coastal sand.
Two hours north, America's oldest city–a stone fort of a place by the name of St. Augustine–is bustling with hip bars and charming cafes, history buffs looking to tour the city's rich history and nature lovers interested in birding away the island between the Intracoastal and Atlantic Ocean.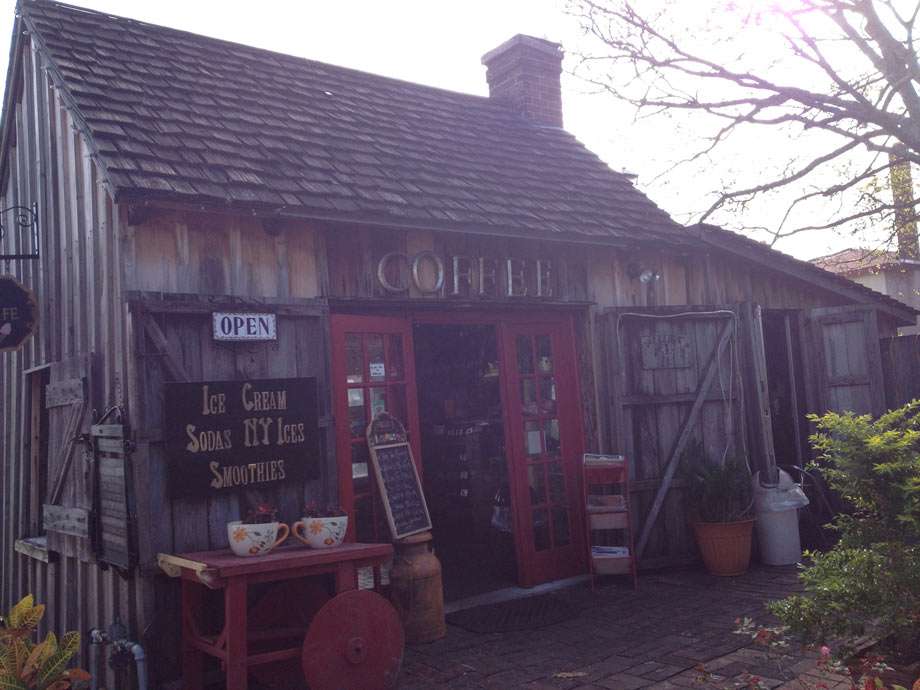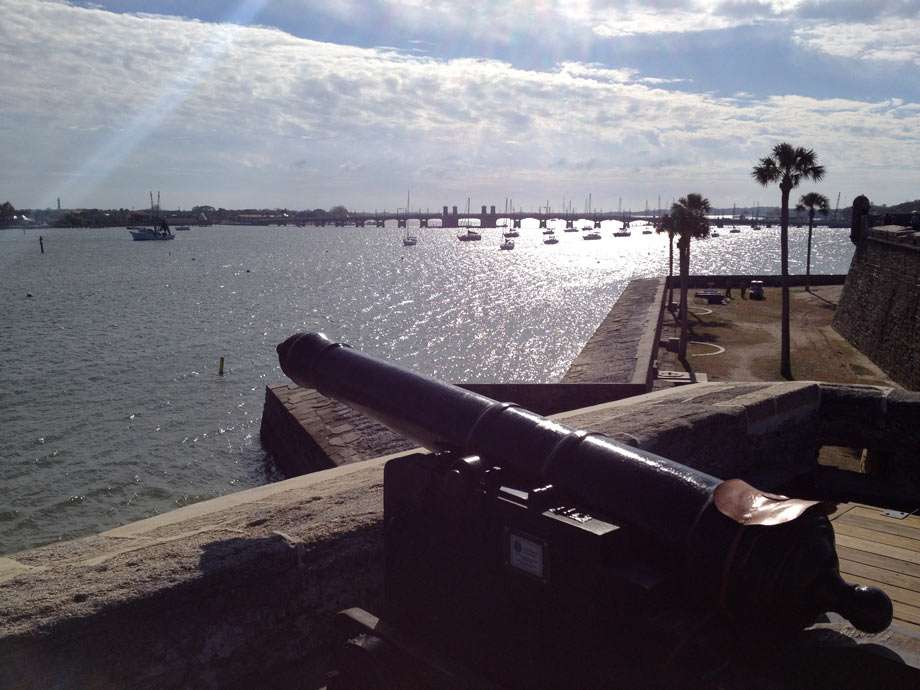 On the Gulf side, Cedar Key is about as small as they get, with a twangy local kid playing his heart out to tourists and his own lofty aspirations alike. It's all rustic siding and the types of restaurants that don't need to beg for business, or even seem to care if people come in to eat, but that's usually what makes a place more interesting than cookie cutter. The big chains have gotten fake smiles down to a science, expect a little sass and a wait for your next beer if you want to experience the real Small Town America.
DeLand, north of Orlando, is another cool town. With a small city feel and plenty of downtown ambience, plus beautifully treelined streets in many of its neighborhoods, it's the perfect place to get to know Florida without the need to visit a single cheesy flip flop shop or put on a pair of mouse ears as part of admission. You won't be soaking up the sun's radiation all day long on a beach, but you might get a chance to see how actual people who grew up and live in Florida feel about life.
And there are no doubt infinite more sweet spots, we just haven't had the opportunity to explore them all…yet.
Camping in Northern Florida
State Parks
Florida's state park system in general is easily the highlight of camping in the state. Spots are typically generous, with plenty of privacy, they're almost always way more affordable than private RV parks, and even when compared to national parks and national forests, they're just more beautiful as far as campgrounds go. At $20 – $30 per night on average, they typically provide at least water and electric, sometimes even full hookups.
Manatee Springs State Park. You can literally swim with manatees here, though giving them their space is no doubt key to their peace of mind. Waterborne activities, long walks along the boardwalk through cypress trees growing right out of the water and alligators doing laps up and down the river.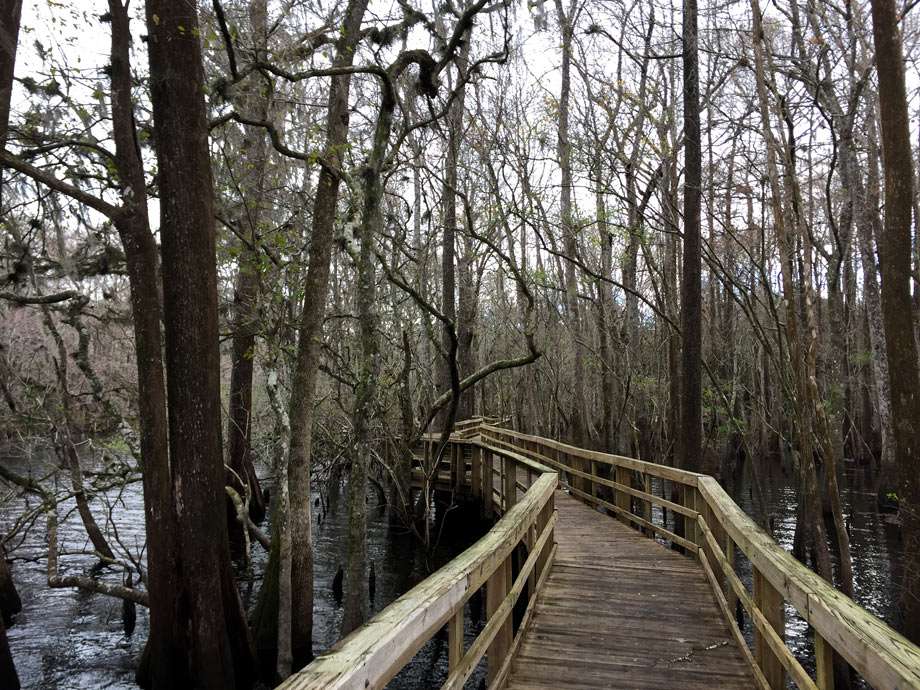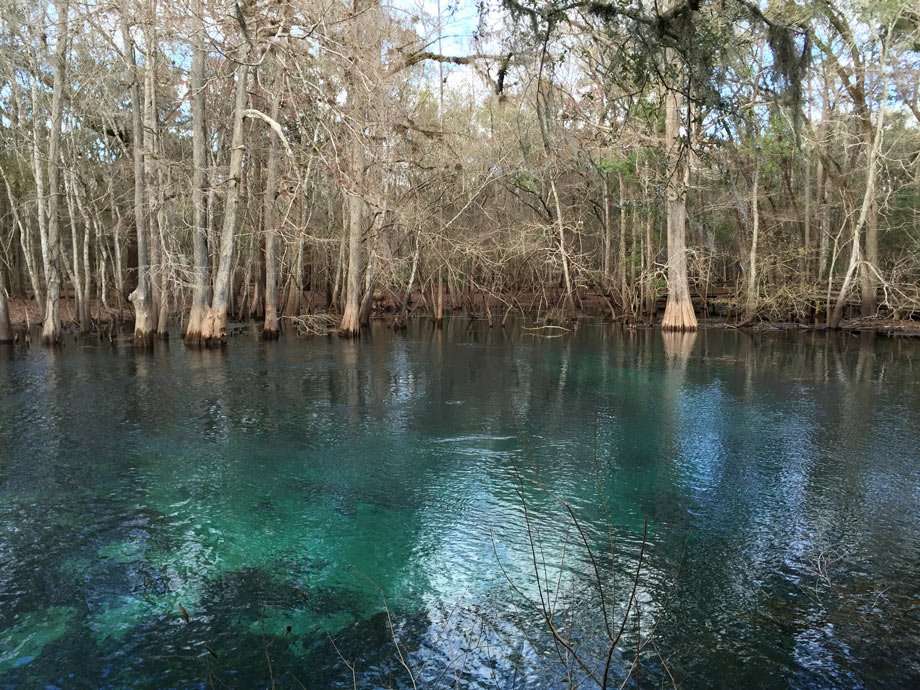 Anastasia State Park. Just a beautiful slice of natural Florida, with sweeping beaches, large dunes and live oaks absolutely soaked in lichen and moss. It's an otherworldly place to camp, especially if you can get into the tent only areas (which do allow for vans, truck campers and very small RVs.) Plus, it's near St. Augustine, one of our favorite towns in the state. Even just outside of the park is a family friendly bar with an arcade, food carts, a pool hall and a farmer's market.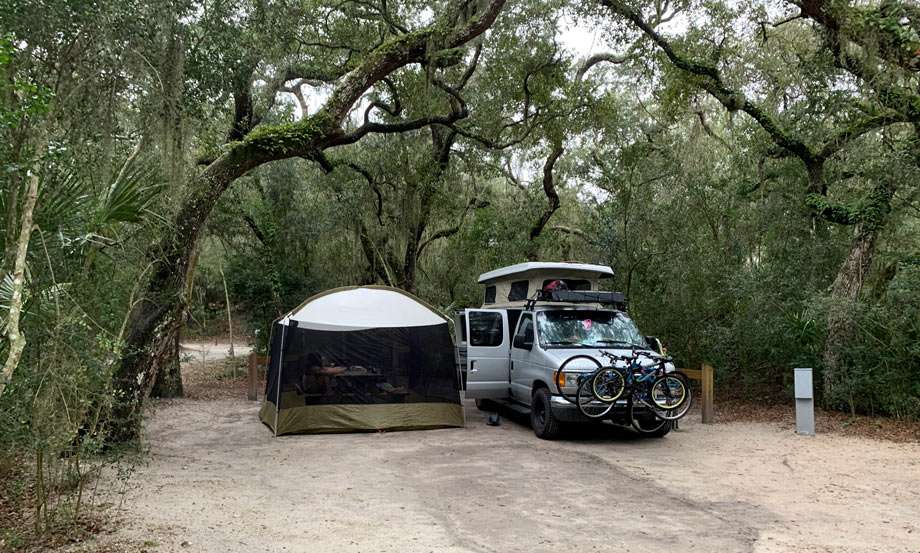 Rainbow Springs State Park. Camping here is nothing special, but floating the mile and a half river up to the headsprings is where it's at. Expect absolutely invisible water, it is stunningly clear and surrounded (on one side at least) by the type of forest that makes this part of Florida unique. Pines climb toward the sky even as the live oak spread their long lazy arms horizontally over the landscape, hickory nuts drop spiky bombs and the palms wave hello (or is it goodbye?) as you float on down through it all.
O'Leno State Park. This is a swampland, and a gorgeous one. Cypress trees and their bendy knees curl up out of green, thick waters. Where whatever type of algae that makes the water something like lime green fake porch carpeting isn't covering the river, it's black, pitch and mirror black, and alligators swim here. Which is why we chose to cross the river via a beautiful suspension bridge instead of take our chances in the designated swimming area.
There are around 20 state parks which offer camping altogether in Northern Florida, so no doubt you'll have plenty of opportunity to explore gems we haven't even found yet.
State Forest Camping
Another option for camping, for both RVs and tent campers alike, state forest campgrounds are typically primitive — they have no hookups at you site, though most do have flushing restrooms and even showers — sites that cost $9 – $20 per night. While the site quality isn't always as great as what most state parks offer, the natural beauty is typically phenomenal.
State forests mostly differ from state parks in that they have less built up facilities (don't expect a visitors center or gift shop) and are often geared toward hunting and fishing, though this isn't exclusively the case. If a state park is the successful brother who went off to college to become well spoken and well to do, the state forest is his redneck brother who can change his own oil and build a fire without a can of lighter fluid.
Typical campgrounds include River Junction, where you'll have access to water at your site and a full on bathroom, plus an easy walk to a beautiful lake. Also in the Withlacoochee State Forest (please giggle like a teenager when you read that), Cypress Glenn Campground offers water and electric hookups and some pristine river floats. At $9 though, Tram Road Equestrian Campground in Tiger Bay State Forest is a more typical state forest site, with big campsites, no hookups and only vault toilets to fend off nature's call. In the same state forest, more massive, primitive sites can be found at Bennett Field, with plenty more opportunity to get the old SUP out on the glass.
Two National Forests Camping
Northern Florida is home to two national forests. If you've never been, national forests offer both dispersed camping–aka, boondocking–and actual campgrounds. There isn't a whole lot of difference between the two though. Official campgrounds will sometimes have wood for sale, often a dumpster to get rid of your trash, and usually an outhouse, known in the camping world as a vault toilet, to do your business.
Dispersed camping means you need to pack everything out that you brought in, even your own human waste, since you're probably not any good at digging a proper cathole (nobody really is) but even if you were, there are just too many campers out there these days to think we can all dig a 6″ x 6″ hole at every campsite and not all literally be sleeping on shit. Wherever you are, dispersed camping or official campground, please know that it's our absolute responsibility to leave these places cleaner than we found them, to respect the trees, shrubs and even the ground we camp on, and to make sure we take care of the place like we would our own home. Otherwise, like is already happening across the country, these places will be shut down.
In the Osceola National Forest, which is technically a bit out of our "Northern Florida" range, we landed on East Tower Hunt Camp, mostly due to the large, green as your first love's eyes spots that were all majorly spaced out. This is dispersed camping, there are no official spots but it's very clear where it is cool to camp and what the perimeter is around you compared to where the next van should lock in the e-brake. Other than some typically overflowing, national park-style trash cans there are no services, not even a vault toilet that we could find, and no cell service either. The West Tower Hunt Camp, inversely, still has decent sites but also a bathroom with flushing toilets and a rudimentary, cold shower. There is no electric at you site, but there are apparently plugs in the bathrooms too, should you need to charge up your phone. Not much service there either, though. Plenty of additional places exist to camp, as well, some with better cell service but mostly the setup is the same: vault toilets if you're lucky and overflowing garbage bins. If you get off of the beaten path (but still staying on actual dirt roads in the forest) you can find some better, more secluded places to call home for up to 14 nights at a clip. Again, though, please clean up after yourself and others if warranted, or places like this will cease to exist. Most of the more official camping areas are labeled "hunt camps" and therefore get very busy from November to January, and during those month you can't camp outside of the official camping areas.
Further south, in Ocala National Forest, around 20 official camping areas exist and five of those are free. We didn't explore Ocala's dirt roads to see how proliferate dispersed camping was, or tour it as much as we did Osceola in general, but we enjoyed Davenport Landing for its seclusion and beauty in no short order.
In general, national forest camping in Florida means no hookups and little to no cell service, so expect to spend time on the trails, rivers and around a campfire in favor of using it as a place to work remotely and you'll be pleasantly surprised at how interesting these mixed conifer and subtropical forests are.
National Seashore
The final point of interest for today is Cape Canaveral National Seashore. You can't camp there in an RV, though there are 14 paddle in tent sites (i.e., you take a kayak or canoe of your own to get to them.) Even for a day trip though, the place is stocked with gorgeous live oak canopy roads, wide open beaches with deadly tough currents, armadillos (they can carry leprosy, as snuggly as their reptilian skin may appear) and a visitors center full of extremely informative rangers.
It's a must see as far as we're concerned.
Kennedy Space Center is also nearby, as is the aforementioned Cocoa Beach.
But at the end of the day, Northern Florida is — essentially — the better Florida for those seeking nature, reality and all at a reasonably affordable price.