Parenthood Straight Outta the Trailer Hood A BareNaked
Anthology
It's morning and before I get started on throwing around the first 'f' word in this writing project, Greg shoves a mug into the Keurig machine and brews me a fresh cup of coffee.
After pouring the half gallon of french vanilla creamer I require, I slowly find my words in today's weird world of 'what the hell is going on and why are we still in Oregon?'
I only drink one cup of coffee per day and at this point in my life, it is decaf. So, before you talk shit about my bean to creamer ratio or the amount of landfill waste generated by our Keurig addiction, please know that I diligently recycle paper bags, collect six pack rings off the ground, and hand wash our dishes. Thank you very much.
"Alexa, play N.W.A".
Let me introduce myself to you folks – my name is Jenn, I'm married to Greg, we have three grown kids, and I love living the gah damn trailer life.
The careful cultivation of my Amazon-fulfilled, trailer wife lifestyle began some nineteen years ago when we sold everything we owned and left my husband's successful six figure career. There's a beautiful story of how we came to this decision on a remote beach out on the Northwest coast, but it was so long ago and honestly, I'm kinda tired of telling it. Here's the summary – college degree, house, family life, American dream, public school, career burnout, dreams, epiphany, inspiration, and change. (Editor's Note: That story is actually here on Wand'rly.)
In a world full of shiny Instagram accounts, my story is far from extraordinary these days. But back in 2001 – a time when truck stop internet connections barely generated a boner, our efforts to create a better life for our family were legendary.
We packed up a thirty-seven-foot RV with three kids, way too many pairs of shoes, and expensive curriculum books before setting out for life on the open road.
Though Greg held a college degree and a professional skill set that enabled us to work independently, some folks–including most of our family–assumed we had given up everything only to become panhandling hippies playing tambourines on street corners for our next tank of gas. I can assure you we have never owned a fucking tambourine in our lives.
We homeschooled all three of our kids without keeping grade levels or testing them all the way into college. Call it unschooling, road schooling, or any of those other free range iterations, it was nothing more than common sense to us. With the world as their classroom, we figured they were bound to learn something.
Cramming all our hopes and dreams into the pages of a spiral bound paper atlas, we crossed the country documenting nearly two decades of adventures on our popular blog BareNakedFamily. (simplicity, not nudity).
We hung our hats in forty-two states, missed the Midwest entirely, and completed five major highway systems end to end, forever gifting ourselves a complex when it comes to setting down roots in any one place.
As for those panhandling hippy children of ours, they went on to become 4.0 GPA material after spending most of their childhood on the road. One became a teacher, one earned a degree, and the other is an Instagram famous photographer you probably already follow. So, you can imagine our relief when that whole homeschooling experiment of ours worked out. To my knowledge, not one of them has taken up the tambourine either.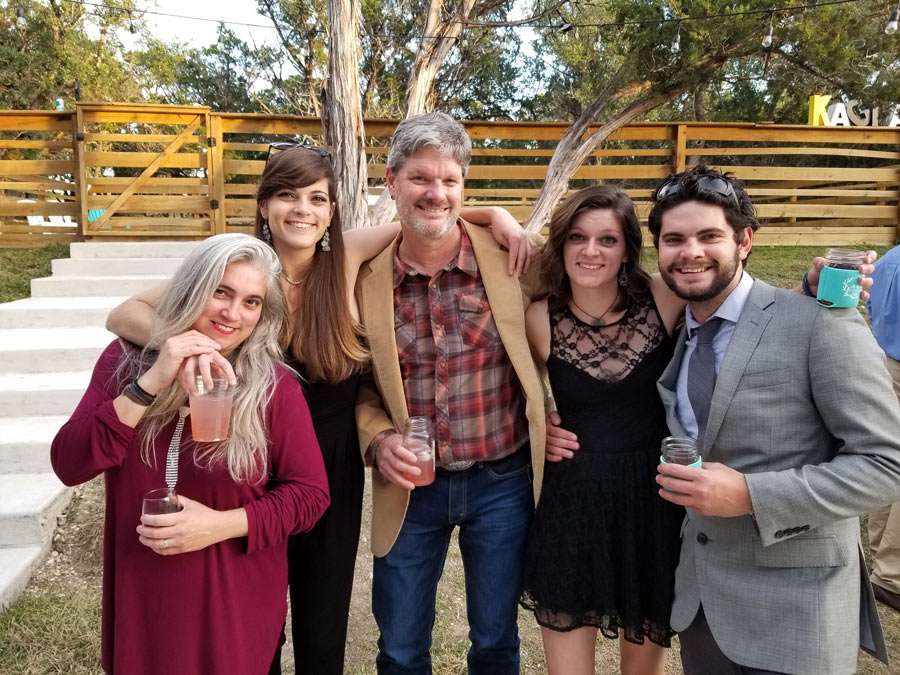 I went through a brutal empty nest phase that led to the biggest emotional breakdown of my life and left me unable to drive for two years. That was a blast. No one told us how hard this chapter of parenting was, so when it came time to walk away from the best of friends we'd ever had, we tucked ourselves away in a cabin and cried our eyes out for six months. For a few years, we mourned the affection life on the road brought our family and slowly moved into our life as two. Eventually we got ourselves together and left the good 'ol days of BareNakedFamily behind to find our next thing.
We dabbled with the tiny house industry, saw Mt. Rushmore for the first time (a history lesson far more creepy than inspiring), and fell in love with the Black Hills of South Dakota where we spent our days gazing at the incredible sight of the Crazy Horse monument being built right outside our window.
Since we still had no direction in life and I don't believe good food exists outside of Texas, we decided to head to our home state where we dreamed of purchasing some land and building out RV sites; all while trying to avoid words like 'compound' and 'communal'. We've been around the RV world long enough to know, those kind of places ain't our scene.
Though we came close to getting our micro development idea off the ground, in six months' time we exhausted our play money and time off searching for land and meeting with cities who would allow our concept: deeded RV sites on private acreage.
We returned to our construction background and learned to enjoy the empty nest life with Greg's lucrative career as a traveling superintendent towing our huge fifth wheel with five slides. We recently added the first brand new vehicle purchase of our lives – a Dodge Ram Longhorn emblazoned with flamboyant cowboy stitching and saddle bags. Our native Texas flair has our kids referring to us as the 'Kardashian Cowboys' more than Mom and Dad these days.
We traveled around Texas while Greg built complex medical facilities and I published my second and third books. In addition to our day job, we continued to build on our micro development dream as we replenished funds along the way.
Flying the kids in and out of the cities we worked in, we treated them to mini vacations to come see us several times a year. Excited to see them and happy to have our space back when they left, we had finally nailed empty nest living.
But after two years of 100° heat, we found ourselves frustrated with our job and fell back into parenthood like it was our crack pipe. Romanticizing we could recreate the old days with our now grown kids, we walked away from our traveling job to build a life, closer to our two kids in Bend, Oregon. The upcoming holiday season didn't help our emotional unraveling as we took a step backwards in the empty nest playbook.
So, we did Oregon. Again. A place Greg loves, and I do not.
We quickly learned that kids in their 20's aren't looking to rekindle the old family flame as it should be. They did their best to accommodate our Sunday dinner requests, but in seven months I think they made two of them. To their credit, they are living a life they worked hard to create and threw us plenty of late-night invitations to their local hipster watering holes.
They also invited us to camp with them, but the Kardashian Cowboy rig would never make it down their back roads and our knee strength doesn't support pooping in the woods these days.
Greg was hired as a superintendent with a construction company that kept him local, but the wages in Oregon were no comparison to the sugar daddy money he was used to making on the road. I talk about my trailer wife lifestyle, but let's be real, my husband has some first-class habits himself. Xbox games and bottles of knock off Polo cologne don't come cheap.
Snow shoveling and frozen RV slides only added to the delight of wintering in central Oregon. When you throw in the paper straws, lack of decent Chinese food, state income tax, and 45mph speed limits…it all got to be too much.
Two trailer park moves later, we began staring at the wheels conveniently located under our house. But before we could think of pulling out, the pandemic hit and laid us off from work.
Months later and still unemployed, we stood around a campfire catching up with our kids and their friend Andy Best, a cinematographer dad raising two young kids on the road. Obsessed with our BareNakedFamily story, Andy paraded around the campfire recounting his favorite stories from our life he's read online and in my books. We've met a lot of people through our blog and in our travels, but it seems that day, we had met our biggest fan.
It had been a handful of years since we last traveled as a full-time family, so when Andy suggested we start a podcast, I was sure we were too irrelevant to do so. Andy reminded us that BNF had something families, like his, were looking for in this lifestyle – longevity. He saw our grown kids as a testament to the life he and his wife wanted to give their two young daughters and persuaded us we needed to do a podcast.
BareNakedFamily – "We raised kids on the road before you did" …I chuckled, man, could we tell you some shit about fuck.
Aimlessly wandering around Oregon and hopelessly unemployed during this pandemic, we started podcasting from the front seat of La'darius, that over the top diesel truck/studio of ours. Instead of adding to the picture-perfect content commonly posted on social media; we found pleasure in rehashing the bizarre and meaningful moments behind our unconventional marriage, parenthood, and travels while miles of Americana rolled by our windows.
Andy was right.
Years of trying to get my adult kids to pay attention to anything I have written or stuff we have produced, we have finally triumphed over the distraction of craft beer and axe throwing. They are either hearing some of these stories for the first time or realizing they have remembered things differently than they happened. Regardless, every episode brings a flood of texts from them filled with laughter, tears, and reminders of things we as parents have forgotten making empty nest life feel less empty.
Filling the void of the times we are stuck in, we're grateful for the memories that give life as BareNakedFamily a new purpose.
Sigh…as for Oregon, it's beautiful and all. But with one kid living in Colorado and my love for our home state of Texas, it seems we're pretty much fucked when it comes to any of us getting to settle where we want even though we're still looking for that piece of land.
So, I guess there's no better time to go to Duluth.