Salty Kisses Family of Five
Traveling
by Sailboat
"We are pretty much an average family," says Carly, from a cabin somewhere in Maine.
Her husband, Carl, enjoys Nascar. She sews, reads and tries to get her kids to eat more veggies. "I am also a mum of 3 young kids so none of that actually happens," she jokes. Or maybe it's not a joke.
Carl, Carly and their three children–Capri, Cali and Crew–may resemble a similar family at first sight, but there's one major difference: they live and travel full-time on a sailboat.
Well, when they're not off on some other adventure, anyway.
"Carl is American and I am Australian," she says, at the moment separated from her husband by a few thousand miles of Atlantic Ocean as they are finalizing their latest life transition. "We met in Florida," she continues, "forever ago."
Their children, all between the ages of two and six, are either already dual citizens of the US and Australia, or in the case of Crew–the youngest–will be soon.
Thirteen years ago, Carl was working as a professional captain on, what Carly describes as a "mega yacht", based out of Fort Lauderdale, Florida.
"I was staying in a hostel looking for work on the docks," she recalls. "I had finished up working a ski season in Vermont as a lifty and bought an old van with friends and roadtripped it to Florida… I did day work on a few of the yachts before landing a full time position on Carl's boat as the third stew."
Time would pass, they'd spend more time together while working in the Bahamas, and the rest is their own little slice of history. Three years later, the two would find themselves the founders of their own marine construction business in Mississippi.
"We drove pilings, installed docks, built piers," she says, "In 2012 we decided to give it all up and go sailing. We spent a year liquidating everything and refitting a boat." The next year, they moved onto Salty.
"Both Carl and I have been traveling almost all our life," Carly recounts, "with exception for the seven years we lived in Mississippi." A life of travel seemingly built right into their DNA, as the couple had children and took on the responsibilities of their business, they slowed down for awhile.
"But," she reveals, "with the untimely death of Carl's father we decided that life is too short not to be living." Ed, Carl's father, worked all of his life and was able to retire, only to find out he had cancer. "He was ready to sit back and enjoy his golden years but his body had a different plan." Carly talks about the amazing life her childrens' grandfather lived, how he had no regrets, but it reawakened something in the couple.
"To pass at such at young age was devastating.".
While the final time they got to spend with Ed went quickly, they also found themselves getting buried in the American Dream. "The big house with the mortgage, two cars and a business with mounting debt. The kids were in daycare and we barely saw each other. We were tired and needed a change."
They sold their business, house and cars, and bought a sailboat. There was a surprise in store, though.
"During this time we did find out we were pregnant with our third child." She pauses. "Oops."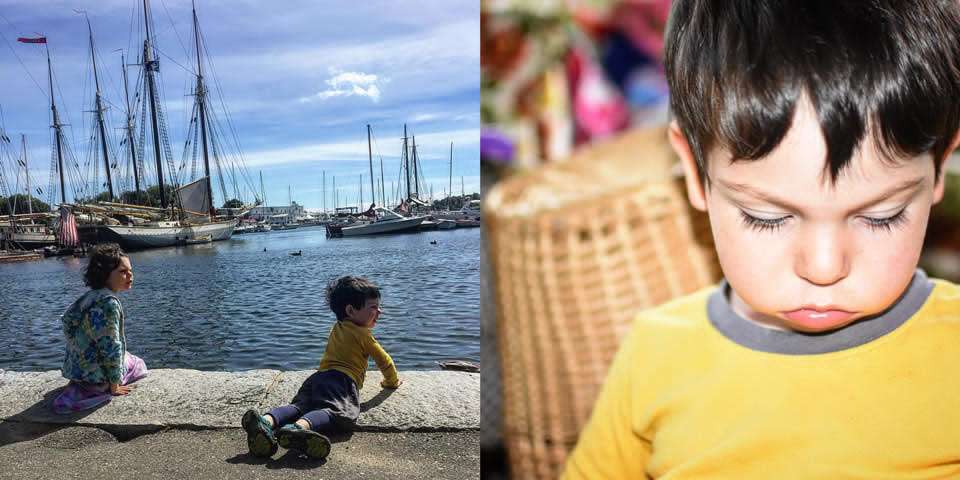 "But, we were determined to follow through. With giving up everything in our land life we also gave up our health insurance so we decided it would be cheaper to give birth in the Bahamas. Our son was born in the Bahamas in March 2014."
They spent a few more months there getting used to their boat, to one another, a new baby, before heading toward New England.
"We sailed north to Massachusetts," she continues, "to visit Carl's family and introduce the new addition." That lead to further waterborne adventures in places like Newfoundland, then bouncing back and forth a few times between New England and the Caribbean, touching on Labrador and Greenland, before heading for the Northwest Passage toward Alaska.
Just as the death of Carl's father had launched them back into their life as world travelers, now it was a reverse situation–his mother's health–that would bring them back to land, in order to spend more time with her.
"We sold our boat in Alaska, bought a RV and drove from California to Massachusetts, down to Florida, Mississippi and up to Maine where we purchased a small house in the woods." They'd live in that home for six months, the children getting to know their grandmother, and all of them living a slower pace of life, perhaps.
"Carl's mum passed recently and we have bought another boat," Carly continues to spin the family's tale of loss and adventure, always moving forward to whatever next step seems the most apt. "Carl is getting the sailboat ready now for us to join him in the Caribbean in a month."
They think from there they might sail to Chile, "maybe Antarctica, Pacific and Australia," where Carly's family still lives, "and who knows from there?"
When thinking of crossing from the Americas to Australia, though, she has one word to describe what she thinks that experience will be like.
"Miserable.
"I won't paint a picture of unicorns and rainbows. I think at the best of times a Pacific crossing is grueling but to toss in three kids it will definitely be a challenge. During the NWP we covered a lot of miles but the longest time at sea was sixteen days sailing. I think the Pacific crossing may be a little easier than that because your fingers won't want to fall off and the kids will want to be outside more. I've heard after a while you get into the swing of things and it even gets a bit boring, as long as the kids don't go all Lord of the Flies on us."
Capri, their oldest daughter, has a plan, though.
"I would color and play with toys and play with my bunny," she says. Kids are the great simplifiers. There's only one problem, Carly says.
"It's a bunny which she wants for her birthday and is not getting."
In the time it's taken to put this article together, Carly and her girls are just arriving in the Caribbean to see their new home-at-sea for the first time.
"I never thought the day would come," she writes on her blog.
Thinking back to the family's original boat, she talks to us of life around the dinner table.
"Our new-to-us sailboat won't have enough room for us all so we'll probably be eating in the cockpit under the stars–or sun–because we eat early. As with any family with young kids we all fight for conversation and it tends to lead to stories about lizards, turtles and how long one can hold their breathe under water."
"It's amazing to watch them grow together day by day. They each have their individual personalities but somehow make it work," she says her children are best friends, "we have our extrovert, introvert and mummy's boy.
"When we meet up with other kids these personalities still shine through. They play well with other kids of all ages."
As to how the kids are taught while they travel, "It's hard on a boat where your schedule changes from one day to the next." When they were in Maine, she more or less maintained a steady schedule of homeschooling at their kitchen table in the mornings. "On the boat we are going to desperately try and stick to this. We started with a curriculum but it has morphed into hand picked topics that work best for us."
Explaining their process in a bit more detail, Carly says that at first, school was primarily about reading, for both of the girls. Then they moved into the notion of taking on a curriculum, a program tailored for homeschoolers, by the name of Sonlight.
"It was very full on and the girls were fighting it and not retaining anything. I really think kids at four and five are far too young for copy work, math and reading." Carly dropped it all and they went back to reading again. Remember, their kids are not technically even school aged, yet, as in most parts of the country, Kindergarten begins at age five.
In Alaska, they gave Sonlight another shot. "The girls were a bit more receptive this time around," she recalls, "but I noticed the only information that they were retaining were subjects of their liking. Why was I teaching about gravity when at the moment they were interested in poop and the digestive system?"
As time and their circumstances have changed, so has her approach to educating her young girls. When libraries are available, they take full advantage. On the boat, they've found apps that let them store books for the lengths in which they'll have no Internet connection. She seems to have abandoned the notion of any one type of approach, and instead is just doing what she can with what the girls will be most receptive to at any given moment.
"We'll track down local libraries which will be fun. I've purchased books on sea life and nature, our kids are very hands on and learn best through life and not a book. On land there are so many opportunities out there for homeschooling but it's also very overwhelming and I find that I'm losing sight of what is really important, the simple education of my kids. Boating makes life simple in every way."
Every parent is going to be concerned, particularly the homeschooling variety, that they're doing the best they can for their kids. "We are currently learning at a grade one level with some Kindergarten aspects for Cali."
Sounds like she's right on track for where they want to be.
Like many a traveling family, they seem to be realizing that perhaps the system in place whereby one teacher is in charge of a classroom doesn't necessarily apply to the more one-on-one attention you can give your own children, affording them the time and ability to grow at their individual paces. Despite traveling the world, she swears by the notion that they're "just an average family."
Modesty is a refreshing trait to see in a traveling family. She doesn't think of her family as alternative or overly religious. They steer clear of theme parks to help keep costs down and avoid the screaming kids.
"We don't like crowds but would go nuts camping. We indulge in mac n' cheese and allow our kids to watch movies when we need a break." They tell jokes, go on hikes, and swim.
"We don't separate our whites from darks, hate doing dishes and couldn't bare life any other way."
"Ummm," she admits, when it comes to the subject of mom and dad getting some personal time, "this we need to improve on.
"Every now and then we'll meet some great cruisers who will allow us to run an errand together or maybe even get dinner but it's pretty rare. Our date night consists of us enjoying a beer in the cockpit followed with a movie from our hard drive after the kids have gone to bed."
Having sold their business, and now well into their renewed travels as a family, how can they keep it all, well, afloat?
"The past few years," she tells us, "we've been living off of our savings from our business and house. We also have a couple of rentals in Mississippi that help out a lot. Over the summer Carl worked as a yacht engineer in Bahamas and an ice consultant in Iceland and Greenland." This was during the time the rest of the family stayed together in their home in Maine. It doesn't sound like it was necessarily an ideal setup for her, but like every obstacle they've encountered along the way, they come up with a plan to get closer to where they want to be.
"From now on Carl will be taking more short term yacht jobs so he won't be away from us for so long."
Said savings has since been exhausted, which is why Carl works occasionally to keep the adventure going, in addition to those properties they held onto and rent out back in Mississippi. It's not the easiest thing to manage, she admits, but "we are lucky enough to rent to friends, they know not to call us when a window breaks or the plumbing gets blocked."
Curious as to the exact process of getting your children a dual citizenship? Carly makes it sound relatively easy, assuming the parents are of multiple nationalities themselves.
Their girls are already dual citizens, both born on the Gulf shores of Mississippi.
"We are working on Crews Australian citizenship at the moment." Their son was born in the Bahamas. "It was really quite simple and even easier now, all it entails is a bunch of paperwork…and a fee of course." She says that Australia isn't particularly uptight about sending the certificate via mail.
"The passport," she admits, "is trickier. I made the trip via car to Washington, DC to appear in person to the Australian consulate with all relevant paperwork and fees." Carly believes that dual citizenship will afford them more choices when they're older. "They can always live in either place if they choose. We currently hold residency in the US but hope to live in Australia for a time."
When it came time to travel again, it was sort of a no-brainer for them to hit the open sea again, the same landscape in which the couple had met over a decade ago.
"Carl already had a nautical background for all the navigation stuff but had never sailed when we met." Before the couple were married, Carl bought a 37′ sailboat. Their first adventure together in that boat was from Stuart Florida around to Tampa. For some reason we decided to leave out at night in rough weather, we were totally miserable and seasick for the first couple of days but then got into the swing of things. The image of Carl crawling around the deck in his own vomit will forever be etched in my mind." Still, she swears, "For Carl there really wasn't anything to learn and as for me I'm still a novice."
She says the transition to living on a boat, given Carl's past experience and that they'd already spent loads of time in small spaces through various other experiences in life, wasn't terribly difficult. "We lived at the marina there for a couple of months getting the boat ready to sail. Salty was extremely spacious so there really wasn't much adjustment other than having to keep an eye on the girls 24/7, not like at a house where you can relax a little knowing they weren't crawling out of a hatch. The girls missed their large bath and I missed a full size fridge. We all adjusted and they loved that daddy was home all the time."
From there? "Gosh," she remembers the best she can, "we had so much fun but to be honest it's all a blur. I was pregnant sailing the Bahamas then sailing New England and Canada with a new born, time just sped by and I don't feel like I really absorbed everything. The kids adjusted so well to each new scenery, I think the boat helps out a lot with that, to be able to take your home with you everywhere takes so much of the anxiety out of traveling."
Before their plane touched down in the Caribbean a few days ago, reuniting the family for the first time in months, she admitted, "Being back on land now I really see how much I miss the adventure of it all."
The kids recall their favorite times aboard Salty. "My favorite part of Greenland was seeing the little cute dogs," says Cali, their five year old.
Capri, a year older than her sister, continues, "I love swimming in the Bahama water and looking at the turtles."
Cali loves swimming and just watching the waves do their all day long hello.
"I liked watching the birds fly past," Capri says, "and especially having daddy on the boat."
Some people may question the safety loading up your family onto a boat for adventuring around the world, particularly in places like the Northwest Passage, even with a somewhat experienced sailor for a father.
"So back in the Summer of 2014 we decided to circumnavigate Newfoundland," Carly begins the tale, "at the tip we met up with a fun bunch of blokes that were waiting on parts before jumping to Labrador then Greenland. Their ultimate plan was to transit the Northwest Passage to pop out the other side to Alaska. I thought they were totally nuts but Carl was utterly captivated, I had to keep a keen eye on him in case he jumped ship and left us stranded in St. Anthony." It's not clear if she's kidding or not.
"The seed was planted," she continues. It only took a few months, by the time we got to the Caribbean for the winter Carl had convinced me that it would be a chance of a lifetime. In 2014 not all the boats made it through the passage due to the ice and the year before that even fewer. There is a small window in the arctic summer in which some of the waters through arctic Canada open up enough for yachts, typically ice breakers. We noticed a trend with summers getting warmer and warmer with each year passing, there was a good chance that 2015 would be perfect for transiting the Northwest Passage. People thought we were crazy but we knew if we took it day by day with no firm plans of following through we would not be disappointed if we didn't make it. We were in luck that year, we met up with two other boats with the same plans and that had a load of ice experience. They took us under their wings and we sailed all the way north to the ice shelf in Greenland. The communities, wildlife and landscape we saw were spectacular. There are not too many people that have touched that part of the world."
It sounds absolutely amazing, no?
During the time in which it's possible to make this voyage, ice charts are being transmitted via satellite, captains are making educated guesses, and only a couple of months are considered open to clear the arctic before the ice shelf takes over and reclaims its steely reserve.
"There is also the gnarly weather as fall sets in. We encountered some bad weather and a day of snow but not a lot of ice. There were the days we had to keep a keen look out and slowly motor through some thick sections of ice, Salty got a few dents along the way but no great dramas. I am so happy that we did make it up into the arctic, with the ice melting and cruise ships now selling packages, this area will no longer be the same."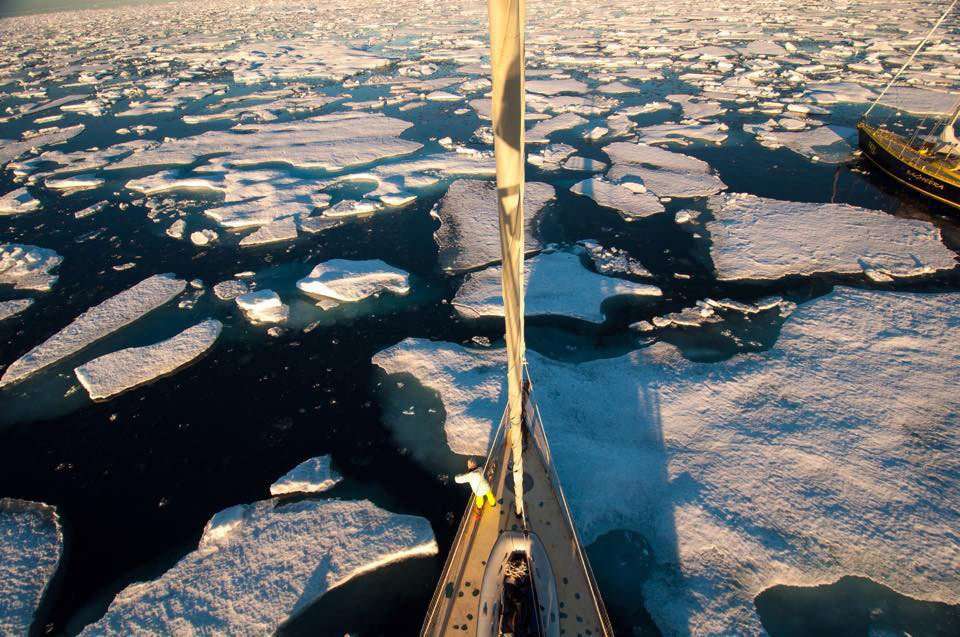 How is this supposed to make one feel better about floating around the world with children? It's all about being smart, Carly says.
"Please note that we did take extra crew with us and took all the safety precautions necessary for this adventure, we don't take the safety and well-being of our children lightly."
Perhaps that's the best sentiment to carry away from this, should you be inclined to wonder about the safety of an adventure like this, or sailing with your family at all. Parents are not exactly eager to put their children in harm's way. Some can see the benefit of a calculated risk, even if it's only a perceived one from an outsider's perspective, compared to all of the benefits a life lived more fully will provide their youngsters.
After reaching Alaska, they sold Salty to some friends, who now live aboard her. They traded her in favor of a smaller boat. Where Salty was steel, Carly explains, "She was a lot larger than our new boat. She was also made of steel which makes her a fair bit heavier. Lighter boats sail better in light weather but sailing a heavier boat you will feel less motion. Our new boat is 48'," compared to Salty's 65, "and made of aluminum. The smaller size means we can spend more time," though perhaps money, she admits, "having fun instead of maintaining her. It will be an adjustment to get used to close quarters again but I think we're all willing to give it a good go."
The children, now months away from Salty and leaving their home in Maine, have their own opinions. "I felt joy on Salty when I woke up, don't know if I'll feel that on the new one."
Even they seem wise beyond their years, a byproduct of their parents' mindsets, no doubt.
"The house isn't better than the boat," Capri believes, "they're just the same." Different experiences, perhaps, but a continuation of their life as a family together.
As their time drew to a close in Maine, Carly found it hard to reconcile the fact that they already had another boat, that Carl was down there working on it, but they just weren't able to hop on board and go quite yet.
"Maine has been great," she says, "it's so beautiful here and we are digging all the wildlife, we get deer and turkeys in our yard." She loves the lack of big box chain stores, that the local establishments all know her children by name.
"I don't think I would want to live anywhere else in America," she says of their little cabin life, which they intend to keep even when they hit the open ocean again.
"It has also been hard," she confesses. "It's hard to break into small communities, people are so rooted in and I swear if you're not born here you are always considered an outsider."
Even within the confines of her own methodologies, she considers "We settled into a routine quite quickly and it started to wear me down. I was so used to constantly moving. In Alaska I was craving a schedule but now that I have it I feel like my feet are covered in thick muddy goo. The thought of going to the same grocery store over and over again, to know what aisle the canned tomatoes are in, I find myself not thinking too far ahead in life. I can understand why a lot of people find it hard to break away and travel, the stresses of life kill dreams." She pauses.
"Now I'm getting dramatic. Land life is great, you can get anything you want delivered to your door, but it's just not the right fit for us – for now."
A bit dramatic, perhaps, but then again…what she says rings true for many a traveler. Many of us who leave behind the notion of home as a place and more of a feeling, of who you're with, of simply moving on, it becomes very difficult to stop doing that, to find the same satisfaction in one place that you were previously afforded from a life spent hopping from one anywhere to the next.
"It's a little boring," Capri says of living in a house.
Now that they're reunited, it's all about the future, this next chapter only now beginning.
They'll cruise to islands many people save and wait all year to visit for a week or so. They'll drop anchor and make short dingy rides, or big swims, to shore. Carly hopes to seek out more fellow travelers with children this time around.
"Our days are so much easier when the kids get to be social."
Their closest neighbors will rarely be closer than 100′ away, if any at all. They've foregone making additional plans with family in favor of a slower pace this time, maybe even finding that perfect group of friends who are also cruising with kids and create their own little roaming village.
Or maybe they'll keep on down their own path, all the way across the Pacific.
"We will all get to Australia," she finishes, "by boat!"
Follow Along with Salty Kisses