Living on a Sailboat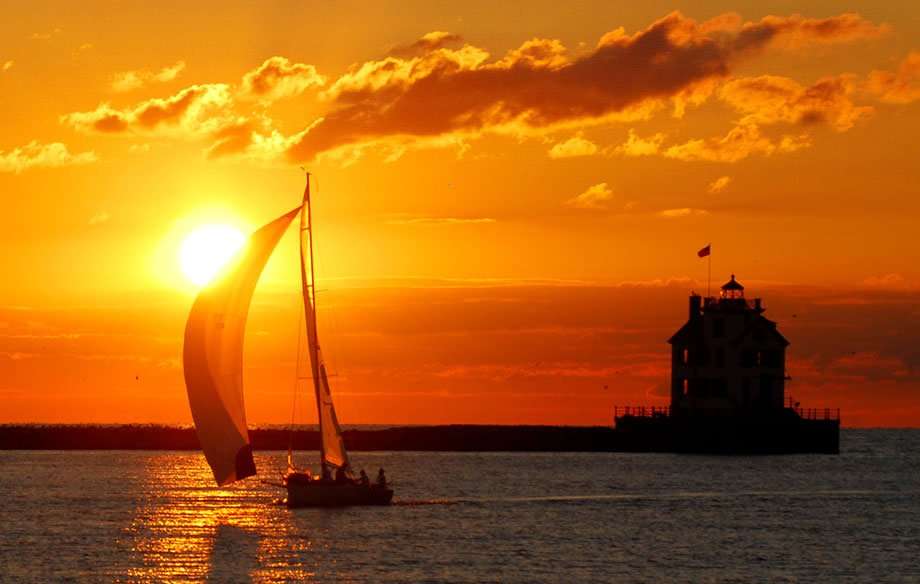 Last year, on Halloween, we splashed our boat in New Bedford, MA for the first time since purchasing it (in parts!) earlier that year.
Now it is over three months later, and we are still miraculously afloat in the fabled "Marshes of Glynn" between Brunswick and St. Simons Island in coastal Georgia.
To be perfectly honest, if you would have asked me three months ago to point out Brunswick, GA on a map, I would have tactically changed the topic. The same could be said for a dozen or so locations along the southeastern coast of the US that we have nonetheless called home during the maiden voyage of SY Tranquility. We are, quite literally, off the beaten track.
At this point, I cannot claim any expert status as a liveaboard, nor am I even a very competent sailor. Fabio, my partner and the official captain of our two-person crew, will surely confirm both of those assertions. In the grand scheme of things, I am a total newcomer compared to many we have met along the way. But I can share with you all how we have successfully made it this far, and how we plan to continue.
I should also clarify that my experience is limited to one kind of liveaboard situation–two people on a 29-foot bluewater sailboat with minimal systems and almost no storage. Joining the crew of a luxury motor yacht, restoring a historic wooden boat, or running a charter business on a catamaran will all offer totally different experiences. There are as many ways to live on water as there are ways to live on land, so even if the specific way we are doing it doesn't appeal to you, keep looking. You will find your way.
Preparing the Mind
Living on a small boat means changing a lot of your expectations, and continuing to adapt to reality as it emerges. For example, my early expectations of living on a boat were that the chatter of my mind would be drastically reduced, my daily life would simplify and therefore the most important things, my real values, would emerge as the central focus each day.
These types of lofty expectations are somewhat mitigated by the emerging realities of having very little privacy or personal space, essentially living outdoors in winter, and a precipitous drop in face-to-face interaction with my friends, family and colleagues.
To move on to a boat is to physically secede from your mainstream community. How do you remain empathetic, confident and sane? Next to this, getting rid of most of my worldly belongings was actually the easy part. Maybe I should start there.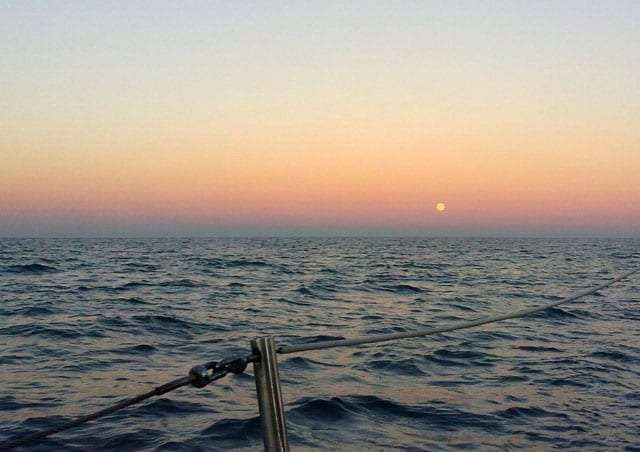 Get Rid of Stuff
When Fabio and I first met he was working on a boat in Panama, and when he came to visit me in NYC in the winter, I had to meet him at the airport with footwear, because his only shoes were flip-flops.
You know you don't need most of the stuff you own. Admit it. I always lived in a small apartment, and never had a walk-in closet full of shoes. But living on a boat means having only one of things, and having very few things total. A year ago I had two floor-to-ceiling bookshelves packed with titles on everything under the sun. Today we continually grapple with our distilled library of boat-related titles so that it fits in a space the size of a shoebox.
A lot of things are easy to get rid of. You have a yard sale, your friends show up with donuts, you hang out on the sidewalk in the sun, and at the end of the day you have cash in your pocket.
But then you find that some things have "real value". I had several film cameras that I inherited from my Grandpap, who was our family historian. He documented every dinner and holiday we shared, with these huge Nikon assemblies, and we would all dutifully smile and submit to the pop of his roving flashbulb. I inherited not just the cameras, but also the photography bug. However, on the boat what use will I have for film cameras? The salt will destroy the machines as well as the film. Plus, storage. The rational decision would be to sell them in the marketplace of New York City, to a photographer who knows their value, and would use them daily, just like my Grandpap did.
But every time an obvious camera-toting photog would inquire about the camera bag I guarded behind me at my yard sale, the interaction would wind down through a nostalgic review of each of the carefully packed lenses, and how hilarious my Grandpap was. Each of three prospective buyers helped me carefully pack it all away and refused to even discuss a price. "You shouldn't sell everything."
No matter how much you renounce, and you will need to radically let go, find some space on land where you can save these things with real value.
Finding a Boat
When we found our boat it was in pieces, in a yard, with no systems and no rigging. She was perfect.
Boats are not hard to come by along the east coast of the US, especially since the economic downturn of 2008. Most boat owners have primary residences and perhaps a vacation home or two, and when times are lean, a boat is one of the more painless things to put up for sale or forsake outright. All down the coast we have seen boats abandoned at anchor, tied up for good at marinas and left to rot in boatyards.
Don't fall for it. There is no such thing as a free boat. What you save on the low cost of a fixer-upper, you will pay back (and then some) in time and money during the refit. The starting cost of a boat is everything it takes to get it to "sail-away condition".
We started our search based on three things: budget (under 10K), size (under 30ft) and performance (bluewater-capable). Go look at boats in person. If they are on land, you can take a good look at the hull, and if they are in the water you could request a sail trial. Once you know the features and models you really like, you can broaden your search online and know if something is worth traveling for.
When it came down to it, we were choosing between two similar boats, one in sail-away condition near our target budget and the other, priced much less but in pieces. Ultimately, we preferred to do the refit ourselves so that if something malfunctioned while we were underway, we would know the systems completely, having built them ourselves.
This was surely the harder and ultimately more expensive route, but we haven't regretted it yet.
Fixing up Your Boat
Let's get something straight; we are still fixing up our boat. We might always be fixing up our boat. A boat only spends one brief moment as "finished" when it is fresh from the factory and has yet to touch weather or salt water.
We have the benefit of living in an era where do-it-yourself types can use open source information online to train themselves to do almost anything. Between sailing forums and YouTube, you can get step-by-step instructions for most boat jobs. We considered the Internet to be a starting point, and would follow up on these ideas by peppering the more experienced folks around us for more detailed advice in real life.
Again and again, we got the recommendation to monitor the trash bins at boatyards and marinas. Even if you are not on a freegan, this makes sense for the small boat owner because when bigger boats get work done, their scraps are often the perfect size for your small project. We have diverted nice wood, mixing cups, paint trays, half pots of varnish…anything you need really, will someday appear in the waste stream. Eventually in the yard, our neighbors began to know what we were on the lookout for, and would deliver us delicacies such as life vests and fenders.
Avoid marine products and marine stores wherever possible (there goes my West Marine sponsorship). Some products–marine paints come to mind–do not have a civilian substitute, but many boat products are just more expensive for no real reason. For anything you want to incorporate on your boat, from materials to appliances, it must resist rust and corrosion, take up very little space, and draw little or no power. Beyond that, don't worry about if it has a navy blue anchor on the package or not.
Major truck stops–the real ones with showers and "vitamin" packets at the checkout–usually have a wide array of 12v accessories and electronics that could work great on a boat. Yard sales in seafaring towns will typically turn up all the tools and vintage bits you could ever hope for. For everything else, return to the Internet.
The most reassuring piece of advice that we got, out of all the advice that people generously heaped upon us through our initial yard period, came from a fiberglass guru named Nate up in New Bedford, MA. He repeatedly assured us, "Everything on a boat can be fixed." Don't worry if you don't do it perfectly on your first attempt, there is always the next refit.
Pick your Crew
On our crew, we have a Capitan (Fabio, a licensed sailor with thousands of nautical miles logged) and a First Mate* (me, whose first offshore experience was three months ago). Somebody on your crew needs to know how to sail. Not everybody, but definitely somebody.
Somebody on your crew also needs to be awake. Not everybody, but when you are underway, there is a crewmember on watch at all times. For us, being on watch means that you are actively sailing the boat, as we have no fancy stuff like an autopilot. So before I had my sea legs, we needed an additional crewmember to attempt our first offshore passage, to ensure that Fabio had a solid teammate in case I turned green and curled into a ball for three days (which I did).
Plenty of people sail single-handed (solo), and even circumnavigate the globe, all without a First Mate. These folks usually have lots of experience, and have rigged their boat to be sailed by one person, and have autopilot. We have a friend here, Brian, who is planning a solo passage to the Azores and beyond this spring, and his preparations are focused on the level of safety and independence that solo sailing demands. We're taking style notes and will definitely steal some of his ideas.
We have also met plenty of folks with an extended crew that includes pets and small children. On one evening visit to a marina back when we first began boat shopping, we heard a baby's cry wafting around in the wind, and followed it to the open hatch of a small 30-ft boat. Since then we have met larger families living aboard who are quite successfully tackling the responsibilities of parenting while maintaining buoyancy. It can certainly be done! So far, however, our aspirations for expanding our crew are limited to incorporating a small cat named Beta.
* Fabio is actually withholding the official conveyance of my title as First Mate until I clean the bilge with my long ape-like arms. I am procrastinating this job for obvious reasons, but feel as though I have otherwise earned public use of the title.
What about Work?
If it is not completely obvious by now, Fabio and I are not independently wealthy. In fact, we both decided to do this as a way to live more affordably and simply. The original decision to buy a boat under 30ft had to do with reducing the price and scale of everything else involved. Our other decisions about generating and storing electricity, opting for an electric motor, capturing/storing/purifying water are all working toward the goal of having increasingly more independence and even less expense.
Most liveaboards we have met along the way so far are retired, meaning that they are quite a bit wealthier and older than us. Although we sometimes feel a bit out of place, our retired colleagues have consistently expressed their admiration for how we are "going for it" before it was completely comfortable to do so financially. That feedback is always reassuring, but it doesn't put bread on the table!
So we still need to work, to keep bread on the table as well as to keep our brains from going all soft and mushy.
There are three kinds of "traditional" work available to us as liveaboards: telecommuting, seasonal and temporary. What is available to you depends on your experience, your location, the season and your access to technology.
Fabio began sailing and living aboard full time several years ago, and has pursued quite a bit of training. Depending on the season and location, he can find some kind of work delivering or maintaining boats, usually larger international yachts. It is sometimes quite difficult labor, but he can usually find work quickly when he needs to refill the coffers, and it gets him out into the world of boats and boaters.
I have yet to really find my place in the transient workplace, and I am in a moment of having a very open mind. Ideally, I would continue work in my field of training, environmental planning, but short-term or "low residency" work has been hard to come by. I have already transitioned a bit, teaching online science classes through American Museum of Natural History, and offering part-time editing for scientific journals. Essentially, as long as I have some form of regular contact with the Internet, I can do some kind of telecommuting work, but that gets me into mushy brain territory very quickly. It is good to be around other human beings sometimes.
Since we landed in Brunswick, I have applied for a long list of jobs, everything from Private Island Manager (that really exists) to Overnight Shelf-Stocker at the grocery store. As it starts to warm up, the fancy resorts and restaurants will begin hiring, and there are seasonal jobs abundant in those industries. I am taking a free class online about financial markets and day trading. I have found a few outlets (shoutout to Wandrly Magazine!) that have paid for my writing and photographs, and I am developing ideas for the next leg of the trip.
There is, after all, no wrong brainstorming.
Enjoying Life
Fabio and I will be arguing about any number of things, and we will both want to quit and sink the boat, and then we pull up the dock lines, raise a sail and get into our operating dynamic. Suddenly we have smiles on our faces, and there is a dolphin jumping around portside and a pelican dive-bombing for fish starboard.
Just like that, you remember why you have taken all of the risk and renounced all the stuff. Sailing is the whole point of doing all of this, and sailing is enjoying life to the fullest.
Choosing (or not) Places to Visit
For the last three months, people along the way would ask us, "Where are you going?" and the only answer we had was, "South!"
On a sailboat, a lot of your trip planning is constrained by the physical properties of coasts, oceans and weather. Your job as a sailor is to learn as much about these dynamic factors as possible, combine that with your understanding of your boat, and if the probability of safe passage outweighs the ever-present risks, you go.
But you can't just go anywhere you want, right now, on your boat. You can try, but its not totally up to you.
Sometimes you are charging along underway and the winds suddenly die down, leaving you to just bob around out there playing Bananagrams. Other times, the wind picks up and pushes all the water out of the tiny harbor you would like to arrive in, stranding you on a suddenly shallow sandbar. You can't really get too specific with your appointment book when you travel under sail.
This has been interesting for me because sometimes, the conditions just make the decisions for you, and you arrive someplace you didn't plan for, or you are hustled on to your next destination while you are still enjoying the present location. It makes for plenty of serendipity. I can't say I ever wanted to visit Wachapreague, Coinjock, Manteo, Okracoke, Southport, St. Helena or Jekyll Island…but I now know that I want to go back to each of these places.
Now that we are stationary for the time being, we have the new challenge of deciding between going South or North…or staying put!
Difficulties
I am a tall girl, and in the boat I need to crouch, crawl and hover a lot. When I get off the boat, I try to walk and ride bikes, and stretch out as much as possible, but the physicality of living on a boat is a major challenge.
Every once and awhile, I envision waking up at dawn and doing yoga on the deck, but it has been a brutal winter, even at the southern extreme of the polar vortex. So that yoga dream has been continually replaced by huddling up in a sleeping bag with hot tea, the opposite of expansion for the vertebrae.
With the warming weather and our planned improvements to the boat, Fabio and I expect to have more comfort both living and sailing. For future excursions we plan to add an autopilot that can steer for us when we are on a monotonous offshore course, affording us the privilege of moving freely about in space. Remember, everything on a boat can be fixed.
In Conclusion
It has only been a very short time since I stepped off of land and onto this boat, but it feels like a lot has happened. Time has slowed down.
By doing this, I wanted to discover what kind of mettle I had, if I had any survival instinct left, or if I had just sort of become a blobby consumer of goods and services. I have learned that I am actually more of an idiot than I could have ever imagined, that I can be somehow meticulous and lazy at the same time, and can injure my partner with a careless tone of voice. However, I have also found that I have a fair amount of courage and more ability in certain unexpected areas. I am a decent maker of things out of fiberglass–who knew?
Getting here has taken an enormous amount of work and solidarity with Fabio. Even if I am learning how to do a lot of this myself, we would not be where we are now without each other's support and emboldening influence. We have found that we encourage each other's most improbable aspirations, and are supremely nurturing of one another in everything from the pursuit of interesting food to the development of new skills and creative endeavors.
More than anything, the pace and the intention behind traveling by sailboat gives you the time to consider what you really want, where you want to go, and who you want with you along the way. It's been a massive gift.