Interview with Beer Travelers, The Roaming Pint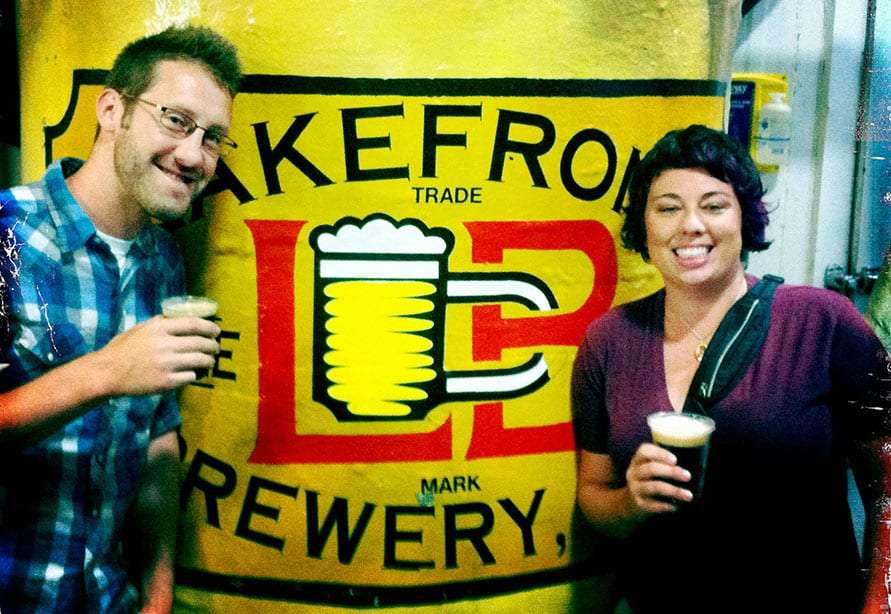 Not everyone thinks "Kansas!" when the conversation turns to traveling the country and looking for good beer.
But then again, not everyone is wandering this nation in an RV named Stanley, every next destination a brewery. If you were Brian Devine and Maria Scarpello, though, that would just be what you called living.
Originally from Lawrence, Kansas, a good sized city about 45 minutes West of Kansas City, the two bought themselves an RV in 2010 and have been in search of the best craft beers these United States have to offer ever since.
I'll admit, I'm one of those who thinks of Kansas as just another massive obstacle in the way of getting back and forth from the Rockies to the Appalachians, so with all the questions I had about their travels, I was particularly interested in a native's view of the state.
"I have a shirt with a 'dictionary' definition of Lawrence that reads: '1. A city in north east Kansas. 2. The greatest place in the history of the world, ever.'", boasts Brian, the male half of this traveling duo. "In short," he continues, "that sums up Lawrence to us.
It's a liberal oasis in a red state. There is a great music and bar scene and the young energy of the college town is contagious."
Praise for Kansas. A desire to seek out exceptional beers. Living full-time on the road. They've already piqued my curiosity beyond most travelers we talk with these days. I ask him their ages, a question some people are hesitant to answer.
"I'm 31 and Maria is 30. We're not sensitive about our ages. It probably helps that we are around 60 somethings and retirees a good amount of the time." Okay, now I'm beginning to relate. Most people who want to travel or see others traveling are missing one key element. It's easy to be young and adventurous. It's easy to love beer. But what Maria and Brian have that separates them from those who are simply dreaming of a life like this, is simple. They put together a plan.
Referring to why they chose to pack it up in Lawrence, a town they were obviously in love with, and make a motion of their life, "It was a combination of factors. All our friends were getting married, buying houses, and having kids. We wanted none of it and saw RVing as great way to get out of our routines and see the country and potentially find a new place to live."
The couple, who've been together for 12 years, have both experienced a ton of overseas travel, but never spent much time tooling around America.
"We got to a point where we had been to more European countries than US states. We figured we owed it to ourselves to explore our own country." So they made a plan to hop into an RV and change their lives altogether. "It gave us an opportunity to meet up with friends and family who have moved away. "
But hitting the road, they didn't have a specific plan. Travel the country for six months or so, see what the Land of the Free had to offer. Certainly not to try and hit as many breweries as possible, using that as a compass to find their next destination. Three years and a few hundred breweries later, they seem to have found their niche.
"When we first hit the road," Brian recalls, "we had spent so much time renovating the RV, selling our stuff, and prepping to leave that we hadn't really researched what we would do." It's kind of natural that, from Kansas, one might head west to the big mountains of Colorado, and that's precisely what they did. As soon as they landed in the state, they decided–as any sane, young couple would do–to hit up a brewery. "Once we were there we had a great time talking to the locals and getting advice on what to do in the city, sites to see, and others breweries to visit.
"It was the ultimate visitor's center and since you can find a a brewery in pretty much every corner of the country it has been very convenient. Now breweries and a few yearly commitments give us a rough outline of where our travels are going but still giving us plenty of room for spontaneity." They've turned great local beers into a way to find themselves a next destination, and the great thing about craft beer is, where they're making it, is usually where the country is at it's best. Think Colorado's Front Range, Oregon's mountains and coast, Asheville, North Carolina. Where nature has yet to be paved over by man and open-mindedness prevails, so do breweries thrive.
"It still is difficult at times deciding what we should do, especially if there is not a brewery or we aren't in the mood to visit one. When everywhere you go is new, sometimes we find the options overwhelming." The couple turns to Yelp when they can't figure out which is what or where is when. "We've never been steered wrong with our method of finding the place with the most reviews and the most stars."
Brian has been into beer for quite some time, and we're not just talking beer pong at high school basement parties. "Lawrence has a great local brewery," referring to Free State Brewing Company, "that also happens to be the first brewery in Kansas since prohibition was repealed. I worked there during my junior year in college and gained a great appreciation for craft beer.
After I got back from studying abroad I started home brewing with a buddy." Not long after, he and Maria joined the Lawrence Home Brewers Guild, which Brian describes as "a great collection of people who love making and sharing beers." The two learned the craft beer lingo and earned an appreciation for the art that is making a great adult beverage.
As a man who's spent up to 25 minutes staring into a beer cooler trying to decide which six pack to pick up for the night, I can appreciate that finding your next beer can be a daunting task. No one wants to open up the first of six nasty skunkers and regret that, having already driven twenty miles into the woods for a campground, you have five more to go if you don't want to waste the sixer. So how do people who do this, you know, as their thing, figure out which beers to try, which breweries to fall into?
"We rely mostly on suggestions from other beer drinkers and the BreweryMap app," referring to, like every facet of life these days, an app built just for folks like themselves. Open it up, it knows where you are, it tells you where the breweries are. "When you are at a brewery," he continues, "the locals are going to tell you about all the other breweries in the area worth visiting. There are some nationally known breweries that we already know about but a lot of the time it's the smaller breweries and brewpubs that we need some local insight on. Especially in large cities where there might be 10+ breweries to choose from."
Combining modern technology with the oldest search engine on the planet, just asking someone. But what happens when you're somewhere like Denver or Portland, and there are literally too many breweries to visit?
"It all depends on our schedule and where it's easy to park. We make a point to visit the major breweries in an area so if there is another brewery near it," a likely scenario in the cities mentioned above, "we'll hit that up as well. If we can get there by bike from our camping spot that helps or if it is easily accessible by public transit." One could imagine how infinitely easier–and safer, more legal–public transportation might be than, say, hauling around an RV through city streets with a couple of IPAs under your belt.
"More often than not," he gets practical, "we are limited by time. If we are in a city for two weeks we might only have a couple days or evenings in which we are free to visit breweries. At that point we have to pick and choose and if we miss a couple we wanted to visit well it gives us a great reason to come back."
Brian is a graphic designer, one of those "perfect for the road" kind of jobs. Maria recently began working for WooThemes, a web design and development company specializing in WordPress themes and plugins, doing customer support. That's helped bring in some additional cash, but also changed up life on the road a little.
As she explains, "When a customer has a question they submit tickets via email or using our ZenDesk Help Desk. The only requirement is that I work 8 hours/day, usually I work ~8-4 or closer to 10 hour days but I have the flexibility to break up my work day as needed to adjust for travel, like visiting friends or breweries." She goes on to emphasize how perfect working for a digital company like WooThemes is for travelers, being able to set your own hours and become accountable for your own income. "They're great in this regard when it comes to our lifestyle!"
Some might think though that having an 8-hour a day job would be a hindrance to traveling, perhaps even exactly the kind of thing one might be trying to avoid when seeking out this life. It is, after all, a permanent vacation. Or so it can seem from an outsiders perspective. Brian feels a bit differently.
"Now that Maria works full-time her work schedule has more of a routine to it which actually makes it easier to plan. Having some constraints makes our list of options a little more manageable." Limitations are, after all, what drives creativity. With infinite possibility comes endless sitting around wondering what to choose. In their case, Maria does most of the planning and Brian does all of the driving. "Typically," he muses, "Maria is able to work while I drive, which works out great when we aren't driving through the mountains!"
"We both started on the maltier side of beers," brews like stouts, browns, and bocks, "and as we have traveled I have definitely gained a greater appreciation for hoppy beers. We both have experimental palettes though and will try anything that sounds interesting. I typically don't like hefeweizens but if the brewery is known for their hefe I'll give it a try. We are getting into the best time of the year being on the West Coast as many breweries will start to release their wet hop IPAs which are just incredible. They pick the hop right off the vine and throw it right into the boil. A wet hop beer tastes very fresh, with typically more citrus notes, they are absolutely fantastic. If you get a chance to seek one of these out straight from the tap, we highly recommend it. Another reason why it is so great to drink from the source."
I ask him if he can drop me a Top Three list.
Hesitantly, he states, "We tried coming up with our top 50 and couldn't even limit it to that!" Yeah, there are a lot of good beers out there these days.
Still, he humors me. "
That said, we do have some that are near and dear to our hearts." He mentions Boulevard Brewing out of Kansas City, California's Lagunitas and New York's Brooklyn Brewery. That's three of the bigger players, but even hitting the limit he needs to go on.
"Free State Brewing," the aforementioned brewery out of Lawrence, Kansas, "Dunedin Brewery," out of Florida, "and Mountain Sun in Boulder, Colorado." It's clearly a tough decision for him, narrowing it down so much. "Best state for breweries," he continues, "would be a three way tie for Colorado, California and Oregon."
Later, he reveals that secretly he'd give Colorado the blue ribbon if he had to, though.
"Excellent beers that we've recently tried and bought to-go," he just can't stop–I guess when you truly love a good beer, it's hard to be faithful to just one, "Napa Valley Brewing Amber Ale, Steinbeer from Anderson Valley Brewing," and rounding out his third top three list, "Old Chico from Sierra Nevada, in cans!"
I probe as to whether or not they might ever consider switching up their game, moving on to touring pig farms or trampoline factories or something.
"Hmm, if the pig farms were handing out free bacon we'd be down! And trampoline factories… that's an interesting one, sounds like fun! Overall though I'd have to say that craft beer seems to be working just fine for our needs. We get to try great new beers and meet awesome people. The craft beer industry is unlike any other for profit industry in America."
Traveling around in a 1999 Class C RV that's big enough to get comfortable but small enough to park in a normal parking lot. Getting around towns and cities by bus and bikes. Making a living by working remotely. Drinking lots of great beverages from all around the nation, these two do seem to have it made.
"Our saying used to be 'The fun runs out when the funds run out', but now that we are sustainable with our income/expense ratio we have no plans to stop. We aren't dead set that we have to keep going and I'm sure a day will come when it isn't fun anymore or another opportunity arrives but I don't see it in the near future…well maybe overseas travel."
They've found a few ways to get creative with income, too.
"I love pocket notebooks and as beer travelers," naturally, "we end up with a lot of six pack carriers from different places. Instead of trashing them or even recycling them we decided to up-cycle them." So they make small notebooks on par with Moleskins or the famous Composition Notebooks, with six pack holsters for covers. "I make all the notebooks by hand," says Brian. "There is a ton of great beer branding and artwork out there; they naturally just look good and are really durable. I always keep one in my back pocket and it takes a long time for them break down."
So they're happy in their travels, have found what makes them tick and managed to turn a six month escape into a three-years-and counting lifestyle. So where do you go from there? The couple have realized that the life they're living just might be one that others are interested as well, so they began a website for likeminded people.
"The Society of Beer Travelers," Brian explains, "will be a community for those who enjoy drinking new beer in new places. Traveling for beer is a great way to discover new places, people, and beers."