Camping at Voyageurs National Park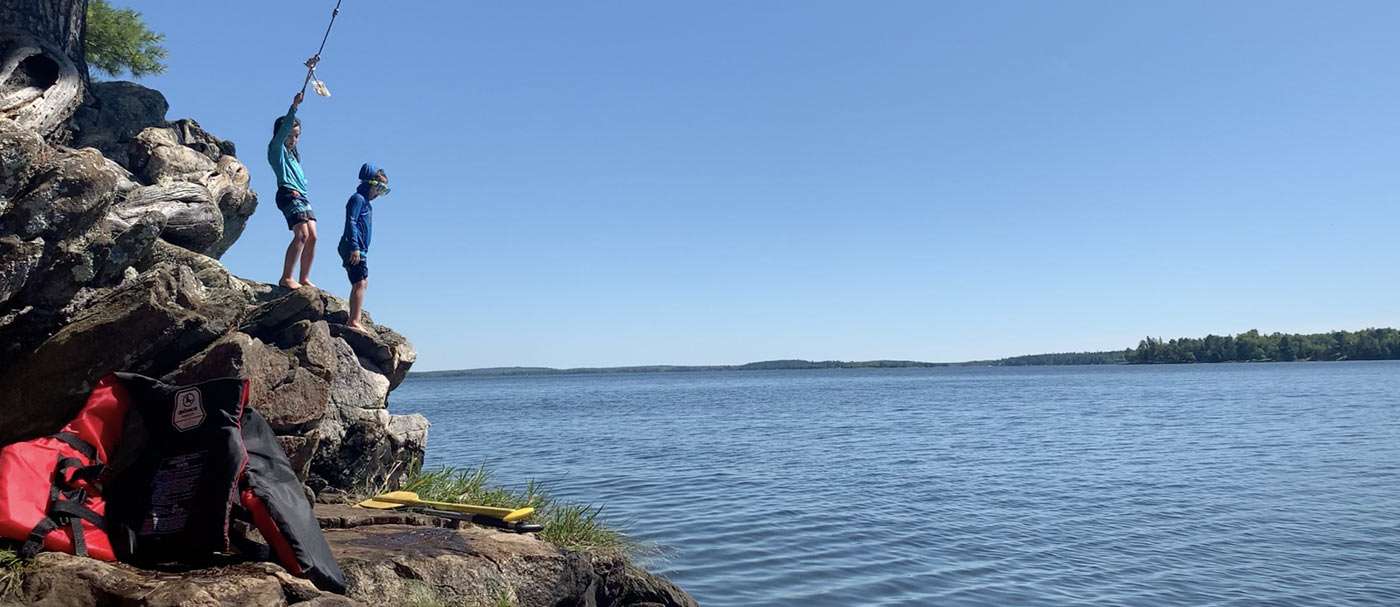 It's a rope swing sunny afternoon. Digging deep in a canoe race where first prize is an island beach all to yourself for the day. The consolation prize is more of the same for every runner-up.
Fishermen or birder, a family day at the beach or happy hour on a waterfront bar's deck with friends after a long day, Voyageurs has something to offer that few other places in this nation have held onto. You won't find a Starbucks–even in the grocery stores–and nobody is using any apps to have the local BBQ / pizza place combo bring food to their door, but a shoreline full of log cabins, hardwood forests galore and wildlife found in few other places across the country are just waiting for your high seas adventure and lazy days on the dock alike.
The Towns
The big town—where you'll find a real grocery store, Super One Foods, liquor stores with more than Bud Light in their selection, and most of the other amenities you may need—goes by the name of International Falls. Yes, it's immediately on the Canadian border. It's also about 40 minutes from Lake Kabategoma, so you may want to stockpile as much as possible if intend to camp at the areas best grounds (see below.)
Otherwise, in the "town" of Kabategoma itself, supplies will mostly be had at small corner store type places. KAB Outdoors and the gas station and Gateway General Store (also a gas station) have a little of everything, from mac n cheese to fishing bait, jugs of milk to jumper cables. It'd be hard to sustain yourself healthily or even perhaps comfortably shopping at these places, so the more you can bring into the area, the better off you'll be. Assuming you'd like to spend your time exploring Voyageurs instead of running to and from International Falls, that is.
The town of Littlefork has a small grocer and hardware store as well, but while the Hardware Hanks is as well stocked as your local ACE would be, don't expect to find locally raised organic halloumi or gluten free raisin crisps or anything like that, either.
If Budweiser, Chef Boyardee and ice cream will sustain you, though, Kabetagoma has everything you need.
Camping at Voyageurs National Park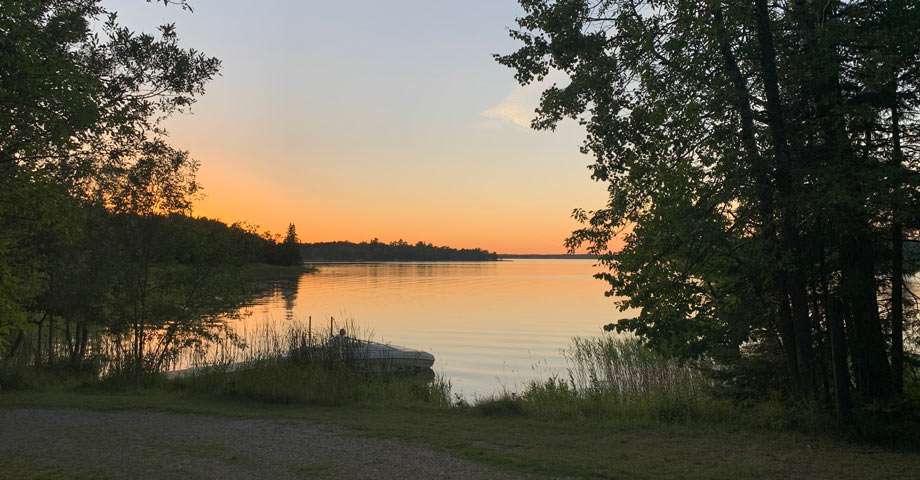 For our tastes, the only place to camp in the area is Wooden Frog Campground, part of the Kabetogama State Forest. For $15 / night you get a picnic table, fire ring and a grill. Many, though not all, sites are secluded from your next door neighbors. A few are waterfront, though trees and grassy marsh—if not a cliff—will grow between your site and the water. There's a boat launch for non-motorized vessels and another larger one just outside of camp for motorboats. That area also has a sandy swimming beach and picnic tables, a grassy knoll and some trees to make a day out of it all. Cell service in the campground is adequate for working and streaming video. Shady sites abound, and can make soaking up the solar as difficult as they are good at providing privacy. The campground allows generators, for whatever that may mean to you. All in all though, it's a lovely, largely quiet little place to use as base camp during your stay. And though the place largely relies on an iron ranger to accept payment, you can write a credit card number on the envelope, which is highly convenient and avoids you needing exact change.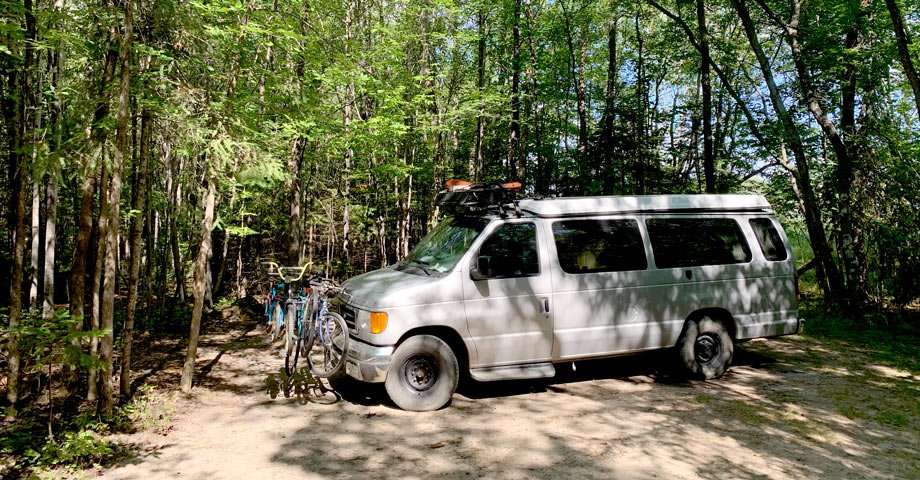 Other options in the area include a city park back in Littlefork, where $10 will get you electric and water hookups in a park with basketball courts, a disc golf course and vault toilets. There are also two RV parks, both claiming to be resorts, near Wooden Frog, as well as other options in International Falls or west of Kabetogama in Orr, MN.
Getting on the Water
A number of resorts offer daily rentals of canoes or kayaks. Some also offer pontoon rentals, but these typically book up well in advance, as summertime tourists book them for weeks or months at a time. If you didn't plan ahead in May, chances are you won't get a motorized vessel. Kabetogama, we were told, is a native word for rough water, but we were apparently lucky in that this wasn't our experience while we were there.
If you have your own boat of any kind, you won't have trouble finding a place to put in. There are two such opportunities right at Wooden Frog Campground, and the Arrowhead Lodge rents canoes within walking distance from many of the campsites.
Once you're on the water, though, in any capacity, the fun really begins. A nest of bald eagles lives on one island. A rope swing dangles from a cliff on another. And opportunities to get out and swim, explore or just bask in the sun abound on nearly all of them. This is the entire point of Voyageurs National Park, to explore by water what you may.
As with any outdoor area, park status or otherwise, please remember to pick up after yourself, leave absolutely nothing behind and maybe take care of the last guy's lack of doing so as well.
Wildlife at Voyageurs National Park
Islands on Lake Kab play host to bald eagle's nests, and during the earlier portions of summer, some of these islands–and their canoe in campsites–are closed while they do their eagle reproduction thing. From a kayak, a beach, or a hammock, taking a skyward look long enough will likely produce the distinctive silhouette of our national bird, white head and tail feathers translucent against a sunny blue sky.
Red fox, in all their myriad of coats–pure black, silver, red and white and even some adorned by cross-shaped patterns–live in Voyageurs. Fox are so prevalent in Minnesota that their numbers persist despite being trapped at a rate of 100,000 per year. Yes, you read that correctly.
Researchers note that when bald eagles were given provisions to help their numbers grow over the last several decades, great blue heron and osprey populations declined. That 100s of thousands of fox can be trapped or hunted every year but still persist shows how our presence as humans affects nature so vastly, and devastatingly so in some cases. That we have the wherewithal to also attempt to save them then, too, but don't realize that even that act is altering nature once more, is both baffling and beautiful. We're never going to give these lands fully back to nature, but to be able to see at least a sliver of what this world looked like before we started molding it all into our preferences is one of the most grand aspects of national parks.
Gray wolves live in Voyageurs as well, one of the few places in the United States they continue to thrive. Despite once numbering in the hundreds of thousands and managing to share a precolonial America with native peoples, they were systematically exterminated–even specifically by the government–and at one point it's likely that no wolves walked any of the Lower 48. What is now Voyageurs National Park, along with Michigan's Upper Peninsula, were the home to the only remaining grey wolves. Guys with guns and a pension to make a bullet-ridden trophy of those that remained persisted, but somehow the wolves managed to outfox even the slyest of rednecks, and just as their numbers increased so came along the concept of the Endangered Species List. While grey wolves now live across the northern Rocky Mountain states, are creeping back into Maine and various other species of wolves now live in the Southeast and Southwest.
Still, should you see a wolf, remembering they're not exactly Scooby Doo and keeping your distance is absolutely essential.