Clearsource RV Water Filter Review
We've been building a campground here at 9000′ in the Colorado Rockies.
One day we may build a small cabin here, but for now it's a place we've parked our Airstream so we can enjoy all four seasons in one place, while still having the best parts of Utah, New Mexico and Colorado all within a few hours' drive. Friends are welcome to come post up in our driveway for as long as they'd like, and we're able to give the kids some opportunities that travel doesn't always afford. It's a temporary situation, but even still, there are some simple conveniences we're interested in having.
Things like water, electric and sewage.
To the water aspect, we dug a well and have an ample supply of the clear stuff. Except, well, it's not really that clear. It's quite silty, actually. So, we sought out a resource to clean it up a bit.
The good folks over at Clearsource helped us out with this, offering us not just the onboard water filter we were looking for, but an external filter as well. The difference is absolutely amazing.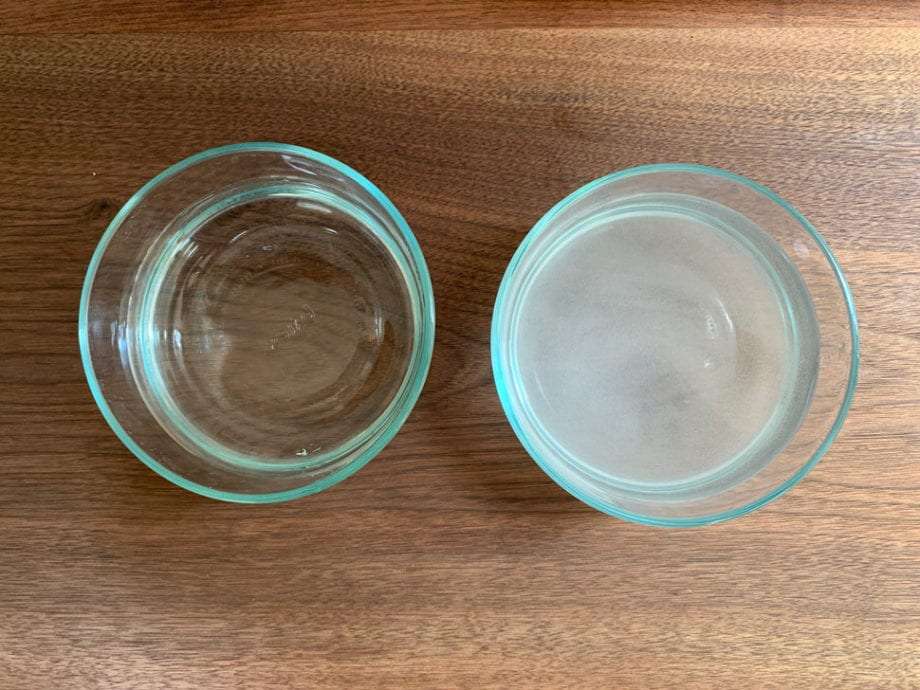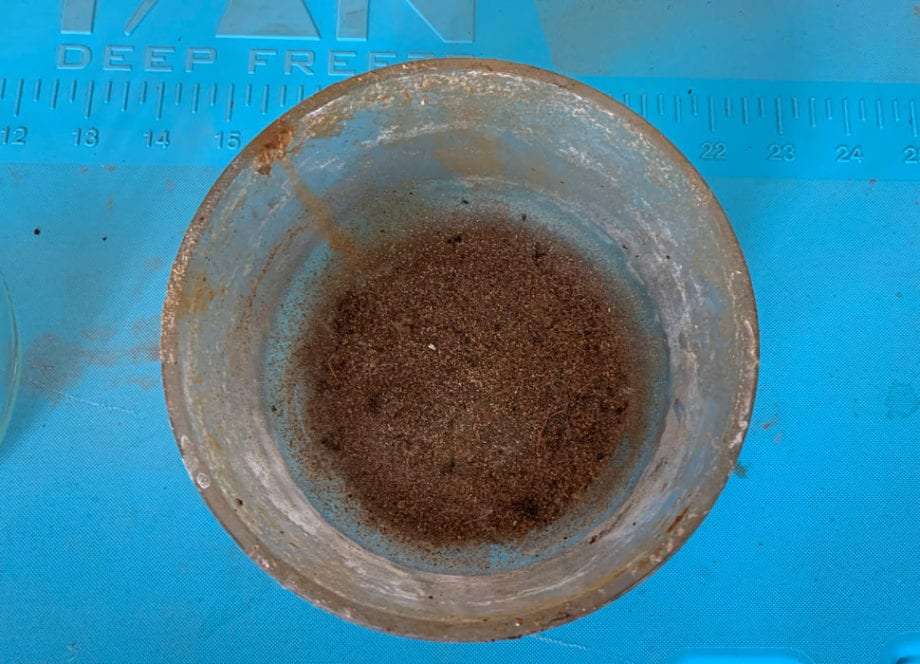 Removing Odors from Water
While the taste and purity of our water for drinking was important, perhaps an even bigger deal was that the water simply stunk. While we could go and buy water to drink, or pitchers with filters to help with this, we couldn't get around taking a shower or washing our hands and having to deal with the odd smell. Clearsource's RV water filters solved this. Our water no longer smells at all. I wasn't sure if a filter would do this or not, so it's a really nice bonus.
Removing Silt
We spent our first winter here without any type of filter at all. Just look at how this affected our heated water hose.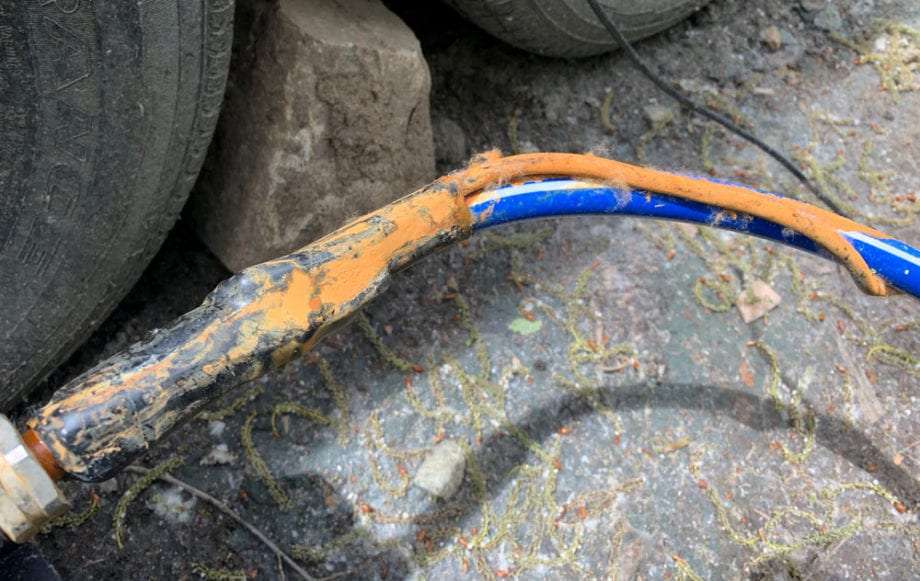 Removing Contaminants
We actually had our water tested by the local health department, and there were no issues with giardia or similar contaminants, so we can't attest to whether or not the water filters we were provided would have helped with this, but since they come with two filters each by default (you can buy a three filter setup, too, though) and one is for removing the heavier stuff like silt (with a 5 micron sediment filter) and the other for catching the small stuff (with a .5 micron carbon block element, as they call it), I don't doubt it would continue proving effective should that have been an issue.
Installation
I'm a fairly handy fella, but I absolutely hate any type of plumbing work. No matter how hard I try, I always seem to have a leak. Yet, I refuse to call an actual plumber, so I suppose I'm a bit of a cliche husband in that regard.
Luckily, the external water filter is absolutely simple to install. All you do is hook a hose up to either end. And even I can hook up hoses. The system then just sits wherever, it's basically self-contained and can simply sit on the ground, on your bumper or wherever else you choose to place it. You could use it when filling up your fresh water tanks, or have it hooked up "permanently" while you're at any given RV park or other source of constant water.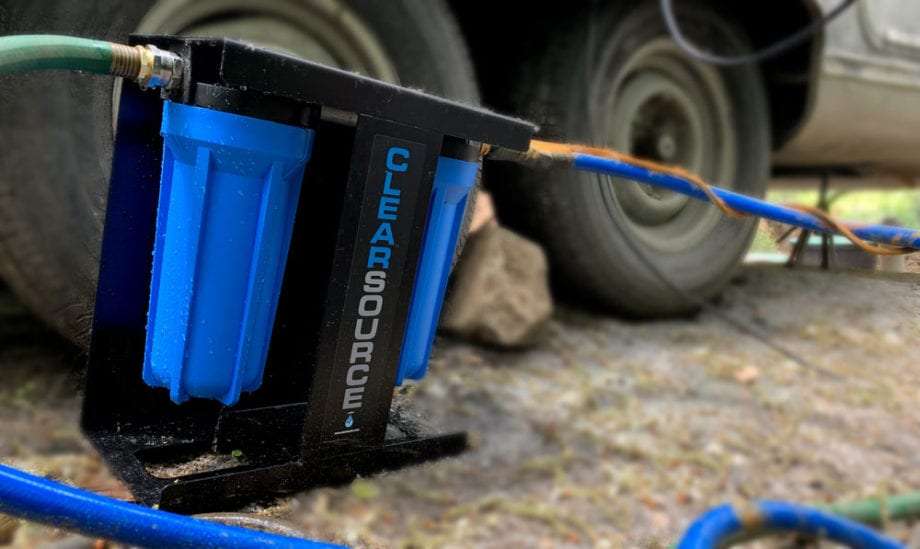 The onboard system was our preference though, because again we will be here throughout the winter and I can't see an easy way to insulate an external system. The onboard system fit beneath our sink, in the cabinet below, and was easy to attach to the wall. I had a few issues connecting the intake and exhaust pieces, which are stainless steel nipples that connect to 1/2″ PEX. If you're comfortable hooking up PEX, you'll have no problem. If you're cursed with an eternal leak by even thinking about plumbing work, you'll get some additional much needed experience.
At the end of the day, I would absolutely recommend either of these systems for anyone living in an RV, especially if you tend to camp in places not particularly known for their quality of water, or fill up your fresh tanks at gas stations before boondocking.
Pricing: What's this all going to cost me?
The initial cost for either system is $275.
The sediment filters (5 microns) cost $11 each and the carbon element (.5 microns) runs $20. Clearsource says for weekenders, these should be replaced every year. For full-timers, every quarter. The cleaner the water going in, the longer they'd last, but in general this means that for under $300 and then $30 per filter change you're drinking, cleaning and showering with clean water.
If you buy a gallon of water every day and you're a full-time RVer, you'll recoup the initial cost in six months (three if you use two gallons a day) and after that, the cost for the filters would come out to 33 cents per day (again, assuming you change them every quarter.)
With a gallon of bottled water running $1.50 or so at the grocery store these days, that 33 cents is a significant savings, especially if you use more than one gallon of bottled water daily. Not to mention, the reduction of all of that plastic waste. In fact, 33 cents is about what grocery stores charge you to fill up your own water jugs…except now, you don't have the hassle and wasted space of going to the store and lugging jugs around.
Seems like a no-brainer to us, especially for RVers who'll have the space to make this all work.