Hitchhiking in Mexico?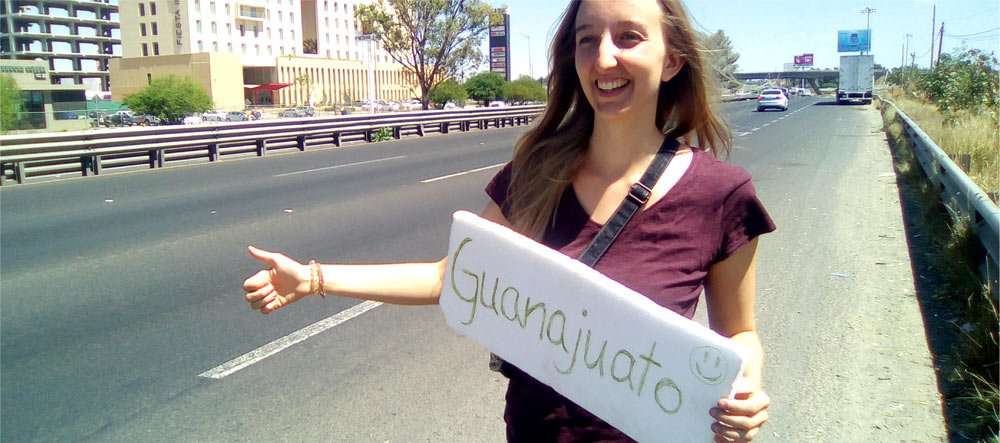 Hitching a ride in Mexico is possible, it's fun, and it's relatively easy.
Mexico is a big country that contains several coexisting cultures, crossed by long highways that connect pueblos, towns, and cities.
Is it safe?
That'll depend on many factors which I will explain, but you have to understand why it's more exciting than buses, cars or airplanes. First, Mexico is not designed for pedestrians. Bicycle travel is extremely hard and insecure. Driving a car is expensive, boring and polluting. Buses are not comfortable, not cheap at all, and limited. Airplanes are too expensive and only good for a long-distance journey.
Which leaves hitchhiking.
How I began hitchhiking across Mexico was following the example of friends. After a lovely day enjoying the thermal waters in San Miguel de Allende, Guanajuato, I left 'Escondido Place' with my friends Luda and Nara, who are cocoa chocolate producers, and their dog Padme. As we were leaving they said, "There's no public transportation, let's use our thumbs."
I was impressed. They told me awesome stories about their experiences and after a couple of minutes, a huge van stopped and offered us a ride, the occupants a couple of artists carrying a theatre set design.
A week later I did it by myself. Pablo, a Chilean backpacker in Guanajuato City advised me, "Smile, stick up your thumb and be happy."
I walked 50 meters beyond a toll booth outside of the city and I began hitchhiking–smiling, with only a bag–in the direction of Leon, a nearby city 70 minutes ahead. I thought it was weird; how could somebody trust a solo guy in a country where supposedly nobody trusts anybody and the narcos are everywhere? Time passed and I waited patiently while cars passed, looking at me performing different expressions. Unexpectedly I saw that a car stopped ahead and I doubted they would offer me a ride, but it reversed. The driver asked where I was going, where I came from, and we left.
We spoke about his job in the governance sector, mine in arts, and also about the Temazcal, a purification ritual performed in a conical stone igloo-like structure. He also told me about his interest in spirituality that he couldn't pursue due to time consumed by jobs, family, and basic necessities.
After that first experience, nothing could stop me. In a very short talk, we had connected incredibly even though we were in random diverse sectors, interests, ages, cultures and backgrounds. I did it again passing to Guadalajara, to Aguascalientes, Tepic, San Blass, Sayulita Beach, and I toured all the Pacific Bay to the south. Then the same trip returning to Mexico City centre.
In terms of money, you don't pay, you save; though you'd always be welcomed to contribute and share as well, if you're able. The comfort varies; you can end up in the back of a truck, or score a nice place in a fresh car. Socially and spiritually it's just great with every new experience. And in terms of security, I say even when I didn't feel entirely confident (with myself) everything was alright, surprising me with the beautiful people I met on the way. But I will admit, that's my experience as a young man. We know it can be different for others. I knew some kids taking rides for long journeys and they had only good stories about their travels. Unfortunately, I also heard from others unpleasant experiences. So we have to be conscious that this method of travel is not 100% secure in any respect.
My only weird experience was traveling with my German friend, Lena, for two weeks through five states, going from Leon to Guanajuato City (opposite way as my first trip), a northern guy gave us a lift, and spent it deviously harassing Lena and making the trip disgusting. Fortunately, the trip was short and we managed it well, keeping ourselves safe.
My best experience was right after the last event. Three guys who were going to Guanajuato for a wedding offered us a lift. It was a hot day, and they offered us a fresh artisanal beer, and later even invited us to the wedding after-party.
The trick is trust. Hitchhikers and drivers both extend trust to each other when a ride is offered and accepted. Smile, be happy, share that with the other person. Hitching a ride is one of the best ways to travel around most of Mexico. People will warn you of the locations where it isn't advised. Remember, they all are our family and we enlarge this family on each encounter.