2019 Gear Review for RVing, Vanlife & Camping
The fact of modern day life is, they just don't make 'em like they used to.
We've gone through so much junk — sometimes fancy, expensive junk, but junk all the same — simply because I believe the old-timers when they say things were just built better, with more pride back in the day. Take our 1976 Airstream or 1978 VW Bus. They're both over 40 years old and still making their way the only way they know how — by not being total junk. How many of the travel trailers on the market today will be around in 2050? How many of these Sprinter vans do you think will still be on the road then?
I tell you all of this simply because I want to be clear: I won't recommend anything that isn't top notch.
Everything in this list is built to last and provides value to those of us who live on the road, whether in an RV or a van, and even some gear that tent campers will find useful. Feel free to take our eleven years of living in vehicles and another decade or so of the occasional tent camping and see if there's something here that you'll find useful. Everything links to somewhere you can buy it, and for the Amazon stuff, yes, we do get a slice of the pie but it doesn't cost you a dime extra.
You can read through all of our descriptions by clicking "Read More" below, or just browse through the pretty pictures below the text here.
Nature Books
Given the amount of time we spend outdoors, we've developed a passion for not just observing nature, but calling it by its proper name. A host of books get stuffed into a backpack and that gets carried around everywhere we go.
We learn the basics of an entire region from the National Audobon Society's Field Guides. These cover entire chunks of the US, giving you an overall picture of everything from the flora and fauna to national parks and the night sky. While it's impossible to cover everything these regions encompass in one book, these guides do an excellent job at summarizing. You'll find dozens of flowers, fungus and shrubs, typically all of the big trees, and animals are broken down into various groups to make them easy to sort through. They're an absolute must if you're just getting into recognizing what types of ecologies different parts of our country contain.
From there, we branch out into two other books, also by the National Audubon Society. Their Field Guide to North American Trees (there is a Western and an Eastern edition), go into much more detail, with photos of the bark, leaves and other identifiers (i.e., flowers or cones, for example) and then have passages in the back helping you pinpoint exactly which type of tree you're looking at even further.
A similar publication, their Field Guide to North American Birds (broken into East and West), is another great resource for further identifying bird species on your travels. Though for our money, nothing beats the Sibley Guide to Birds (and smaller field guides for the East and West), which intelligently uses illustrations of birds instead of actual photos. This is key because even birds of the same species can vary greatly, and illustrations allow for a "typical" example to be shown as opposed to hoping the photographers happen to catch a great glimpse of a standard variation of any given species.
The National Audubon Society has a variety of other guides like these as well, from shells to wildflowers, reptiles & amphibians to the night sky.
Another fun series of books is the Tree Finder series, which are really more small pamphlets than books, but walk you through step by step on how to identify specific trees in various regions. For example, you'll start with what types of leaves it has, and illustrated guides will tell you which page to skip to next so you can continue breaking things down until you've identified the tree you're looking at.
If you're going to study up on birds, the next key piece of equipment is a good set of binoculars. I bought these near Yosemite in 2014 and they have proven efficient, compact and useful ever since. We're rough on our stuff, having three boys and spending most of our time outdoors, so knowing these binoculars haven't suffered from scratches or dirt being permanently lodged into them after all of these years makes me happy to recommend them.
Fiskers Axes
If you enjoy spending your life outside, you may find that an evening campfire is your new favorite TV station. When living in vans, we tend to have a fire every night. It's something to do after the sun goes down, prevents us from spending too much time staring at our phones and the combination of ambience and heat aren't all that shabby either.
Buying wood is annoying, though, especially ever since they apparently raised the price nationally to around $7 per bundle, and the bundles just keep getting smaller and smaller. If you want to make those bundles last even longer, the key is to splitting them up into smaller pieces that will burn more efficiently. You may be able to catch that big fat log on fire, but it's likely to smolder out before burning all the way through or, if you have a large fire, you're just burning too much at once. Make it last, split it up!
Sure, you can source your own wood and if it's legal where you're at, I see no problem doing so, but even then, if you can cut your wood to the size it needs to be, not just the size you found it, you'll make a longer lasting fire with less waste.
That said, axes suck. Like most tools created these days, the goal is low cost and profits, and in no time you'll have the axe head separated from the haft, a.k.a. the handle. These Fiskers axes (technically a hatchet) last forever, as they're some type of fancy, sturdy plastic that would be next to impossible to separate from the blade.
I tend to go on and on about how much time we spend outside, and I do so more to make the point that we use our outdoor gear like most folks use their living room furniture. Since any camping chairs we buy will essentially be our go to seating–the living room being any given patch of nature we've decided to call home that night–we use them every day, several times per day.
Our children climb all over them. They get packed up and stuffed into wherever they can fit. They get dragged around as part of an afternoon game or dropped, stepped on and burned by nearby campfires.
We've bought the junk ones from gas stations (give it a week and it'll be in a dumpster somewhere) and expensive ones from REI (one lasted a month, the other a year)…none have held up as well as these GCI Outdoor Camping chairs. We're going on two years now and they still look nice (a few burn holes, yes, several mud stains, sure, but that's what beer is there for — to even out the mud stains) plus they're completely in tact. They even have straps that allow you to carry them like a backpack (though the company's implication that they are for "backpacking" is a stretch), perfect for when you're visiting your neighboring campers but no one else in the family thought they might want to help carry several chairs around.
We've had this hammock for five years. We don't use it every day, more like once or twice a week, but when it does go up it instantly becomes a playground. For every 30 minutes I've ever spent resting in it, cracking a beer and reading one of the aforementioned nature books, five hours have been spent on it by one to three children swinging like its the latest Six Flags attraction or pulling one another in and out of it, hanging on it as though they've devolved into chimps…you get the picture.
It's a lesser known brand but they're definitely putting the time into making a solid product at a great price.
When our teenager first began sleeping in a tent, we got him a cot. That broke quickly, given that he slept on it, sat on it for much of the day, and his younger brothers used it as a trampoline. Then we bought him another one, this time from REI. That one lasted a solid year, even baking in the Mexico sun most of the time.
However, it was expensive and I don't think a year is the right timeframe for something that cost as much money as it did.
Enter this little cot, which we haven't had for a year yet but which is holding up extremely well. The design is perfect, easy to assemble and it doesn't run the risk of tipping over or falling apart while you're on it. Definitely one of the better purchases we've made recently.
Our 1978 VW Bus still had the original fridge in it when we bought it in 2009, and we left that in there for years. It did the job, though it was definitely a power hog. The insulation and lining of the thing was simply going, but mind you that was over thirty years later!
We looked long and hard for a fridge. We didn't want a top opener, because, well, those are annoying and if I'm going to sleep in a van, work on it non-stop, poop in the woods and generally live the roughin' it lifestyle, I don't also want to have to dig through my fridge to find the milk half-spilled all over the bottom of the thing.
We bought this little AC/DC fridge from Engel and it has been a dream. It is easily powered by our 100 watt solar panel, it's relatively easy to clean (except the vent above the door, which is annoying — bring some Q-tips) and has enough room to keep us from going to the grocery store every single day (though by day 4 we're definitely in need of resupplying…but such is to be expected from something small enough to fit in a van without dominating the entirety of it.)
For tent camping, or even to just have a ton of beverages stay cold, we have absolutely fallen in love with this Coleman Cooler. Though it's black, which everyone says means it should attract the almighty wrath of the sun god, we can fill it with ice today and three days from now our drinks will still be cold. The ice will be largely gone, but the water that ice has Pokemon'ed into is still cold enough to make any IPA taste good enough to toss back.
And it cost around $100. All of these fancy coolers out there today which require a mortgage payment to afford may keep your beverages colder, longer, but in all reality, how often are you away from civilization for an entire week?
Trendy, expensive, the modern day badge of how truly bohemian one can be, the Hydroflask has been adopted by vanlifers the world over as the one and only acceptable water bottle.
We find them to be of exceptional quality, though, and so we're on the bandwagon. They wouldn't sponsor our Instagram account, so we're not famous for drinking liquids just yet, but we still enjoy that we can keep water and ice in them for a long, long time without needing to restock. We actually have a whole system with them, and the Igloo cooler mentioned below.
It's a simple one. Step 1. Go to a gas station and fill up our Hydros, one for each person and one large "growler" just as backup. We instantly have cold water and some ice, typically for free. Step 2. Buy a bag of ice and fill up a second cooler (the Igloo mentioned below) with that.
Days 1 and 2, we typically have enough cold water to last us all, thanks to the growler backup. After that, we just add ice from the second cooler — which otherwise isn't ever opened and just serves as a freezer — which makes any remaining water cold again, and eventually becomes water itself. We can sometimes make it to day four with enough water to make it through the day, and by then we're often ready for a trip to some piece of civilization anyway.
There's no magic here, it's just a well-built cooler that manages to keep ice from melting as quickly as it would if we tossed it on the campsite floor. But we like to have our water cold, and having one of these around allows us to keep a backup stash for when our Hydroflasks run out of the cold stuff. No doubt there are plenty of other little coolers like this that would do the same job, but this one has served us well, is easy to keep closed, and the tap hasn't broken its seal over the years.
As mentioned, we're quite happy with our Coleman cooler.
However, there are times when it's nice to get really lost in the woods. Like, drive up some dirt road that takes 4 hours to finish nice. We've considered buying an expensive cooler that promises to keep ice for thirteen years or they'll promise the return of Jesus Christ as a guarantee, but frankly they're too expensive and we don't have the room to justify having one of these for the occasional deep boondocking outting.
The folks at Titan asked us to try theirs out though, and so we did. It kept its ice for a day longer than the Coleman, on average. It's rated bear-resistant, so that's a nice thing, though honestly in all of these years we've seen far fewer bears than we'd have liked to, so this isn't really a concern for us. The little tray that comes with it was nice to keep some things out of the melting ice. Though Ziploc bags can accomplish this to some degree, in any cooler, it's still a nice little bonus.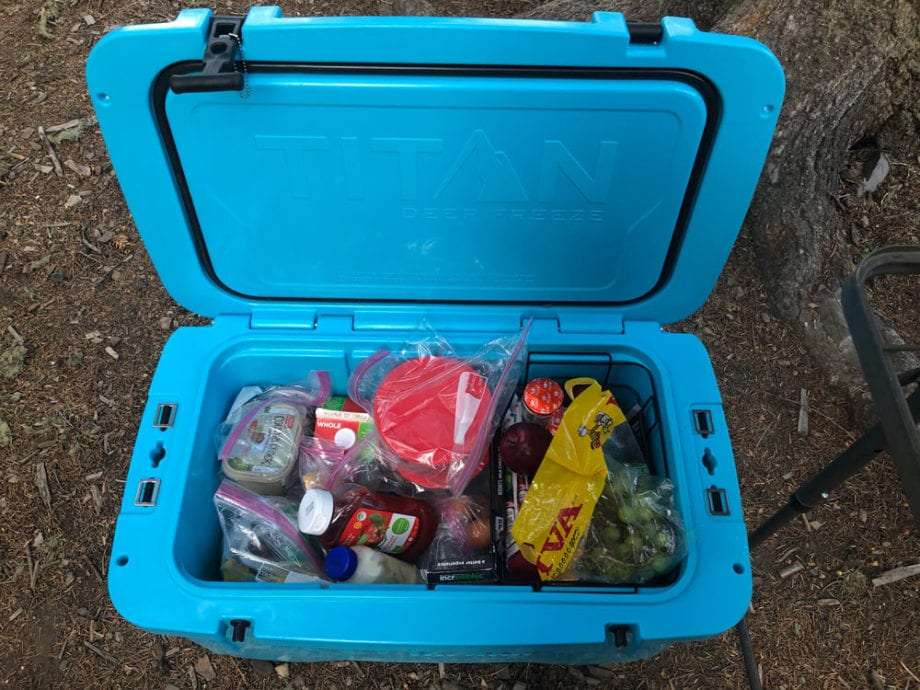 Comparing the price to other expensive coolers, this is where this one wins. All of these coolers have a similar claim — if you fill it up to the top and don't open it for a week, all of that ice will largely be in there, still frozen. But I don't want to carry a bunch of ice somewhere, I want the stuff the ice is intended to keep cold, and I'm surely not interested in waiting seven days to get my second beer. All of this said, this cooler can do all of that stuff too, but costs significantly less and has held up to a month's worth of tent camping, being tossed in and out of the back of our vehicle, jumped on, used as a loveseat, and rolled over once by a dog's leash catching it as his four legs bound for whatever caught his interest.
These were the second set of panels we'd ever purchased, the first being a rigid panel for our VW Bus. We bought these to go on top of our Ford Van when we moved into that, and they killed it. We certainly seek out sunny places, but even during the daily rainstorms we experienced traveling around Colorado for a summer, two of them were more than sufficient to power our iPad Pro (huge energy hog), my MacBook Pro (even bigger power sucker), three phones, a rechargeable light and our 12v fridge.
This little guy has been by our side for years. We love it for a few simple reasons.
It can have something else plugged into it via a USB port (and it charges via USB as well), so you don't have to take up an entire USB outlet to charge it during the day.
It lasts two nights on a full charge. Of course, this isn't, "Turn it on and let it run non-stop for two days," but for occasional use — an hour making dinner at night, an hour reading a book and a couple of times turning it on just to look for something — it's stellar.
You can also control whether one light or both shine, giving you ambient or directional light at will! What will the camping scientists come up with next…?
While the sounds of nature are all the music my ears need, we're often not in places that lend themselves to bird calls or listening for elk to bugle. For example, in Mexico, we spent most of our camping nights in restaurant parking lots. And in both our Ford Van and our VW Bus, the ability to plug your phone in and stream music through the vehicles' stereo systems was not an option. These little speakers are relatively affordable and sound amazing.
The next time some guy is running his generator all night long one site over, you'll be glad to have it.
When we live in a van, we mostly buy our water. We store it in our Hydroflasks and a large Igloo cooler. It's fairly cheap if you buy it from a grocery store, where you're not buying any container, just paying to pour it directly into your own receptacle for around 30 cents per gallon.
Here at the campground we're building though, we're living in our Airstream and have dug our own well, so we have a theoretically infinite supply of water. We also live 30 minutes from a grocery store, so no one wants to do that anymore.
In comes this ClearSource RV Water Filter setup. They offer two different types, and we've tried both. Here's more about our wonderful experience with these products.
When it comes to roadschooling, I lean more heavily on the freely available. We make use of Junior Ranger Programs in the state and national parks, visit historic sites and when it was time to teach my kiddos to read, write and 'rithmetic, I made up the lesson plans myself. But I'm not the primary teacher in our family, and the baby mama does love a workbook or two. These ones appealed to our children the most when they were younger — kindergarten and first grade — but continue for several years afterward. I particularly like the "Rolodex" style flashcards though, as you can ask kids the questions while you're traveling to pull off the double whammy of occupying their time and teaching them something while you're at it.
Dealing with sewage is the least glamorous part of living in an RV. Dealing with a sewage pipe that leaks or spits after sitting in the sun for ages makes it all the more shi–well, disgusting. We must have tried every brand of sewer pipe in our time hooking up our Airstream, and nothing compares to the Rhino. They're well built, have a plethora of options for even the fanciest of setups, but work quite well with just a single, simple pipe, too.
Taking a bike ride around some national forest campground loop has become one of our favorite activities. After a long day of running errands, exploring national parks or visiting a science center, the adults in our company are usually ready to just chill out around the campsite come evening. The kids, however, have infinitely more energy than us, so giving them something to do that doesn't involve asking, "Can we play on the iPad now?" one hundred times is key. We go along for the rides too, checking out other people's setups, meeting the campground host, or just looking at the natural features surrounding the campsites.
But lugging around bikes is a pain. I don't want to lift them on and off the roof. I don't want them blocking the backdoor, so that I can't slip out the back for a midnight pee. We bought this bike rack, attached it to the front of our van, and never looked back. It swings down so I can still get into the engine should I need to, and at the same time acts as one more layer of protection between us and oncoming deer in the headlights.
I've actually been surprisingly pleased with how long our glass French presses have lasted, considering they are made of glass, and the amount of bumping around down rocky roads we've done in our time traveling. We've gone through three or four, and sometimes they didn't break from rattling around, but rather from having the glass "tossed out" when we were trying to empty the coffee grounds from them.
This particular French press though can't get tossed out, as the main container is one piece and made of metal. Talk about a life changer. We haven't noticed any difference in taste, either, so this one will stick around on our shelves for years to come no doubt.
Campendium
Hands down the most intuitive app for finding places to camp that's out there. Full disclosure, I also write for these guys, so may be a bit biased, but I also write for them because I loved the app in the first place. There are all types of filters, but I typically only use two: "show me public lands" (i.e., national forests, BLM, etc.) and then "show me which ones are free." We don't exclusively stay at free locations, but they're easily our favorite, and this app makes it even easier to pinpoint where we should start looking. But if you like full-hookups, state parks, or want to know which places have cell service so you can work or Netflix or whatever, there's a filter for that too.
SkyView
Ever wonder if there were more constellations than just Orion and the Dippers? So did I! Unlike using paper maps of stars, the beauty of this one is that you don't end up shining a light on the map, having your eyes lose their adjustment, and then waiting until they can focus in on the stars again. Just point it to the sky and it'll show you exactly what stars are in your phone's viewport. They even have illustrations (which you can turn off) showing how a constellation is what it refers to — so a big ol' bear for Ursa Major, for example.
Peak Finder App
Download this app, fire it up, and aim it at the mountains. Bam! You'll now know the names of any peak within site, and you can even "fly around" the world looking at mountains far away. I love this app for its simplicity and the fact that I can use it in 30 seconds, get all of the information I want, and be back off of my phone enjoying the views themselves.
Duolingo
We Americans learn nothing outside of our own language. I have found that learning a second language–not like the French I learned in school, which left me able to tell someone my name, ask how they are and order a croissant–opens your mind in a way I've only ever experienced otherwise through the use of LSD. You just begin to see how the construction of language changes from one place to another and it has made me a better writer, world citizen and student all around. I've tried expensive paid programs and many of the other offerings, and nothing is quite as fun as Duolingo. Plus, it's free!