The Best Free BLM Camping in the American West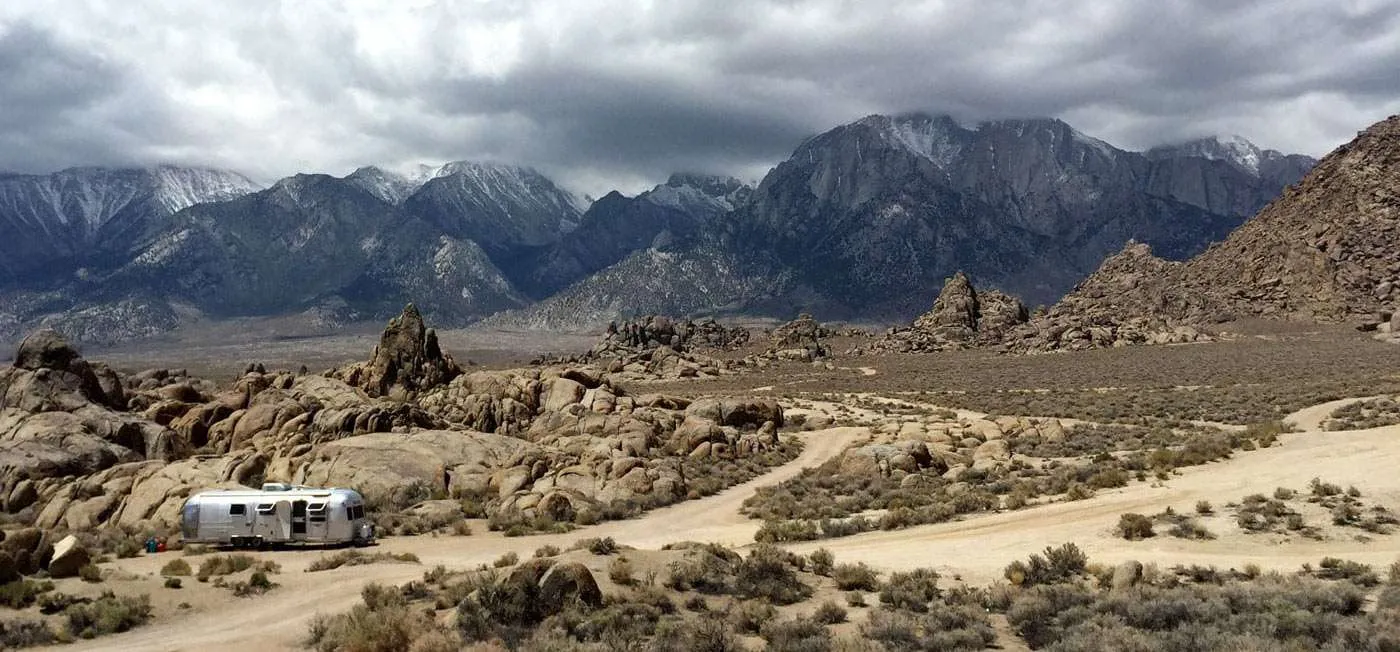 BLM is typically desert. It's resting–often for free–your tent, van or RV on wide open spaces, far from civilization.
Except, when it's not. The Bureau of Land Management traces its roots back to homesteading in the 1800s, when the government realized a need to manage acreage that, essentially, no one else wanted. At a time when the government was giving land away for free–any one over the age of 21, who hadn't fought against the US government, and was willing to farm a hundred acres over five years or so could then have land deeded to them–these were the places no one claimed. It's fitting that the spaces between the free land the given to these homesteaders would continue to remain free for the rest of us to enjoy.
On that note, it's pertinent that we cover some basics on camping on BLM land, as well as national forests and all of the other beautiful natural areas we are so lucky to have at our disposal in this nation. "Leave No Trace" is a concept that states exactly that, leave the places we camp behind as pristine as they were when we arrived, or better, should the people before us not have done so. There are essentially seven principles behind it all. If you're already familiar, you can jump right into the article, or filter things using the links above.
Plan and prepare. It's easier to be one with nature if you know what to expect. Bring bags to pack your trash and toilet paper out with you, and ideally your human waste as well. Understand the mighty power of fire and how to wield it safely before you're miles from cell service and start lighting matches. Comprehend the reasons why it's so important to not just go out carving your name into aspens and trashing our natural world. If you aren't prepared to follow through with all of this, you certainly aren't prepared to start making our wild and beautiful places your playground.
Don't be a trailblazer. Stick to existing roads, dirt or otherwise, and use existing camping spots. Much of the camping on BLM land is not in any type of official campground, with designated spots. Find areas that have already been cleared and used, rather than trying to camp on undisturbed dirt and vegetation. And definitely don't knock down trees or or other plants, even wildflowers and grasses, to make a new spot.
Pack out all of your trash, and others too if you can. Bring extra garbage bags, a sharp stick and some gloves you don't mind getting filthy. Absolutely take everything with you that you brought in, don't leave even beer caps or cigarette butts in campfire rings. If you want to be a real angel, pick up a full black garbage bag's worth of other peoples' trash in places where broken glass, empty bullet shells and Bud Light cans have been left behind by the ignorant.
Leave what you find. Don't collect souvenirs like shells and rocks, pine cones and flowers. Leave them for the next person to see and enjoy, and for nature to take back and regenerate itself into a healthy forest, desert or beach for the next generation.
Understand fire. Always check local fire restrictions and rules. Wildfires are all too common anymore, and while they're a natural part of our world, human interference has altered how they affect the landscape, making them wilder and more destructive than they would be if we'd live with the environment instead of trying to bend it to our will. Campfires should always be contained, you should have ample water and a shovel to put them out, and you should literally be able to place your hand on the burnt coals and hold it there theoretically indefinitely before walking away. I've seen fires start up, with the slightest wind, a day after the camper thought he put them out. Coals can smolder for days and days, starting a fire long after you've left, or in the middle of the night while you're sleeping.
Leave the animals alone. Look at them, from a distance. Use binoculars. Be peaceful and quiet. Don't try and scare them, feed them at all or approach them. They're wild, that's the beauty of wildlife, so leave them that way. Feeding animals often leads to their death, one way or another.
Be quiet. Most people come to nature for peace. Nobody wants to hear you blaring Maroon 5 or Nickelback or whatever you decided to put on the boombox this weekend. No one wants to hear you screaming and hollering at your wife because she got marshmallow goo on your North Face. Keep your distance from others when you can, and respect their right to a harmonious experience with all things green.
We'd also note that while camping on BLM land is free and awesome, there are other restrictions, which can vary, but essentially you have a 14-day limit camping in any one spot. The use of firearms, fireworks or even camp fires may not be allowed. Dirt roads leading to camping areas may cross washes (dry river beds where, should it rain–even hundreds of miles away–you and your rig may be washed away, your life brought to a sudden, choking halt), rocky terrain or other impasses for many vehicles. You can scout ahead by simply walking up any road you're thinking of exploring, to make sure that you can at least turn around if things get sketchy.
Also note that many of the spots listed here are actual campgrounds, even if they are still free. The standard BLM campground typically includes a vault toilet (ie, an outhouse), picnic tables and a fire pit at each site, and real, designated spots, as opposed to dispersed camping, which is more or less undeveloped open spots available for camping. Nearly all of the free camping on BLM land is first come, first served.
Enjoy!
The expanses that are our collective BLM lands are far from the only free places to camp. National forests are also abundant throughout not only the American West, but the United States as a whole. Walmarts, Cabellas, Cracker Barrels and some gas stations are options, too. But for the most prevalent, often most beautiful, it's a great American privilege that we have access to so much open land. Let's all do our part to keep it that way by cleaning up after ourselves.