A Day in the Life of Sunglasses at Folly Beach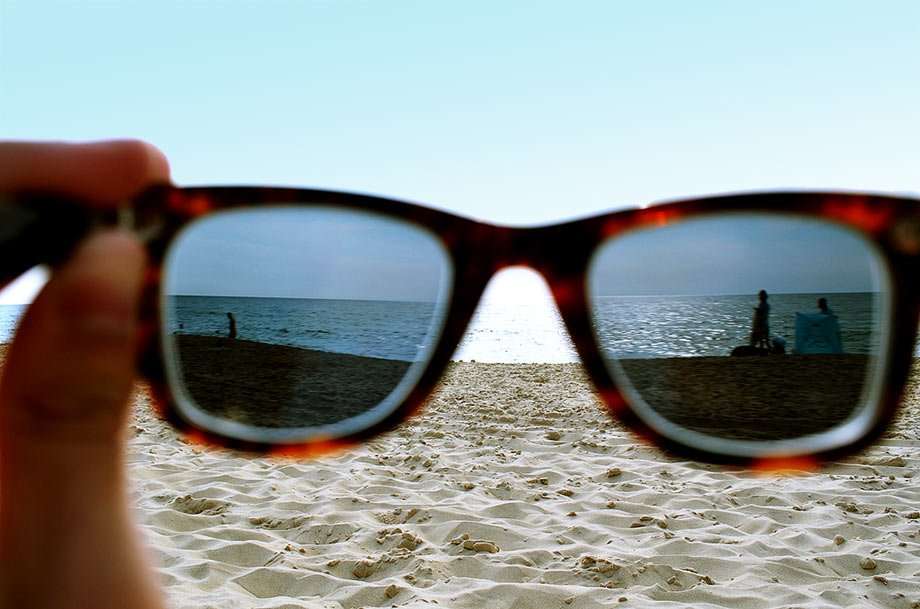 A day in the life of a pair of sunglasses at Folly Beach, South Carolina.
That big sun comes rising up, finished with the Old World and headed to the Americas. My shift begins, I rarely get a day off. Filtering the rays of the only true god in this world, I see everything that goes on within the confines of this tiny vacation destination.
I watch fingers wrap 'round the tall glass, wearing condensation all around its outside, black coffee with a slight swirl of milk working its way all through the morning concoction. A man picks up his guitar and moves to the corner of the patio destined to spend its entire existence hanging from the northeast walls of Black Magic Cafe. His shirt, obviously the love child of a Hawaiian flower print and some Western pearl snaps, pushes against and away from his skin, setting the beat to ensure his covers of Bob Marley and Jimmy Buffet tunes are played in sync with the ocean breeze. I see the cold, caffeinated liquid disappear over a matter of fifteen minutes, just enough time to hear "Waiting in Vain" and "Margaritaville". Then, carried on the nose of a beautiful young woman, I'm down the street before the first chorus of "Pina Colada" can roll over the coffee shop.
The bulk of my work is spent at the beach, a thicker than usual swath of particularly clean, fine sand. Teenage boys toss footballs, unafraid to dive into the sand or especially waves to make the catch. Young women show off as much of their slender curves as they legally can, rewarding that big sun up in the sky for both their own, younger divinity and the heat it's chosen to shed all down over us. A few dogs catch frisbees or snatch sandwiches from strangers. Bloody Marys and umbrella rentals fill in the spaces between the sandcastles and volleyball games that abound.
The pier juts away from it all steadfast. I think to myself how nice it is to at least have nights and rainy days off. That poor pier is working hard holding up fisherman all the day long.
Later this evening I'll be given a nice place to rest on a table outside of Taco Boy. The woman I'm riding, and to whom I'm basically an indentured servant, my only pay the reward these beautiful all day long views, will enjoy drinks and fabulously hand made foods of a variety purely Mexican. She'll laugh and smile with her friends, or some other night her lover, and perhaps some distant future her children. The young and the hip, the old and the tourist, and all of everyone in between will find themselves caught in my reality show for one all the while.
Even after my work is done, much later tonight, I'll hang from the top of her t-shirt and wile away my time a pendulum across her chest, occasionally catching a missed sip or two of some night time cocktail at one of many establishments eager to exchange money for libation and louder-by-the-drink conversation. Her favorite seems to be BLU on the beach, but variety being the spice of life, I'm happy to watch as she kicks it up several notches all about town, so to speak.
Discarded to some hotel end table afterwards, I'll take my rest as it comes, knowing full and well that Folly Beach will still be here tomorrow, as many tomorrows as we'd like in fact.