The
Ultimate Insider's Guide
to Galveston Island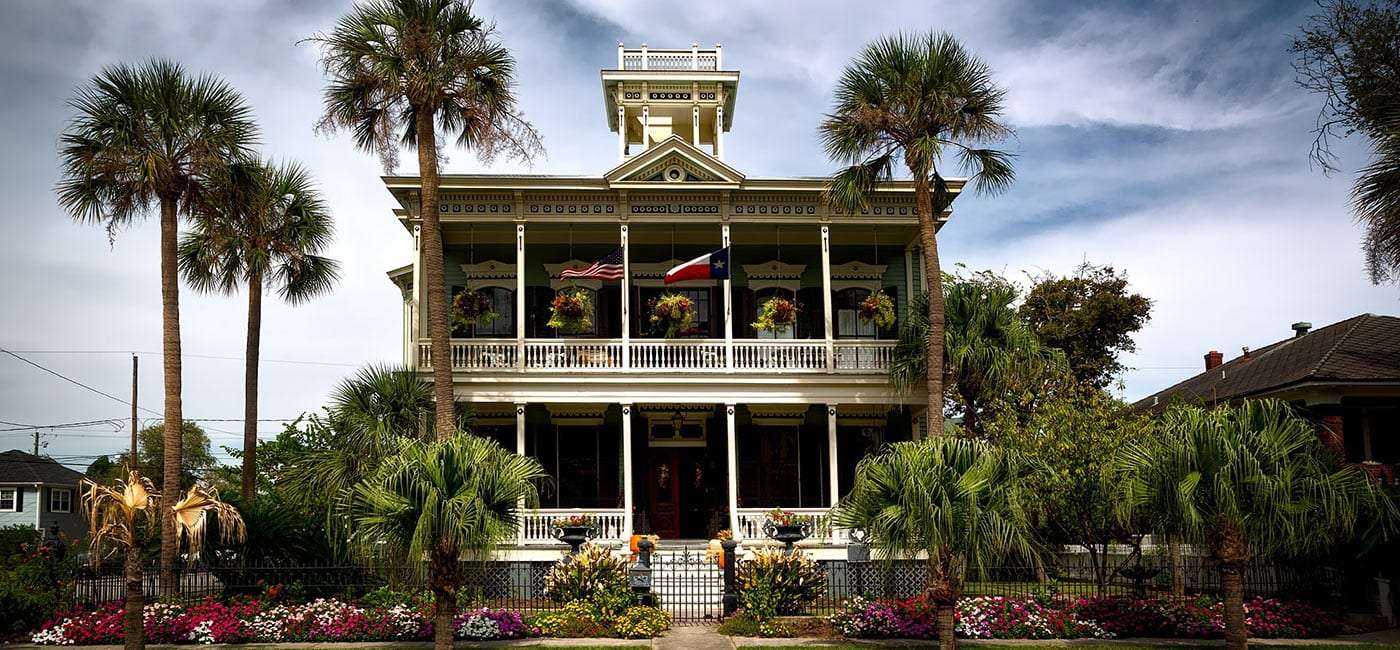 "The most beautiful in the world is, of course, the world itself." – Wallace Stevens
Gallivanting In Galveston
Galveston Island is a treasure of revival with a history that is rich in resilience. Its beauty is exhibited in stunning, multicultural influenced architecture throughout a unique haven of Southern charm and hospitality. From the Historic District of downtown to the Seawall, Galveston offers endless sites to experience. At Stella Mare RV Resort, our local staff loves engaging with visitors to converse about the Island's best kept secrets and not to be missed destinations. Our visitors include families, couples, solo travelers, Texplorers, Winter Texans, glampers, tiny house travelers, RV enthusiasts, and more. In this guide, we offer a collective of insight to inspire a transformative adventure for wanderers that will generate everlasting stories.
Fame
With writer Jennie Ralston's "36 Hours in Galveston, Tex." article in The New York Times in January of 2017 and a record-breaking tourism season after, Galveston is clearly having a moment. According to The Daily News, "Galveston Island welcomed 7 million visitors in 2017, up from 6.5 million in 2016."
Galveston is beginning to land on the spectrum of Hollywood creatives too. On October 19, 2018, "Galveston", a crime thriller created by producer and award-winning writer Nic Pizzolatto ("True Detective") with award-winning and multi-nominated actor Elle Fanning ("Super 8", "Maleficent") starring hit theaters. The film is directed by Melanie Laurent, a Parisian who has director, producer and writer credits on documentaries, feature and short films, in addition to being an award-winning actor ("Inglourious Basterds"). "Galveston" will be Laurent's English-language directing debut. The Hollywood Reporter calls it, "An atmospheric on-the-lam picture…seedy but sincere and strikingly attractive…" Preconceived notions lean towards fandom of "The Virgin Suicides", "Crash", and "Thirteen" cult classics will gravitate toward this film. View the trailer to see what you think here.
T is for Tex-Mex at its best in Galveston. The Island's culinary attracted Travel Channel's "Food Paradise" tv series to take on the feat of the "Big Juan Burrito", at a whopping three pounds from Tortuga Mexican Kitchen (view the menu here). Fun fact, the human brain weighs an estimated three pounds (University of Washington). Food for thought!
"Food Paradise"also visited The Spot for the "Sweet & Spicy Burger", a half pound burger with homemade bacon jam, grated chipotle cheddar, fried jalapeno strips, and shredded lettuce on a fresh baked bun."Food Paradise" knows if it is fried in the South, it is Southern comfort food! The Spot is a savory salute to beachfront dining with unique recipes that will guarantee an unforgettable food venture worth talking about. Start drooling over The Spot's menu here.
Galveston's spooking history has drawn the attention of Travel Channel's "Ghost Stories" and paranormal series "Strange Town" to the Hotel Galvez. Opened June 10, 1911, the beachfront Hotel Galvez (coined the "Queen Of The Gulf") once served as a temporary White House for President Franklin D. Roosevelt. Guests of the hotel have included Dean Martin and Frank Sinatra, but the most unique guest of all is "The Ghost Bride of Room 501" who haunts the premises.
According to a press release from Hotel Galveston, the story of the ghost bride goes like this:
"In the mid-1950s, Audra was engaged to a mariner who sailed in and out of the Port of Galveston. Whenever his ship was due in port, she would leave Room 501, take an elevator to the eighth floor, and climb the narrow ladder that opened into one of four metal-ribbed hexagonal turrets that sit at each corner of the main red-tiled roof. Sheltered from the weather, she would wait inside the turret and watch through an opening for her lover's ship.
Then there was a mighty storm and for days no word of his ship. Finally Audra heard that the ship had gone down and that all hands were lost. She refused to abandon hope, however, and continued to climb to the roof each day, praying for some sign. But no ship was every sighted. In despair, according to legend, she hanged herself in the west turret.
But that was only half of tragedy. A few days after her death, her mariner appeared to the hotel, very much alive and looking forward to a marriage that was never to be."
Senior concierge Jackie Hasan, a Galveston Island native and fourth generation of Galvez Hotel employment said in the press release, "Her spirit is locked inside the hotel–she never crossed over." There have been numerous ghost sightings reported.
Free
What is freedom without free? Exercise your right to saving money while adventuring by visiting one of Galveston's many free indulgences. The Galveston Tree Sculptures are a sight to see and feel. Local artists have turned oak trees damaged by Hurricane Ike into one-of-a-kind art sculptures throughout Galveston. The result is in genuine Galveston reawakening. View the locations of sculptures here.
Find the abandoned railroad cars off of Harborside and you will have unearthed one of Galveston's best photo opportunities. Adventurist Jevin Deml's video documentation presents a "Westworld" scene of exploration of an evocative Galveston relic. The railroad cars remain under the radar of many, making it an optimal destination to capture something truly unique.
Galveston is full of character and will feed the curiosity of any wanderer. The Galveston Seawall Urban Park is a dazzling site that spans over 10 miles and according to The Galveston Park board, is "…The nation's longest continuous sidewalk…" The Seawall hosts a variety of activities on and off the beach with perfect views for sunrise and sunset gazing. Please note, paid parking along Seawall Blvd. is enforced from 10 a.m. to 6 p.m. daily for $1 per hour or $8 per day (location #5004). You can call 866-234-7275 or download the PayByPhone app in advance if you are arriving by a vehicle that requires a parking spot.
Educational & Historic
Galveston is a time capsule of knowledge, taking the stage at local museums and Instagram-worthy destinations. At Pier 21 Theatre, daily showings of "The Great Storm" (approx. 30 minutes), "The Pirate Island of Jean Lafitte" (18 minutes), and "Galveston-Getaway to the Gulf" (56 minutes) are offered at a budget-friendly rate. Bonus points if you are with a child under six because they enter for free! To anyone attending a screening at Pier 21, know that you must arrive at least 15 minutes prior to the start time of the film. The establishment is transparent in being strict on not allowing late entry after the start of the film. With Pier 21's destination amidst shopping and local eateries, showing up early will be a no-brainer. Family dining is available at Willie G's Seafood & Steaks and Olympia Grill, whose motto is "Healthy Food Since 1500 B.C."
Galveston Island State Park, 2,000 acres of Galveston's undeveloped land and Gulf waters with public beach access through the coastal prairie, is the ultimate destination of Galveston. Immerse in wildlife and ocean species or observe some of the 300 recorded bird species in the park for a remarkable event.
If you have an interest in the first inhabitants of the area, explore The Calhoun County Museum's exhibit on the Karankawa Indians. According to the Texas State Historical Association, "The now extinct Karankawa Indians played an important role in the early history of Texas, they inhabited the Gulf Coast of Texas from Galveston Bay down southwestward to Corpus Christi Bay." A visit to the exhibit can help unleash or connect with the inner nomad in all of us.
The 1877 Tall Ship Elissa at the Texas Seaport Museum is a pure Galveston symbol of revival and the perfect monument for you to land your vacation photograph at 100! According to GalvestonHistory.org, "Her height is 99 feet, 9 inches at the main mast and she displaces about 620 tons at her current ballast. But, she is much more than iron, wood and canvas…" She was born in Scotland over 135 years ago and still operates for an annual sail across the Gulf of Mexico. We highly recommend setting your sights on Elissa!
Recognized by the 73rd Texas Legislature since 1993 as "The Official Opera House of Texas" and listed in the National Register of Historic Places, The Grand 1894 Opera House is a must-see. The Grand's narrative involves multiple hurricanes and years of neglect in between, yet it remains intact in all of its glory. This sentiment brings forth the chorus of "Destiny's Child's "Survivor"! The Grand 1894 Opera House is the Galveston destination for performance art and theatrics with year-round entertainment series featuring popular music icons, Latin music and ARToberFEST, an annual fine arts festival hosted by The Grand, and more.
Galveston Eats
No trip to the South is complete without a "meat 'n' three" visit. Leon's World's Finest BBQ lives up to its name. April F. said on her Google review, "5 stars is not enough for this place. The service was just as amazing as the food."
Are you trying hard to please others' appetite? Cajun Greek promises to have "Something for everyone." This local-supplied establishment is dedicated to a farm-to-table mentality. From scallops, ceviche, "Crab Claws" and "Greek Lollipops" to "Boudain Po'Boys", chowder, and salmon fajitas, Cajun Greeks is the spice of life in Galveston. For the kids, Cajun Greek offers a children's portion of fried shrimp or fried catchfish. For the adults, wine and beer selections pair well with a variety of sweet tooth treasures like "Chocolate Suicide", key lime pie, red velvet cheesecake or caramel apple cake.
Voted "Galveston Island's 2017 Restaurant Of The Year", Gypsy Joynt cafe is a modestly priced location for exceptional bar food that ranges from "Mother Pluckin' Hashes" (dressed sweet potato tots with brisket and fixings) to "Sleazy Mac & Cheese" (crawfish, bacon and fresh vegetables). Forewarning, a food commas may ensure from eating here!
The awe-inspiring soul food entrepreneur & Soul 2 Cafe owner Ouida Cook says, "With hard work, you can do it." Genuine Southern soul and hospitality clearly lives here. Soul 2 Cafe elevates spirits and taste buds. Stacey P. from Galveston said in her Yelp review, "Best wings ever and with her special rib sauce I almost died!" How much better can a food review get? Grab a bucket of wings and hit the beach!
At Latin American restaurant Rudy & Paco, a 8oz. flat iron steak awaits! More of a seafood lover? Try their "Ceviche Corinto", Gulf red snapper or "Anderson Crab Meat Pasta." Looking for more of a classic Tex-Mex spot with an iconic Galveston touch? Head downtown to the Historic District to The Original Mexican Cafe. This establishment was voted "Best Mexican Food" in 2012, 2013, 2014, 2015 and 2017 and "Best Margaritas" in 2012. Happy hour specials are offered daily. For drivers, private parking is available next to the restaurant in addition to street parking.
Looking to slam some Gulf oysters? Try the Island flavors of Black Pearl Oyster Bar's "Oysters Rockafeller" (spinach cream cheese), "Oysters Haelen" (crab meat, cheddar and bacon) or "Oysters Diablo" (diablo sauce, shrimp and cheddar) to fit in like a real local.
LA King's Confectionery's old fashioned taffy, candies, popcorn, espresso, coffee, ice cream, sodas, and more is a perfect stop to stock up on souvenirs, send goodies to loved ones or get your instant snack on. If you are looking for a baked goods destination, Shykatz has you covered. Brittany B. from Covington, LA said in her Yelp review, "Strawberry cake was one of the best I have ever had, truly don't let this gem pass you by!" With biscuits and gravy, the breakfast Smuggler burrito, burgers, and a variety of hot or cold sandwiches, Skykatz is one of Galveston's best brunch spots.
Coffee Connoisseurs, Decaf Drinkers & Tea Time
For a local Mom & Pop experience with coffee roasted by the owners themselves, visit Galveston Coffee Roasters. The walls inside are adorned with coffee themed art and affordable bags of coffee stock the shelves with flavors ranging from "G-Town House Blend" to "Hawaiian Hazelnut". We love getting our caffeine fix here!
MOD Coffeehouse is located in the historic Post Office District of downtown Galveston. Their beautifully landscaped outdoor patio features live music performances on Friday and Saturday (weather permitting). MOD's Honey Bee Latte and espresso brownies showcase why they are the winner of Galveston.com's "Best Small Business 2017 Silver Award."
Spice & Tea Galveston is for food lovers, chefs, tea enthusiasts, and more. With over 140 spices, 75 hand-mixed blends, sugars, salts, teas, gifts and accessories, this store will provide something special to sip on or take home.
Wine Tasting Travelers & Craft Beer Brews
Luis Fernando Olaverri said, "Wine is the only artwork you can drink." With that in mind, The Wine Next Door's 60 sparkling, white, red, and dessert wine varieties are sure to connect you with your senses. Voted as "Galveston's Best Wine Selection in 2017", The Wine Next Door rotates wine varieties regularly with happy hour Tuesday through Friday that features $2 off wine by the glass from 4 p.m. to 7 p.m. Need to develop your wine tasting skills? Check out this wine tasting infographic for insight to aromas and tastes to perfect your palate.
The annual Galveston Island Wine Festival offers an eclectic mix of wine and fun. The festival also hosts The Champagne 5K for runners who are interested in an Island morning trek with a champagne toast at the finish line.
Looking for local brewed beer? Check out Galveston's largest, "Best Little Brewfest In Texas" and "Great American Beer Festival" award-winning brewery, Galveston Island Brewing. According to their website, free brewery tours are available every Saturday at 1 p.m. (no reservations required). The local brewery Tap Room is open seven days a week with monthly events, including free yoga and live music. We suggest trying out a beer flight to expand your craft beer wisdom.
Tours
Galveston offers a long list of tour options. Since we are big fans of the TV show "Flipper" and overall animal lovers, we suggest BayWatch Dolphin Tours. Subject to weather and seasons, they are open seven days a week year-round with hourly boat departures from 10 a.m. to 5 p.m. Adult tickets cost $10, children 2-12 tickets are $5, infants and pets ride free!
Express your eco-friendliness and environmental love with a SegCity Segway Tour. SegCity offers Seawall, sunset, haunted, historical, and more options of guided tours. "The Galveston Rat Pack Tour" showcases famous mob and prohibition-era locations that expose the fascinating underbelly of Galveston's organized crime culture. According to SegCity's website, "Galveston was the blueprint of modern day Las Vegas" with a wild past tied to Frank Sinatra, Al Capone, and more.
For an aerial view of Galveston, Galveston Helicopters will get you lifted! Tours are quite affordable with a starting price point of $35 per person. For the ultimate romantic tour, check out the Sunset Tour on a 30 minute ride over the beach as the sun goes down. The Sunset Tour high on our list of Galveston engagement locations and a stunning site nonetheless.
Treat Yourself & Detach From Stress
Self-care is always the number one priority, no matter the occasion. Touch of Thai Massage offers a medicinal experience through range of specialty massages, from Thai, Swedish, and deep tissue to reflexology, cranial, prenatal, and couples. With a price tag of $40 for 30 minutes and $120 for 120 minutes, it is an affordable MUST! Do not just take our word for it, Sharon B. from Oakton, VA said in her Yelp review, "…I had one of the best massages I've ever had."
Pedicures and waxing are an essential luxury item of self-care for beach hangs. We suggest Bell Nails & Spa to meet your needs. Beth V. of Port Arthur, TX said in her Yelp review, "This place gave me the best pedicure I've ever had."
For the royal treatment, we suggest a visit to Therapeutic Healthworks. Their services include a "Holistic Herbal Facial" to hydrate sunkissed skin, a river stone massage, "Chamomile Marine Body Masque", "Green Tea Mint Seal Salt Glow", and more. Ladies, you will leave feeling like a mermaid. Men, we suggest trying out the "Gentlemen's Facial" to show off your best skin and showcase your inner merman.
Feeling stressed? Practicing meditation, reading a book, writing in a journal or talking to a trusted listener can help. De-stress havens are all around Galveston! Country dancing lives at the BuckShot Saloon with karaoke, a mechanical bull, and more. The Havana Alley Cigar Shop & Lounge provides a taste of Cuba and relaxation while the Float Pool & Patio Bar offers views of the Texas Gulf Coast with a swim up, poolside bar in the summer months. On Friday & Saturday, a free Tipsy Shuttle is available. Be sure to read about it beforehand! For taco lovers, come through on Tuesdays for $2 tacos and $2 margaritas from 4 p.m. to 8 p.m.
Sometimes adults need a time out too. Tiki drinks are a tasty way to unwind with at Daiquiri Time Out. Christopher Z. from Madison, WI said in his Yelp review, "The most serious cocktails on the Island, hands down-without being pretentious." The hand-crafted cocktails are Island supreme from mixologists that uphold Daiquiri Time Out's motto; "There is always time for a daiquiri. Even in the face of catastrophic emergency, in which life or death actually depend on immediate action, there is still…. always time for a daiquiri."
Sports & Family Fun
President Gerald R. Ford said, "I know I am getting better at golf because I am hitting fewer spectators." Good for groups and kids, Tin Cup's Caddyshack is golf driving range destination for all ages with a full service bar. Baskets of golf balls range from $5 to $15, and fans on Facebook gave this establishment 4.9 out of 5 rating. We approve!
Looking to rent sporting gear for your adventures? K6 Island Sports is our favorite spot for kayak, bicycle, surf/paddle/boogie/skim board and golf cart rentals. The Fishing Pro Shop offers a selection of gear for the fan of fishing. This place is a one-stop shop!
People of the South love their sports! To ensure you are tuned into your regular sports programming, check out the Press Box. With outside seating and a fireplace, this is a cozy locale to watch the game with a chili cheeseburger or Rueben sandwich in hand. Justin D. from Gatesville, TX said in his Yelp review, "Best on the whole island, great food, top notch service, good adult beverages, family friendly, sports screens in every corner."
For an adrenaline rush, try out the Jet Boat Thrill Ride that features 25 minutes of 360 spins and accelerated speeds. Children must be a minimum of four years old to ride and you should expect to get wet! You will be asked to remove your shoes to board the boat barefoot, so be sure to plan accordingly.
Though we worship the sun in Galveston, we do experience spells of rainy weather.
There is no better way to spend time indoors than at Moody Garden's 3D & Movie Theater. The theatre hosts the largest screen in Texas, and as you know, "Everything is bigger in Texas." This is a can't-go-wrong spot to spend time in Galveston. Moody Garden's attractions also include an aquarium and a zip line, among other options. The family will be entertained for hours here!
Another great way to escape the rain is to enjoy Schlitterbahn's Indoor Waterpark. The park's slides, surf rides, and heated pool are in a climate controlled environment for a comfortable ambience. View the operating schedule here.
Where To Stay
Galveston offers an array of locations to call your home away from home, ranging from Airbnb rentals and campgrounds to condos, Bed & Breakfasts, and more. The San Luis Resort's beachfront location holds a powerful allure. We love The Cove's award-winning Tropical Pool and private cabanas that provide an upscale atmosphere. The resort features boutiques for shopping, an onsite spa, special events, and more, in addition to acting as a wedding venue with a ballroom that will host up to 500 guests. The San Luis Resort will provide an elite experience that shows off its 4-star rating.
If you are looking for a one-of-a-kind experience, please visit us at Stella Mare RV Resort. Don't own an RV? No problem. You can utilize RV Share or Outdoorsy RV rental platforms or you can stay in one of our two beach houses that sleep up to 14 guests nested on 25 acres of lush scenery with Gulf seascape. Our resort's first-class amenities provide a serene escape with ocean views from the onsite swimming pool, hot tub and observation deck. Our newly opened Splash Pad is the largest splash park of all Galveston Island RV resorts. We have an onsite 1.5 acre private lake, a multi-activity playground, Galveston Island's only pet-friendly RV Resort with an off-leash dog park, free premium wi-fi, and much more. We provide the comfort of home for RV travelers, vacation rental seekers, tiny house travelers, glampers, staycationers, adventurists, Winter Texans and more. We are dedicated to providing comfort for diverse needs and handicap accommodations. Our listed rates are all inclusive with all-access to amenities and no hidden fees. Read more about what we have to offer here and see for yourself why we are #1 in "Specialty Lodging In Galveston" on TripAdvisor.