Full-time Living on a Small Sailboat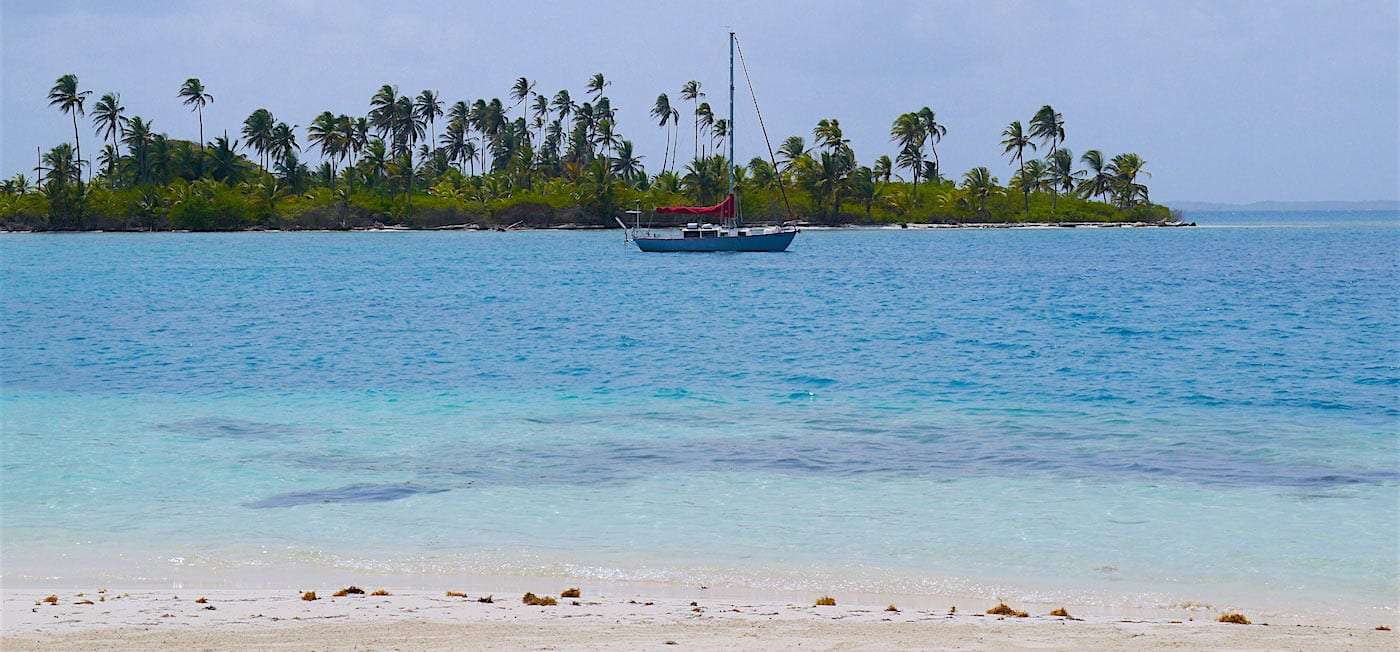 Hi, my name is Fabio and at a certain moment in my life I decided that I wanted to sail and live on a small sailboat.
It was an unconscious decision, that revealed itself in stages. The first step was living aboard a sailing yacht in a group of remote islands of Venezuela, without even knowing how to sail.
I had very little responsibility in that decision, beside of course saying the word yes to a long time friend. Since that experiment a lot happened, and my approach to sailing became more intentional and careful.
Five years ago I decided it was time to get my own sailboat and sail around visiting places at my own pace and following a route made of personal decisions and unexpected events. My wife Kate and a cat named Beta participated in the project as well.
Kate started to tell the story of her first experience with life aboard on Wandr'ly, until our trip stopped abruptly because of low funds and the need to improve our boat further to follow our desire of long ocean voyaging. I thought about picking up the story from there and tell what happened in the last two years, when the idea of living on the ocean finally took a concrete shape.
Kate and I are a couple of mixed nationality. I am originally from Italy and Kate is American, and we met by chance during traveling. All this may have started with a joke, when I was with Kate in the San Blas islands, looking at the Gunas gliding by on their sailing canoes.
"What if we get one of those dugout canoes, we grab some food, water and two hammocks, and sail along the coast all the way down to Colombia?" I asked her, not knowing exactly why I was inviting a total stranger into my own dream.
She was very receptive to the proposal and we started to dream about it. Luckily, smartphones and internet were already available at the time, so even if Kate had to go back to the her life in NYC we could continue brainstorming, in a process that we baptized Squidding Around.
Dreams sometimes set the direction, but then the path unravels in its own mysterious way, and so we ended up buying an old fiberglass boat from the 60s in New England, instead of jumping on a dugout canoe carved from a single mahogany tree in the Panamanian rainforest.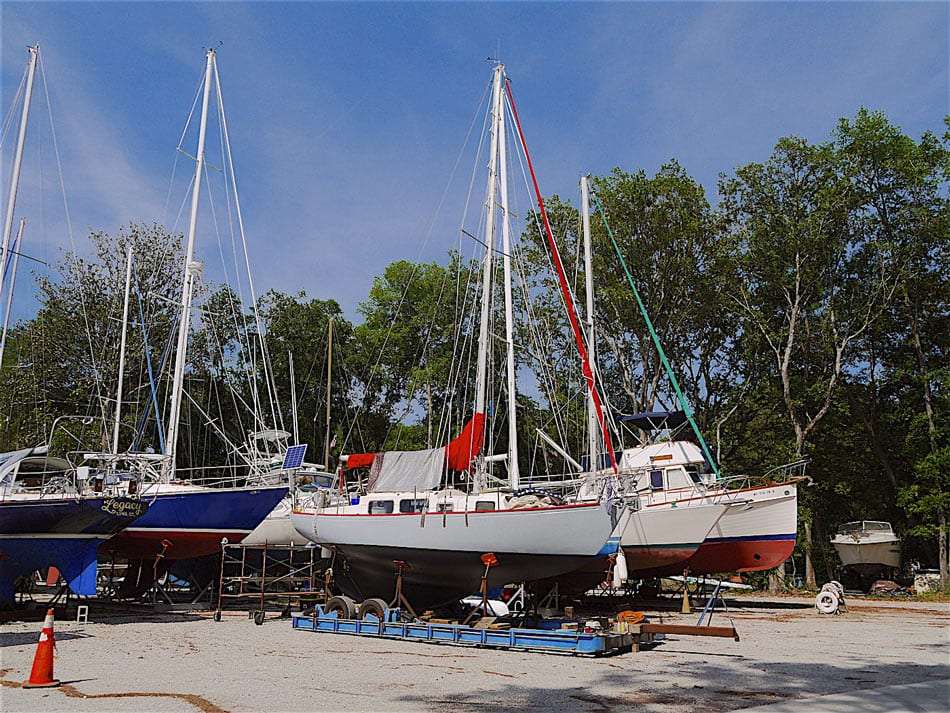 That didn't mean this new dream was any easier. With basically no adult supervision we started pouring sweat and finances into the restoration of our "classic", and also get ourselves ready for a life on the ocean, removing social and institutional entanglements as well as figuring out a way to pay for the ride.
This decision to set on this journey came from a mix of natural curiosity, love for wild habitats and the desire to embrace a new lifestyle. In a way, a small sailboat is the perfect instrument to reach distant and scarcely populated shores and sustain life on limited resources.
This thin fiberglass skin that surrounds me while I am writing these words is strong enough to keep us safe and comfortable in a wide range of conditions, yet thin enough to make nature our very next door neighbor.
Sailing a small boat with electric propulsion like Tranquility makes planning a very esoteric form of art. Weather and local conditions like tides and current set the rules on top of which we have to draw our course and make decisions. Electric propulsion does not afford the luxury of bailing out of difficult situations, or to charge on to get to destination on time.
In this shifting scenario made of capes to round, inlets to pass and berths to seek in order to escape polar vortex storms, we were trying to reach southern Florida and seek employment while living in our new floating home. Once we hit the coast of Georgia plans changed again.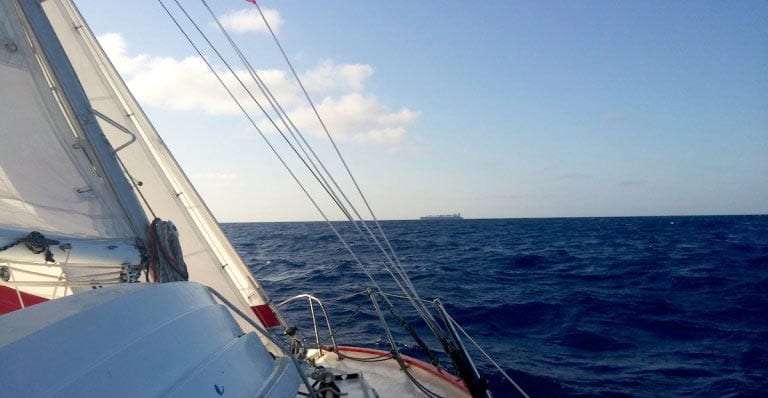 The first surprise happened once we landed in Jekyll Island, GA, the once secretive retreat of robber barons. Here back in 1910 a small group of leading financiers created the Federal Reserve. Even though there is still a toll booth that control the access to the island on the causeway, the place is far less exclusive than it used to be, as the robber barons are gone.
In the small marina where we tied up after days at anchor we received the visit of James Baldwin, the small boat guru of Atoms Voyages.
James and I corresponded since I started researching how to retrofit a small sailboat on the internet. He was following our ping on the satellite tracker and once he located us in Jekyll Island he showed up with grapefruit from his garden and homemade oat biscuits.
As often happens out of cruisers' solidarity, he drove us on a tour of Brunswick for shopping, showing us to the facility he built in his backyard where he helps cruisers customize their sailboats.
He cared to show us how cruiser friendly this area could be for a couple who is looking for a not so cold place to spend the winter. On the way back to Tranquility, he finally offered me a job: he had a lot of work and he was looking for help in his shop.
It was an interesting proposal. In Florida I had no job waiting for me, and we were always worried by the difficulties that local authorities create to people who live at anchor. Docking in Florida is also very expensive.
We parted ways saying that we would consider the offer while exploring the wild Cumberland Island and the spectral town of St. Marys. There in the winter fog of the Low Country we took the decision that would change our trajectory in an unexpected but interesting way. I accepted James' offer and sailed back to Brunswick-St.Simons.
The second big surprises happened few months later. It was one very hot day in August when Kate and I actually got married in Woodbine, a rural town better known for its Crawfish Festival and for a lively bar and restaurant, Captain Stan's Smokehouse, run by a retired fashion model.
After the act in front of the judge, where I stumbled in an Italian accented version of the word "cherish", we treated our only three friends that were with us to Stan's excellent BBQ, and Stan treated us with "redneck champagne" sparkling wine served in a baked beans can repurposed as an ice bucket.
It was the end of the trip. Kate had soon found a job in her field, and shortly after we moved ashore, finding a cozy spot with a great woman named Susan, owner of the popular downtown bar & grill Tipsy MacSway's, and her animals. We came back to the comforts of TV, refrigeration, bathtubs, a backyard, and town gossip. Kate summoned her old Subaru from NYC taking the cat Beta down with her. In less than six months we moved back to the laces of life on land.
On top of working jobs to save for our cruising kitty and to improve the boat further for long term voyaging, with our innocent act of love we also became hostage of the US immigration system and its bureaucracy. I had to wait in a sort of purgatory, unable to leave the country as we planned and at the mercy of somebody else's decisions.
We waited patiently for the green light, while complying with the requests of the agency, but at a certain moment even if the process was not completed, we decided it was time to sail away. We would confine our sailing to the territorial waters of the United States not to enrage the bureaucrats, because we could not wait any further in realizing this dream.
It was hard to transition once again from life on land and living aboard, but we were determined to do it.
This is the story of those last two years of full time traveling and part time working, living aboard and sailing our old Columbia 29 on the East Coast of the US and down the Caribbean to Panama. We are now taking another long break and exploring this beautiful Central American country, while getting ready to resume voyaging with a very ambitious route.
LEAVING THE FAMED MARSHES OF GLYNN – JUNE 2016
I had never visited the coast of Georgia before, and to my surprise I discovered that many people who live in the States don't even know that Georgia has a coast. This may explain why it is so well preserved compared to many other places on the East Coast, definitely overdeveloped by a nature lover's point of view.
Snowbirds is the label attached to the big population of mostly retired folks who migrate on a North/South route on the East Coast of the US aboard their vessels. I think this label is also popular among RVers who do the same on land.
Snowbirds use the Intracoastal Waterway also known as ICW, a series of channels and inland waters that run along the East Coast from Southern Florida all the way to the New York/Hudson area. Picture it as Route 66 for boats on the East Coast.
On the ICW, cruisers often skip Georgia in their routes because of winding channels, frequent shoaling, far away refueling stops, 9 foot tide ranges and fierce currents judged as annoyances, that justifies a cut offshore, from Florida straight to South Carolina.
If they only took the time to visit this beautiful place, it is totally worth the effort!
Georgia has big estuaries that create an extended marsh around the barrier provided by coastal islands. The action of the tides and offshore storms shift constantly sand and mud, creating a rich habitat that harbors a great deal of flora and fauna.
Marsh grass swaying over mud flats, sand dunes and meadows, giant oaks draped by Spanish moss and maritime forests support the life of many animals, from big birds like owls, osprey, storks, herons, to the occasional alligator, manatee, and dolphin scanning the inland waters to feast on the local staple, wild shrimp.
Then there are the ecological anomalies–like the wild horses in Cumberland Island–that attracted Kate's interest in this area. There I also had my first encounter with an armadillo, an animal unknown to us in Europe.
There are multiple options for anchoring in the tidal creeks, even though the places to go ashore are limited. The tide leaves behind soft mud and the few landing points are either private or with limited access. Kate and I explored the area at large, especially because it's a perfect place to mess around on the dinghy (and forage for oysters at low tide!)
For how much we loved this place and all the generous friends who welcomed us with open arms making us feel like locals, the time to leave finally arrived.
It took a long Battlestar Galactica marathon from our computers to recover from a May of hard work in the boatyard. With the anchor sunk deeply in the mud, we swung for days at every change in the tide on the creek in front of the boat yard in St. Mary's, consuming episode after episode, cooking meals and mostly lying down.
There are very few situation in my life that compare with the moments when I take refuge in my own little boat. As the pioneer yacht designer L. Francis Herreshoft once stated:
"The cabin of a small yacht is truly a wonderful thing; not only will it shelter you from a tempest, but from the other troubles in life, it is a safe retreat."
We had done it. It was somehow hard to believe the quantity of work we pulled off in that hot dusty place, lying between a notorious brownfield site and the submarine base of Kingsland, in the middle of the marshes. But as we experienced in the past, hard work is rewarded by a functioning boat and periods of relax.
As we consumed episode after episode, we slowly emerged from our double bunk/table, the multi-use surface where we sleep, eat and work. Florida's border was just at arm's length to the South, but we instead planned to move North.
The first stop was again Brunswick, after we passed the beloved shores of Cumberland Island, its magic marshes, the shoal creek of Jekyll Island to land finally at Frederica Yacht Club, for last provisioning and goodbyes to friends.
We got there in time to taste of the first tropical storm of the season, Colin, which we rode at anchor tucked in a creek. As we learned from past experiences the marshes are a very safe spot during bad weather, as they are able to dampen the effects of big waves.
After we were all clear and ready to go it was time for the first rookie mistake of the trip. We left in the afternoon, with the idea of using the last hours of daylight to get well offshore before turning NE and started to climb the east coast.
Unfortunately my planning didn't go well. We faced stronger than expected SE Winds that with the outgoing tide, transformed the narrow and shoal channel into mayhem. During a couple of tacks we rip our headsail at the height of the clew, while tacking in the canal in a severe choppy sea. We quickly furled the damaged sail and continued with staysail and mainsail. It was just an hour after departure and we were already in trouble.
We managed to turn around and sail back to the anchorage. It was the the wisest decision but definitely heartbreaking. We felt demoralized for this further delay in the departure, and the damage of the sail was a bad omen.
Our truly incredible network of friends once again saved the day. Back at anchor we looked for help from our kind friend Bill, a solo cruisers on a 28′ Pearson Triton, very similar to the Columbia 29.
Bill is a jack of all trades having worked in the past as helicopter engineer before taking care of the equipment of the scientific laboratories of a university in New York. He fixed the jib in a heartbeat using his powerful sewing machine and his sailmaking skills and we were ready to go once again.
SUMMER MIGRATION
The electric propulsion installed on Tranquility prevented us from traveling through the ICW for long stretches. The battery powered DC motor propels the boat for about 10 miles before recharging is necessary.
The range can be extended a little by hooking up our portable gas generator that runs the battery charger. Even in this case our progress is slow and uninteresting, especially because the generator strapped on our lazarette runs loudly and even talking becomes difficult.
Sailing is always the best option. Tranquility moves faster when powered by the wind and we can leave the tiller to the cares of the self steering gear, which works with the combined action of the wind and the water to keep the boat on course. Leaving the protection of the narrow waterways and heading to the open sea becomes necessary to really take advantage of sailing.
This limitations draw the lines of our route during this northern migration, with short and longer jumps offshore catching favorable weather windows between moments of rest in protected anchorages.
Sailing offshore allows us to keep moving at night, and this extends our range considerably. When we sail non-stop for multiple days and the weather is not too cold, the watch schedule is set every 4 hours.
The watch-keeper takes charge of navigation duties (making sure the boat stays on course), keeps a proper lookout for hazards and changes in weather, and updates the Ship's Log.
The other crew member lays in the bunk, trying to rest but ready to be summoned in case of an "all hands on deck" situation, or "condition one" as we like to call it.
Following the watch rotation strictly enhances safety during passages, and we try to follow it religiously unless emergencies arise or when it's time to make landfall.
During that summer migration we had many encounters with severe weather. Violent thunderstorms that can pack winds up to 60 knots are a common event in Spring/Summer along the East Coast. They originate inland and can travel up to sixty miles offshore.
Fortunately thunderstorms can be spotted from afar and they are usually announced by Severe Weather Warnings from the NOAA Weather channel on the VHF radio. The furious beeping from our VHF unit became a familiar sound that would keep us on our toes.
When one of those frightening microcells is on us we have to run for our foul weather gear, quickly reduce sails, shut down the companionway and steer clear from every obstacle. In seconds, a wall of wind hits us delivering blinding rain, a spiderweb of lightning and occasional hail for up to 30 minutes. Then it's all calm again.
This was the general scenario during the five weeks that it took us to cover the distance between Brunswick and Fairhaven. We were finally voyaging, with the idea to get as far North as we could, but also enjoying a relaxed pace, because it was our time and we could do exactly what we liked, or at least what was possible.
Charleston was the first stop after Brunswick, this time we enjoyed anchoring just off Sullivan Island, where we found a secret and creative anchorage and we rowed ashore.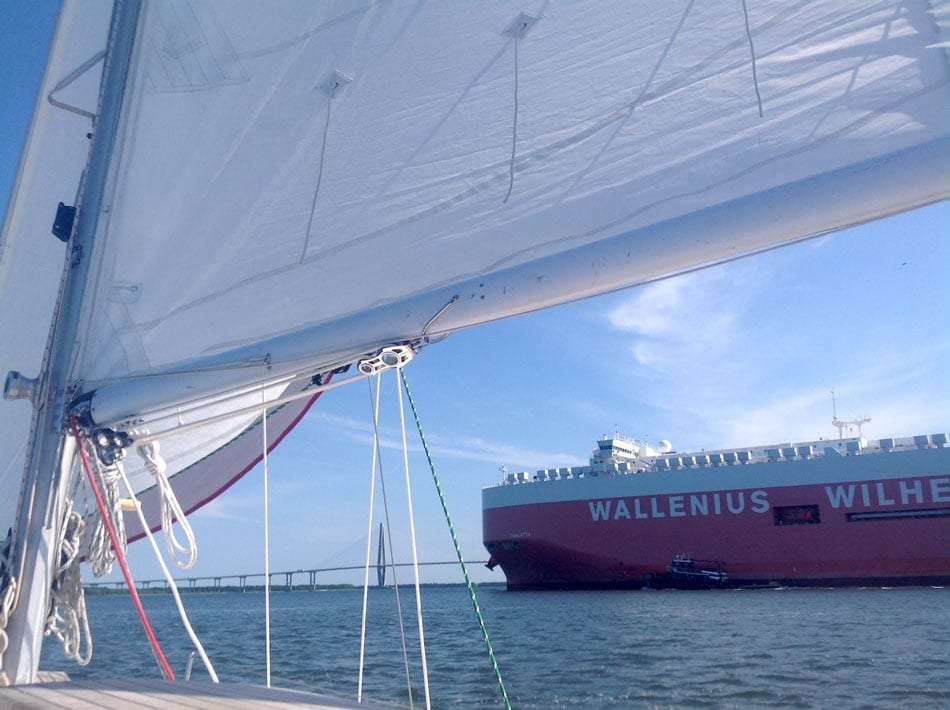 This cute laid back vacation island has an infamous past: Sullivan Island was the main port where african slaves were brought into the New World.
The only reminder left of this traumatic past is a little section of Fort Moultry Museum and a bench overlooking the marshes where the Toni Morrison Society place a "bench by the road". As the commemorative plaque reveals "nearly half of all African Americans have ancestors who passed through Sullivan's Island".
Our pilgrimage on Sullivan Island included a visit to Edgar A. Poe's library, but soon we headed out again and for about two days we sailed in light winds before taking a little rest into Little River inlet, right at the border between the Carolinas, after discovering a potentially good anchorage on the lee shore of Waites Island.
Cruising life had already deformed our sense of time. We forgot that 4th of July weekend was underway. The memory came back when a sudden crowd of any imaginable craft started roaming the inlet generating continuous wakes. Disturbed by the arrogant powerboaters out there to achieve their definition of fun, we continued to Southport, NC, in the Cape Fear River.
Our stay in Southport in the winter of 2013 was pleasant despite the bleak and cold weather. We found a pretty spot in the free town docks and the company of fellow late snowbirds. Unfortunately, summer time is another story, and we were welcomed by expensive dockage and fully crowded anchorages and public docks. Who could imagine that?
Luckily the "Provisions & Co.", a bar and restaurant right on the waterfront, granted us permission to stay overnight at their complementary dock with the promise to leave the next morning.
We enjoyed the downtown crowd and a nice meal at the bar overlooking the boat. Expecting an early departure we went to bed as soon as we got free from many curious customers who came to the boat asking any kind of questions.
After the Cape Fear River, the desolate and wild spaces which gifted us of many stunning views and encounters turned into a monotonous sequence of private waterfront properties with docks.
Traffic increased and peaked with an anarchic 4th of July powerboat parade. A curious and oversized fella at the helm of a center console saluted me with "Happy 4th, Bro" wielding a beer. We were on the "other side".
Anchoring for a few days in Wrightsville Beach became necessary to let the craziness of the 4th dissipate, and as usual to wait for good weather for the next offshore leg. The town had good facilities for boaters, including a public dinghy dock, and free showers at the beach.
The next stop was Lookout Bight, a strategically positioned anchorage inside the protection of the Cape Lookout. Provisioning beforehand in Wrightsville Beach was fundamental, as our destination was a National Park with no shopping facilities.
The arrival as night was thrilling. Trusting the Navionics digital chart we used for Navigation we kept a course that promised plenty of water under our keel. It was a lie. Right when we heard the sound of breaking waves and realized we could be in trouble, the keel of Tranquility hit the bottom. It was a sandy bottom judging from the sound. The boat bumped onto a sand bank, and I turned immediately to port where we found deeper waters, re-adjusting our position to the blinking red buoy.
We had approached the entrance with a too tight angle and the Navionics Charts had assured we were in no danger. It was a lucky way to demonstrate how chart plotters are not the solution to navigation problems.
Had we listened more carefully to the sound of the sea or took a wider, more conservative angle of approach and we could have avoided that. It was a lucky and painless lesson for the future.
Lookout was a highlight. It takes a boat to reach this isolated sea shore, and a part of the busy weekends when visitors come from the close-by towns of Beaufort and Morehead City, it is a solitary quiet paradise. Finally, we enjoyed swimming, hiking the dunes in July's scorching heat and walked all around visiting the park facilities, the light house and the now abandoned Coast Guard Station that used to watch over the infamous shoals of the area.
During these hikes, we talked a lot about business plans, life plans, travel plans a big collection of our imaginary world had been discussed, analyzed and then dismissed or saved for. We thought about possible uses of shells, writing ideas, business ideas.
We sat almost a week in the anchorage in Lookout Bind, waiting for the perfect weather to head offshore again.
When the time finally came we rounded Cape Hatteras in a completely flat ocean, with all sails deployed to catch the light following winds and the gulf stream pushing us north. A completely flat Tranquility moved at five knots on course, in one of the most relaxing sails I remember.
The infamous Cape, known as the "Graveyard of the Atlantic" could have a pleasant and friendly face, and we were happy to meet that instead of the angry and violent doppelgänger.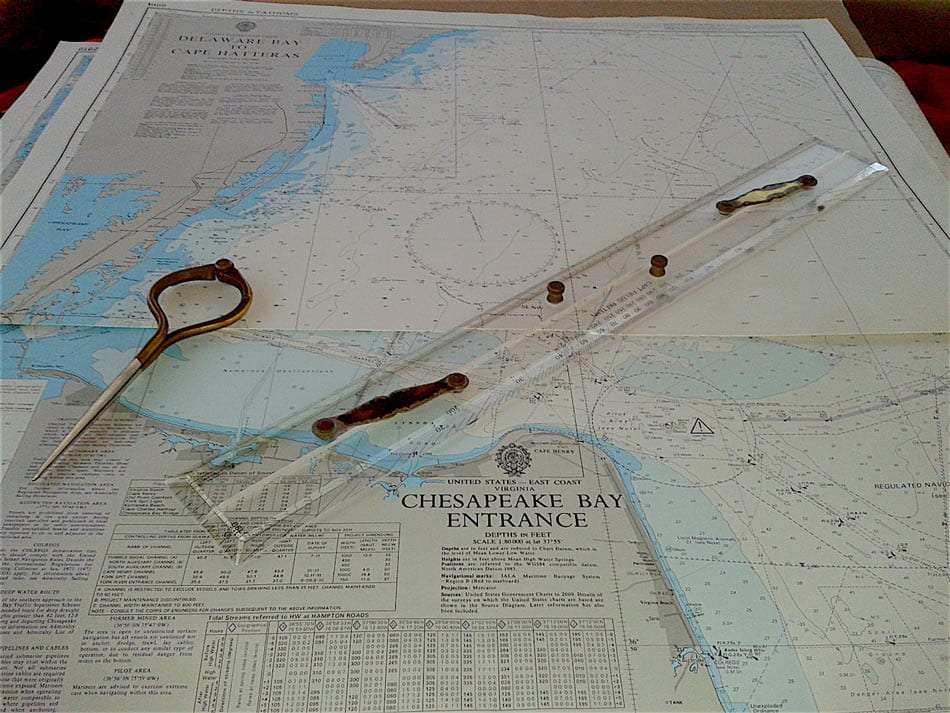 With good weather conditions we crossed in front of the mouth of Chesapeake Bay, with the bow of Tranquility pointing finally North and we wanted to keep that happening for the longest possible time.
Ocean City, MD was next and its easy inlet and presence of an affordable marina and shopping facilities were all conjuring to stop. I remember looking at the charts and asking Kate "How is Ocean City?". She replied that she spent a few summers there when she was a child. "It's a crazy place you must see."
After three weeks at anchor we needed to replenish our fresh water supply and restock our pantry. With some 300 miles to get to New England it was one of our last chances to stock up, especially because we were hoping to sail non stop to skip New York harbor and make landfall somewhere in the Block Island area.
We hit the hot/cooler line when we reached the port of refuge in Cape Henlopen in Delaware. Finally at night the temperature cooled down enough and blankets came out of storage.
Winds were not quite helpful for a few days so we stayed in the protection of the bay, ready to jump out any time the weather looked good. To kill time we visited the town of Lewes and the surroundings. It was my first time in Delaware, everything looked nice and tidy, but after all I wasn't much impressed.
When the weather window arrived we crossed the Delaware Bay on a straight line to Block Island, in the company of frequent warnings from the National Weather Service. Further up in the trip, even if we were sailing almost 40 miles offshore from Long Island, the microcells and thunderstorms hit us twice in one night, bringing the usual strong wind gusts and torrential rain, but the "squall drill" was already deeply engraved in our brains and we took it as a routine.
Approaching Block Island, a big lull in the winds slowed us down. We calculated we had enough daylight time to make it to Fairhaven, MA, but the big puffy nylon sail had to come out to help us make some slow progress to destination.
More than two years after the maiden voyage, Tranquility was back at the beginning.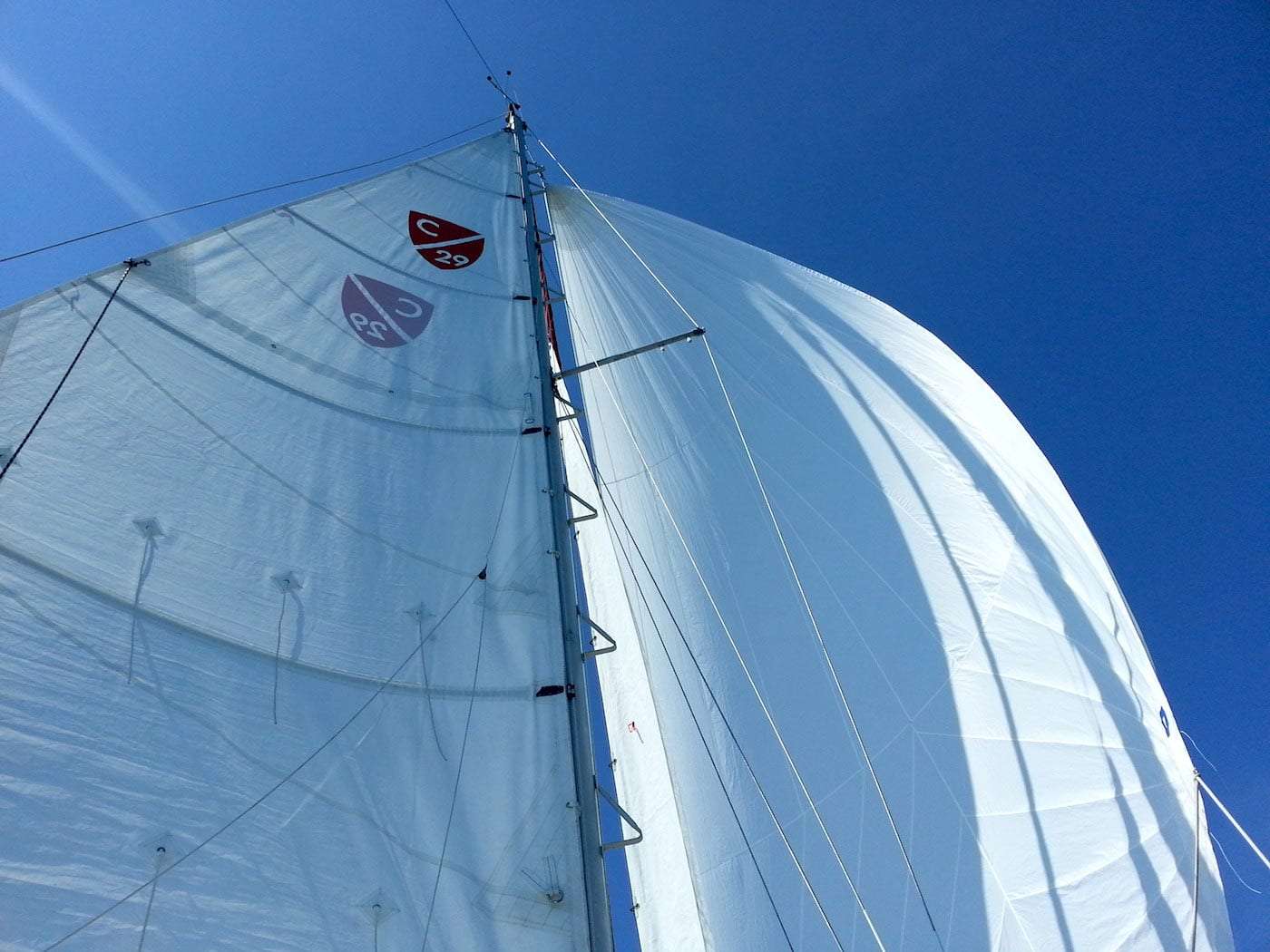 CRUISING IN NEW ENGLAND – AUGUST TO OCTOBER 2016
There are different type of cruisers out there.
Some are more goal oriented, put their intended destinations in a neat schedule and then charge on completing the list.
Others have a clear final destination but then move on a more relaxed pace, and play by the ear along the route.
Some others follow an erratical journey with a vague aim and become easily entangled in local communities, to the point that it takes a big effort to build enough escape velocity and depart again.
Kate and I belong to this last type.
We like sailing long passages, but we enjoy exploring places for long stretches of time, letting chance and our attitude lead us. There is nothing more dangerous in living the cruising lifestyle than hanging out just with cruisers.
I've always felt more drawn to relate with locals when I visit a new place. The perpetual motion of our life afloat introduced us to a galaxy of different people. Some of them became friends, trustworthy points of reference and patrons. Soon we received invitations for house sittings, pet sittings or we became the recipients of pure acts of generosity.
We either look very desperate living on our tiny 29 footer, or people really like us. Maybe both.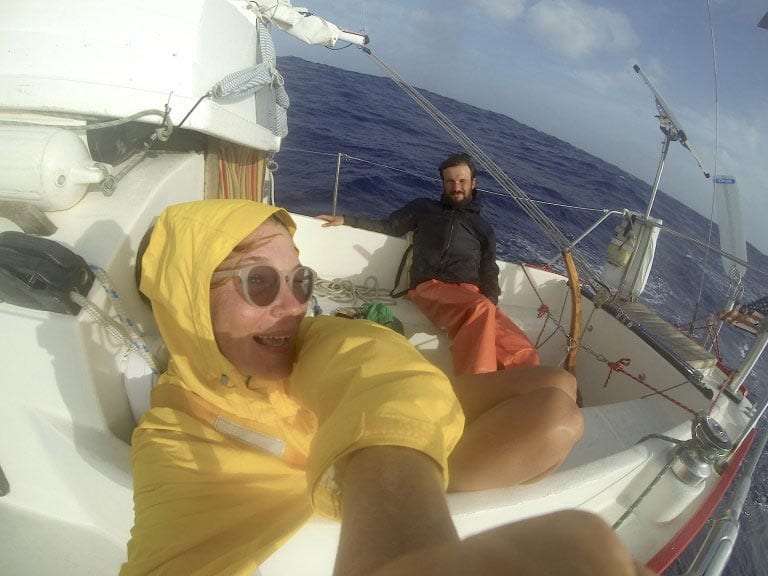 The hospitality in Fairhaven, MA was unprecedented. Since the very beginning a generous couple of empty nesters, the Sullivans, took us under their wing offering a shelter during the hard times of the Tranquility's rebuild.
At that time we didn't have a chance to enjoy the lovely summer in this beautiful stretch of the US East Coast. Buzzards Bay, the Elizabeth Islands, Vineyard Sound, Newport, Long Island Sound were just a few hours sail away but we were stuck in a boat yard putting together Tranquility piece by piece.
Traveling was limited by the amount of work, but meeting local people and becoming embedded in the culture of the area became a fun alternative.
The Southern Coast of Massachusetts has a strong maritime lore that dates back to the Europeans' landings and to the age of whaling. New Bedford is famous for being "the city that lit the world" before the discovery of oil led to its financial crisis.
Fairhaven was also the place where the Spray, a wooden ship that "wants some repairs", was handed to Joshua Slocum, the first man to solo circumnavigate the world in a small yacht, setting sail from that very coast in 1895.
During the summer these locations become rather posh and expensive touristic traps, that pose a very serious threat to our cruising budget. Because the season is short at that latitude, the industry gets aggressive to take advantage of every warm day when tourists invade the most popular destinations.
Local authorities are filling the anchorages with mooring fields, where you have to pay a hefty sum to tie up to a mooring ball. Docking to a marina is even more expensive. Areas where you can anchor for free are becoming a rarity and they usually are located far from any point of interest.
Luckily, our network of benefactors came to the rescue. Freddie and Heather, a couple from the clique of Fairhaven friends, offered us the use of their mooring ball tucked in Little Bay, as their Tartan 34 was receiving extended work that summer on dry dock.
Our typical day involved rowing for three hundred yards to the boat ramp where we pulled up and secured our dinghy and jumped on the bikes we borrowed from John Sullivan, locked to a post and ready to take us around.
We occasionally helped Freddie and Heather, staying at their place and taking care of their three dogs when they needed to take a trip out of town. I also celebrated my second birthday in the area, making pizza for a large group of friends.
Pizza, and in general cooking Italian food, is something that Kate and I are happy to do for the people who kindly welcome us. It's the minimum we can do to pay back the generosity we receive.
It is also an excuse to hijack a fully equipped kitchen for a few hours, enjoying the perks of refrigeration, abundant fresh water, and countertop space that are reduced to a minimum on our tiny boat.
After paying our respects to friendly Fairhaven we set on a small journey with Cuttyhunk as the first destination. A pleasant upwind sail in the smooth waters of Buzzards Bay preceded our approach to the anchorage North of the island.
This rock with a little more than 100 houses on top is the westernmost of the Elizabeth Islands, extending southwest from Woods Hole. Some of these islands are private and property of the Forbes family.
Cuttyhunk has little more than a dozen year long residents, with barely one mile of paved roads where golf carts are the only traffic. It is a perfect place for a short hike in the maximum quiet.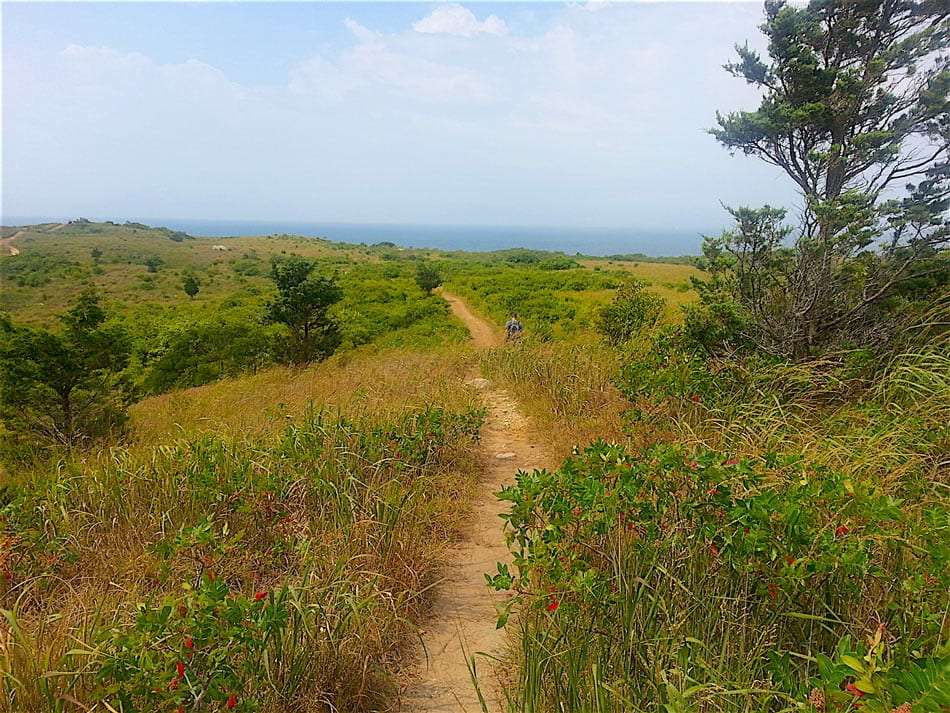 Of course while there we visited the library. They are always on our visit list. Libraries have always been a friendly place, whether to find entertainment or do some hard work, or simply spend time wandering by the shelves, peaking at the free books for a new acquisition.
Libraries served many time as harbor of refuge and nomadic workplace.
As expected the library was very small, but holding a respectable collection. In such a quiet place books must be very sought after. The librarians immediately identified us as visitors and offered us raffle tickets that were due in an hour. Last minute tickets, how could we resist that?
On the side, with a whispering tone of voice even if nobody was there, they let us now that the chances of a win were high, because of numerous prizes and little tickets sold.
We left the island with a brand new hand knit throw donated to the raffle by a resident, a ceramic coffee mug and a tote bag with the Cuttyhunk library logo on top, all items that proved to be very helpful onboard.
Another friend, Clarissa, invited us to tie Tranquility to her mooring ball, this time in Newport Harbor. All of the sudden we were transported into one of the most exclusive yachting cities on the East Coast, a place where I lived for five months the first time I came to the US to spend more time with Kate.
For a European, New England is a soft landing spot in North America, and its sailing tradition allowed me to fit right in the middle of it, finding a job in the Superyacht industry which is very active during the summer months.
Tranquility was moored right in the center of the carnivalesque parade of Labor Day tourists, Superyachts, and classic racing boats. There are better days to visit Newport, but our unplannable voyage doesn't take into account what's better or desirable.
After Newport, Tranquility kept pointing West to Long Island Sound bringing us to discover Stonington, on the Connecticut side, only for the reason that we knew there was the possibility to anchor for free in the protected harbor.
Another appointment with a free mooring ball was waiting Tranquility on Long Island. Nina and Dustin invited us to a sailing rendezvous in Dering Bay, on Shelter Island, where we rafted up with other boats for a weekend party and then we again were invited to the use of a mooring ball, this time in Snag Harbor, in the Hamptons. What are the odds?
It was an interesting place to be, and thanks to the hospitality of our friends we could hang out a little for nice walks into town, even though we felt a little out of the picture, with our tiny boat among big and fancy yachts.
After our tour ended, we decided to head back towards Fairhaven, where we planned to leave the boat while we traveling to Italy to visit my family, and to let the tropical weather calm down.
Back in Fairhaven Shipyard, I saw the familiar silhouette of Aventura, a sailing yacht I worked on during my time in Newport. Paulo the captain had done a very skilled and complicated maneuver to dock the 108′ yacht in a tight spot, and came out smiling when he saw me.
The ocean is so wide but in a way it is incredibly small as encountering people happens all the time. Voices and rumors travel far and wide on the ocean, and you are always way less than six degrees of separation from any sailor.
November was again our chance to sail away from winter. As birds following their instinct, we prepared Tranquility and ourselves waiting for a good day to clear New Bedford's hurricane barrier and begin our second winter migration.
The second winter migration seemed worse than the first one. Maybe it's just the effect of memory fallacies, because sailing 800 miles in winter without autopilot must not have been all this fun.
This time we were not in such a desperate hurry, Tranquility also had a more comfortable interior layout and trustworthy self steering to give rest to the crew.
We left Block Island and its wind farms to starboard while charging ahead for the Delmarva peninsula and Chesapeake Bay, ignoring where the weather would force us to stop.
Weather windows in the North Atlantic are usually very short and unpredictable, and indeed after a little less than two days into the trip, the wind was mounting to gale force from the West.
It was not too bad, because wind blowing offshore doesn't travel long enough over the water to generate big waves, but to me in the cockpit of Tranquility, they looked mountainous. With about 10′ waves and 30-35 knots of wind, it was hard to keep our course to the SW and the coast looked far and unreachable.
The weather radio talked about a wind shift to the NNW, which would have been beneficial in helping us gain miles towards the coast, and eventually get in reach of a point of refuge, but the announced shift was late to the appointment.
Once the winds finally switched to the NW we could set a course for Ocean City, MD, again the right place at the right time.
A known harbor is always preferable and the inlet was a relatively easy one, even if this time we had to face a big swell right at the entrance.
As usual, landfall happened at night, and we headed straight to the same marina with cheaper rates, tying up tranquility in the same spot we took the previous Summer.
At the marina, we defrosted for a couple of days, also taking a good stroll to a deserted city, creepy and fascinating at the same time. Then we went up at anchor waiting for the next departure.
This time wind took us to Cape Charles, VA, a location that we were happy to visit as it was highly recommended by our friend Paulo on Aventura. There we explored the area by foot, because the grocery store was 2.7 miles from the dock, and experienced once again how subversive is to be walking in America. And dangerous, of course.
One of the big advantages/disadvantages of sailing life is that we have to walk a lot. This is good for our mind and body, and to experience places at a slow pace.
Unfortunately the United States are one of the worst countries to visit on foot. With the exceptions of big cities and National Parks, everything else is built for automobiles, and people on foot become pedestrians, another label subordinated to vehicular traffic, something you become aware of only when walking is your only choice.
From Cape Charles we moved to the other side of the Chesapeake Bay, at the mouth of the ICW. We were ready to take the "ditch" to skip the dangers of Cape Hatteras in winter time, but before starting the inland waterway we visited family for thanksgiving, after docking Tranquility in Hampton VA, that had a downtown marina with reasonable weekly rates.
After the brief holidays we started moving again. In front of us there were long motoring hours along rivers, channels and sounds with one eye on red and green markers and the other on the depth sounder.
Short days and long nights put us in bed after early dinners and up after the sun finally shined. Our sleeping bags and each other's body temperature were our best allies, even our cat Beta limited his night roaming to snuggle with us and find warmth.
The electric drive had to work hard again. Moving carefully everyday to put some miles behind us, we stayed at anchor and saved money where the temperature was in the 40s and we dug into the sailing budget to dock and use shore power when it plunged well down into the 30s.
The good thing about this winter voyaging? It was that we could read a lot, write, cook hearty meals, and listen to the radio.
The Intracoastal went by as usual. We stopped in familiar places, and other ones never visited before. After Beaufort, NC we sailed only offshore, making landfall in a new for us place, Murrels Inlet, just South of Myrtle Beach. The island was surrounded by tidal pools and covered with green lichens underneath. We hopped around in our rowing dinghy looking for the scars of an older Gentlemen's Club now completely reclaimed by nature. It was also an opportunity to get some oysters for dinner.
We kept sailing offshore, under numerous layers of insulated clothing, trying to stay dry and somewhat warm during the watch hours. The last passage stretched into Christmas Day, and we spent it offshore from Savannah with the only company being dolphins playing in front of Tranquility's bow.
We arrived in Jekyll finally, the end point of a migratory journey made of cold, brumal gloomy grey days, all the way down from the always disturbing presence of Big Military ships in the Norfolk area, to pockets of wilderness and ferine presence that surprised us all along the coast.
Sailing the good and bad parts of the East Coast is a never ending discovery.
LAST DETAILS IN FLORIDA
The main way I do my part in financing this sailing journey is by working on bigger yachts as professional crew. I had been doing this full-time for 4 years and since we started living aboard it became a part-time occupation, mainly through temporary gigs to deliver yachts or as relief for permanent crew on leave.
Migration is a powerful force and unfortunately the peak season for this type of job coincides with the change in seasons, when we also need to sail our own boat to warmer places.
Every time, I live this moment with joy and frustration. Joy because I have this incredible luck to be able to sail my own little boat, and frustration because to continue this trip I need to be able to make some money, yet I have to let go of a lot of business.
The winter of 2017 was different, and luck turned to my side. Tranquility was headed to Jekyll Island Marina, our little hideout in the marshes, where we planned to spend New Years Eve with Kate's parents who were on an intercept course with us while driving South to warmer Florida.
Migration is indeed a powerful force that speaks to our deeper instincts.
Once tied up in Jekyll Island we got a message from Paulo–Captain of Aventura–who was still in Fairhaven attending to last minute jobs in the shipyard.
He is from Portugal and surely loves the heritage of the area, where a lot of Portuguese families migrated, but it was already too late in the winter and his message was brief and direct.
He needed extra crew to deliver the yacht to Charleston, SC. It was still in Fairhaven Shipyard on dry dock.
We were in the perfect situation to accept the job. We had a secure spot to leave the boat in the marina, and Beta could go roam the backyard of our former house in Brunswick, joining the crew of animals under the cares of our friend Susan, who kindly took him in.
The jump from cool and humid Georgia to the frozen Fairhaven was a shock. But we didn't lack the technical layers to face winter, nor the enthusiasm and eagerness to make some money.
We joined the regular crew in a beautiful rental house in the woods of Marion. While out of the water, the main systems of the yacht like sanitation and heating are shut down as they need salt water to function, and so everybody was living on land.
Long hours of work in the cold brought back profound respect for construction workers that face the outdoor conditions all year long. Kate immediately bonded with the Venezuelan chef assisting her in running all the errands necessary to provision the boat and keep the crew fed and happy. The short term employment stretched way longer than expected. Superyachts with a big budget are not immune to the quirkiness of boat life, where planning just does not work as in other realities.
A series of delays, including a broken travel lift, two consecutive snow storms of epic proportions and a last minute fuel polishing system malfunction left Aventura stranded on the hard concrete while everybody wanted her in milder climates.
All this hard work and delay was rewarded by an uneventful and smooth sailing. Aventura covered the entire trip under power, three days to cover a distance that took Tranquility a month.
Once back home on Tranquility we quickly proceeded South to Jacksonville, FL. Kate had a precise mission in her mind: treat her back pain, hoping that the proximity to the health services of a city like Jacksonville would help in finding good treatment.
While there we had a surprise party (as surprise as it can be for a couple that share the same mobile phone) for Kate's Birthday with many friends and family converging to Jacksonville to celebrate Kate but also to wish us happy travels.
When the time of departure arrived we had a clear target in our mind: Panama. This is the country where Kate and I met for the first time in 2011, and we both had not been back since. We still had friends there that we regularly spoke to and we wanted to hug them.
Panama is a very biodiverse country, touched by two oceans, with hills and mountains covered by rainforest, and surrounded by numerous tropical islands, all packed in a small, accessible territory served by decent infrastructures. Even if it's not the cheapest Central American country, it is still very affordable.
It is also a relatively safe location regarding crime and violence, statistically outside of hurricanes' and tropical storms' range, a place to stop longer than one season if we wanted.
There we also had the option to continue towards the Pacific if we decided to, or alternatively, to explore the Caribbean side of Central America.
With all the boxes checked, we had to pick which route would get us there. We picked the "Eastern Way", leaving from Florida to cross the Bahamas on a SE route all the way down to the Windward Passage, the gate between Cuba and Haiti that opened the way to the Caribbean Sea and offers a straight shot to Panama.
The aforementioned reasons constituted a mental picture that offered a strong motivation to helped us defeat the gravitational pull of comforts of known places and the vicinity of friends and family, to finally get Tranquility and ourselves bound to distant destinations.
ACROSS THE GULF STREAM; THE TOURISTIC BAHAMAS
I have always regarded the Bahamas as a cruising ground for rich American tourists who take advantage of the proximities of these low lying islands to spend their vacations in resorts with expensive price tags.
My skepticism was fueled by prejudice, and I am glad sailing there proved me wrong.
The popularity of the Bahamas is due to their incredible beauty, and the options to enjoy this cruising ground are accessible to the self-reliant sailor, especially when you venture further away from the most popular areas. Having your own boat helps exploring exclusive places on the cheap side.
But before enjoying the wonderful scenario of these low lying islands surrounded by turquoise waters, we had to take Tranquility across the infamous Gulf Stream.
At the dockside, online and everywhere you engage in sailor-talk, the crossing of the Gulf Stream is always a lively topic. This warm current generates in the Gulf of Mexico and runs along the East Coast of the US, bringing warm tropical waters up North, all the way to Iceland.
Between Florida and the Bahamas, the huge mass of water of the stream is compressed in a narrow 30 miles wide stretch where the current attains speeds of up to 2.5/3 knots, influencing navigation.
Under specific conditions, particularly in strong northerlies, the action of the wind against the current lifts steep waves that can put in danger even bigger boats, or at a minimum provide a memorable ride.
The terror of the Gulf Stream crossing creeped in our cabin too, as we were preparing to set sail from West Palm Beach, where we hung out at anchor between millionaires' yachts, waiting for good weather.
The privilege of not having to follow time constraints and schedules always plays an important role on the safety of our passages, and we always try to wait for the best conditions.
We did our homework, and eventually left at 11pm, when the ebb tide flushed us out into the ocean.
The night was quiet and lit by a bright moonshine. We had compensated for the drift of the Gulf Stream setting our course due East and expecting to be pushed some twenty miles to the North.
Our calculations were a bit too conservative, but none the less daylight brought us the view of an incredible palette of blue and azure that brightened gradually as the ocean floor raised to form the Little Bahamas Bank.
The lee of the uninhabited Mangrove Cay hosted us for our very first night and the next day we left for Grand Cay. After paying $150 plus some other fees to a customs officer whose office was his backpack, we obtained the cruising permit for 12 months and the immigration stamps for 90 days.
That was it. We were in the Bahamas, and even if our mid-term goal was Panama, we had about 400 miles to cover in these wonderful waters.
Our snorkeling gear that had been stuffed down low in lockers finally received good use. Exploring the coral reefs not only brought us dinner in the form of lobsters, conch and other delicacies, but opened up a channel to a world made of wonderful creatures.
At night Kate would shine our spot light and hypnotize marine life, witnessing the passage of fishes and weird invertebrates until, out of nowhere, a huge loggerhead turtle, the size of a truck wheel, swam under the boat. Kate was extremely excited, as she felt this was a reward for her loyal years spent in "turtle patrol", protecting the life of turtles, saving them from crossing Georgia causeways or removing plastic from the ocean.
Sailing at night in the Bahamas is not recommended, as shoals and reefs are not exactly marked on charts, so we would jump from one beautiful anchorage to an during the day, and if we liked the surroundings, stop longer to explore the bay or the island.
Of the little area we visited in the Abacos during our march to the Windward Passage, Double Breasted Cay and Manjack Cay were our favorite spot.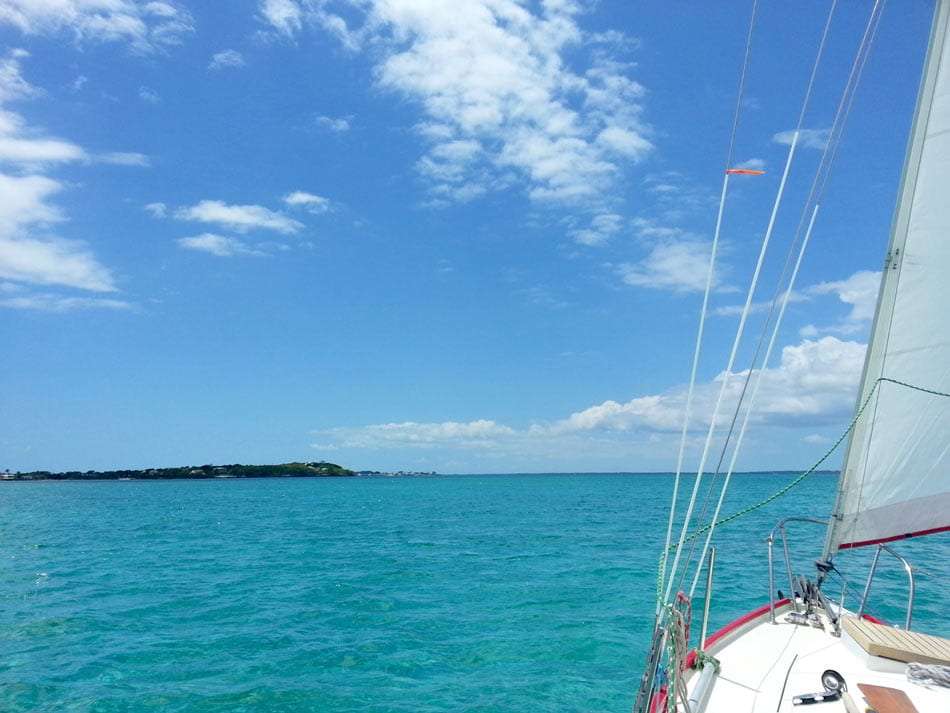 Before heading offshore in the Atlantic, we looked for a place to dock and perform our marina routine: showers, laundry, boat wash down and deep cleaning, filling up water.
Our visit to Green Turtle Cay also coincided with a couple of days of strong winds and several squalls brought in by a cold front, but Black Sound proved to be a very protected spot and we barely felt the bad weather.
Clean and restocked, we head out toward Cat Island, facing again the Atlantic Ocean.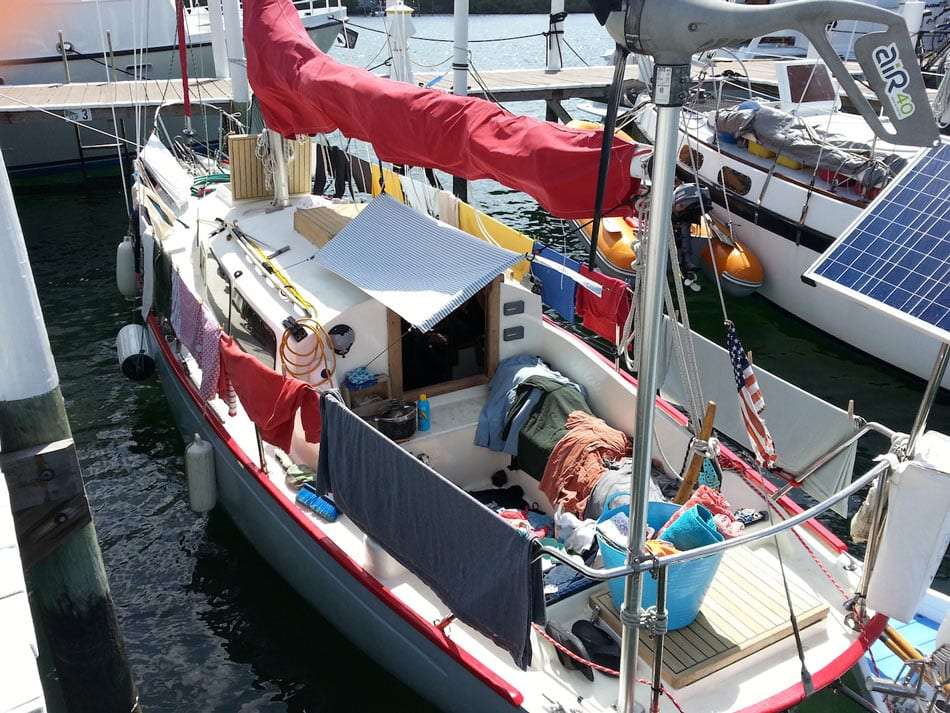 AGAINST THE WIND: THE LESS TOURISTIC BAHAMAS
In 2013, days after Kate and I purchased Tranquility, I took a delivery job from the Bahamas to St. Martin, sailing a similar route to the one we were attempting.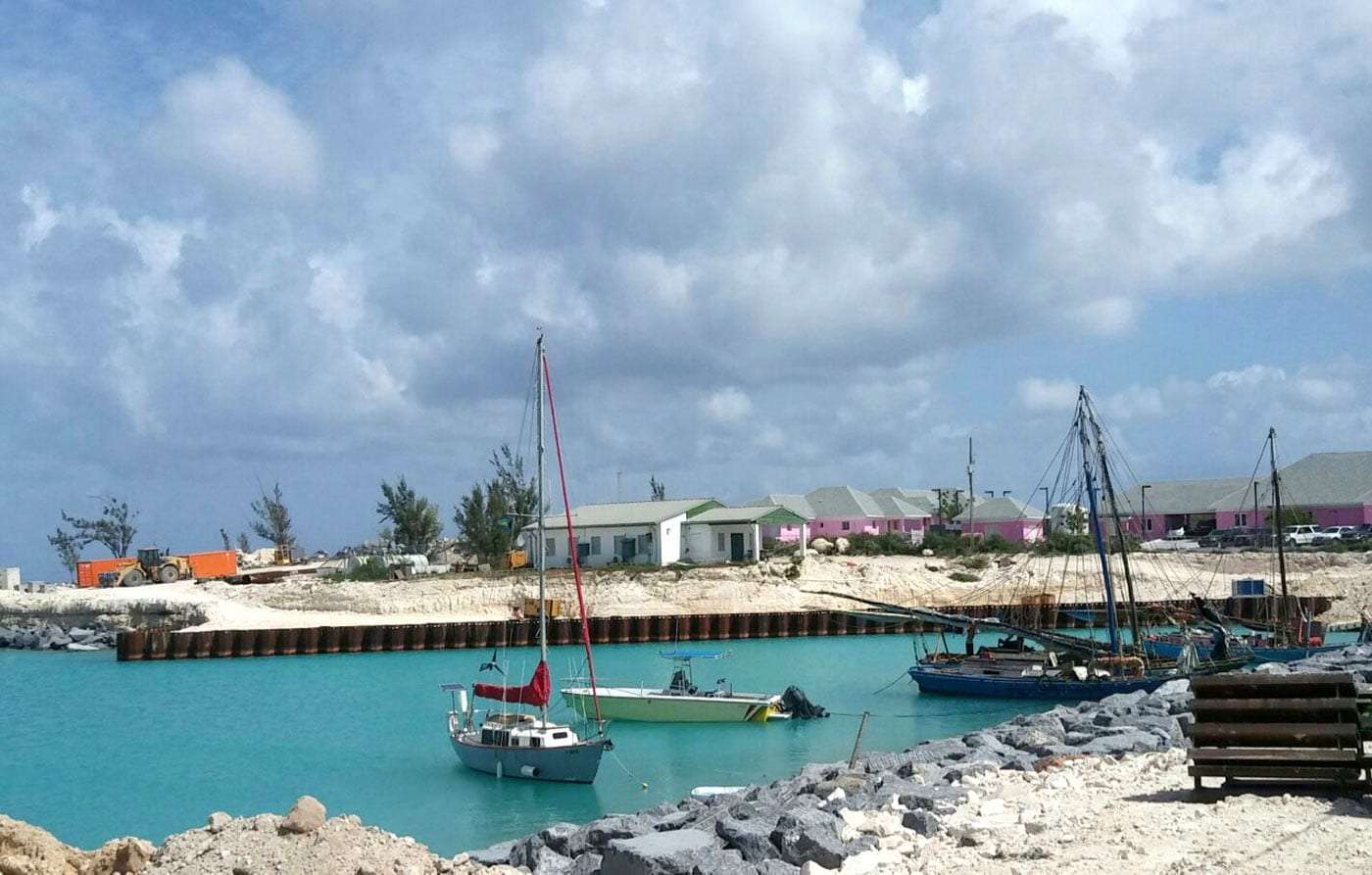 It was January, when trade winds never give you a break, even when I was aboard a 98′ with a powerful diesel engine I remember a wet and uncomfortable ride against the wind and the waves for few days in a row.
With those memories in mind, we were facing a similar route on a small, practically engineless sailboat.
Tranquility is not an upwind sailing machine like many modern designs, but her fine bow and narrow beam help in going atop and across waves, and her long keel keeps a steady groove over the water.
Every boat has a limit she cannot surpass, an invisible wall that can only follow very closely. Tranquility's limit is perhaps 50 degrees off the True Wind Direction (TWD), and with stronger winds and pounding waves we probably get as much as 55 degrees.
This means that we can only go upwind following a zig-zag route, that makes us sail a longer course than the straight line from Point A to Point B.
A calm day with light winds was the perfect opportunity to leave Whale Cay and enter the deep Atlantic ocean again. The headwinds had decreased to 10 to 15 knots, and as light as 7 knots at a time, but the Atlantic still brought 5 feet or higher waves.
Somehow I felt that the ride was more comfortable than the short steep chop we faced sailing the shallow Abacos, and also less labor intensive as this time there were no shoals or reef to dodge.
We had planned two long tacks to reach Cat Island, and we let our selfsteering system handle the boat.
Even so, the trip was uncomfortable, as Tranquility sailed close to the invisible wall of wind. Too close and she would come to a stop, too far and we would be heading further away from the intended destination, sailing a longer distance. This time there were no anchorages in between and we sailed for full days and nights.
We hung in there with our world heeled 20 to 25 degrees from the horizontal line while the boat was slamming loudly into the incoming waves.
The journey was slow and uncomfortable, but soon we were able to see Cat Island from the distance, and luckily we were approaching in daylight.
This island has the highest elevation of all the Bahamas, and on its highest point a Catholic priest John Hawes (aka Fra Jerome) built a monument to faith, minimalism and simple living in 1939.
Before becoming a monument, the hermitage had been a place of worship, but also a homestead-for-one, with interesting features like a wind tunnel for climate control and everything one needs to live a simple life: a dormitory, a pantry, an outdoor bathroom, a cistern with a hand pump for rain water.
As we walked through the building I felt at ease. A short person like myself could have anything necessary for living in that place. It may be the reason I feel at home on a tiny sailboat.
Another treat of Cat Island was that in many anchorages we were the only boat–and humans–in sight. The incredibly beautiful waters and scenery made us feel like the richest people on Earth. Nothing else was necessary.
We indulged in this quiet paradise, as much as we could and when the weather was good again we kept sailing trying to go SE but instead ending up doing the same zig-zag course, going East first, then South, then East and so on, always following that invisible contour.
Tranquility was making progress and as she took us South, the winds started back to the East, which helped with boat speed and to finally head straight to our destination: Great Inagua, the last island of the Bahamas before the Windward Passage.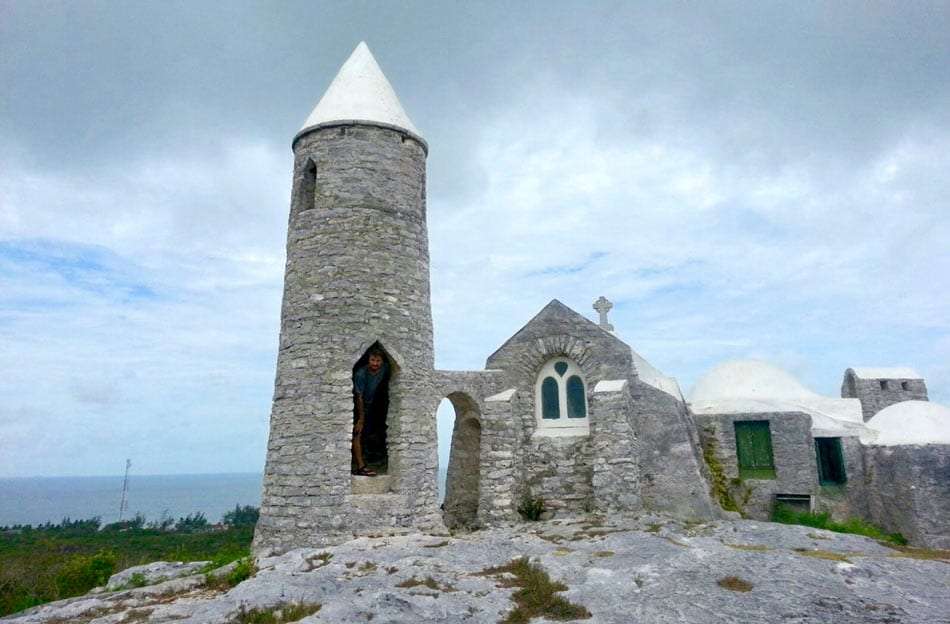 We arrived there in the early morning, anchoring in Man-O-War Bay. As we read it is a less rally option compared to the anchorage of the only inhabited settlement, Matthew's Town, which receives the swell coming from the southern tip of the island.
We chose the northern corner of the bay to drop our anchor, near a dock that served as an abandoned US intelligence facility, tasked to control traffic in the Windward Passage through a blimp.
Kate loves industrial archeology and she always researches every place we visit for interesting features. A spy facility from the US government sounded cool in her mind and she took me on a tour of the dismantled facility.
The waters and the snorkeling was also exceptional and we spent more than a few days messing around, spearfishing and encountering two big blacktip sharks lurking from afar.
These beautiful creatures are very shy, and we could only see them for a few seconds before they took off for the deep blue waters.
When our supplies were running low we had to find a way to get to Matthew's Town, so we sailed there and looked around for a place to anchor. The anchorage was extremely unprotected because of the swell coming from the South end of the island, and Tranquility was rolling from side to side incessantly.
A small basin with flat waters and good shelter from the was still under construction by Dutch contractors, and used mainly by Bahamian government ships and Haitians sailing vessels that traded goods.
There was no real place to tie up for a pleasure vessel, but we were more concerned of spending the nights rolling like crazy in the outside anchorage, and after a brief dinghy reconnaissance we decided to come in and moor the same way the Haitians do, with a stern anchor and a line to shore from the bow. We then ferried ashore using the dinghy to cover the few feet that separated us from the boulders ashore.
The dusty, noisy and hot basin was worth the discomfort because we could replenish our propane supply, get drinking water, buy cheap fruit and vegetables from the Haitians and get few other supplies from the grocery store.
We found the people living there very friendly and not used to seeing many cruisers or tourists. Matthew Town is a company town, built and maintained by the only big employer of the island, Morton Salt, which has a production site there.
In Man-O-War bay we could see the big white salt hills towering around the salt pans, and that's where we went with our clearance paperwork filled and our passport stamped. We spent few days after clearing out to get ready for the long passage to Panama.
"Waiting for the weather" is a common destiny for cruisers. We often check weather forecasts, analyze our needs and judgments to foresee what a passage would look like, and if it's going to be reasonably safe and/or comfortable.
Then at a certain moment we need to weigh anchor, as perfect conditions may not ever appear.
CROSSING THE CARIBBEAN SEA, OUR BIGGEST SAILING TRIP
Imagining routes and landfalls is one of the perks of sailing your own boat on your own terms. It is a special time for imagination, fantasy, desire.
For a while we sat in front of charts and sailing directions thinking about visiting Haiti, maybe stop in Jamaica as well.
Every option requires collecting information about immigrations,custom procedure and cruising fees, but also checking climate patterns and weather conditions, and matching them with where we intend to make landfall, including alternative points of refuge and a list of safe harbors.
Foreseeing trouble is one of the most practice skills in sailing, but there is a limit in analysis and planning, and then it comes the moment to lift the anchor and go, all the calculations could be useless in the end and improvisation becomes the only tool left.
While we were in Great Inagua, Tropical Storm Brett had already blasted from Venezuela to the southern tip of Jamaica, crossing the Caribbean Sea in a perpendicular way to our intended course.
With the tropical weather getting hot (2017 would be the year of infamous Hurricane Irma and Maria) we scrapped the idea of stopping in Haiti and Jamaica, and instead we decided to head straight for Panama, which lies out of hurricane reach.
Thanks to the good internet signal in Great Inagua we monitored the tropical waves coming out of Africa, trying to find a good timing to sneak out between them, and start the 750 miles that separate the last island of the Bahamas from Panama, crossing the Caribbean Sea, an open stretch of ocean surrounded by land and islands on its 4 sides.
Eventually we were on a beam reach charging very fast to the Windward Passage where the wind died leaving us bobbing around in calms for one day. It was only when we cleared the southern tip of Haiti that we started our Caribbean Sea crossing on a SSW course.
The trade wind–fueled by passing tropical waves–brought us steady strong winds. The first tropical wave brought 20 to 30 knots from ESE bringing hazy skies.
It was right on our beam so Tranquility was moving fast, but unfortunately the waves were big and they would often crash on deck and soak everything they encounter…including the watch keeper.
For the following days we experienced very similar conditions, sustained winds of 25 knots, gusting up to 30, and 7 to 10 ft waves that translated into permanent use of foul water gear and a constant change of clothes.
With hatches and portholes shut, the cabin turned into a steaming hot sauna, with soaked garments hanging everywhere in the hope they would dry.
Everything became quickly wet. Ourselves, our clothes, the towels, eventually the beds. For six days we were on a port tack dealing with this situation, and the other two were spent in hot windless days, bobbing around at the mercy of coastal currents that pushed us east of our intended destination.
Three tropical waves passed us during this leg, each bringing stronger winds, but nothing too severe, still the discomfort amounted to fast progress to our destination. With average daily runs well above 100 nautical miles the trip lasted eight days, two of which in dead calm, during the Windward passage and the last miles to Panama.
The arrival in Puerto Lindo at night generated a brief marital disagreement on where it was safe to drop the hook. We were exhausted, and after sailing in circles while shining our spotlight we dropped the anchor in the unknown dark bay cluttered with other vessels. For the first time after 8 days Kate and I went both to sleep at the same time.
PANAMA!
Six years and 1,746 nautical miles later, we were in Panama again, quickly polishing our Spanish language previously used only to order food in Mexican restaurants and enjoying the abundance of life in the tropics.
At first we came into Linton Bay Marina, for deserved showers, a pizza and to decompress from the harshness of the sailing trip, and to wash and dry everything. Soon enough we established ourselves in Costa Arriba, the part of the coast East of the city of Colon, becoming residents in the anchorage, meeting new friends and learning our way around the area.
History in Costa Arriba goes back to the Age of Discovery. Gold and silver from Peru was transported on ships to Panama City, and then overland on mule trains to the harbors of Nombre de Dios and Portobelo to be loaded on galleons and sent to Spain.
This trail was known as the Spanish silver train, and attracted the attention of competitors and thieves. Privateer Francis Drake often engaged Spanish virreys on this very coast, fighting to win the economic war and controlling the shipping of gold and silver to the Old World.
The Isthmus of Panama was known as the Spanish Main, and Drake spent years of his adventurous life in these waters acting as a thorn in the Spanish side.
In 1572 He managed to sack the town of Nombre de Dios and one year later he seized the silver train, burying the treasure on the beach where he later retrieved it. He returned in the same waters twenty years later, after a failed attempt to seize San Juan, Puerto Rico. He died of dysentery while anchored off Portobelo and was given a burial at sea. Many diving expeditions attempted to find the body, all without success.
I know quite a bit about Francis Drake because Kate found far off connections to the English privateer in her family tree, while researching her ancestry.
Today Costa Arriba is still a wild coast for boats and people, because of many rocks and reefs, few far apart anchorages, most of which are extremely uncomfortable or dangerous in strong sea conditions.
It can be very bad during the dry season, from the end of December to April, when strong trade winds travel all the way from Africa to the Caribbean sea, raising big waves that finally smack onto this rugged coast, a characteristic that still endures from the time Spanish galleons were anchoring in this difficult area.
It is also one of the poorest areas of Panama, and it has been inhabited by the descendents of enslaved Africans who escaped slavery to hide in the jungle. The towns are small, colorful and have no services other than Chinese mini markets, schools and small public clinics. Colorful and noisy old school buses, imported from the US, travel along the only road that connects these distant towns and villages, providing the only form of transportation for many locals, as well as us.
Further East toward the San Blas it all gets more and more remote, smaller and weirder. We have visited the area by boat from the San Blas islands to Puerto Lindo, using the few good anchorages available, meaning we were either in Puerto Lindo or in the San Blas.
Our favorite cruising ground was the San Blas archipelago, which offers infinite possibilities for anchorage and is one of most beautiful, safest, and cheapest place I've ever sailed to.
The Gunas are the indigenous group that inhabit and rule those islands. They despise the name San Blas, which comes from the Spanish colonists and call their land Guna Yala (Guna land or Guna mountain). The islands stretch on a NW to SE direction towards the border with Colombia, sheltering the coast from the Atlantic swell and creating a peaceful and quiet area, where Gunas sail on their dugout canoes they call ulus.
The beauty of the ocean–the mainland covered with virgin rainforest, the islands with reefs and white sandy beaches, the flat anchorages in protected lagoons–all work together to create a unique place.
The crystal clear waters cover an incredible palette of blues. Reflections of the light from the sky on the different shoals and bottoms along the reefs span between the dark blues of deep waters, to the golden brown of sand banks, from the dark greens of seaweed beds to the browns, greens and reds of the coral heads and reefs. It's an invitation to underwater exploration, easy snorkeling and great fishing and spearfishing.
The Gunas have been living in this unique ecosystem for hundreds of years, and they preserved a unique culture, their own language and follow strict rules. Considering what a good job they are doing managing the natural resources, we have to give them credit for keeping their land and their life as authentic as is possible in this globalized world. The shy but friendly Gunas show you the way to live an authentic life immersed in the natural environment.
The beauty and relaxed life of Panama acted on us as a brake, slowing down our voyage to a full stop. Again we became entangled, building relationships with local people.
But as we planned to move forward, we pulled Tranquility out of the water once again, for some scheduled and unscheduled maintenance and extra modifications we design along the route. That's why we are currently in a Turtle Cay marina, a boatyard close to Nombre de Dios, which is the oldest continuously inhabited European settlement in the continental Americas.
The boatyard is a green field of mowed grass surrounded by a building with the office, bathrooms and shower, a laundromat and the internet router that does not connect to the internet most of the times. All around tropical forest, palm trees and beaches remind us that this is not one of the usual boatyards we grew accustomed to.
The breaking waves crashing on a deserted beach and the distant town of Viento Frio are the exclusive view we enjoy from the cockpit of the boat.
We still have fantastic dreams of how we can improve the boat. And then there is the reality of a limited budget, limited time, and limited desire for hours of dirty work. We always try to remind each other to keep what's working, and try to do our best with what we have.
Despite being 53 years old, Tranquility proved to be reliable and capable of taking us further. The limit is always our imagination, our grit.
It is at times difficult to follow this unscripted path, as goals and objectives may fade into the background while every day you find yourself grasping for meaning and sense, missing family and friends and having to constantly make decisions that regard safety and finances. The days we have in front of us are unknown, yet it is so easy to try to fit them in a perfect planned schedule. But plans have a short life on the ocean, as reality always likes to mess with them.
But luckily the most important day is always today, and small progress over time is the basis of big adventures. As we feel accomplished to have reached our goal, is time to dream about new distant destination.
Happy trails!