Camping and Small Towns of Medicine Bow National Forest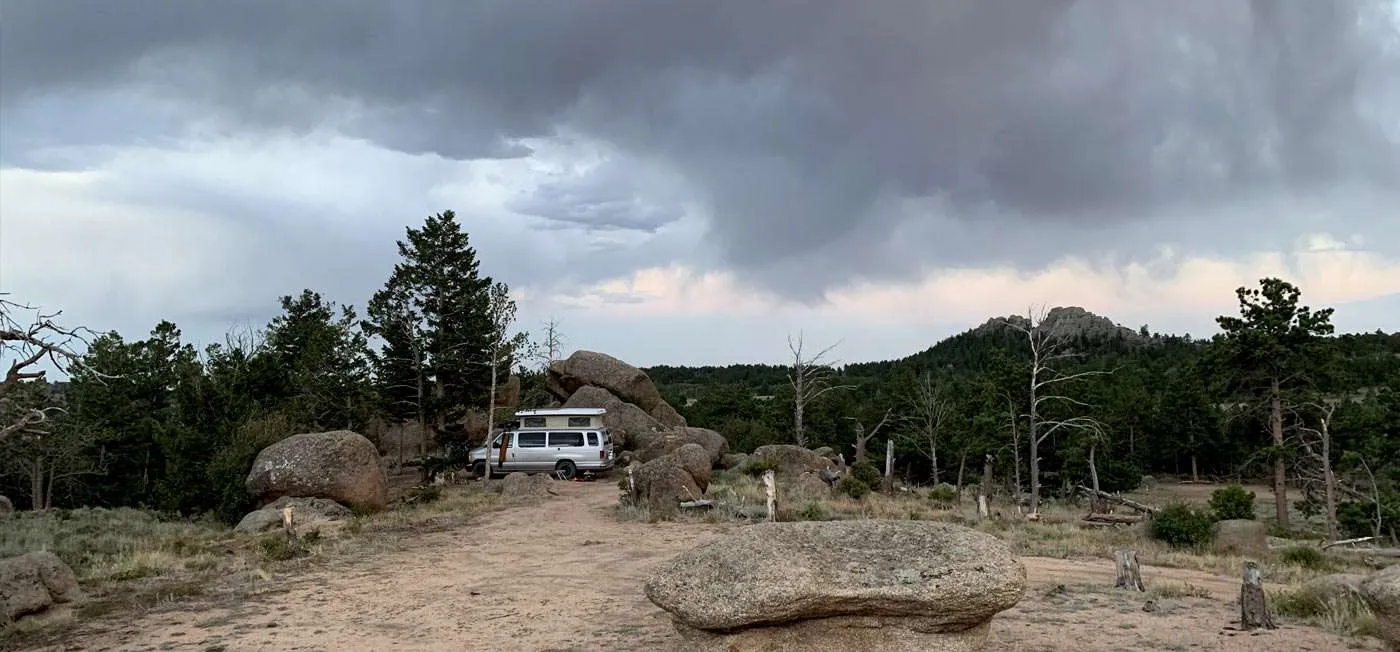 Cell signal evaporates as Colorado fades into the small town of Baggs, Wyoming.
A general store, stocked well enough with sundries and smiles from the local women working behind the desk, a dump station accepting donations, and a handful of buildings and homes that look authentically straight out of the 1890s makes up what appears to be the largest town north of Craig, CO, forty minutes or so west of Medicine Bow National Forest. Appearances prove correct as the next two towns of Dixon and Savery get smaller and smaller, the latter boasting its population of 25 on a small sign at the edge of town.
As the desert climes fade away into a forest of firs, cottonwoods and boxelder, so disappear the Patagonia and REI Subaru adventurers, their roof racks stocked with inflatable SUPs replaced with big white pickups and Stetson hats, side by side OHVs and local kids looking for river spots to cool off with their dog and girlfriends.
The MVUM—Motor Vehicle Use Map, the official guide to where one can drive, camp and hunt in this national forest—shows dispersed camping in abundance throughout the rolling meadows and their tufted beardy woods. We find a spot to camp exactly adjacent to a creek, where nature begs young boys to stack cairns in crystal clear water before tossing other rocks at them to kill a few hours. The water is heart stopping cold as our family refuses to pass the chance at a good swim. Half a dozen towering Narrowleaf Cottonwoods paint shade all down over the riverbank and serve as a hotel and playground for swifts, robins and jays.
Night falls a spectacle of the universe at its best, the Milky Way visible to the naked eye, and after the last off-roaders' headlights evaporate around some bend it's complete and pristine silence, save the babble of the water next to us, were positive we've found perfection in these mountains.
After a few days, we crawl back out of the dirt roads, up switchback mountainsides, in search of whatever's next.
These are the Sierra Madres, the Mother Range, and just the beginning of the Medicine Bow.
Within miles of leaving the forest boundary, desert once again setting the tone for the trip, cell service resumes, meek and unobtrusive unless your phone decides to alert you to the many clamors of life that happened while you were gone.
Photo Gallery
The neighboring towns of Encampment and Riverside offer truly small town life in abundance, from an antique store to a place to buy liquor (including craft beer), a gas station selling outdoor gear to an unlikely opera house. The largest restaurant in the area boasts burgers, Mexican, steak and seafood. Trump flags fly in the yards and friendly faces stand behind the shop counters. The two towns are so close together they don't warrant their own individual dots on many maps, and before you know it they've given way to open stretches of road and the next leg of Medicine Bow, the Snowy Range.
A scenic byway lives up to its name, meandering twisted like a hose left in the sun as it climbs to over 10,000 feet, glaciers still clinging to cliffs above places like Mirror Pond. Alpine lakes and designated campgrounds rest just beyond the shoulder of the road, the forest ever Lodgepole or Aspen, still diverse and well storied, if not truly virgin and untouched. We explore the many paid campgrounds, a multitude of plates from nearby Colorado or further California. This is lesser known territory, but people from far and wide have managed to find its everything golden hour gorgeous or mid day sun spectacular. The remnants of forest fires mix with newly growing Gamble Oak groves. The distance is always just a bend in the road away, even as the mountains seem to constantly hug around you.
And so roll by the miles of the Snowy Range, the second leg of our wandering through Medicine Bow.
With that we meander into Laramie, Wyoming, the "Big Town" in the region, with grocery stores boasting fully stocked shelves ranging the gamut of discount white bread to organic milk. Liquor stores come fully stocked, once again, with all of the craft beers. The downtown area, even with the addition of streetlights and modern cars, holds onto a Wild West feeling. Laundromats and fast food once again find their way into the landscape. The Pilot station outside of town offers free, non-potable water.
Beyond that, the Pole Mountain area of Medicine Bow National Forest changes the scenery and concept of what this forest is all about. Ponderosa pine and large, tan boulders dominate the free camping area. Wide open skies are more easily visible here, no longer camping in the tall firs of the mountains but instead watching them from a distance.
Our time in this southern slice of Wyoming, just one of many stops on our summer tour, is much too short. I wish for more time, more friends and less need of cell service. Perhaps one day.
Camping in Medicine Bow
Photo Gallery: Camping in the Sierra Madre Range of Medicine Bow National Forest
In the Sierra Madres, Forest Roads like 807 and 811 are primed for free camping. There's a map of the national forests, the MVUM maps (which require an app by the name of Avenza) which also shows exactly where free camping is permitted. Spots range from open fields to riverbanks to creekside forested plots. While driving a large vehicle down these roads would be something I'd avoid, other campers managed to do so, and high clearance isn't particularly necessary either, though note that neither Avenza nor Google Maps show all of the river crossings, and some are quite deep–too much so for us to fill comfortable doing them in our Ford van. These two are also by no means the only roads with free, dispersed camping, they just happened to be our favorites.
Otherwise, and for a fee, a handful of Forest Service campgrounds provide vault toilets, picnic tables and fire rings, the standard affair. They typically cost $6 a night, or $20 at the few that also offer trash service. For those without dumpsters, it's strictly a pack it in, pack it out situation. Failure to do so could result in you being a terrible human being and a likely major crash in your karma.
Photo Gallery: Camping in the Snowy Range of Medicine Bow National Forest
Where the Sierra Madres provide a lonely experience, tucked far away from the sight of your fellow campers and even the scenic byway passing through it all shows few signs of other travelers, the Snowy Range is the roadtrippers playground, the hot spot if you will, even while snowpack clings to the peaks in late August. Free camping grows more sparsely, and while it can be had, the lion's share of RVers flock toward the paid campgrounds. For whatever reason, camping fees range from $5 – $10 per night on this side of Wyoming's slice of Medicine Bow, and in either case trash service may still be available.
Lakes and creeks appear to have provided the reasoning behind where the campgrounds were placed, but it's rarely more than a few miles from one place to park you home for the night to the next. Cell service doesn't improve much over the more western Sierra Madre offerings.
Photo Gallery: Camping on Pole Mountain in the Medicine Bow National Forest
The final leg of our tour through Medicine Bow, the Pole Mountain area lives southeast of Laramie, Wyoming. It offers a paid campground, for $10 per night, but the best spots are free and further up an incredibly rutted and washboard road. While this road offers free, dispersed camping, it is absolutely pertinent that you remain in the designated spots. That certainly puts a twist on the concept of dispersed camping–which typically means, "Find an existing spot and call it a night"–but here it's more like an official campground with numbered spots that are at times a quarter mile or more from the next available opening. Large boulders and more wide open space to watch storms rolling over Southern Wyoming prevail.
Aside from being absolutely beautiful, and that a modicum of cell service is even available, Pole Mountain is close enough to Laramie to allow that town to serve as your regular supply run in less than 20 minutes. A curious statue of Abraham Lincoln watches those who pass by on the freeway between Pole Mountain and Laramie, though what his particular claim to this area is still baffles anyone who reads the story of how the artist who created the bust originally did so in Mexico City, only to have it transported here to watch travelers from Laramie to Cheyenne as the makes and models of their automobiles changed over the years.
In either event, and surprising as that statue may be when not expecting to see our 16th President along the highway, it seemed a perfect farewell as we turned our sights on new lands far from Medicine Bow, the experience of that forest, those mountains, sitting pleasantly in our memories as grand as they do in real life, will no doubt linger for the rest of our days.