Old-Growth National Forest Campgrounds of the Pacific Northwest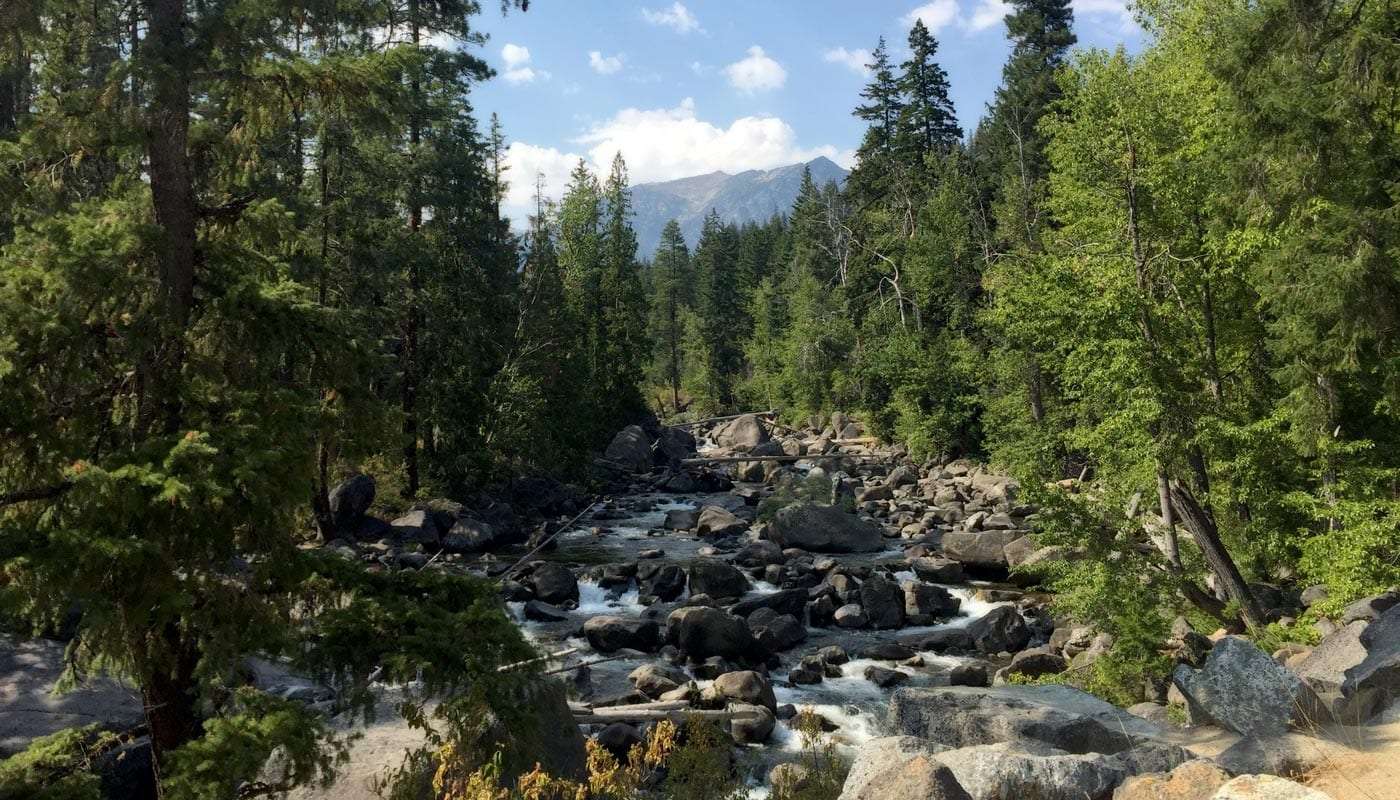 A naturalist was standing just outside of the fence surrounding the Big Tree, an ancient, massive Ponderosa Pine near La Pine Oregon, when a tourist approached him.
"That's nothing," the tourist scoffed at the Big Tree and it's observer, "you should see the Sequoias…"
The naturalist perhaps wanted to explain to the tourist that it isn't a matter of mere size, but that this is the only Pondo that exists which is still this big, this old. It's a last glimpse into a very different forest from long ago. One that we, Americans as a collective, have completely cut down.
Except for this one surviving elder.
That is the beginning of a journey from the bottom of Oregon to the top of Washington, a complete traversing and thorough exploration of the Pacific Northwest, to which we dedicated our entire summer. Posters hung in the National Parks and signs along the highway tend to boast about the many snow-capped peaks, sleeping volcanos from Mt. Bachelor to Mt. Baker. And they are gorgeous mountains, things to be feared and awed over.
For my eyes, though, it's not the massive scale of a chain of volcanic mountains that is the most astounding thing about this temperate rainforest in the top left corner of our nation. It's the remaining old-growth forests. What once blanketed the entire country has now been reduced to only a few straggling groves, but there is no requirement stating one must mourn the loss of so much. We can simply appreciate what remains.
As the desert faded into the haze of summer fire's smoke, we crossed the peaks and descended onto the western slope of the Cascades in Oregon, beginning our summer in the Pacific Northwest, one that would prove dominated by some of the mightiest, grandest nature this nation has yet to reveal to us.
Trains, Rivers and Campgrounds
The Cascades were once a barrier, nearly insurmountable to early explorers. Their primary salvation was the rivers. Follow them up the eastern side of the mountains, and when possible, ride them back down the western slope.
So naturally, as more people made their way west, these were the same routes the railroads took. And then the highways. And campgrounds began popping up as exploration and transportation gave way to recreation.
Thus, nearly every great campground in the Cascades involves trains, rivers and campgrounds. Loud, fast trains. Glacial till-laden rivers. And lush, primitive old-growth campgrounds.
French Pete
"You need to be behind the line," he said. His name is Tim and he's got DISH TV. He's also the campground host at a place called French Pete, nestled among giant Douglas-firs along the Mackenzie River. South fork that is.
"The line" was invisible. He drew it in the concrete pad that was our home for a few nights with his foot, and it ran right through our van.
"Big Fifth Wheels and Forest Service trucks need to get through here," he continued. It was 10:30 at night and the campground was already full.
"You need to move it," emphatically, "now!" He was nice enough and I could have tucked the van closer in to the Airstream we call home. But there was a problem.
He went on to tell us it wasn't him, but the Forest Service. "They come through here man and see this and they'll give me hell." I sympathized. But there was still a problem. He went on about various other reasons, speaking loudly next to our van.
"Hey man," I said, "we've got our son sleeping in here." I pointed toward the van.
"Oh," he gave me a slap on the back, "alright, just move it by morning."
And I did.
The river rushed on through as friends met us for campfires and hikes into the old-growth across the road. We marveled at the girth of some of these old trees, all of which were slated to be cut and turned into matches and furniture, or possibly plywood or pulp for the Chinese. Mankind fought corporate-kind and big, dumb government and–astonishingly–won.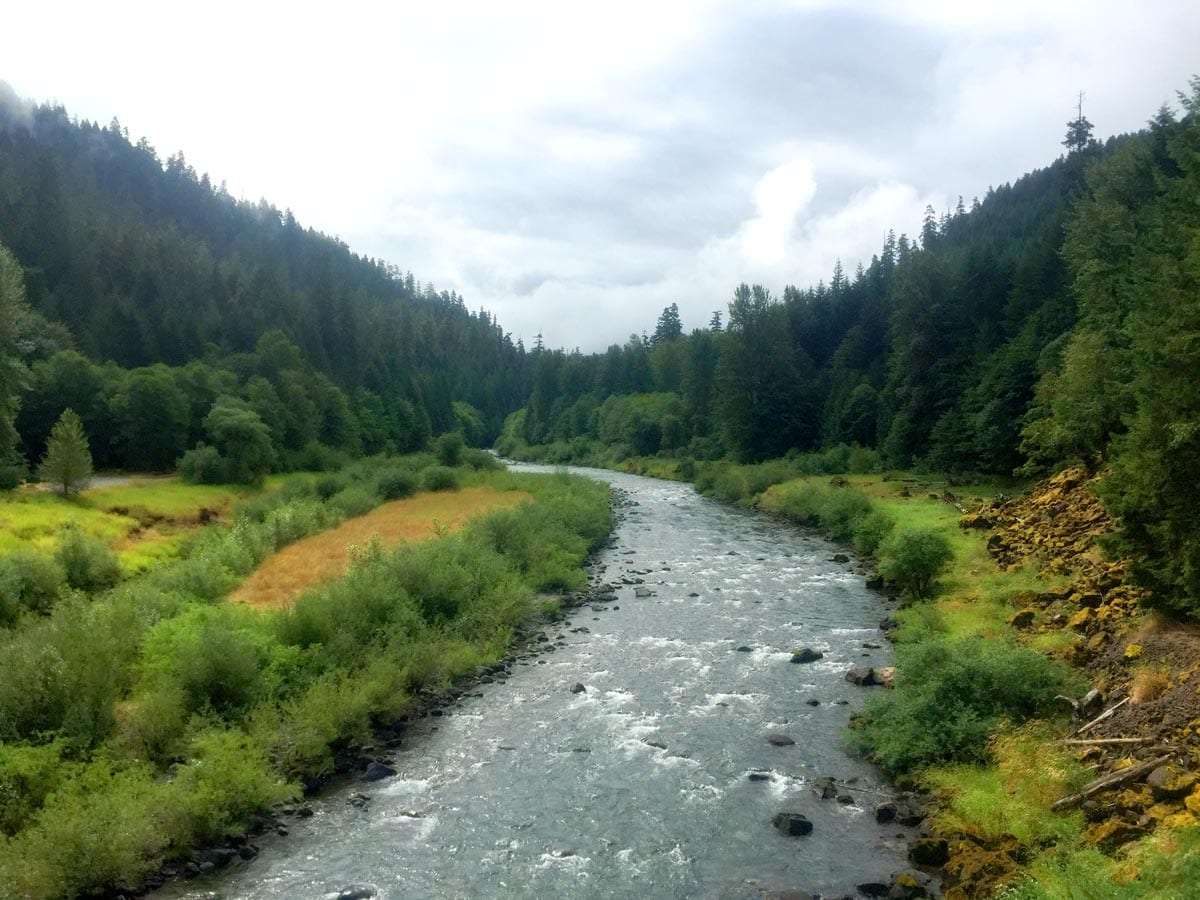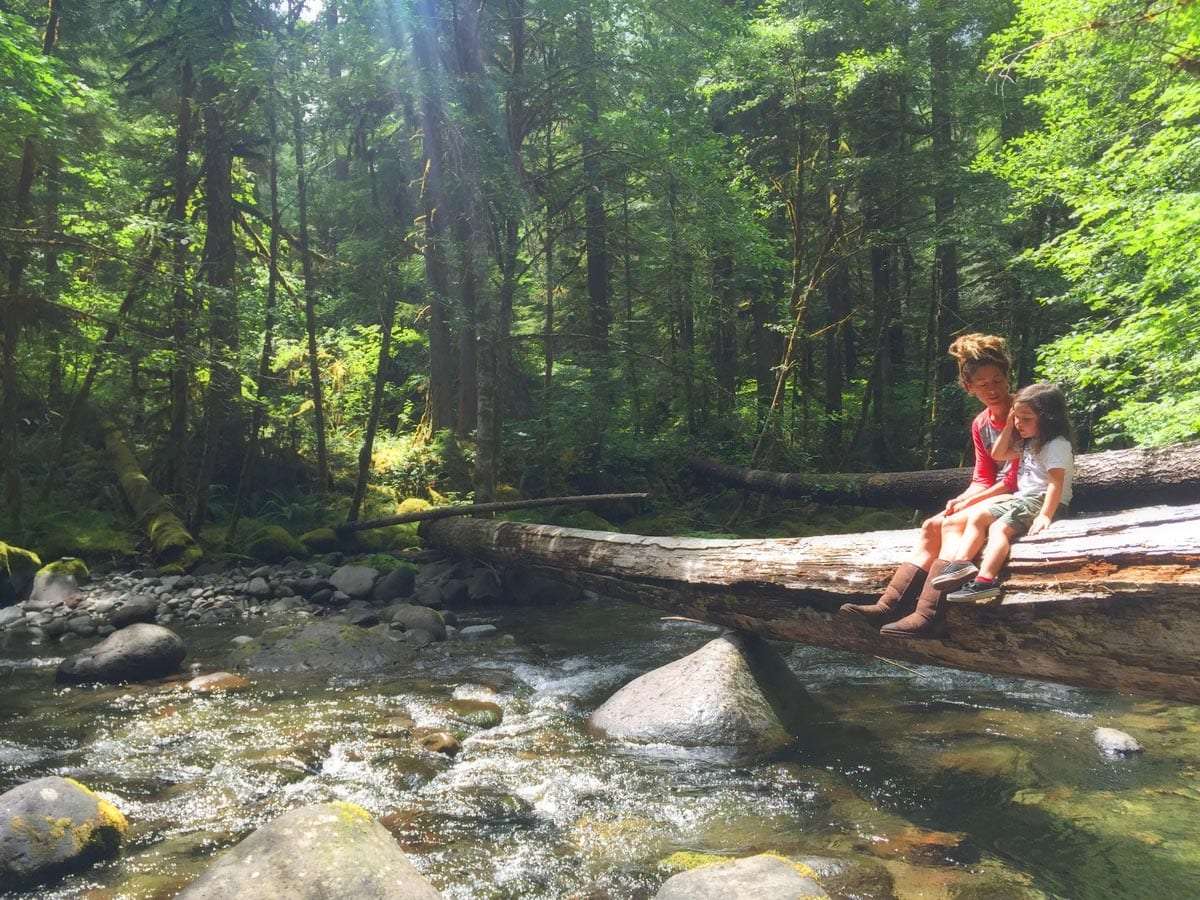 The next morning, we wake to dew-laden everything. Mosses ooze and fungi shine their proudest colors. It's chilly in the shade of the canopy, but we've heard news of a hot spring nearby and load into our van to find a little relief from the morning weather.
Upon arriving, no one is at the little shack where the attendant should be taking money. We proceed up the trail, only to be greeted once again by Tim.
"Listen guys," he's serious, but again pleasant. "It's not too much further up the trail to the springs. But stay off of the rocks. Someone came in last night and trashed the place." I'm on his side 100% this time around. It seems that the hot springs have a recurring problem, and that is drunken visitors.
The trail had the faint but distinct odor of skunk, and not the black and white type.
We arrive not a quarter mile later to a plethora of spectacles, not the least of which is the population of naked men stewing in the water. Eyes averted, and all of us still dressed in swimsuits (our mothers taught us shame, after all), we find an empty pool, one of several as the springs cascade over rocks stacked by humans. If the previous nights unwelcome tenants destroyed some of the rock walls, it wasn't easily visible today.
Hot water poured down from the rocks, over our heads and our bodies warmed and oozed into a state of relief and relaxation. My young boys practiced swimming in water that, though shallow, was still above their heads. The adults in our group talked of the previous night and surmised the damage, mostly hot wax dripped over the rocks and the occasional cigarette butt.
The other guests jumped from rock to rock, their masculine paraphernalia dangling and bouncing around all the while. Eventually a lone, naked woman came, and was quickly surrounded by small talk and hopeful eyes.
As our feet shriveled, another family arrived and we gave up our spot.
Lost Lake
Mt. Hood has not always been its name. Wy'east was a son of the Great Spirit. He loved a woman, but so did his brother, and they both did so fiercely. She was unable to decide between the two of them, so in their attempt to conquer her love, they laid waste to villages and forests alike, until their father could no longer stand the destruction.
In his own rage at having seen what his children had done to the land, he destroyed them both–and their lover–creating the mountains known today as St. Helens, Adams, and Wy'east, who became Mt. Hood.
As we trekked through the vivid red of Vine maples, the glowing yellow of Bigleaf maples, the towering shadow of Western redcedar fell over it all and Autumn rang in perhaps a week or so early all around Lost Lake. We didn't feel the least bit lost, if anything the place was slightly crowded, but though our goal was to see old-growth in the primitive camping area, the presence of other humans wasn't as daunting as some solitude-seekers might find it.
Instead, the father and son combos pushing canoes through the water, the families hiking the lake's perimeter, the foreigners picnicking beneath the branches, it was all quite Norman Rockwell. Producing a small bag of beef jerky and some nuts, I doled them out to my own little family as they splashed their toes and fingers in the waters edge, Wy'east towering above us to cut a triangle in the wide open blue sky that graced us with its sunshine.
We lingered as long as we could before heading back down to the Columbia River Gorge, Hood at our backs and his brother Adams now in full view.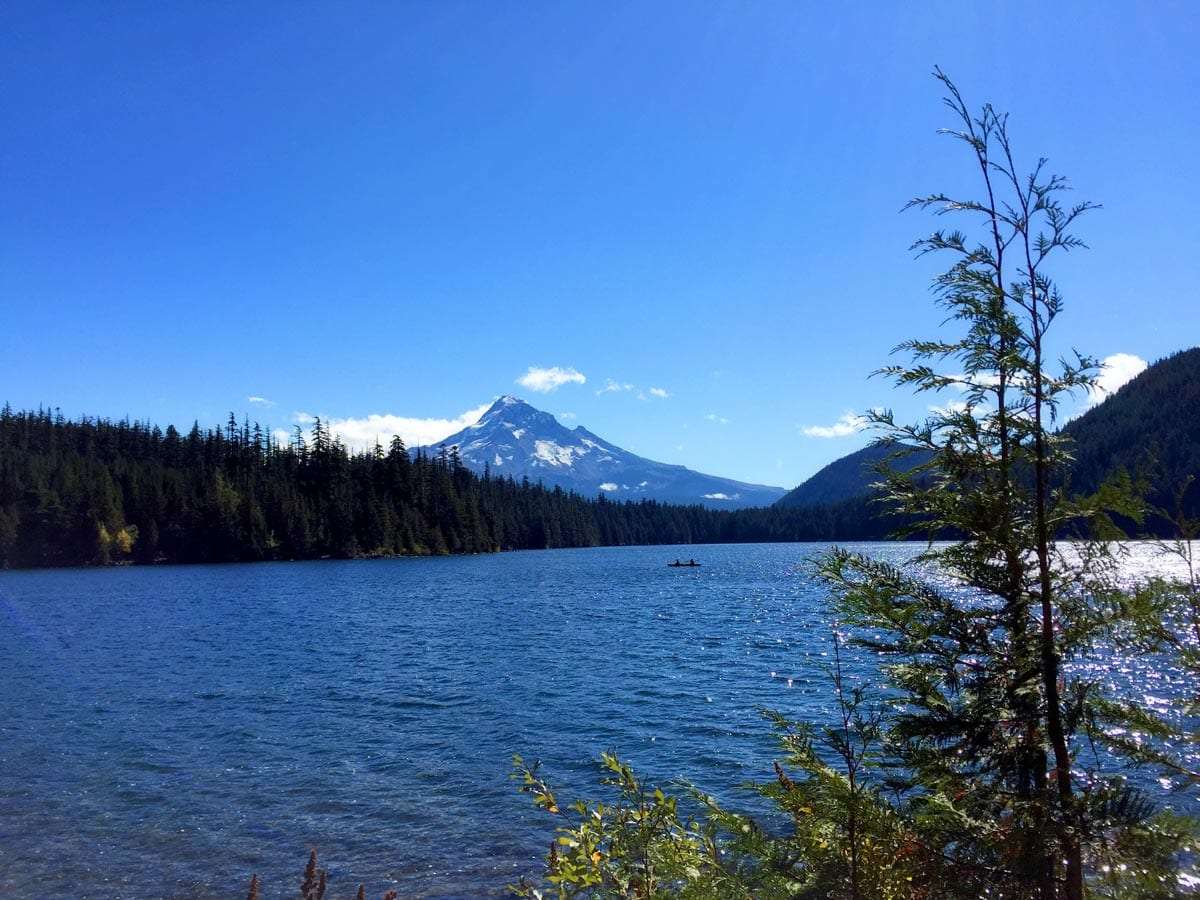 Ohanapecosh
While Ohanapecosh, the campground nestled amongst the big trees of the southeastern corner of Mt. Rainier National Park, is astounding in its own right, it's the Grove of the Patriarchs just a short jaunt further in that is the truly impressive spectacle.
Perhaps spectacle is short-sighted, but I am only a human, and these trees are gods. They are nearly as old as the legend of Jesus Christ. They stand thick, but not proud, happy to be nearing the climax of a long life in which they've known countless ferns and fauna, saw the forest change and grow and glow for some two thousand years. They don't dismiss the life beneath them, it's only "beneath" them in the most literal sense. The forest doesn't see itself as having a class, a ranked position in the grand scheme of it all. The forest is just the forest. The salmon dies in the river and the trees are able to grow so large due to this oceanic migration of nutrients, the trees die and fall, and countless new trees and bushes can grow from their decay, bushes create berries, and bears eat the berries and salmon. It's not a circle of life, it's a maze of life where everything benefits everything else in some way. Where, in these rare old-growth forests that are left on this planet, we can see how perfectly nature works when left to its own devices.
The first grand elder is a nurse log, meaning he's already fallen. Standing next to him, you can't see the topside of his downed trunk. Some kids on a middle school fieldtrip, and their teachers, climb onto his back and run across, having a blast all the while. We look at them, judging. It's difficult to understand. The forest should be our playground. It has always been here to teach us to dig under rocks in the creeks, to discover spiderwebs between the branches, to run and jump and climb trees.
But some places are too sacred to just absorb into our own personal playgrounds. This island, this Grove of the Patriarchs, is one such place. It only escaped logging in the area because it's on a small island in the river. Perhaps that's how it was saved from centuries of forest fires as well. Now, those middle schoolers, those teachers, they're chipping away at the fallen foliage that will sustain the forest for another two thousand years.
Or to put it a more basic way, something we can grasp in the here and now, if everyone ran across that downed log, if all of the millions of visitors who've come to this park to date had done so, it would not be here today for the rest of us to enjoy.
Further down the trail, the main attraction reveals itself. Two Douglas-firs, standing side-by-side, hips forever entwined, are as thick as the gasoline hauling trailers you see rigs pulling down the highway. One has lost a considerable portion of his top. The other looks down on him lovingly. Both draw crowds along the walkway in front of them.
For many, this will be the beginning of the end of the loop. For others, they'll stare off down a different walkway, where the Doug-firs' closest companion stands. Unlike the chunky bark and mouse-tail cones of Doug-firs, this tree is smooth, her bark in long strips and glowing red. Her knees protrude from the base of her trunk and her bows hang long and low, drooping to wave to the animals on the forest floor and provide shelter during heavy storms as they whisk away rain. She is the Western redcedar, the largest of her kind in the grove, and will stand long after the Doug-firs have finally fallen thanks to the natural tannins throughout her bark.
As we, and the rest of today's visitors to the Grove of the Patriarchs, make our way back out and to the road, off to our campsites at Ohanapecosh or beyond in the town of Packwood, a man sits completely quietly, out of the way, hidden among the ancient heroes of the forest.
He is our naturalist, and he has remained hidden, unmoving for hours, so he can sleep amongst the trees for one night. Though it's against the rules, his rules supersede even those of the National Park Service. He is a protector of the wild like the park cannot be, too many government regulations, conflicting interests of monetization and human interests not aligned perfectly with those of Mother Nature.
Night falls in, along with the cold, and he watches as the silhouettes of the trees give now and then away to dotted stars in the sky. He makes no fire, disturbs nothing except with the occasional mist as his breathe moves in and out, exchanging his life with that of the trees each time.
By morning he is gone, and the trees linger on.
La Wis Wis
Why do we, as campers, have such a tendency to judge?
I recall my backpacking days when I scoffed at the idea of just pulling into a campsite and setting up a tent. That was not camping. Indeed, there's even a term for it, "car camping". And as I began to occasionally drive somewhere and set up a tent for a weekend with friends, we'd chastise those who showed up in RVs, "That's not camping," the saying is heard in nearly every campground, every night, as some giant rock star of a motorhome comes barreling in, setting up their pavilions and firing up their generators.
Even amongst RVers, there are those who are roughing it and those who are deemed to have too much space.
It's human nature, I suppose.
And so it was me–a decade or two later, long gone from the days of backpacking and well into a life lived permanently on the road, in a 1976 Airstream that allowed me to spend so much time in the forest, taking a tent even deeper in never seemed that important–who was the guy lugging a 30′ travel trailer into the section of La Wis Wis marked "for small trailers only."
Small is not a law, it's a personal call.
So as I tried to shimmy that 30′ of trailer into a 32′, curved spot, and hoping to leave enough room for my van to hang around as well, I began to back up traffic.
The entire endeavor would have only taken me ten minutes…except the campground host showed up and started giving his input. "Turn this way, back her up, come on back, no swing it the other way!"
I hate input. My son and I have mastered the art and foreign input just makes things more difficult. Imagine your favorite football team, what if the coach actually listened to all of the input the fans watching at home were so eager to provide.
A garbage truck had come to empty the dumpsters, a few other "car campers" lined up behind him. I finally got us into position, unhitched the van from the Airstream, and was out of their collective way. Scowls could be seen all weekend, from nearly every adjacent campsite.
I don't care, I do this every day. Have fun back at your day job. Or better yet, don't care too and have the fun you're supposed to be having this weekend.
All of this quickly subsided, leaving my brain as good beers and better company–a friend had come to visit this National Forest campground just south of Mt. Rainier from Bend, Oregon–helped pass the time.
There's something about living in your own bubble of happiness that tends to drive the rest of the world's woes away.
Icicle Creek
Fires had driven us from Winthrop. Highway noise from Wenatchee. So we packed up and headed back into the Cascades, this time Leavenworth to be precise.
Shnitzel and German beer not being our thing, though, we set our sites on Icicle Creek. A slew of campgrounds showed promise, even on a summer weekend, but we landed in a place called Lower Johnny Creek. It was just a trickle feeding into the much larger, rushing Icicle Creek. I'm certain it should be considered a river, but who am I to question nomenclature?
The days were long, hot. The river was frigid, but perfect to wade in just long enough to cool you down, wash the stink and slime from armpits and elsewhere. Though the state of Washington was under a strict fire ban, this was National Forest, but even though fires were allowed, we chose not to partake.
When the evening is so hot and the nights only hint at a tingle of crispness, you can spend your time staring down into burning wood or give the timber industry a break and point your gaze in a more heavenly direction.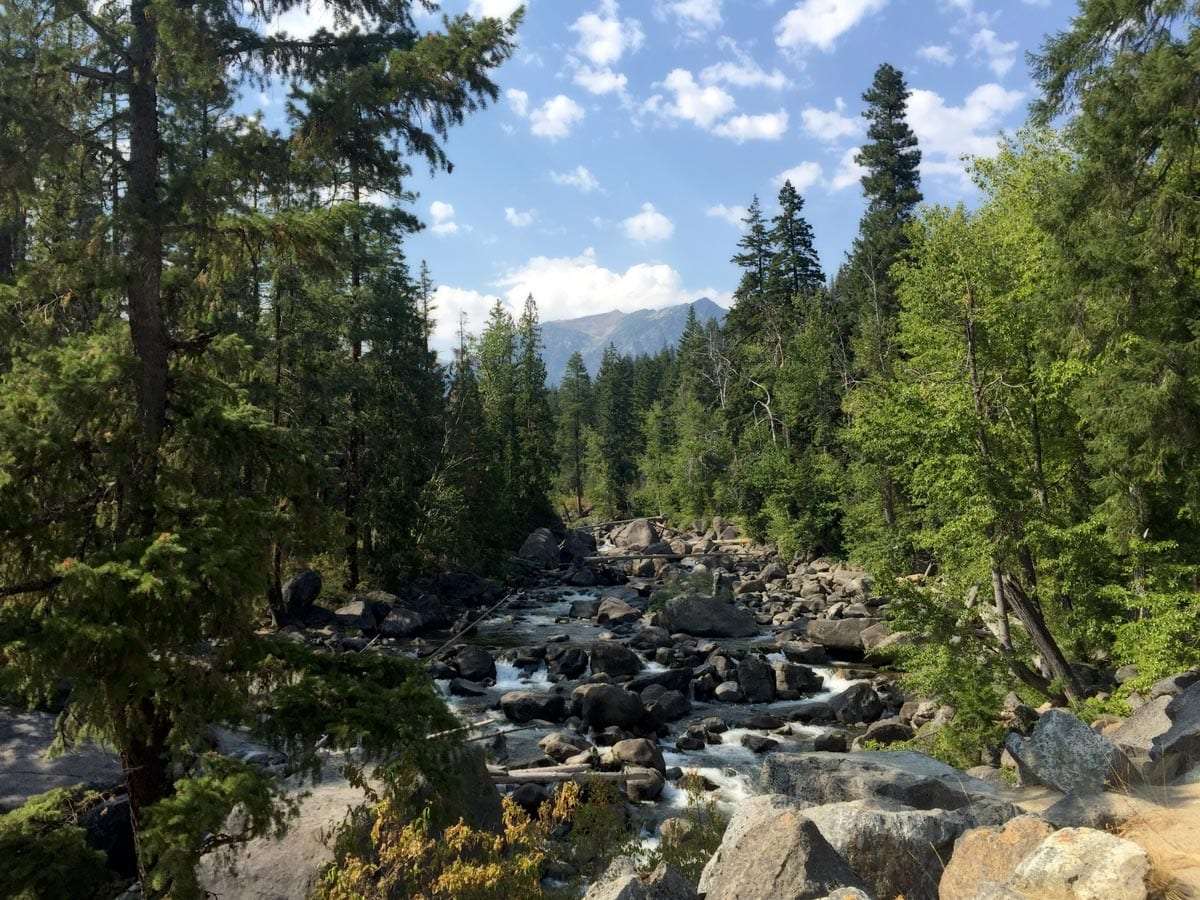 Shooting stars had been abundant all summer long. The Perseid meteor shower had blessed us on a particularly clear night, but rarely an open evening sky went by that we didn't see half a dozen shooters. And Johnny Creek was no different.
One particular evening, an hour before the sun would set, we made our way from our campground down to the big rocks along the river's edge. The boys flung sticks into the creek and the adults sipped on strong IPAs out of aluminum cans. Shadows fell from the trees to blacken the water. An osprey arrived, swooping in to perch on a snag overlooking us all.
He was fishing. Unlike human fishermen, casting their lines in repeatedly hoping for luck to prove their pal, he just stood there, eyeing the water.
The noise of rocks and sticks clamoring together as the children frolicked away the summer evening like all young people should do, and adults should remember, didn't bother him at all. Time went on, smaller birds circled the fish hawk, bats snatched dragonflies attempting to eat mosquitos all the while, but none of it phased him.
He was stalwart, upright, except for his head, eyes intently focused on the water.
And then he dove. Talons first, stretched out in front of his open beak, he splashed into the water, wings flapping, splashing, then arose from the creek with his prize, a fish, and returned to the sky, disappearing beyond the tree line.
When night finally fell, the children asleep, my Lady and I would return to the rocks, trace the lines left behind by the larger shooting stars and drown our fellow campers noise away so near to the rushing river. Cell service was miles away.
The forest here was spectacular, a blend of the rainforest climate found on the Westward slope of the mountains and the drier desert forest of the Leeward. Silver firs and Ponderosa pines mixed with Redcedars and Douglas-firs. Paper birch shed its flaky skin and the flighted side of nature was relentless.
A bard owl teased our campsite. We'd heard plenty of owls in our life, but saw very few. A flash in the headlights now and then, or a silhouette as it flew away on longer hikes that left us coming home at dusk. This time, he was bold, and arrived early enough in the evening that we could see him clearly, completely. He hung around long enough for us to try and call him. His black eyes would stare down from the branch he was perched on, a look somewhere between puzzled and pissed, and then go back to staring around the forest looking for prey.
Another day we came across an osprey in his nest. He screamed for hours as we played around the creek bank, across from his home. At one point it went from delightful noise and having seen a bird so at home to near annoyance, but just then the osprey abandoned his nest for a lower branch as a falcon swooped in, landed in the nest, pulled something unidentifiable out, and dropped it into the creek below.
The osprey returned to his nest, but no longer screamed.
Money Creek
In a twist of coincidence, several of my high school buddies and I all arrived at this National Forest Campground just south of Skykomish on the same weekend. Drinks were had, smoke was smoked. Bike rides and floats around the river bend, hikes through old-growth and long lines waiting at the only deli in town for the ladies there to figure out how to make a dozen sandwiches at once.
I was in heaven.
And then they left, back to their lives, their jobs, their own corners of the world.
So I laid myself down beneath the tallest tree in this old-growth swath of campground and looked up.
The tree itself was a Doug, a massive old monster, silver-backed from decades of lichen growing up his trunk. The sky was pristine blue and only occasionally a wispy puff of white would roll between the canopy. Rays of sunlight cut through, spraying through the dust of the forest's daily happenings to shower squirrels and jays in golden rays as they made their frolicky way through life. Bigleaf maples would block out yet more of the sky, rising high above my view, still below the main canopy but on moss-laden trunks that stretched out to find any glimmer of light they could steal from the big conifers. Their cousins, the smaller Vine maples, lived much closer to the floor, my companions, we huddled beneath it all, silently.
Ten minutes, twenty, half an hour gone and the amount of skittering about by everything from butterflies to falling limbs was like a fairy tale. I fully expected Aurora to come bursting out, singing her Sleeping Beauty song and calling them all to land on her fingertips.
I don't know the history of Money Creek, where it got its name, but thank god it wasn't for the value of all of this potential lumber. What's been left behind here is infinitely more valuable than whatever fortune could have been made by bringing it all to the ground.
The Dalles
The sign pointed to two attractions in this campground outside of Mount Rainier National Park: Camping Loop and 9′ Diameter Douglas-fir. Though we'd come for the camping, the tree was the first thing on everyone's mind.
It was a matriarch, the largest, oldest living thing for possibly hundreds of miles, maybe the oldest in Washington outside of the Grove of the Patriarchs.
We scored the last camping spot, began setting up, chopping wood and studying our surroundings. When camp was set, it was time to go see this wondrous site.
9′ in diameter was not completely accurate. The tree was closer to 10′, the sign must have been old. But I wouldn't have minded so much if it was just an old, inaccurate sign. It was a travesty, an oversight of epic proportions.
Because the tree was felled. Recently, like we had missed the saws by only a few days.
The campground host said it was due to the tree having rotted out from the inside. But anyone with a mild knowledge of dendrology could see that significantly more of the tree was still solid than was rotten. Worse, there was only one campsite that would have been affected by the tree even if it had fallen. And if left to its natural course, this old grand mother of the forest may have stood another hundred years, another thousand even.
The decision was made though, by some arborist or naturalist employed by the forest service, to cut it down. A frail human, someone only of this earth for eight or so decades tops, was allowed to make a decision to destroy a one thousand year old being. It will take fifteen generations of his offspring to come and go before another one of its size can exist here, though that will never happen as humankind is more concerned with the illusion of safety than treasuring the planet that we live on.
We debated amongst ourselves the merit of these decisions. We looked out to the road. The tree could never have fallen that far. There was a solitary campsite in the entire tree's radius. Better to cut the tree down than to close the campsite, the forest service figured.
Even if it was a danger to people, what do we expect from our campgrounds, from our wild places? Do we want to tame nature to such a degree that it feels as comfortable as our living room sofa? Isn't the wildness of it all, the raw feeling of being closer to what our real human lives should be the draw?
We're fine with scaling mountain faces, rafting whitewater, and parachuting out of planes, but god forbid a tree might fall on us. Trees fall every day. Little ones, big ones, it happens all of the time in the forest.
How many people have you ever heard of who've been killed by a falling tree?
Now, how many times have you driven a giant metal killing machine at 65mph down a road only inches away from other people doing the same thing, in the opposite direction? How many times have you, or someone you know, done it drunk?
We all get together in the forest and shoot guns at animals. We hike up mountains along trails that are potential mudslides on one side and giant cliffs on the other, and then camp in the back country with bears and cougars.
So a fear of trees? It's hard to believe. It's hard not to believe in some type of conspiracy. But it's most difficult to believe that no one, not one article on the internet, in a corner of the country that claims to be fiercely pro-environment, cared at all about the end of this tree's millenium-long life.