Roadschooling
with the National Monuments:
Fossils

& Dinosaurs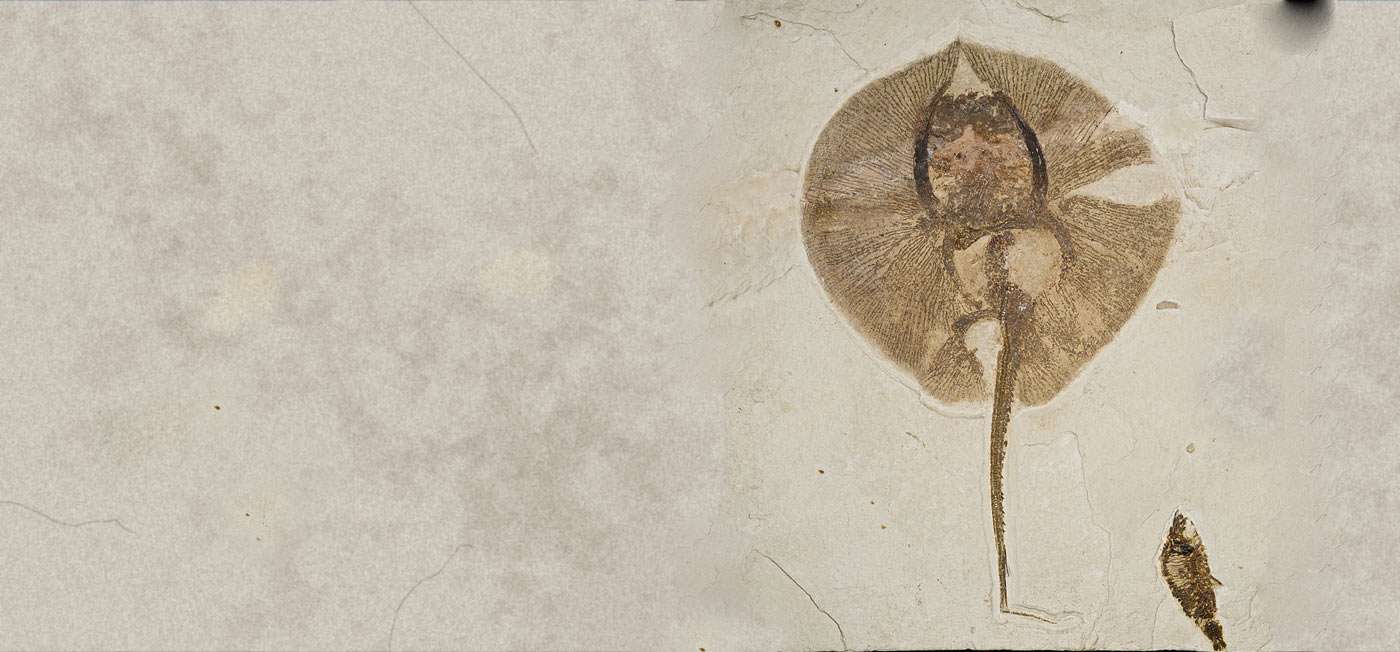 Few aspects of science have achieved such a mythical status as dinosaurs.
Capturing the attention and imaginations of children the world over, from Jurassic Park to Barney, roadside sculptures to actual fossils in museums, kids can't get enough of the idea that "monsters" once ruled the world.
A love of fossils, so they say, was even one of the reasons–think of it as a "side hustle"– for Thomas Jefferson's organization of the Lewis & Clark Expedition. Though he was hoping to find living mammoths, since the 19th century our public knowledge of dinosaurs–and studying them as a profession–has grown exponentially.
For those of you driving around the country with kiddos in a van or RV, or even just on a cross country roadtrip, there's a gorgeous route to follow from South Dakota's Black Hills all the way to Oregon. This article isn't meant to be a "lesson plan," you can find many of those in the form of Junior Ranger books, visitor centers and all across the Internet, but a guide to how you can make an entire summer's worth of traveling out of exploring North America's fossil remains.
Before we get all "into it" though, perhaps a revisit of what a fossil actually is. Fossils aren't just dinosaur bones. Generally, they're considered more or less any evidence of life from before the last Ice Age, which occurred around 10,000 years ago. They include dinosaurs and mammoths, yes, but also seed imprints, animal tracks, ancient seashells, petrified wood and even coal is technically a fossil. We'll try and stick to sites more interesting than what Santa gives bad kids on Christmas, though.
The Trip
Covering over 1800 miles from South Dakota to Oregon, you'll pass through some of the most beautiful places in the nation, replete with free and paid camping, depending on your preference. Big cities and small towns will pass through your windshield frame between the suggested stops below, and Junior Ranger badges galore are waiting to be had.
Badlands National Park
South Dakota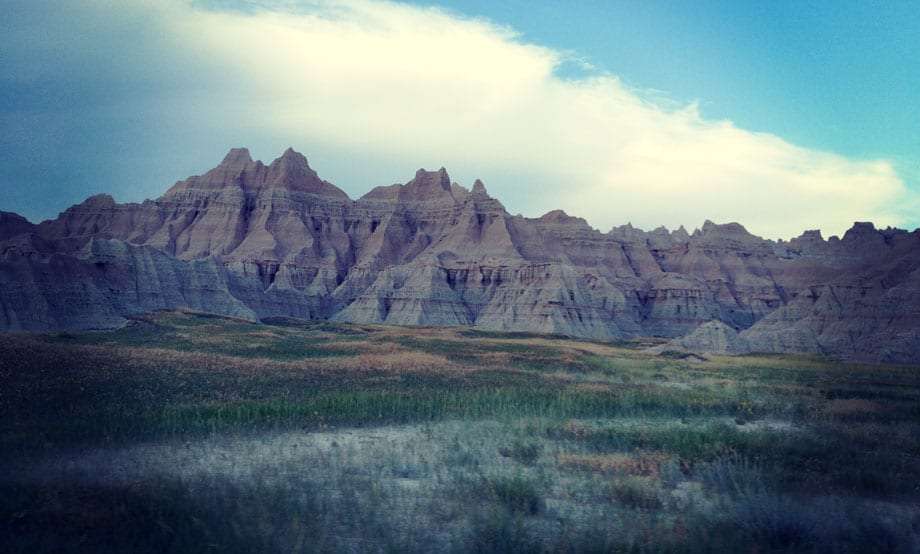 A site to behold entirely on their own, the Badlands are like a slice of earth crinkled up, as though the Great Plains all around them were carelessly stepped on by a giant child's playful footsteps. The endless prairie–farmland really, these days–was tossed and crumpled, divided by his massive toes and the stirring of the earth set wildflowers against dramatic backdrops, with the curious-looking pronghorn and ever so endangered black-footed ferret left to ponder it all.
It's also home to a massive collection of fossils belonging to now long gone horses, rhinos and camels that once roamed North America. Even ancient crocodiles once lived in this corner of America. Brontotheres and oreodonts are two completely extinct creatures which numbered here in the millions at one time.
Even without the fossils, Badlands National Park is a place so very much worth exploring. Two visitors centers–on the eastern edge and southern side of the park–provide Junior Ranger programs and a variety of books and other ways to engage with the park.
Nearby Wall, a tourist trap of a roadside attraction the likes of which you won't quite find anywhere else in the country, lives to the North, while the Black Hills to the west are a guaranteed beauty of a good time detour on our way to our next destination.
Nearby Educational Attractions
Wounded Knee Museum in Wall, SD provides information on Native American history–and the atrocities committed against them. Wall itself is something to see, with plenty to keep the tourist attraction attracted busy.
Best Camping Near the Badlands
Steer Pasture and Nomad View offer free camping, with cell service, on the north side of the park. Toward the southern entrance, Cedar Pass offers electric hookups or there are a variety of full hookup private RV parks surrounding the national park. Campendium is great for finding campsites in general, here's the Badlands page.
Detour: Black Hills
South Dakota
Beyond simply being stuffed like a Thanksgiving turkey with natural beauty, there are a few places of educational (though not necessarily related to fossils) significance in the Black Hills. A train museum in Hill City offers insights into the history of railroads in the area, and you can even take a tour on a 100 year old train. In Custer, the National Museum of Woodcarving will simultaneously inform and creep youngsters (and their parents) out. The town of Deadwood allows one to travel back in time to an earlier era in America's westward expansion, and Jewel Cave National Monument and Wind Cave National Park offers glimpses into some of the world's longest caves. The wildlife loop in Custer State Park almost guarantees buffalo sightings, or just take a swim at beautiful Sylvan Lake.
The Black Hills are also home to Mount Rushmore and the still-in-progress Crazy Horse–an even more massive, and impressive once finished, statue of the chief for which it is named, carved out of a mountainside. Children will learn about the contentious history of our nation's relationship with the native people, and how both Rushmore and Crazy Horse are essentially carved out of sacred land, leaving their creation considerably dubious.
Agate Fossil Beds National Monument
Nebraska
Unlike much of the Great Plains, the northwestern corner of Nebraska is a thing of beauty. I mean, endless prairie, covered in millions of bison, was no doubt a sight to behold at one point, but now Kansas and Nebraska are largely one massive factory farm after another. This part of Nebraska, on the other hand, is dotted in lakes and sand dunes, and Agate Fossil Beds rests amidst it all.
It's so much more than just a good view, though. Take the Palaeocastor, for example. It was a giant beaver that weighed in around 200 pounds. A bear dog, a three-toed horse and long extinct native rhinos and camels are among other creatures one can imagine wandering these lands. And that's before you get into the ancient predators.
Camping Near Agate Fossil Beds
A private RV park by the name of Pavement Ends Campground is the closest place to call home while visiting this national monument. Dark skies, water & electric hookups and rolling farmland await. The small town of Harrison, about 25 minutes away, has additional options for camping.
Detour: Dinosaur Museums of Colorado's Front Range
If you take the fastest route between Agate Fossil Beds and Florissant, the next stop on our tour, you'll be driving I-25 down the Colorado Front Range.
Aside from being a stellar run of cities and small towns, like Lyons, Boulder, and out-of-the-way Nederland, CO, the region is also home to a plethora of learning experiences. While not specifically dino-related, the Fort Collins Museum of Discovery features exhibits on music, wildlife, the universe and local history ranging from modern day farming to ancestral people in the area. It's very kid-friendly as well, making it a great stop along the way.
Boulder's Museum of Natural History, Denver's Museum of Nature & Science and nearby Morrison's Dinosaur Ridge all add to the fun.
Florissant Fossil Beds National Monument
Colorado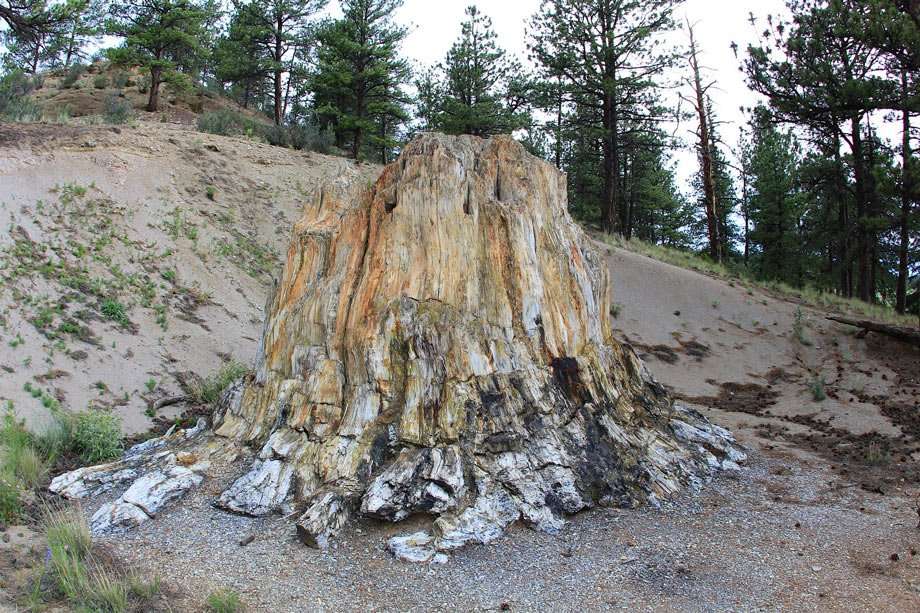 Where we've explored mostly ancient mammals to this point, as we cross into Colorado–and the scenery amps up considerably–we'll look at how massive redwood trees once lived in a much more tropical North America. With actual fossilized stumps, larger than cars in some cases, a brief hike through the petrified forest is ever so worth the time.
Nearby, the Colorado Wolf and Wildlife Center is a rescue operation turned educational center and sanctuary for abandoned wolves and wolf-dogs. If you're into that sort of thing.
Nearby Educational Attractions
Twenty minutes away, Mueller State Park is one of Colorado's best state parks, offering showers, bathrooms, cell service, electric hookups and is often a destination of its own. It also has a plethora of information to study in the visitors center, as well as plants and wildlife to experience.
The Colorado Wolf and Wildlife Sanctuary, once a wolf-dog rescue center turned educational, is also nearby.
Camping Near Fossil Beds
Aside from the aforementioned state park, Pike National Forest offers camping, such as at Blue Mountain, or a private park by the name of Travel Port, with electric, is just near there as well.
Detour: Educational Experiences of Colorado's I-70 Corridor
Breckenridge, Vail and Aspen are but a few of the towns on this infamous ski slope mecca, but they offer just as much to do in the warmer months as well.
Breckenridge offers everything from ghost tours to saw mills, railroads to mining to explore. Vail has a Snowsports Museum while Aspen is home to both an historical and art museum.
Dinosaur National Monument
Colorado & Utah
One of the most impressive of all of our national monuments, this National Park-worthy destination and also the first set of fossil beds to actually feature dinosaurs here on our tour. When Earl Douglass first discovered a few "terrible lizard" tailbones in the area, a nationwide love affair with dinosaurs ensued, and has lasted through to today.
Featuring dinos like Allosaurus, Apatosaurus and Diplodocus, among others, spread out over some 800 paleontological sites but also conveniently collected in the visitor center where kids can grab a Junior Ranger book and learn to their hearts content while still having all of the fun a national monument provides.
A dark sky park, and located far away from most big city lights, camping here is phenomenal, and abundant. Elk, black bears, cougars and river otters are some of the more interesting wildlife found in the park.
Beyond those chances for children to learn something valuable, visitors can learn about the fur traders who came here in search of making a living from the backs of the animals that were once abundant in the region, the Fremont people via their pictographs and petroglyphs, and the remarkable story of Josie Bassett Morris, a pioneer woman who was part moonshiner, part bed n' breakfast, part suffragette.
Nearby Educational Attractions
Just over twenty minutes south of the park's entrance, Rangely Automotive Museum is antique cars and motorcycles from the early 1900s enough to amuse any child.
Best Camping in Dinosaur National Monument
The monument has several official campgrounds, such as Split Mountain and Green River on the Utah side, both with flush toilets, picnic tables, and trash service, while nearby free, dispersed camping sites like Blue Mountain and Cliff Ridge offer something more rustic. On the Colorado portion, while outside of the park, Harpers Corner and (another) Blue Mountain are great options as well. If you have a small rig, and there is no chance of rain, you will find few campgrounds that rival Echo Park in these entire United States, especially if you like to swim.
Most of the previously mentioned areas also have cell service (not Echo Park), should such a thing be interesting to you as a camper. Deerlodge Park, on the eastern side of the monument, has vault toilets and good reception as well.
Jurassic National Monument
Utah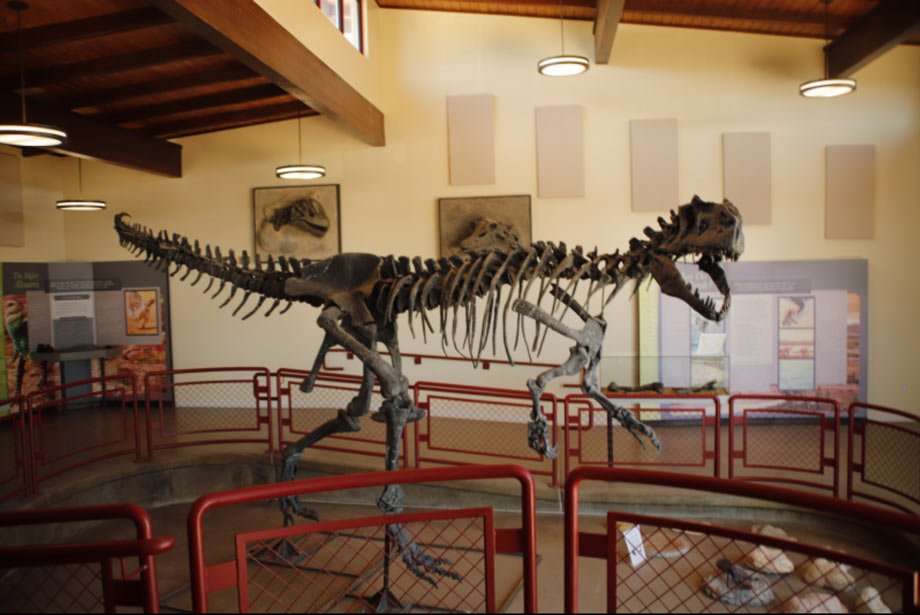 One of our nation's newest national monuments, previously known as Cleveland-Lloyd Dinosaur Quarry, the site is home to a large collection of Jurassic bones. Why the majority of them belong to carnivores, what happened to them in the first place, and how they all ended up dying here are all mysteries the national monument aims to solve. The park was due to open in April 2020, but due to current circumstances–compounded by a 5.7 magnitude earthquake that struck in March–it has yet to officially open.
When it finally does, the story of the Allosaurus (think smaller T-Rex) is no more clear than here.
Nearby Educational Attractions
Within an hour of the monument, several museums of varied nature exist. Museum of the San Rafael has more relics of our Jurassic past, as well as exhibits on modern animals living in the area, and entries revolving around early man in the area. The Western Mining and Railroad Museum is a small sight to see, while Utah State University Eastern offers more in the way of prehistory.
Camping Near Jurassic National Monument
Your best bets, while not immediately in the monument itself, are Huntingdon State Park, or the private RV parks near Price, including Mountain View and Legacy.
Timpanogos Cave National Monument
Utah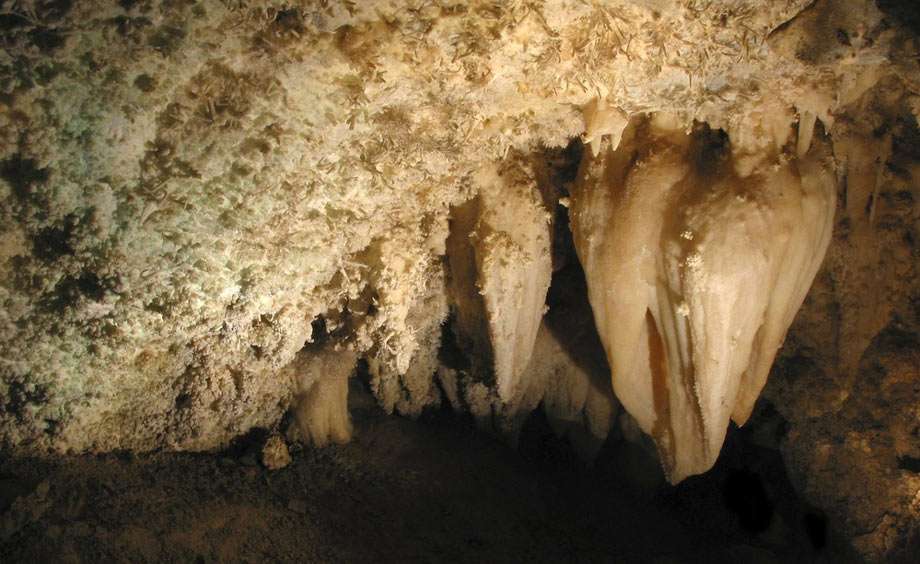 Martin Hansen was on your run-of-the-mill cougar tracking adventure on lovely 1887 day when he discovered a cave full of intricate, brilliant crystals. He spread the word, and within a few years corporations and regular folk alike had robbed the natural spectacle of much of its beauty, as man tends to do.
Sixteen years later, two friends found a second cave in the area–now known as Timpanogos Cave–but could appreciate the value of such a natural wonder, and kept their secret closely guarded. All secrets tend to spill, though, and less than a decade later a group known as the Payson Alpine Club went in search of the cave with hopes of protecting it for all mankind to enjoy, rather than plunder.
Later that year, Martin Hansen's own sons found a third cave. Today, all three are protected as part of this national monument. Though its a steep mile and a half climb to the caves, they're all connected and available to access via guided tours today. While some of the most interesting aspects of the caves are the helictites–gravity-defying (literally) rock formations–the original Hansen cave contains fossils from an underwater Utah of some 340 million years ago.
Nearby Educational Attractions
The Museum of Ancient Life, in nearby Lehi, Utah, is a full-fledged dinosaur experience. It's located in an area named Thanksgiving Point, which also houses a theater, golf course, butterfly biosphere (home to thousands of butterflies from around the globe), a garden, their Museum of Natural Curiosity, and petting zoo / working farm.
Camping Near Timpanogos Caves
Little Mill Campground is just 5 minutes outside of the monument, a paid ($24 / night) campground in the Uinta National Forest. A handful of other, similar national forest sites are a bit deeper into the woods. Otherwise, full-hookup camping will need to be found in Provo or Draper, Utah.
Fossil Butte National Monument
Wyoming
Of the plethora of fossils that give this monument its name, some of the most exciting are perfect portrayals of ancient stingray, horses that were as small as modern day dogs, and various reptiles, frogs and birds. Now extinct crocodiles, bats, sheep, spiders, bees and a variety of mammals are also on display. The collection on display is somewhere between nearly grotesque horror and the artistic strokes nature left in abundance here for all time. Beyond the protected fossils at the national monument, kids can get their hands on fossils they can take home, sourced from an abundance of private quarries in the area.
Fossil Butte's distinction is how well preserved its fossils are, showing what often appear like paintings of bizarre creatures from tens of millions of years ago.
Nearby Educational Attractions
In nearby Kemmerer, Wyoming, the Fossil Country Frontier Museum features exhibits as varied as those on early 1900s and mountain man life to a two-bodied lamb, and much more. The original J C Penney store, which can be visited and is now a museum, is also located in town.
Best Camping Near Fossil Butte
A county park and two private RV parks, offering choices from dry camping to full hookups, can also be found 17 minutes east on US 30 in Kemmerer.
Detour: Craters of the Moon National Monument
One of many national monuments with camping immediately within their boundaries, Craters of the Moon offers a different take on natural history, and is home to a plethora of volcanic formations in a seemingly otherworldly landscape. Easy hikes and a small visitors center make this a great detour along the way.
Hagerman Fossil Beds National Monument
Idaho
The Hagerman horse gave its name–posthumously of course–to this monument. Nearly the size of a today's domesticated horse, but likely with zebra-esque stripes to match its more modern descendants, the Hagerman horse provides a jumping point to explaining how horses–and other animals like camels–once roamed North America, even if all of the horses we see here today were brought to the continent by Europeans (that is, Native Americans didn't actually have horses until they were "reintroduced" in the late 1400s and early 1500s.)
Saber-toothed cats, mastodons, sloths and bears can also be seen at Hagerman Fossil Beds National Monument.
Nearby Educational Attractions
It should be noted that the main place to see fossils is in the visitors center in Hagerman, while the national monument is a gorgeous, hilly, riverside slice of nature. Within an hour of Hagerman are a variety of small local museums, of which Idaho's Mammoth Cave and Shoshone Bird Museum of Natural History and the Oregon Trail History and Education Center stand out.
Camping Near Hagerman Fossil Beds
An RV park in the town of Hagerman itself offers full hookups, while a boat ramp offers a potentially somewhat less crowded camping experience across the river from the monument.
John Day Fossil Beds National Monument
Oregon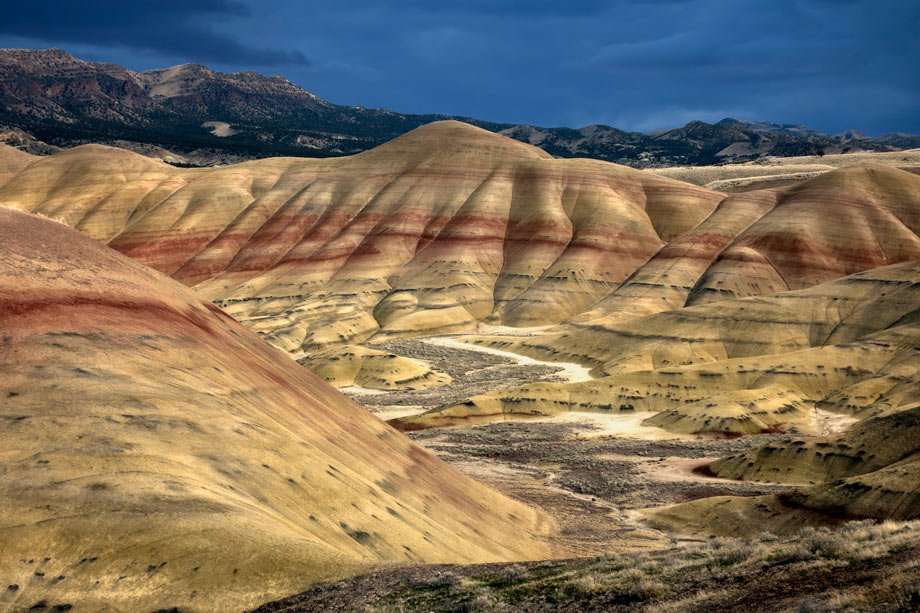 The last stop on our tour takes us to the gorgeous northeastern corner of Oregon, where the John Day River and Painted Hills would be sights to behold worthy of the trip alone, but where one can also find long disappeared elephants, giraffe-deer and rhino-looking creatures, animals we don't typically associate with our continent but which once roamed the landscape in abundance.
John Day shines because where many of the monuments on this tour highlight a handful of species, or a particular era in the grand history of life on our planet, it spans multiple.
Nearby Educational Attractions
The Thomas Condon Paleontology Center is part of the monument itself, while 45 minutes east on US 26, Grant County operates an historical museum and Ranch & Rodeo Museum. The same area is also home to Oregon State Park's Kam Wah Chung State Heritage Site, detailing the lives of Chinese immigrants.
Camping in John Day National Monument
The closest camping to this national monument can be found at private RV parks in nearby Dayville, Oregon.
Whether you're doing the entire route over a summer or just hitting up the spots near your already planned destinations, the national monuments offer a typically more secluded experience than our national parks, but often just as many of the amenities, programs and beauty. Enjoy!
Looking for more roadschooling experiences? We've got a ton here in our handbook all about teaching your kids while traveling.