RVing in Michigan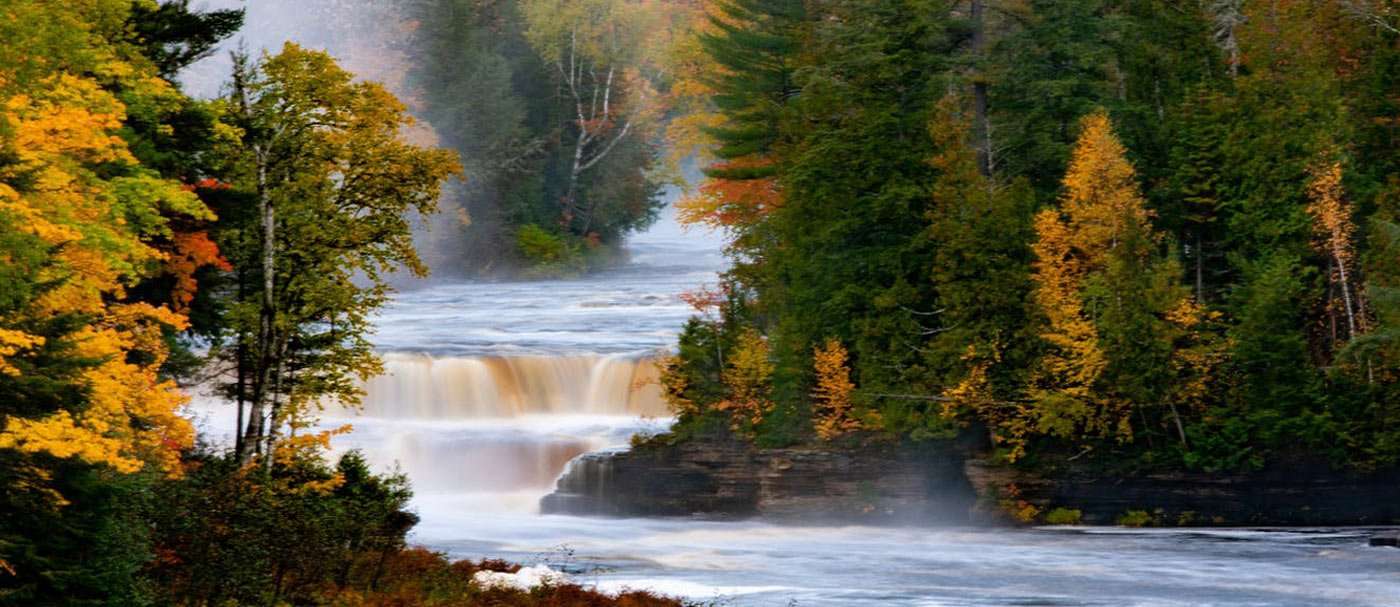 When we set out on our full time travel adventure over 3 years ago, our plan was to visit and spend at least one night in each state.
Over the years, we've spent several months in some states (Utah, Alaska, Wyoming) and only a night in others (Connecticut, Kansas, Alabama). By the summer of 2020 we had visited 45 states in the RV, only lacking Iowa, Wisconsin, Minnesota, and Michigan in the continental US (since our RV is not amphibious, Hawaii will be a different kind of trip.)
When the pandemic hit last February we were doing our winter thing in Utah. Soon our already-booked mid-Spring multi-month trip to Europe was canceled and we were in limbo. Should we head out to visit "The Final Four" or do we need to stay put? Was it safe to travel? Were RV parks and other businesses even open? We had these and many other questions. Ultimately we decided to go for it, with Michigan being our primary focus.
My perception of Michigan was the RoboCop patrolled streets of Detroit. Boy, was I wrong.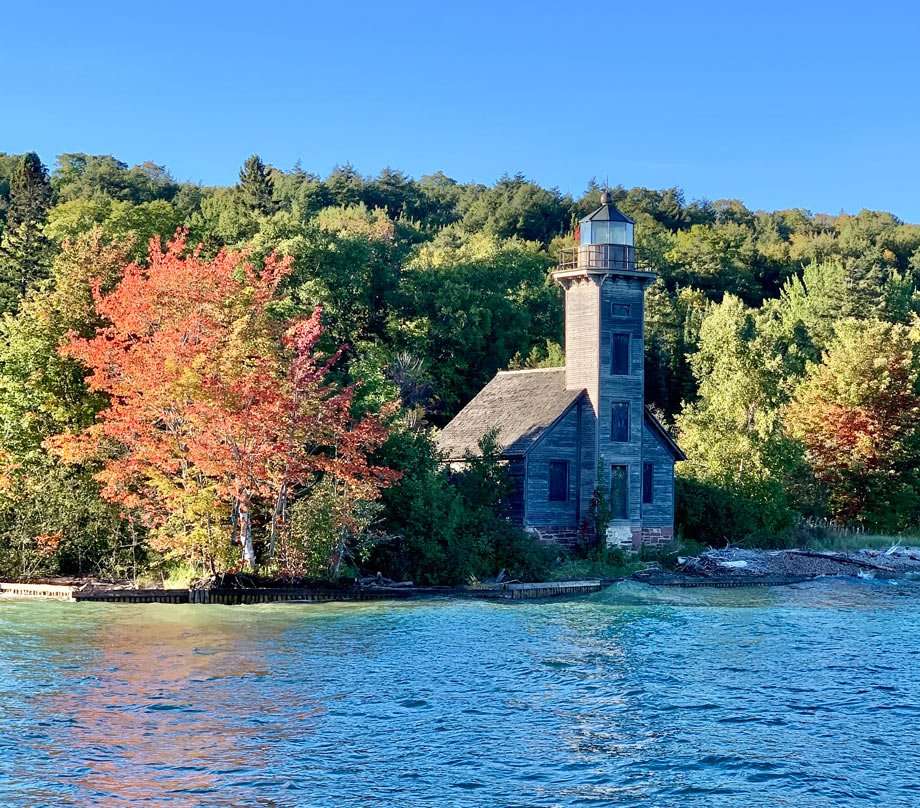 We arrived in the land of berries and breweries in late August and spent a couple days outside of South Bend, home of the Notre Dame Fighting Irish. Being a college football super fan and a bit of an academic junkie, I wanted to see the famed campus, stadium, and, of course, the mural of Touchdown Jesus. We drove through the campus, walked around the stadium, took some photos, then left feeling very underwhelmed.
One thing we almost always do when we set out on a RV adventure to parts unknown is to have a detailed plan. I love the planning aspect of the nomad life. Not that it's necessary for a successful adventure, but I think it satisfies some part of my psyche that needs to consume information. For "The Final Four" adventure, we decided to wing it. No real plans other than knowing some areas we wanted to visit because we have friends there.
Also, with the pandemic, we didn't anticipate RV parks not having availability. Wrong again.
One area that we wanted to visit was Holland, MI as we have good friends there (our former neighbors when we lived in Houston…they also decided the mega city life was not for them.) We contacted around a dozen RV parks before we finally found one that had a spot for us, Bazen Baldwin Oaks Family Campground. The sites are electric and water only, but Dan Bazen (the owner) pulled his honey wagon through the park on Mondays and Thursdays to empty folks' tanks. We stayed there for two weeks and this was much better than me having to drag my sewer caddy to the dump station every few days.
Bazen Baldwin was about a 30 minute drive to downtown Holland and a little less to downtown Grand Rapids. Holland, settled by the Dutch in the mid-1800s, is a wonderful town nestled on the shores of Lake Michigan. It's home to The Big Red Lighthouse, Hope College and the Tulip Time Festival. Michigan is popular for its craft breweries and the Holland area is ground zero with Big Lake, New Holland, Tulip City, and many more. Of course I had to visit a few of these establishments–for research purposes–multiple times. Over the next couple of weeks, we spent our days boating with our friends on Lake Macatawa, the kids swam in frigid Lake Michigan, and in Grand Haven, a very cool lakeside town with great ice cream.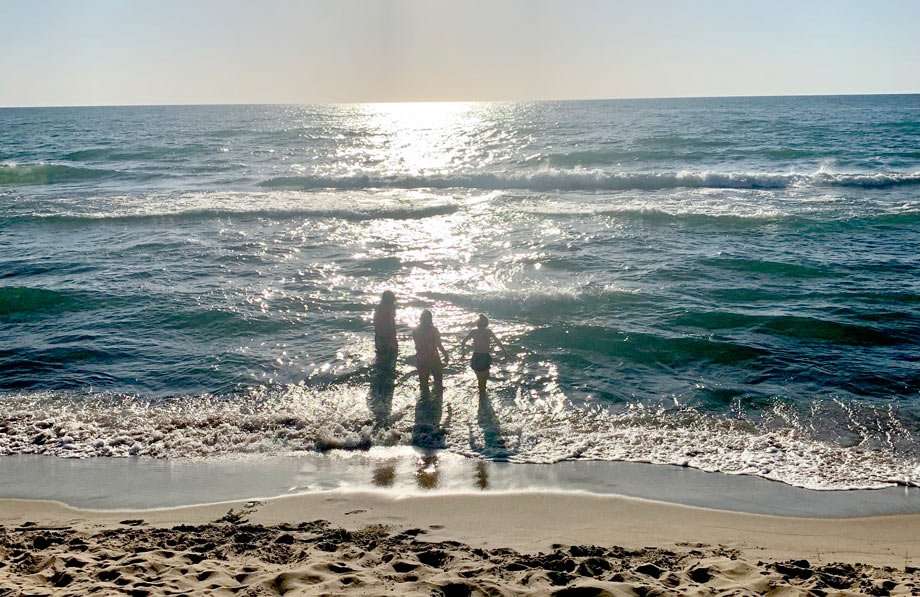 We departed the Holland area, heading north to Manistee. We used Manistee and Insta Launch RV Park as our base camp for a few days to visit Sleeping Bear Dunes National Lakeshore. Insta Launch is an interesting place. It's basically a park for fishermen and women who have RVs. We set up our rolling house before wandering around downtown Manistee for an hour or so. The following day we drove up to the Empire area and Sleeping Bear Sand Dunes, one of only three national lakeshores in the United States (the third being Apostle Islands in Wisconsin.) We meandered our way along the Pierce Stocking Scenic Drive by Sleeping Bear's sugar sand dunes, Caribbean blue/green waters, and dense forests. One can easily see why it was named The Most Beautiful Place in America by Good Morning America.
The story of how Sleeping Bear got its name is an interesting story and you can read about it on the National Parks website.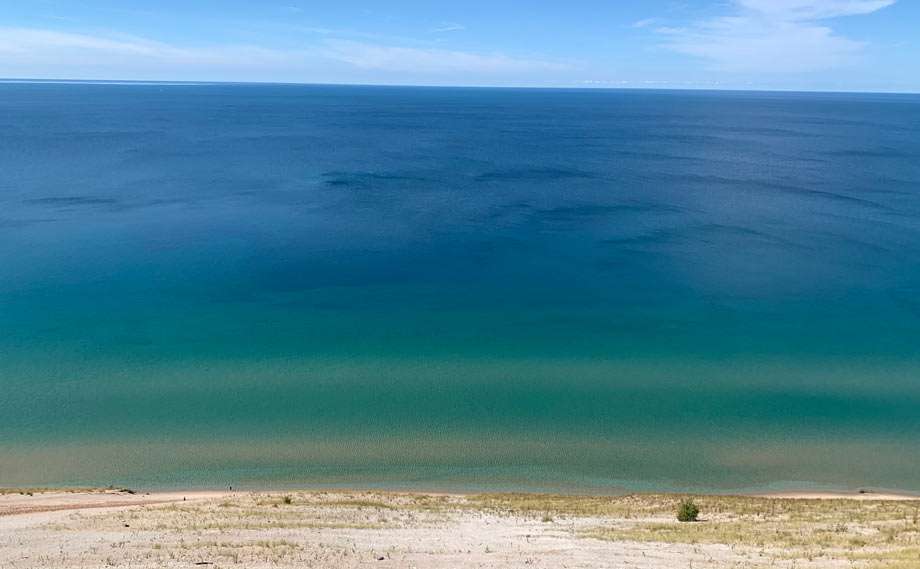 Leaving Manistee, we weaved our way north through Traverse City, Charlevoix, and Petoskey to Mackinaw City and the Mackinaw Mills Creek Camping Park, a top 10 park for us. We spent the afternoon and evening in downtown Mackinaw City visiting the tourist shops, candy stores, and a pub.
We were told by others that Mackinac Island was a must. It was on the list if we had the time, but not a top priority. At least it wasn't a priority for me as I imagined being trapped on an island with a plethora of tourists and souvenir t-shirt shops.
The following morning, after resisting as much as I could without causing a mutiny, I boarded the ferry to Mackinac Island with the rest of the family for what I anticipated would be a waste of a day. Wrong yet again!
Mackinac Island is one amazing place. We disembarked the ferry and watched workers load the overnight guests' luggage onto horse-drawn trailers for the slow roll to one of the elegant B&Bs or Victorian hotels on the island. There is no motorized vehicle traffic on the island with the exception of snow plows and a handful of public works trucks.
The island is steep in history and was originally a Odawa settlement before it was colonized by Europeans. The British built a fort on the island during the Revolutionary War and two battles were fought there during the War of 1812. As a result of the historical significance of the island, it is listed as a National Historic Landmark.
We strolled down Lakeshore Drive visiting many of the shops. After a great lunch at the Green Turtle Brewery & Distillery, we decided to rent bikes and tour more of the island. If one has the time, there is a loop around the entire island with amazing views of Lake Huron, the Victorian Grand Hotel, and the Mackinac Bridge, which happens to be the longest suspension bridge in the Western Hemisphere. We didn't have the time to make the entire loop so after a couple of races (I had to remind the kids of my supreme athletic talent), we returned the bikes, bought some souvenirs (suckers we are) and the famous local fudge, and grabbed an iced coffee at the island Starbucks before heading back to the ferry. It was a great day and one of the many highlights of our visit to Michigan. Next time we would plan this better and spend a night or two on the island taking in all it has to offer.
We loved this area of Michigan, which was becoming a common theme with each stop. We tried to extend our stay at the campground, but the sites that would best accommodate our rig were booked. It was time to head to the Upper Peninsula, locally known as the UP.
Prior to arriving in Michigan, we were visiting with a National Park Ranger friend who grew up in Michigan. She said "The UP of Michigan is a lot like Alaska without the big mountains." With our deep affinity for Alaska we were intrigued by this. All packed up we rolled across the Mackinac Bridge and entered the UP. The difference was noticeable immediately. Fewer vehicles, fewer man-made structures, fewer people. Winning!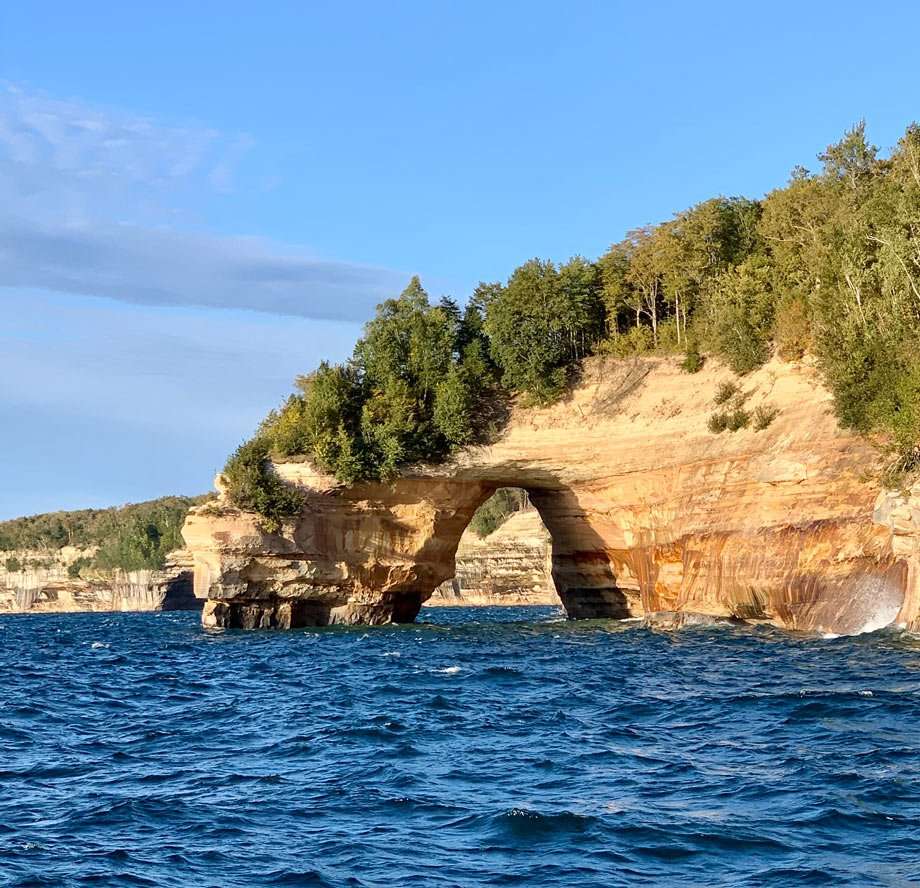 We made our way to the Munising area staying at an RV park in the village of Christmas. You know you've arrived in Christmas by the giant St. Nick greeting you outside of Santa's Workshop, now a gift store. Our main objective while in the area was not to spend time with the main in the red suit himself, but to visit Pictured Rocks National Lakeshore. The best way, we were told, to see the lakeshore and its many sandstone cliffs is from a boat. So, we booked a tour for the following evening with Pictured Rocks Cruises. Almost immediately we received a message from the cruise operator that they were expecting rough water and it may be like riding a rollercoaster for a couple of hours. Our party of four was quickly reduced to two. My son and wife were having no part of this. The remaining members of our crew decided that the prospects of a two hour rollercoaster ride was a dream come true.
The following afternoon we boarded the vessel and headed out for an evening tour. As described on Pictured Rocks' website, the lakeshore is known for "sea caves, arches, blowholes, turrets, stone spires, and other features like the famous Chapel Rock which have been sculpted from these cliffs over the centuries by unceasing waves and weather." Our captain stopped at various points along the way so passengers could take a gazillion photos of lighthouses, waterfalls, and sandstone formations. Michigan continued to blow our minds.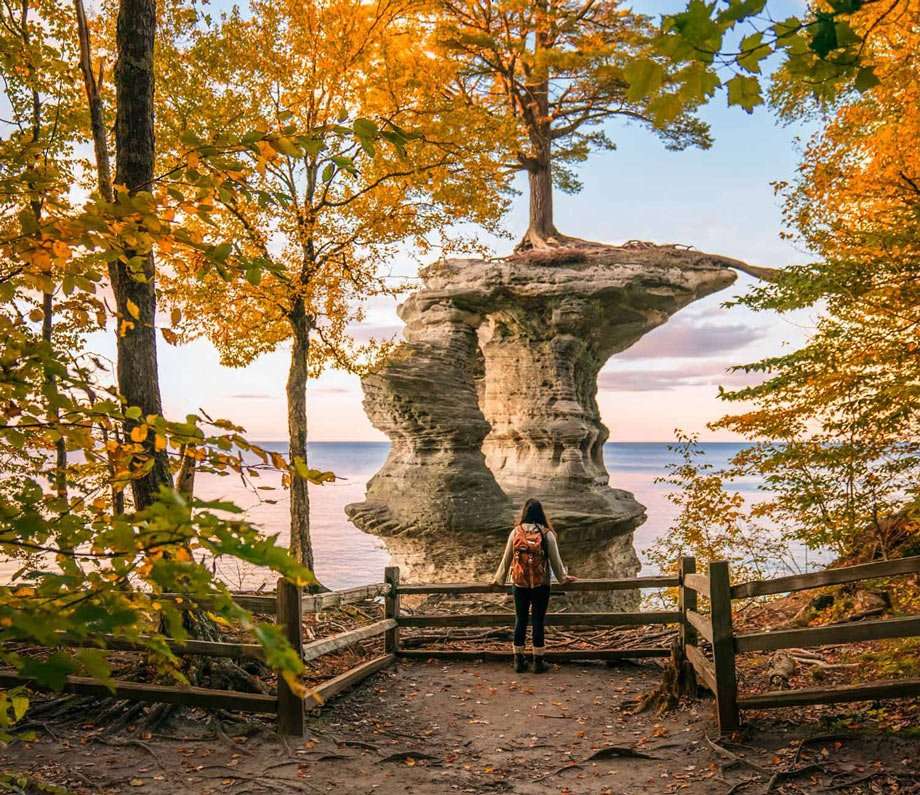 The following day, disappointed that they missed out, the stragglers in our lot asked if there was a way to see some of Pictured Rocks from land. We decided to drive into the park and walk along one of the beaches. While the views are good, they don't compare to those from the water. We did a short hike along one of the 100 plus miles of hiking trails and headed back to Munising to see if we could extend our reservation. There was too much to explore in this area for our short stay. But like we learned over the past few weeks, everyone decided to RV in Michigan during the pandemic. The RV park was booked so we packed up and headed west for our final stop in the Great Lakes State.
A couple of years ago we purchased a Harvest Host membership, but had yet to use it. Either we couldn't find a place that would accommodate the length of our rig or didn't allow pets, but most of the time it was because we were in the wrong place and wrong time (of year) for boondocking without air-conditioning. We're just not tough enough to RV in 90+ degree weather without air conditioning. First world problems.
But, we were determined to use our HH membership this year as we were missing out on too many interesting hosts including museums, wineries, farms, and other cool places. There happened to be a host a couple hundred miles from us in the general direction we were heading. We called ahead and got instructions on parking, and a few hours later we arrived at Big Snow Resort. Big Snow is two ski mountains (remember that we're in Michigan so I'm using the term loosely) near Wakefield, Michigan and only a few miles from the Wisconsin border. We had a large parking lot to call home for the night. There was a restaurant and bar open for breakfast, lunch, and dinner that we immediately visited for some pub grub. However, the real highlight of this place was the seemingly endless opportunities to explore the ski runs before the snowfall. The leaves were changing to yellows, reds, and oranges, and the views across the mountains were spectacular!
It was one of our best stops ever.
The next day, after spending almost a month exploring amazing Michigan, we crossed the state line into Wisconsin. We had friends to visit and needed to be back in Texas for the holidays or we would have stayed longer. There is no doubt we will return as Michigan has so much to offer. It greatly exceeded our expectations and is definitely one of our top 5 states visited.