RV & Van Living in the San Juan Mountains of Colorado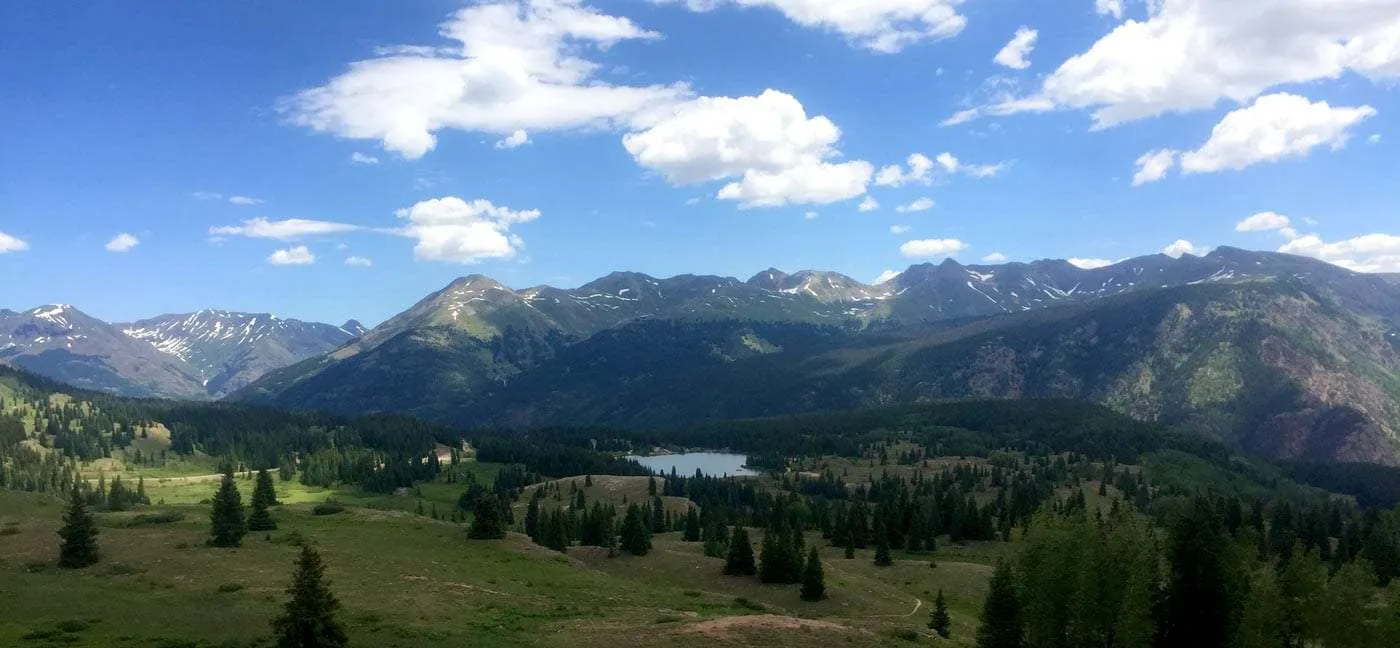 "So, why did you decide to build your cabin in Durango?" a family member asks us one day as we're toiling away at digging a well.
"Well," I reply with the short version, "it's the best place to live and explore in the United States." Bold statement, for sure, but after ten years of traveling the US and otherwise we've seen nearly every cool little town this country has to offer. But, we weren't just basing our decision on one town. It was about the entire region.
For example, the Oregon Coast is one of our favorite places to travel, so much so that we cooked our second son in Manzanita and he was born in Astoria, Oregon. However, there is essentially one road–and a fine road it is indeed–US 101. You can drive up and down it, but there's very little in the way of offshoots. You quickly get used to that drive. Not to mention it takes several hours to end up anywhere with conveniences greater than a grocery store. So say you need a new pair of pants or some shoes for the kiddos, well, it's going to be a roadtrip.
Hip towns like Bisbee, Arizona, which could easily have been a contender if we were solely basing our decision on the town itself. But it's a long drive to anywhere from there. I could go on in a similar fashion about a dozen or two more places in the country.
We wanted nature, community, solitude, a small town with a decent city nearby, and adventure in every direction you could go. Affordability and a ski mountain across the street certainly didn't hurt.
These are attributes that Durango holds in abundance, and which continue to flow throughout the San Juan Mountains of Southwestern Colorado. It's a world where you can escape the snow of winter by driving 30 minutes south, or watch the leaves change in succession as you gain thousands of feet in elevation while driving the Million Dollar Highway from Silverton to Ouray. Fancy shops and food can be had in Telluride or free desert camping outside of Mancos.
New Mexico's endless desert expands to the south, Utah's red rocks to the west, and a plethora of national parks and charming towns can be found in abundance throughout the rest of Colorado to the north and east. Let's explore everything the San Juan Mountains have to offer as we loop them in our modern day vanlife. We'll break it all up into regions and highlight our favorites as we go.
Oh, and are you into pushing wood? Skateboarding that is. We'll highlight all of the skateparks in the loop as well, because, you know, skating is super rad.
Durango, Colorado
Durango is that perfect, not too big, not too small type of city where you could still get to know your local barista or bartender's name, but there's enough variety that you don't find yourself in the same places over and over again. It also has a few big box stores like Walmart and Home Depot should you need such amenities.
Tarpley RV is your go-to shop for RV supplies. You can also camp for free in the Walmart parking lot, though it's definitely a grey area as to whether this particular Wally World is giving permission or just looking the other way. People have been ejected for overstaying their welcome, though granted these are mostly homeless people living out of their cars as opposed to vanlifers and RVers choosing to live out of their rigs. As usual, don't put out the camp chairs and keep it low key and you should have no problem. We've utilized this parking lot five or six times without issue, but only pulled up when we were ready to go to bed and didn't let the kids get a game of wiffleball going or anything like that.
There's definitely an old-time feeling to Durango, particularly Main Street, where a small two lane street divides breweries, Western apparel, a skate shop, multiple vape shops, and restaurants galore…with almost no chain stores directly on Main Street at all. People are more or less friendly but it's already grown to the size–and welcomes enough tourists–where everyone doesn't say hi to everyone else anymore.
There are a handful of RV parks in town and Durango is surrounded by the San Juan National Forest, so boondocking–particularly for vans and truck campers–is abundant. You'll notice, even in the winter, a healthy share of truck campers and vans clearly meant for living in strutting around town, as well. While much of downtown Durango's streets have parking meters–parking in the downtown business district overnight will get you towed–there are plenty of legit places to park for the night if you want to remain in town and can keep it down so you're not obviously living out of your vehicle and raising a stir amongst less forward thinking locals. There's even an official campground with a handful of spots offering water and electric at the in-town fairgrounds, which puts you within walking or biking distance of everything Durango proper has to offer.
Some of our favorite things about Durango include Maria's Bookshop on Main Street, downtown, and Durango Outdoor Exchange–a used gear shop–still on Main Street, but a mile or so north along the stretch of Main that isn't in the historic downtown area.
Best Places to Camp near Durango, Colorado
For vanlifers and RVers alike, Durango has a myriad of options when it comes to pitching your proverbial tent-on-wheels.
Should you like or need full-hookups, United Campgrounds of Durango is just north of town, and backs up to the historic steam train that runs from Durango to Silverton, Colorado. That means some noise, but we tend to see it as more of a novelty than annoyance. You can catch a trolly (this is the northernmost stop) that'll take you to downtown and back for $1. This is a full service RV park with showers, a pool, picnic tables and so on. You can also stay in the La Plata County Fairgrounds (call 970-382-6468 before 5pm, and typically a day or three in advance) which is much more bare bones, has hookups but no sewer, and puts you significantly closer to downtown, as mentioned above.
Otherwise, if you don't mind driving to town, Lightner Creek Campground and Cabins, west of town, and the Durango KOA east of town are both about a 10 minute drive back to Main Street.
For free camping near Durango we have two favorite spots. Twenty five minutes west of town, Madden Peak Road has ample places to tuck yourself away in fairly large gamble oaks, some with pretty good views, while just ten minutes east of town BLM land by the name of Durfield places you in the desert, more sparsely surrounded by pinyon pines. Both places have decent cell service should you need it (and better than some of the private RV parks above, actually.)
For a truly forested experience, with or without electric, you can check out the forest service's Junction Creek, where you'll camp in towering ponderosa pines, with a fire pit and picnic table, vault toilets and little to no service on your personal handheld communication device.
Recreational Pursuits in Durango
What to do once you're all setup and ready to explore? Durango, like most of Colorado in general, is big on outdoor recreation. Trails galore surround the city for hiking, biking, dog walking and the like. There is no shortage of playgrounds for the kiddos, and the further from town you go, the more experiences open up.
Some of our favorites are floating the Animas River (plenty of tube and kayak rental places can be found, including shuttle services) which is a pretty mild float. North of town, a place by the name of Baker's Bridge is an excellent swimming hole where you can make some pretty large leaps into the water below–just be sure to check with locals–preferably at an outdoor shop–before going, as the river is not always deep enough to pursue such falls. Even if you don't want to launch from heights unnatural into the water below, it's a beautiful place to dip your feet in the water, let the kiddos have a swim, and pack out every last piece of trash (the trash can is going to be overflowing, so plan to bring it back to town and drop it off at an available garbage can somewhere) as you picnic on the rocks.
Durango is also home to a fairly large skatepark. Two bowls of varying sizes, a pyramid / fun box and large quarter pipe await. Expect to share the park with others–including BMXers and razor scoot kids–as the park is not only popular, but along the trail that lines the river, so it attracts significant attention. The Boardhaus downtown can help with any gear you might need, or there's (surprisingly) a Zoomies in the dying shopping mall on the Walmart side of town.
Things to Do with the Kiddos in Durango
Traveling with youngsters? While any of the recreational activities above are golden for grandpas and grandkids alike, give the whippersnappers some scientifical learnin' at Powerhouse Science Center, along the river trail opposite the skatepark (ie, across the river) near downtown Durango.
The city's Rec Center (near the La Plata County Fairgrounds if you choose to camp there) boasts a rock climbing wall, swimming pool with tube slides, showers and a plethora of indoor sports from basketball to pickleball. Free WiFi can be had as well, and it's about $6 a person to get in.
There's also an excellent local ice cream shop by the name of the Cream Bean Berry on Main Street, where smiling staff will happily allow your kiddos to taste samples before making the plunge, and they offer nitro cold brew coffees for those larger humans who aren't necessarily into ice cream (weirdos!)
Our Favorite Haunts in Durango, Colorado
While not necessarily a culinary bastion, Durango has a plethora of restaurants, from upscale Mexican to authentic New Mexican, French to Himalayan. Noting that we're often partial to breweries and Mexican food, ourselves, here are some of our favorite places to restock your calories.
Carver Brewing Companh claims to be Durango's first brewery and it's a cool, fairly standard restaurant style location with plenty of seating inside, a patio out back, and a small bar on the sidewalk where you can people watch the day away. I go with the Main Street or Vapor Trail IPA, but they have a great Bloody Mary and no doubt their other beers provide something for everyone, too.
For a family affair, J. Bo Pizza & Rib Company has great pies, an outdoor patio with ping pong and giant Jenga, a handful of pinball machines inside, and every football game on their many TVs, come pigskin season.
If you're interested in Mexican, a place by the name of Macho's, which has two locations, serves up the authentic stuff (along with more Tex-Mex style varieties) and also adult beverages should that be a requirement for your dining out experience. Cantera is owned by the same folks, but provides a completely different experience–high end, easily date-worthy Mexican food in a fitting setting.
Finally, an outdoor food cart location closer to the north end of the historic section of Main Street is a fun, if unfortunately not dog friendly, place where you can find everything from pizza to barbecue, burgers to sushi. And, since this is Durango, there's a bar there, too.
Purgatory
Not exactly a town, this part of La Plata County just north of Durango is often referred to as "North County." It's just a handful of businesses and homes that have sprung up around the Purgatory Ski Resort (sometimes still referred to as Durango Mountain Resort.)
It's entirely shrouded in the San Juan National Forest, and much more low key than Durango or Silverton, the two closest towns.
The ski resort is open nearly year round, with a quick break after ski season ends (which varies, but typically some time in April) until Memorial Day kicks off the summer, and then again in October or November, while they prepare for snow bunnies and ski bums from around the world to get to shredding. In the winter, a handful of restaurants and shops–from a liquor store to a Burton shop, women's clothing to Purgatory-branded gear–are open, and which of those choose to turn the lights on come summer vary, but summer activities are in no short supply as the resort offers a "mountain coaster", which is a combination of an actual roller coaster and an alpine slide, go carts, mountain bike trails and a short zip line.
Best Places to Camp near Purgatory Ski Resort
There are no private RV parks in the immediate area, but ample opportunity to find a place in the woods to camp.
At the southern end of Old Lime Creek Road, grassy glades play host to RVs all summer long, with easy access for RVs and vans alike. Approaching from the northern end, a rocky, high clearance but not necessarily four wheel drive road leads you to some beautifully rare river camping in the area. Note the warnings above about trying to drive this road in its entirety, though, and absolutely do not drive it with an RV or trailer! You can get to the campsites on the southern end of the road with no problem, but as the road passes the lake, no RV could make this journey intact, and it would be pretty rough going even if you approach from the north to visit those forested sites.
Otherwise, for an absolutely simple national forest camping experience, Haviland Lake Campground south of Purgatory is an easy, paved drive in and has the usual USFS amenities–vault toilets, fire rings and a picnic table.
Cell reception is extremely spotty, so don't expect to binge your Netflix.
Outdoor Recreational Opportunities near Purgatory Ski Resort
If you don't want to pay for lift access, but love mountain biking, it's possible to shuttle–or I have even seen folks bike–up the forest service road that lines Purgatory. There's also no shortage of road cyclists who make the trek from Durango to here and sometimes on to Silverton, climbing 4000′ or more. The entire jaunt clocks in around 50 miles. Both towns are roughly 25 miles from Purgatory.
Not into biking? Don't want to spend a fortune on gimmicks at the resort? You can canoe and fish at various locations in the area, the most secluded and least utilized likely being Columbine Lake, a mile south and across the street from Purgatory's entrance. Signs say it's a private lake but plenty of people come here to enjoy the pristine waters where no motorized boats are allowed, making it perfect for canoes or kayaks, or just to stand along the shore while Fido gets himself nice and muddy. Just note signs that indicate three very important rules: no motors on the water, fishing is strictly catch and release, and should you be visiting in the winter, four wheel drive is absolutely mandatory. And as always, don't just pack your own trash out, pick up any litter you find while you're at it.
For a more harrowing experience, look up Old Lime Creek Road, where an increasingly narrower dirt road (which allows two way traffic, making for some dangerous passing situations) hangs from the edge of the mountains connecting some epic camping spots. Beware though, it is absolutely possible to die from falling hundreds, possibly thousands, of feet into the valley below. We did this in our 2006 Ford E-350 and it was the most frightening drive of my life. We won't do it again. But, we know plenty of Jeepers and folks of that ilk who love this sort of thing. For our money, and safety, crossing Blackhawk Pass, a dirt road where high clearance is necessary and four wheel drive recommended, takes the same dirt road from Purgatory–with some 4,000 feet of elevation gain (you begin around 9000′)–before ending up on the paved CO-145, which you can take north to Telluride or south to Dolores.
Big cliffs are rare on this route, while historic old cabins and mountain vistas can be had in abundance.
If you brought your skateboard, you won't find much to roll around on in this area.
For the Kiddos
Aside from putting their lives in danger on Old Lime Creek Road, everything we talk about here is a-okay for the youngins to participate in. If they're just looking for a good old fashioned playground though, just north of Purgatory make a right onto Twilight Lake, where a shiny new playground awaits.
The Best Bars and Restaurants near Purgatory Ski Resort
There's actually only one restaurant in this area that isn't also a bar, and it's located in the ski resort. We tend to stray away from those places though, largely because they officially close at 6pm and will often turn the lights off even earlier.
South of the mountain, within two miles drive, the Old Schoolhouse Cafe is a family-friendly dive bar (though many patrons' language will ignore this) with a free pool table, shuffleboard and excellent pizza. It can get really crowded on the weekends, and doesn't usually open until 4pm in the summertime. A little closer to the mountain is the miniature Nugget Mountain Bar, with an outdoor fire pit, food cart featuring mostly burgers but occasionally tacos, too, and plenty of TVs and a variety of craft beers and mixed drinks. It also tends to fill up as its the best bar in the area, so expect some company.
Silverton, Colorado
Silverton is a sleepy little town with what some might forecast as a bleak future. It's livelihood depends largely on tourists visiting from Durango, however forest fires in recent years, and avalanches most winters, close the road to the town, leaving tourists unable to visit and residents trapped there.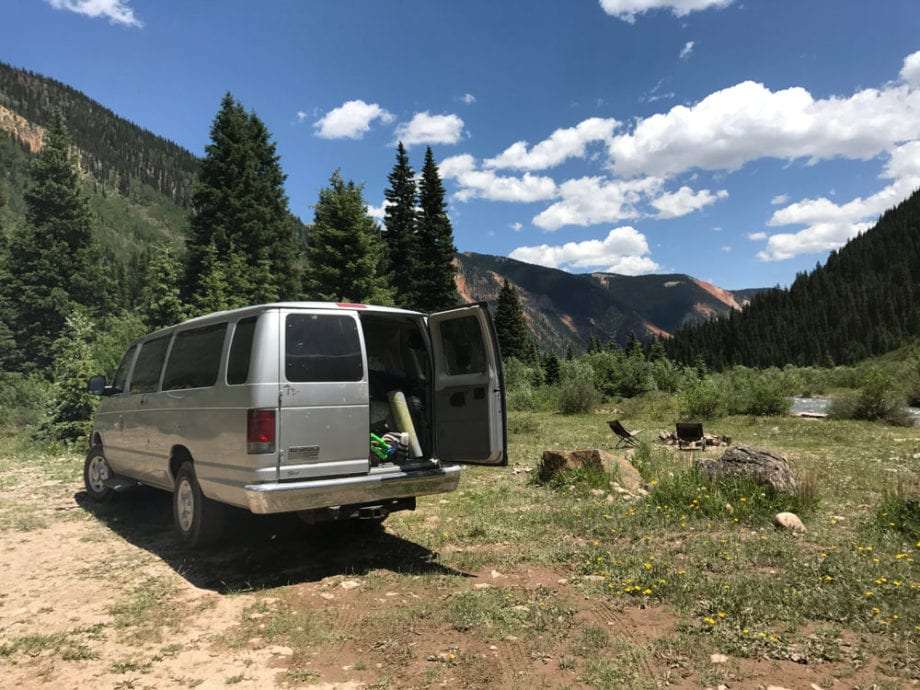 That said, the many, many days of the year access is available, Silverton is a paradise for adventure seeking skiers, ATV enthusiasts, hunters, campers and middle-aged women who wish they could dress like upper class cowgirls alike.
Nestled in the San Juan Mountains, views are 360° fabulous and camping opportunities just outside of town rival that glory. Silverton is not only home to excellent pot shops, a handful of breweries, and other restaurants, but home to splitboard icons, Venture Snowboards which–while they don't really offer official tours–typically are happy for enthusiasts to drop by and see how they make these game changing winter toys.
Best Places to Camp
There are dozens of places, suitable for RVs and the rest of us alike, to camp outside of Silverton, and nearly all of them are smack dab in the beauty of the national forest. For our pursuits, Golden Horn Camping Area is the best, a big open space along the river where you'll no doubt have company on busier weekends, but the views can't be beat and unless it's the 4th of July or something, you shouldn't be too close to your fellow campers. Explore to your heart's content though, and you'll no doubt find utter seclusion should that be on your to do list.
Otherwise, if you just want to be in town, or require showers or full hookups, there are three RV parks in town, with Silver Summit and Red Mountain being the easiest to walk the main streets.
Recreational Opportunities near Silverton
Folks love their side-by-sides and ATVs in Silverton, and they're even allowed on most streets in town. Off-roading can be found in abundance if that's your cup of A-tea-V. Sorry, had to do it.
In the winter, this place is home to an experts-only ski mountain, though small, where you're typically required to have a guide take you up the lone chairlift.
And no doubt you can come here to shoot an elk or fish a bass, too, if you're that type of outdoorsman.
As to skateparks, Silverton has a wooden mini ramp on the south end of town. Not exactly a park, but more than my friends and I had growing up, for sure.
Things to Do with Kids in Silverton, Colorado
Though the town is obviously named for the silver mining operation that put it on the map, today you can take your little ones to the Mayflower Gold Mill for a tour, where they can experience a taste of what it was like living here before the trek was a mere drive along the beautiful US 550.
For free and outdoorsy pursuits, head south toward Molas Pass, where alpine lakes and big open meadows provide the perfect natural playground for kids of all ages.
Our Favorite Haunts
Despite having a conversation with a waitress one time where, upon asking for a Bloody Mary, she told me, "No, we don't have those, we're more of a restaurant with a bar than a bar with a restaurant," the Brown Bear Cafe is a great place to have a beverage and some breakfast. It's kid-friendly and right in the middle of town, the type of place with homy signs all around and never pretentious. Think "I Spy" for hours.
Silverton's Golden Block Brewery isn't on most brewery tour maps, but gets the job done in that arena as well.
Ouray, Colorado
For whatever reason, people feel the need to dub this place the "Switzerland of America." We think Switzerland should instead be called the "Ouray of Europe," because making comparisons like that are just plain silly. Ouray doesn't need to be advertised as some other places, given the grandeur it holds all on its own. The town is charming, quaint, and nearly completely devoid of chain stores outside the usual gas station fare. It is literally squeezed into a valley, with steep slopes limiting potential real estate opportunities on both sides of town.
"What housing problem? I own multiple empty homes in Ouray," a sticker posted on a restaurant in town reads, a snide jab at the reality that this is an expensive town made more so by the many rich people who purchase real estate but don't actually live here. This is further exemplified by how locals take advantage of this type of tourism, and who could blame them?
"Lemonaide for sale!" a young boy with a small stand on the sidewalk advertises. We love to support local businesses, and when they're run by adorable 11 year olds all the more. "That'll be $16," he tells us, our kids already halfway through their homemade lemonade. His father appears from the beef jerky store behind him, making it clear that this isn't just some youthful operation, but a bit of a ploy to add profit where jerky cannot.
Still, if you manage to keep your wallet in your pocket, it's a lovely workout exploring the hilly streets that comprise Ouray.
Best Places to Camp
Given the terrain, camping is limited immediately outside of Ouray. A handful of spots, like Thistledown Campground and Ampitheater Campground (the latter being a bit more realistic to walk to town) exist as national forest campgrounds, while two private RV parks–with Ouray RV Park being the crowd favorite–exist in town. We've seen all types of wildlife in this area, including a curious black bear who participated in a solid staring competition with us, from the safety of our van, before running back into the forest.
Of course, remember never to approach wildlife, especially bears, and keep your food safely locked away. "A fed bear is a dead bear" is true, and we've read numerous reports of bears put down because someone fed them, or left food out, they became a little to comfortable with humans and had to be shot to protect everyone.
Recreational Opportunities in Ouray, Colorado
Ouray is known for its ice climbing, but of course that will be a wintertime pursuit and only the toughest of vanlifers will be able to survive comfortably in this snow-laden Rocky Mountain paradise.
For summertime pursuits, the Perimeter Trail is a 4.5, "moderately easy" trail with grand views of town and all the glory of nature that surrounds it.
For skateboarders, Ouray has a skatepark at the northern end of town that essentially consists of a concrete rectangle with quarter pipes on both end. One one side, they sandwich a rail and stairs feature while on the other, a flat ramp sits in the middle. It's a fun park for kids or beginners, for sure, but nowhere near the best the region has to offer.
For the Kiddos
Near the skatepark mentioned above, Ouray Hot Springs Pool and Fitness Center boasts a series of pools, some meant for lounging in hot springs water, others more kid-n-splash friendly.
Also check out Cascade Falls Park, which is basically a handful of trails leading to waterfalls of varying sizes, easy enough for kids to do with that waterfall payoff every hiker loves to add to their list of accomplishments.
Best Place to Eat
Hands down, our favorite place to eat and drink in town is Ouray Brewing, a three story affair with outdoor seating on the rooftop. Watch the thunderstorms crackle through the valley and tourists bustle around Main Street below as you enjoy good brews with typical dishes like burgers and wings along with falafel, a variety of salads and a chicken sandwich named for the greatest American of all time, Chuck Norris.
Ridgway, Colorado
What seems like but a blip on the map as you roadtrip from Ouray to anywhere else you may be headed, Ridgway is a burgeoning village ready to make itself a destination all of its own.
A sleepy main street with the name Sherman occasionally fills with tourists, more and more so, on busy weekends. Grand views of jagged mountains in the distance give the town its name (presumably) and friendly faces abound. We often look at and judge towns not by what they already have, but what they have the potential to be, and were you the real estate investing type, no doubt Ridgway is one of the few remaining spots in Colorado where you could get a steal of a deal that one day would contribute heavily to your retirement plan.
Best Places to Camp
Ridgway State Park could be the posterchild for Colorado State Parks in general. In a state with sweeping mountainscapes and grand forests, for some reason the state parks tend to clear away the trees, or at least place their campgrounds in wide open spaces. Ridgway's offering isn't much different, but as camping in the area goes, it tops our list.
Another private RV option is Basecamp 500, a more typical squeeze-em-in facility that charges extra for showers, and we all know that's lame when you're already dishing out $40 per night to stay there.
As Ridgway becomes more and more of a destination, we expect more private parks to open up, but free camping close to town is non-existent, at least in any officiated way, so for now we like Ridgway as a stop more than a place to setup camp.
Recreation
While it's not the biggest skatepark in the world or anything, Ridgway's skatepark (on Chipeta Drive in the "Ridgway Athletic Park") is our favorite along this route. It's got a small bowl that transitions into a larger vert area, and several small features surrounding, giving it a beautiful flow and something for skaters of all abilities to tap their trucks on. It's often completely empty, as well.
Restaurants of Note
A little joint that's slowly become a local chain, Gnar Tacos is a hip affair with offerings including "the Rick Rock Sauce," whatever that means. People rave about this semi-fast food place that, I believe, originated in Telluride, but I'd say it's just okay. The real draw here is simply that a sleepy town like Ridgway could attract such an establishment, paving the way for more, less down home fare to follow.
While a bit "red" (Fox News will be playing during your meal), should that matter to you, the True Grit Cafe is comfort food in a setting that loves John Wayne. 'Nuff said?
Telluride, Colorado
Ah, Telluride. The beauty and opportunity for fun times of all varieties here is astounding. The town is charming, sans-chains and a walkable delight to behold. On the other hand, it's not only owned by the mega-rich (Tom Cruise owns a $59million mansion and property here, which he reportedly cannot get rid of) but the feeling that anyone short of that is not welcome just seeps through the air.
"Fuck the man," being one of our favorite sayings though, and knowing full and well that "the man" is the rich first and foremost, we could give two used diapers about that and love visiting anyway. We just try not to buy anything (truck your beers and groceries in from elsewhere, there's no large grocer and the market in town is pricier than a Whole Foods in Dubai.)
Looking beyond all of that, the street combing through a town full of yupsters and Colorado's outdoor elite–those members of the superfit who's abs are rivaled only by the price of their yoga pants, which are apparently suitable to be worn day and night, even in fancy restaurants or during bank loan applications–is one to check off any small town traveler's bucket list, and the opportunities for free adventure do still exist.
Best Places to Camp
Camping, for example, is just about all free (or cheap) as there are no private RV parks in the area, whatsoever.
And the free camping not only bears no price tag, it's absolutely exquisite. While a few paid national forest campgrounds–with toilets, tables, etc.–exist, free places like Alta Lakes (it's a narrow road not recommended for RVs or trailers, though I have personally seen some up there) put you in the boon of this side of the San Juan's godly glory. For us, though, Last Dollar Road is jam packed with towering aspen groves and rock slide perched truly epic vistas of the mountains beyond, and is absolutely free. We've never had trouble finding a secluded, available spot, even on busy weekends.
Directly within Telluride proper, Town Park is a typically first-come-first-served, no hookups campground that puts you immediately within everything town has to offer. It's nearly impossible to get into, though, as it has limited spaces and is highly desirable. It also switches to a reservation during certain events like the Ride Festival, so unless you really want to stay in town, save yourself a few hair follicles and check out Last Dollar.
Note that there is absolutely no overnight parking for RVs or vans allowed in Telluride. This doesn't stop people from doing it, and we have personally stayed in our van one 4th of July night, but flashlights were shown in–they didn't catch us, the kids already sleeping and the adults not moving a muscle–so it's not exactly comfortable.
Recreational Opportunities
The same Town Park which offers camping as noted above acts as a hub for a series of hiker/biker trails, fishing and various outdoor sports. This includes one of the town's two skateparks, more on that below.
Various music festivals are held in the park during the summer, and since there's a kids' playground here, you can basically get in to listen to the music–though not technically be "in" the festival–for free if you just hang around with the kiddos (should you own a set.)
Further toward the end of town, a Via Ferrata–Italian for "the iron way"–climbing course is a somewhat psycho way to traverse cliffs where you walk along iron bars jammed into the mountainside, apparently as a recreational pursuit. While not big on climbing ourselves, no doubt those who are–or just thrill seekers in general–will find this to be infinitely amusing, if not exhaustively challenging. You do get to be harnessed in and there's a safety rope involved, but you'll need to hook and unhook along the way to make it over the places where the rope is attached to the mountain.
Telluride's relatively new mountain bike park was free last year (2018) but though it now comes with a fee, that includes access to the lifts as well, and judging by the amount of Spandexed traffic you see in town, is a popular pursuit.
When it comes to skateparks, Telluride has two. The skatepark in Town Park is the better, though the more popular as well, and features a long quarterpipe on one end with varying heights and trannies, while a deep, slick bowl with a pill on one end is more or less there for the pros. Expect loads of company, from impressively good young kids pushing wood to BMXers and razor scooters alike. Several other features make this a fun place to kick wood for an afternoon, though.
Youthlink Skatepark is in the center of town, south of Colorado Avenue (the town's "Main Street") and is a wood park with a plethora of features.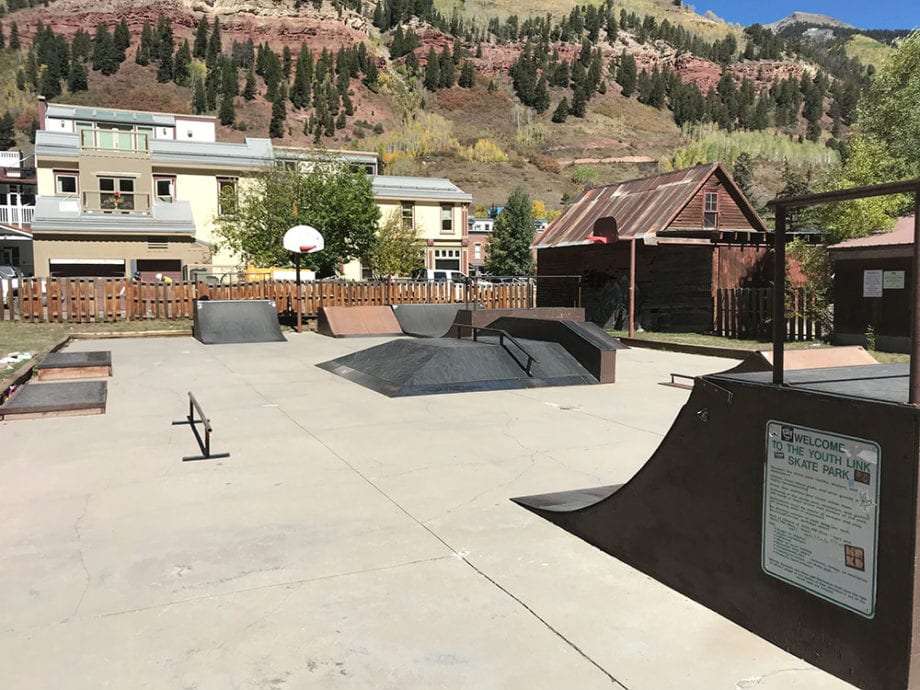 For the Kiddos
If you're still looking to save a buck in Telluride, and the kids are in tow, check out the free Gondola that goes from downtown Telluride (catch it on San Juan Ave between Aspen and Oak Streets) to Mountain Village, one of the larger and more impressive ski villages we've ever seen. You'll have plenty of opportunity to drop a few bucks on ice cream or quite a few on dining should you desire after arriving there.
The skatepark in Town Park also has a pump track, a small dirt loop for kids and their bicycles, and there are man-made and natural playgrounds through the park as well.
Finally, the Telluride Free Box, on the corner of Colorado and North Pine, is a series of shelves with things people are giving away, and while it's often full of single ski boots or dolls with their heads ripped off, you can occasionally find a gem or two hidden in the pile.
Where to Find Sustenance
Though the service typically sucks and the wait can be long, Smuggler's Brewpub is a popular spot to grab a beer and some food, and rightfully so. Both the indoor seating and, to a greater degree, the small patio make for an excellent place to take a break from all of the action and relax over some storytelling of the day's pursuits or plan making war room for tomorrow.
High Pie Pizzeria is an elbow bumper of a hot spot where you can get good food and great craft beers, too.
Dolores, Colorado
We've spent admittedly less time in Dolores than the rest of the towns along this tour, and if you began your loop in Durango and followed us all the way to Telluride, in many ways the best is now behind you. Dolores is a much sleepier town, where you won't find hoards of tourists walking the streets, but worth a few notes anyway.
There's limited camping in the area, nothing particularly suited for RVs, but Burro Bridge is natural camping all the same and suitable for truck campers, vans and tents. Expect a forested setting, vault toilets and a picnic table. You're likely to have the place all to yourself during the week, especially as the season winds up or down.
The Riverfront Bar & Grill is a roadhouse with decent food, a smattering of craft beers and, as the name implies, a riverside deck where you can watch people tubing the Dolores River. You might even be tempted to do so yourself.
Rumor has it there's a skatepark in town, but we haven't found it, though we haven't exactly tried that hard either.
Cortez, Colorado
At first glance, Cortez seems a bit run down, more like a town in New Mexico than what you typically find in Colorado. Upon closer inspection, though, things to do and the affordable pricing of a less touristy town begin to seep into vision.
Best Places to Camp
The best camping in Dolores can be found north of town at McPhee Reservoir, where national forest spots like the aptly named McPhee Campground and House Creek offer hookups (or not) and more or less wide open spaces to camp where no pesky shade will block your views.
Otherwise, three private RV parks are situated directly in town, Sundance being the most conveniently located should you want to stroll the curious streets of this aging village.
Cortez Skatepark
Cortez' skatepark is probably the largest of any park in the San Juan Mountains, with more flow than most as well since all of its features, from quarterpipes to broken bowls and flat ramps, are connected and you're never really separated one from another like Durango's similarly sized park tends to feel. Graffiti betrays the fact that someone must have skated here at some point, but we've only ever seen it empty.
Our Favorite Haunts
We can't personally attest to much in Cortez, having only ever visited Main Street Brewery & Restaurant (several times now, for some reason) but Main Street is full of eclectic fare, from sushi to breweries, Chinese to more breweries.
Mancos, Colorado and Mesa Verde National Park
Mancos is positioning itself as an artist's town, and while it's nowhere near as touristy as Telluride, Ouray or Durango, it certainly feels up-and-coming. With plenty of national forest camping and proximity to Mesa Verde National Park, it's the perfect balance of low key and tons to do.
Best Places to Camp
Two private RV parks, with full hookups, sit just across the entry to Mesa Verde National Park. Both Ancient Cedars and Mesa Verde RV Resort are actually better bets than camping within the park itself, as they're similarly priced and nearly equally positioned as far as access to the park goes. Morefield, the campground within the national park itself, tends to disappoint, particularly in the bathroom domain, enough so that the allure of camping in a national park wears off quickly.
Durango local and former Mancos resident Ivey Patton also clued us in to Jersey Jim Fire Lookout, where for $40 per night you can rent said lookout tower for epic views, or nearby Transfer Campground (both the fire lookout and Transfer are run by the forest service) or camping near the trailhead to Sharkstooth Trail to Centennial Peak to stay nearby with your own home-on-the-road.
By far, our favorite place to camp–for free–is within the pinyon pines of County Road 34, BLM land with views of Mesa Verde, a little traffic now and then, but otherwise much more seclusion than Morefield and certainly the RV park players in the area.
Recreational Opportunities near Mancos, Colorado
The number one pursuit here is exploring Mesa Verde's many trails, especially visiting the cliff dwellings and pondering what ancient city life would have been like here. The people who built these structures into the side of the mountain predate what we think of as Native Americans. The Ancestral Puebloans, as they're known, were living a stationary life here, before whatever unknown circumstances drove them to branch out into various native tribes and spread across the Four Corners.
While not as visually stunning as other national parks in Colorado and neighboring Utah, this is a richly informative place that pulls on the pondering strings of anyone interested in what life was like before the Ford Motor Company, iPhones and European domination of the continent in general.
"Yes," Patton continues, "they have a skatepark, and find the library – it's awesome and tucked back on the river."
Things to Do with Children near Mancos, Colorado
The Junior Ranger program at Mesa Verde National Park a great way to get your young ones interested in America's history, pre-"America", and out into nature in general.
Our Favorite Haunts
As we've never eaten in Manco, we turned again to Ivey Patton. "The best restaurants in Durango are actually in Mancos," she winks, "Absolute Bakery is a must visit in the Four Corners area for food, vibes, and baked goods, Mill Wood Junction is so dang good and has amazing alternative music sometimes," she says, mentioning that they also have outdoor seating. "Farenheit Coffee is by far the best coffee in the area." So there you have it!
---
For us, touring the San Juan Mountains is as much about the sheer grandeur of the landscape, the ample free camping and river floating beauty as it is exploring the small towns and all they have to offer. Like we said, after traveling this nation–and beyond–we decided this would be the perfect place for us to set up shop, build a cabin and have somewhere to call "home" should the road ever prove a bit too weary.